Which Dodecanese to do for your next family holiday
Sponsored
How well do you know the Dodecanese Islands? Not as well as Visit Greece who're on a mission to tempt you to try as many as you like for spring, summer and autumn next year – or you can just pick a favourite. They're some of the most southerly islands in Greece so the weather's fabulous wherever you go and you simply can't find one that isn't extremely family-friendly, easy to reach and endlessly beachy and great fun for kids.
So which Dodecanese will you do on your next family holiday? Here's the run down on Rhodes, Kos and Symi from the experts at Visit Greece, take a look and see what you think.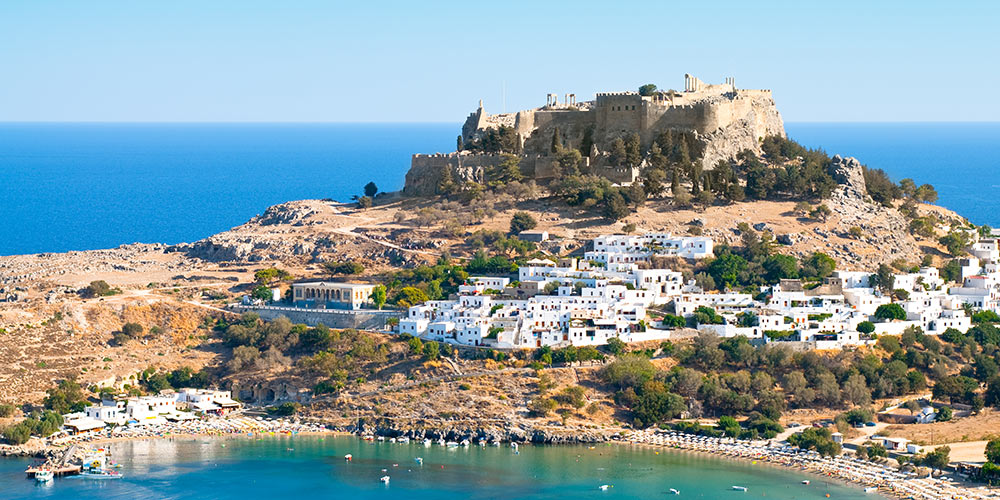 1/3

Rhodes
The largest of the Dodecanese Islands, Rhodes is home to one of the best preserved medieval towns in Europe. It's also the place to explore over 40 heritage villages and play on a coastline trimmed round with spectacular Mediterranean beaches. The weather's wonderful, which you'd expect this far south in Greece. What might come as more of a surprise is how good this undeniably historic island is for family holidays. Apart from it's fairytale-like scenery having an entire valley given over to magical butterflies, it's not short on water sports and activities, fun waterparks and family-friendly resorts. Plus, ancient myths and legends – not to mention knights – turn everything, from classical monuments to walking round the old town, into the thrilling adventures. And then there's the bonus of direct UK flights taking under four hours, all year round.
Rhodes family holiday highlights
Rhode's medieval old town is one of the most visited UNESCO World Heritage sites in Greece, against some very stiff competition. Amazingly, it's as fascinating for kids as history-fixated adults, very walkable and plenty blessed with places to stop and refuel.
There are over 50 Aegean beaches on Rhodes, 38 have Blue Flags and they're all lovely in their own way. Agathi and Tsampika in the east are great for younger kids; head to Faliraki or Kolymbia for water sports; sands in the south east of the old town are where to find peace and tranquillity, and St. Paul in Lindos is paradise for young snorkellers.
One of the largest towns on the east coast, Lindos is also the site of the astonishing Lindos Acropolis and, the younger but almost as dramatic, Castle of the Knights of St. John.
The south and south east coasts of Rhodes are scattered with waterparks ranging from fun inflatables right up to the giant waterpark at Faliraki Bay which is the largest in Greece and one of the best in the world, according to TripAdvisor.
The Valley of Butterflies in northern Rhodes is a not to be missed experience. Round about mid-June to late September each year thousands of Panaxia Butterflies emerge from cocoons here and fill the air with their frenetic fluttering for a short, but intense spell. If you miss the phenomena, don't be too disappointed, the valley itself is an enchanting place to walk around and one of the easiest environments to sneak a little learning into the holiday.
Definitely try Rhode's cooking. Fish and seafood are big players, kids will love the island's take on pasta (hilopites) and cyclamen is one of many unusual local ingredients and turns up everywhere from stews to desserts made out of the bulbs. Island wines win international award. And always leave space for sweet treats like melekouni and mantinades.
Rhodes is another island where walking's taken seriously. Well marked trails let you tour round most of the 40 plus villages, explore the more rugged north coast or just have a stroll around the capital. Cycling is easy to do here too and if you want to tour the history, guided walks make light work of explaining stuff to kids.