Sponsored Content
How well do you know the Dodecanese Islands? Not as well as Visit Greece who're on a mission to tempt you to try as many as you like for spring, summer and autumn next year – or you can just pick a favourite. They're some of the most southerly islands in Greece so the weather's fabulous wherever you go and you simply can't find one that isn't extremely family-friendly, easy to reach and endlessly beachy and great fun for kids.
So which Dodecanese will you do on your next family holiday? Here's the run down on Rhodes, Kos and Symi from the experts at Visit Greece, take a look and see what you think.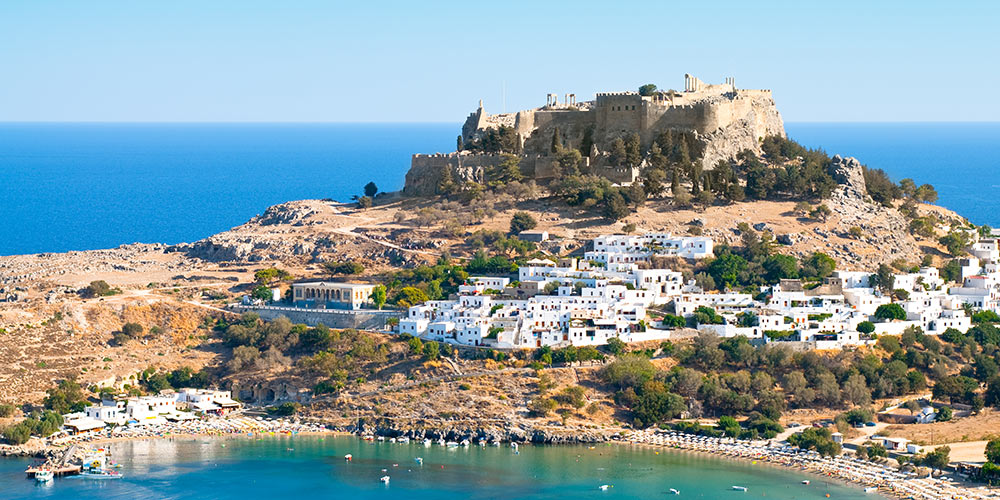 1/3

Rhodes
The largest of the Dodecanese Islands, Rhodes is home to one of the best preserved medieval towns in Europe. It's also the place to explore over 40 heritage villages and play on a coastline trimmed round with spectacular Mediterranean beaches. The weather's wonderful, which you'd expect this far south in Greece. What might come as more of a surprise is how good this undeniably historic island is for family holidays. Apart from it's fairytale-like scenery having an entire valley given over to magical butterflies, it's not short on water sports and activities, fun waterparks and family-friendly resorts. Plus, ancient myths and legends – not to mention knights – turn everything, from classical monuments to walking round the old town, into the thrilling adventures. And then there's the bonus of direct UK flights taking under four hours, all year round.
Rhodes family holiday highlights
Rhode's medieval old town is one of the most visited UNESCO World Heritage sites in Greece, against some very stiff competition. Amazingly, it's as fascinating for kids as history-fixated adults, very walkable and plenty blessed with places to stop and refuel.
There are over 50 Aegean beaches on Rhodes, 38 have Blue Flags and they're all lovely in their own way. Agathi and Tsampika in the east are great for younger kids; head to Faliraki or Kolymbia for water sports; sands in the south east of the old town are where to find peace and tranquillity, and St. Paul in Lindos is paradise for young snorkellers.
One of the largest towns on the east coast, Lindos is also the site of the astonishing Lindos Acropolis and, the younger but almost as dramatic, Castle of the Knights of St. John.
The south and south east coasts of Rhodes are scattered with waterparks ranging from fun inflatables right up to the giant waterpark at Faliraki Bay which is the largest in Greece and one of the best in the world, according to TripAdvisor.
The Valley of Butterflies in northern Rhodes is a not to be missed experience. Round about mid-June to late September each year thousands of Panaxia Butterflies emerge from cocoons here and fill the air with their frenetic fluttering for a short, but intense spell. If you miss the phenomena, don't be too disappointed, the valley itself is an enchanting place to walk around and one of the easiest environments to sneak a little learning into the holiday.
Definitely try Rhode's cooking. Fish and seafood are big players, kids will love the island's take on pasta (hilopites) and cyclamen is one of many unusual local ingredients and turns up everywhere from stews to desserts made out of the bulbs. Island wines win international award. And always leave space for sweet treats like melekouni and mantinades.
Rhodes is another island where walking's taken seriously. Well marked trails let you tour round most of the 40 plus villages, explore the more rugged north coast or just have a stroll around the capital. Cycling is easy to do here too and if you want to tour the history, guided walks make light work of explaining stuff to kids.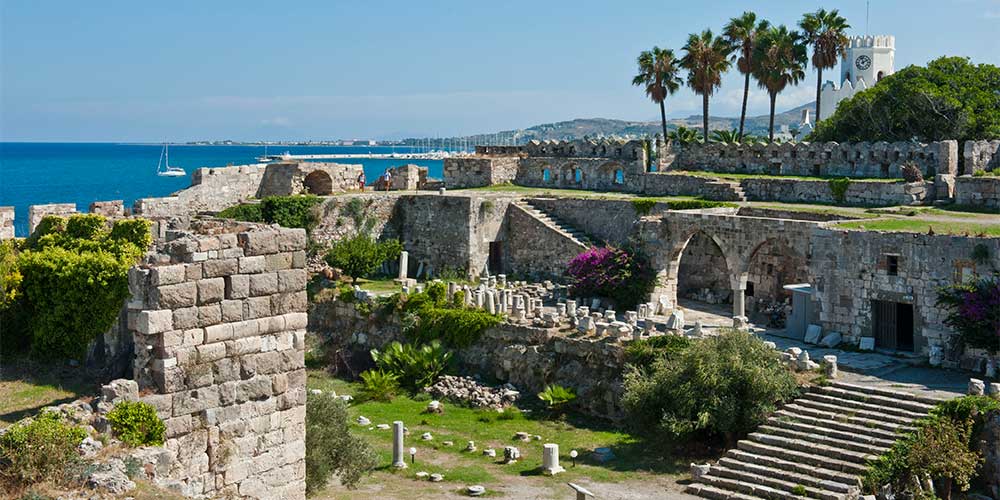 2/3

Kos
It takes less than an hour to drive right across Kos, yet it's one of the liveliest and most popular family holiday islands in Greece. There's masses of imagination and creativity here, the cycling and walking and water sports are outstanding, and if you want ancient history, you are so on the right Dodecanese for that. Apart from being very easy to get around, Kos is also easy to reach – direct UK flights take as little as four hours – and comes good on ticking fun holiday boxes for everyone from babies to trickier teens.
Kos family holiday highlights 
Kos Town has historic Ancient Greek, Byzantine, Ottoman and Italian influences. There are traces of the Knights of Saint John and you can even take a snap with the Tree of Hippocrates (a big hit with visiting doctors). It's neatly sized and very walkable with kids and if you want a break, stop at one of the cafés on Eleftherias Square, the very pretty heart of the entire town.
Kos is scattered all over with antiquity: visit the Asklepion where Hippocrates supposedly taught (the father of medicine was born on Kos); head to medieval Neratzia Castle to learn about the Knights of Saint John; go see the twin basilicas at Agios Stefanos (also one of the island's best viewpoints); take a dip in the Embros Thermes thermal baths on the south east coast and don't miss Antimachia Castle overlooking the strait between Kos and Nisyros.
One of the most cycle-friendly islands in Greece, Kos makes it easy to use pedal power with extensive traffic-free bike lanes, bike parking all over the island and plenty of good hire-shops with everything from electric bikes to kid-carriers.
Kos is only 40km long yet it has more than 20 beaches ranging for sparkling white pebble shores to soft, gleaming sand. Mastichari is brilliant for water sports; Kardamena is sandy with shallow waters for swimming; Markos and Paradise Beach are perfect for making a day of it with kids and Marmari Beach is beautiful and has a Blue Flag to prove it.
Glossy Kardamena is one of the most popular resorts on Kos and an excellent family holiday base with most of the island's major hotels as well as good restaurants and cafés and a lively atmosphere that works well for kids of all ages.
Kos is a player when it comes to windsurfing, and water sports generally. If kids are keen to catch some wind and waves – or want to learn – most of the north coast beaches have prime conditions and equipment hire. Pick Mastichari Beach and the water park next to it.
For full-on authenticity make the trip to Kefalos, known as the prettiest town on Kos it's exactly as you'd expect in terms of little white houses, narrow cobbled streets and colourful courtyards. It's also very traditional and an interesting place to catch a glimpse of local customs and learn a little more about the island's past.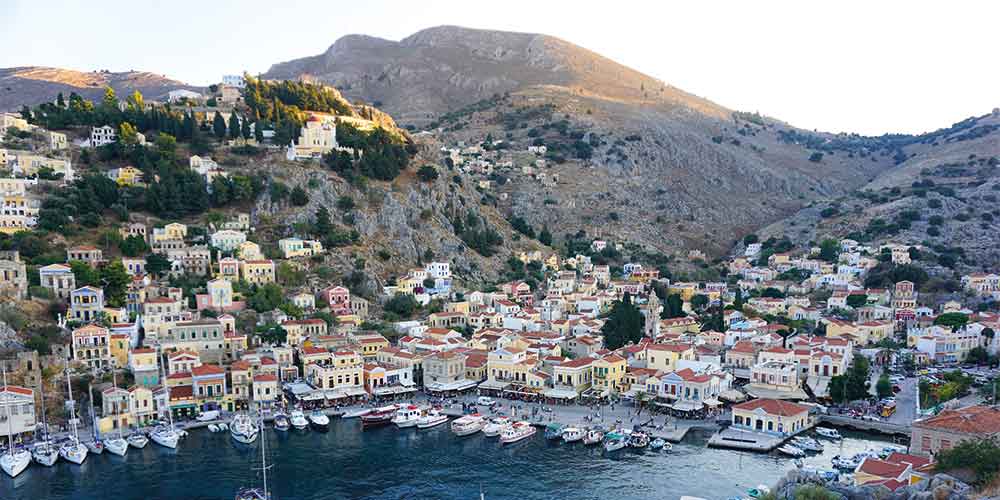 3/3

Symi
Colourful little Symi has one of the most photographed ports in the world but there isn't a snap yet taken that's quite captured how enchanting it is in real life. Less than two hours by ferry from Rhodes, it's so hilly that a staircase of 500 steps connects the upper and lower districts of the main town and just about every landmark, all over the island, comes with notable views alongside the history. Hidden beaches and secret coves are another delightful by-product of Symi's relatively rugged geography, and kids love the idea that getting to a few of the best beaches often involves a water-taxi ride. And, though there isn't an airport, regular ferries services from Rhodes and Kos make the island easily accessible most of the year. Symi also provides healthy local produce such as fresh fish, Symian small shrimps, atherinopites (pies with cheese or smelt) and akoumia (local doughnuts).
Symi family holiday highlights
You can't miss Gialós, it's the multi-coloured port of many classical mansions that greets every visitor to Symi as they sail into the island harbour. The 500 step staircase connecting Gialós to the upper town (Chorió) is such a charming climb you barely notice the legwork, plus a wander around the ancient churches, squares and little streets at the top is well worth the effort.
Get kids to look out for the 19th century clock tower, the Big Ben of Symi and the Knights Castle.
The port's also where you catch boats and water taxis to the island's more remote beaches. If you're really organised there are even small cruises which set off in the morning return late afternoon and take in beaches like Fokospilia as well as the captivating islet of Seskli.
Visit Moni Panormiti on the south side of the island to see the Monastery of the Archangel Michael and gaze out over the breathtakingly grand bay – take your swim stuff, the water here's lovely.
The Monastery of Archangel Michael was built in the 1500s and for centuries people from all over Greece have thrown bottles into the sea containing prayers and messages in the hope they'll reach Symi. Faith's a powerful thing and there are hundreds of successfully washed ashore offerings on display in the monastery – this quaint custom even enchants kids.
One of the island's most prized beaches is Ai-Giorgis Dysalonas on the east coast. It's pebble shores and big bay views are spectacular, and there's a sweet little church just for added character – not that it's needed. Boats for the beach leave from Gialós in the early morning. Remember to pack a picnic and take plenty of water and a beach umbrella.
Colourful fishing boats and drying octopus are a hint of how fresh the local seafood is here, try local specialities at the pretty seafront taverna in Gialós at lunchtime or in the evening, either way the views over the bay are amazing.
Ready to plan your next family holiday? Visit Greece has insider information on everything from accommodation to activities, all over Greece, all year round.