Family holidays in Crete take you to the most southerly and largest Greek island. And with the UK in talks with the Greek government about COVID-19 vaccine passports, we thought it might be a good time to take a closer look at why Crete is so popular with families,  and where's good to go on the island when we can start travelling again.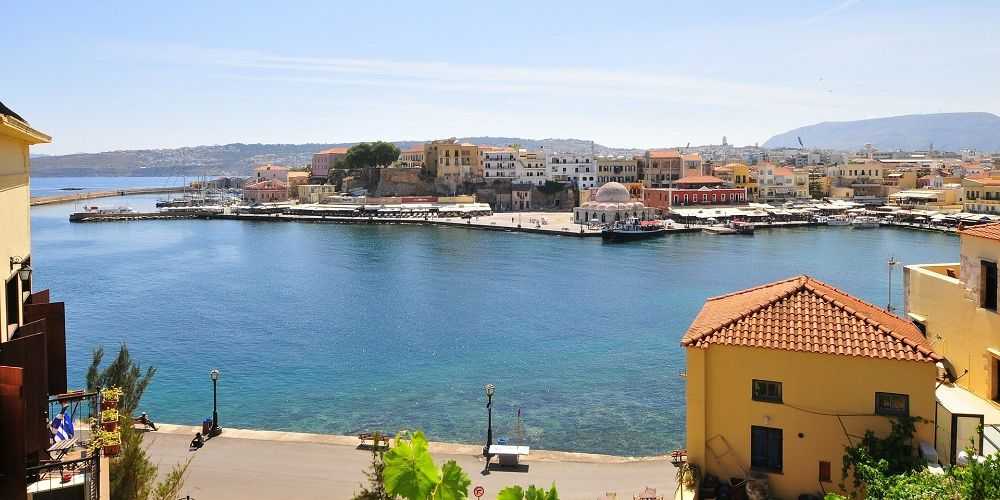 1/4

Chania
Chania is Crete's most westerly region, home to the White Mountains Protected Forest, incredible gorges and some of the loveliest beaches in Greece. With all this natural splendour going on, it probably won't surprise you much to discover that Chania's also where Crete's agritourism industry began; way back in 1994 when responsible travel was still considered quirky. As far as family holidays in Crete go, one of the advantages of an historic commitment to environmental and cultural stewardship is the wide range of activities and experiences which combine eco-friendly with fun – good news if you're travelling with older kids and teens.
Why choose Chania for family holidays in Crete?
Chania is Crete's former capital and if food's your passion this lovely city is one of the best places to indulge. Hunger for heritage is satisfied by a wonderfully atmospheric historic district centred around the ancient Venetian Harbour.
Vamos is the village where agritourism was born in Crete. Visit to see eco-excellence thriving everywhere from graciously restored mansions to charming taverna and award-winning 'green' guesthouses.
Let kids be archaeologists for the day at Kasteli where Archaeolab workshops give them a chance to excavate, discover and learn the secrets of the past, for real.
Discover beaches like Balos in the far west – world famous for its lagoon and shimmery white sands. Or go see the pink shores of Falassarna just south of Balos. Or pick one of the family-friendly beaches closer to Chania city, like Chrissi Akti, Troulakis and Paralia Agia Marina.
Chania's the region for hopping to beachy and beautiful islands and islets like Elafonisi, Gramvousa and Gavdos on the most southerly point of Europe.
For extreme outdoor adventuring, gorge walking, hiking in Lefka Ori (White Mountains) and exploring the untamed and magnificent White Mountain Protected Forest, head to wild, thrilling and totally unique Sfakia in the south of Chania.
Hike the Samaria Gorge (longest in Europe) with older kids and teens. It's a five-hour trek through impressive scenery and one of the top 'only on Crete' experiences for families.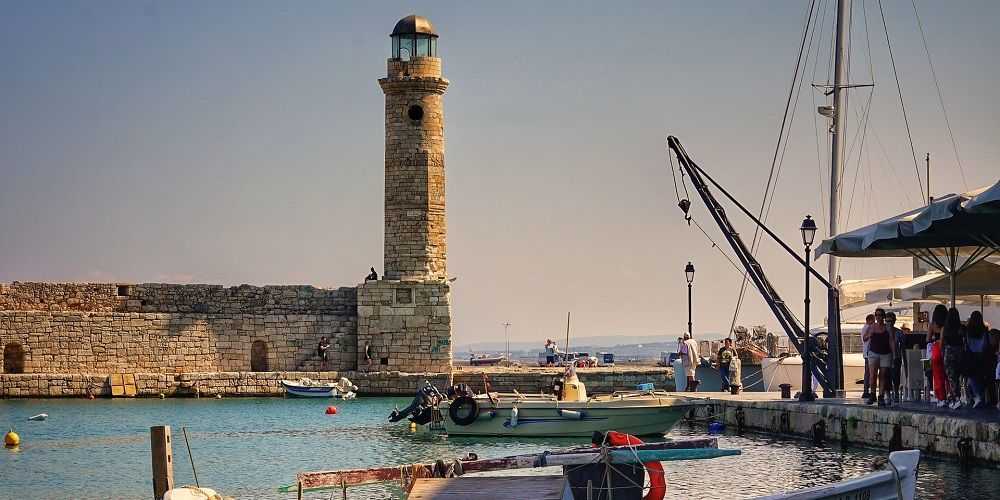 2/4

Rethymno
Tucked between Chania and Heraklion, Rethymno is Crete's smallest region which only makes it easier to explore its gorges and mythical caves, lovely beaches, historic villages and romantic Rethymno city itself; home to one of the best preserved medieval old towns in Greece.
Why choose Rethymno for family holidays in Crete?
Rethymno city stands alongside some of the finest medieval towns in Europe. Leave plenty of time for its cobbled streets, Venetian mansions, ancient churches and mosques, as well as pretty much endless intriguing legends.
Rethymno's magnificent 16th century Venetian fortress is simply known as Fortezza, it's fascinating to explore with kids and also contains Rethymno Archaeological Museum.
This is the region for mountain caves. If you only manage one make it Idéon Ándron, the Cave of Zeus. Legend has it that Zeus grew up here, hidden from his father Cronus, who had a nasty habit of eating his offspring. For that tale and many more, guided cave tours are great fun with kids.
Walk the three kilometre long Kourtaliótis Gorge with older kids and you'll come to the Lagoon of Prévelli, the pretty date palm trimmed beach is a nice reward for the legwork.
Sporty kids will love Plakiás Beach, south of Rethymno. And 20km long Rethymno city beach is another great choice for active families.
The village of Bali and Bali Bay with its mountain backdrop and sandy, cove-like beaches is ideal for younger kids.
If Ayía Galini, south of Rethymno, seems familiar, you've probably seen pics of its secret beaches and tiny islets, prepare to find them even more ravishing in real life.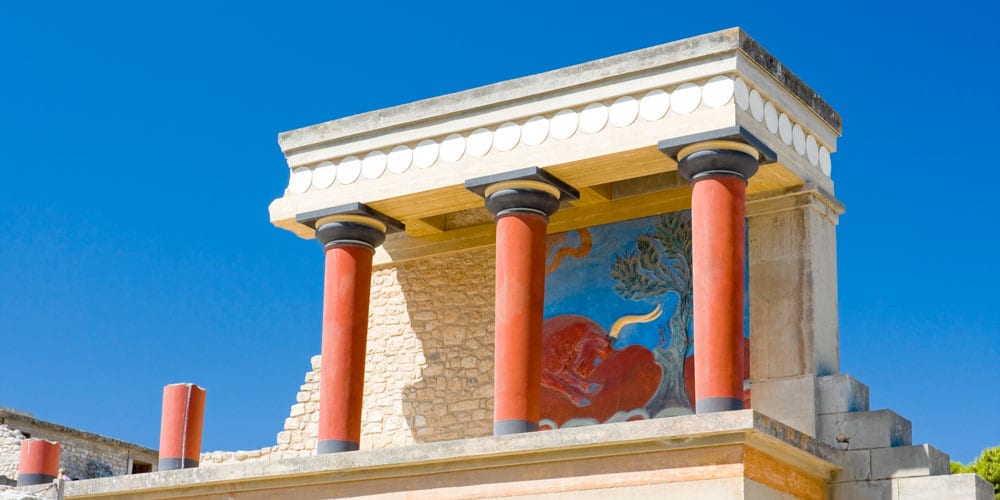 3/4

Heraklion
Tucked between two impressive mountain ranges with a magnificent stretch of coast and the largest, liveliest city in Crete at its heart, Heraklion is the region where family waterparks contrast with ancient marvels like Knossos. It's also where you'll find delightful eco-villages, thriving artistic communities in the lovely countryside and a coast lined with family-friendly resorts,  water sports, shops and restaurants.
Why choose Heraklion for family holidays in Crete?
Heraklion city dates back to the 9th century and its historic district is fascinating. If you want to delve even deeper into the past, visit the city's archaeological museum.
Just east of Heraklion, Cretaquarium covers 5000m², making it one of Europe's biggest aquariums. Designed to replicate Crete's underwater world it contains more than 2000 creatures from 200 different species.
Heraklion is the region for the Bronze Age Minoan Palace at Knossos. Younger kids will like Minotaur tales and teens looking for myth, legend and labyrinths won't be disappointed.
To see Crete's agritourism in action visit Archanes. Winner of a European Award for Village Restoration, it's where to find craft workshops, local food cafés and Cretan musical evenings.
History aside, Heraklion's also the region for waterparks and theme parks. Acqua Plus is a complete family day out just east of Heraklion city. Its near neighbour Labyrinth Theme Park is a rollicking romp round history for kids. And you'll find history real and very relevant at the excellent Lychnostatis Open Air Museum in Heraklion itself.
Hectares of family beaches surround Heraklion city, most have water sports and children's playparks. Sunbeds and umbrellas are the norm and you won't find many within a 20km radius of the city without kid-friendly waterfront restaurants.
For something a bit different, head to Matala an hour's drive south of Heraklion. Once a hippy haven, it's now one of the most famous beaches on Crete.
And while you're on the south coast, don't miss Matala's neighbour Kommos Beach for its sand dunes and gentle atmosphere.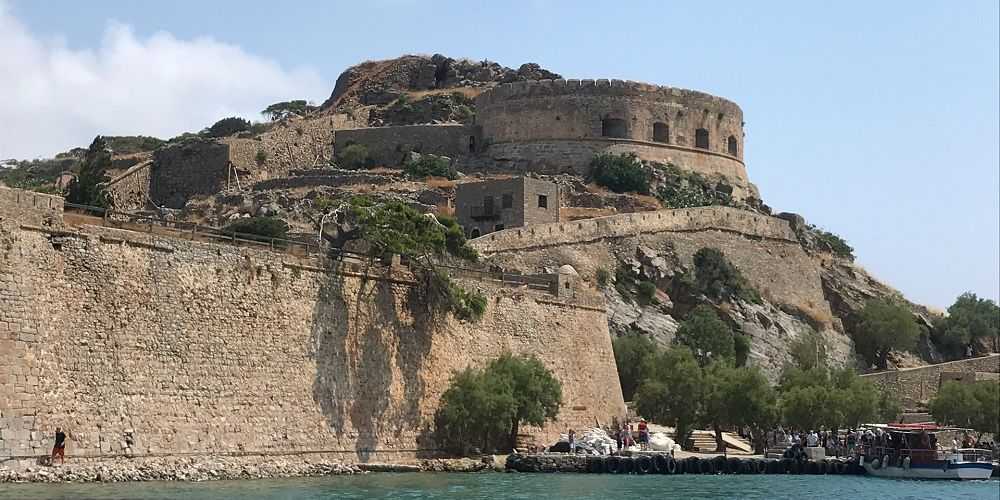 4/4

Lasithi
Crete's eastern region isn't the one for mountain ranges or gorges, but it's great for unusual beaches, interesting towns and villages, and historic sites like UNESCO World Heritage Spinalonga Island. Lasithi's well loved by families looking for fewer crowds, luxury resorts and authentic atmosphere, but all within easy reach of Heraklion.
Why choose Lasithi for family holidays in Crete?
One of the most popular family resorts in Crete, Agios Nikolaos sits on Mirabello Bay. It's known for a remarkable volcanic lake, which is drenched in Ancient Greek myths and also the setting for outdoor theatre, festivals, events and fun activities in spring, summer and autumn.
A little further east, the one-time fishing village of Elounda is the place for luxury resorts along a coastline overlooking Spinalonga Island.
Spinalonga Island is celebrated for its magnificent Venetian fortress and infamous as the home of Europe's last ever leper colony. Today it vies with Knossos for title of most visited historic site on Crete. The short ferry crossing from Agios Nikolaos, Elounda or Plaka is an adventure in itself with kids.
Lasithi isn't short of beautiful beaches, but the most unusual by far has to be Vai on the region's far eastern tip where white sands, clear waters and a friendly beach restaurant are backed by the largest forest of date palm trees in Europe.
Crete's famous for dive sites and one of the island's most mesmerising is the Agios Nikolaos Reef between Agios Nikolaos and Elounda.
Lasithi is the coast for peaceful coves, shallow paddling waters and safe snorkelling. But if you crave big, broad beaches try Kouremenos or Chiona to the east of Sitia or Makrigialos on the south coast about an hour's drive from Elounda.