How do you find the ideal Greek island for a holiday with younger kids when there are 1000s to choose from? Well, only 277 are inhabited and not every one is easy to reach from the UK. We picked our five favourites for their sandy beaches, calm seas, pretty little resort towns, friendly atmosphere and good airports. So if a Greek island holiday with under-fives is one of your dreams this year, take a look ….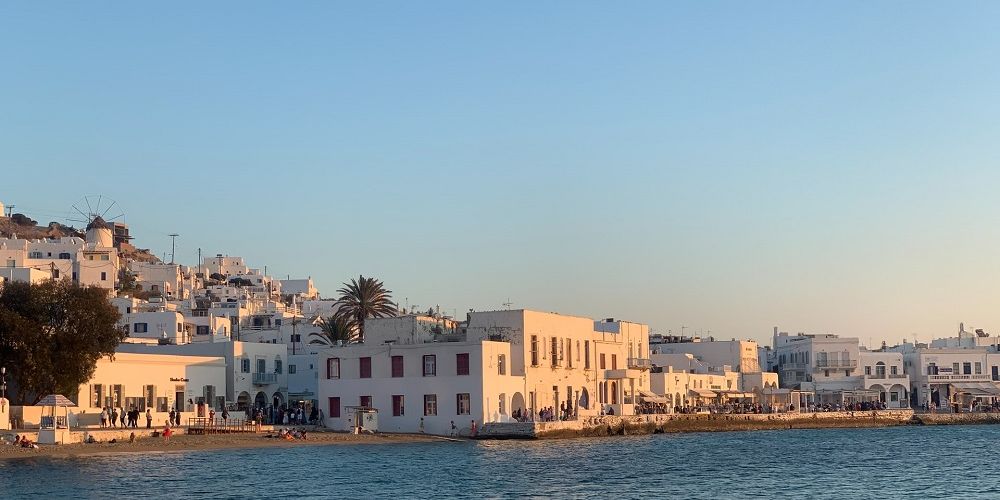 1/5

  Mykonos
Mykonos might only be 15km long, but it's ringed round with 25 white sand beaches and also has one of the loveliest small island capitals in Europe, which also happens to be car-free and easy to walk around – only perfect with younger kids.  And don't be put off by Mykonos' reputation as a party island. Any 2021 partying will be light and even in normal times it's  limited to one or two larger beaches. So that leaves plenty free for you and your under fives to paddle, nap and play in peace.
Why this Greek island for under fives?
Warm and sunny from April to September, with highs of 30˚, Mykonos is known for sea breezes, keeping beaches comfortable even in July and August.

Only one Mykonos beach isn't covered in soft, silvery-white sand.

The island's tiny and easy to get around, and the local bus company runs beach shuttles from Mykonos Town in spring and summer.

Neighbouring Naxos, Paros and

 

Delos are just 90 minutes' sail from Mykonos on the island's SeaBus.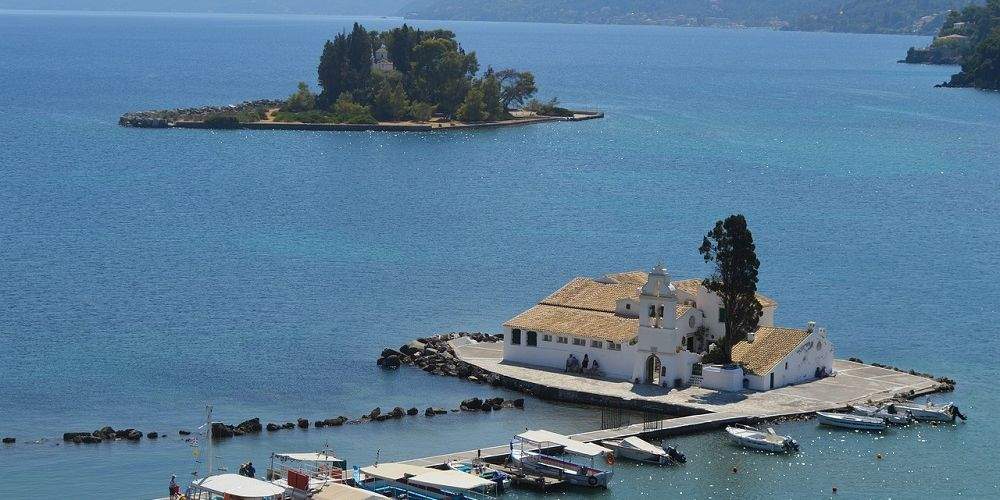 2/5

  Corfu
Anywhere on Corfu is great for under fives, but the north east has a slight edge. It's the area for charming seaside towns with cove-like beaches, cute waterfront restaurants, gentle atmosphere, and spectacular Ionian Sea views. You'll find a good choice of smaller holiday villas and relaxed little hotels too, and everywhere is family-friendly. Try pretty Kalami for fishing village authenticity, lush pine forests, and calmest seas. Or head a little further north to Kassiopi, another traditional town with breathtakingly beautiful beaches, which would be crowded anywhere else, but never are in this part of Corfu.
Why this Greek island for under fives?
Corfu Airport is an hour's drive south of Kassiopi in north east Corfu.

Corfu has 57 beaches, many are sandy with shallow seas.

UNESCO World Heritage Corfu Town is one of the most colourful Greek island capitals, easy to walk around, and buggy-friendly.

Corfu is very family-friendly, young children are welcome in restaurants, and most villas and hotels are well equipped for toddlers and babies.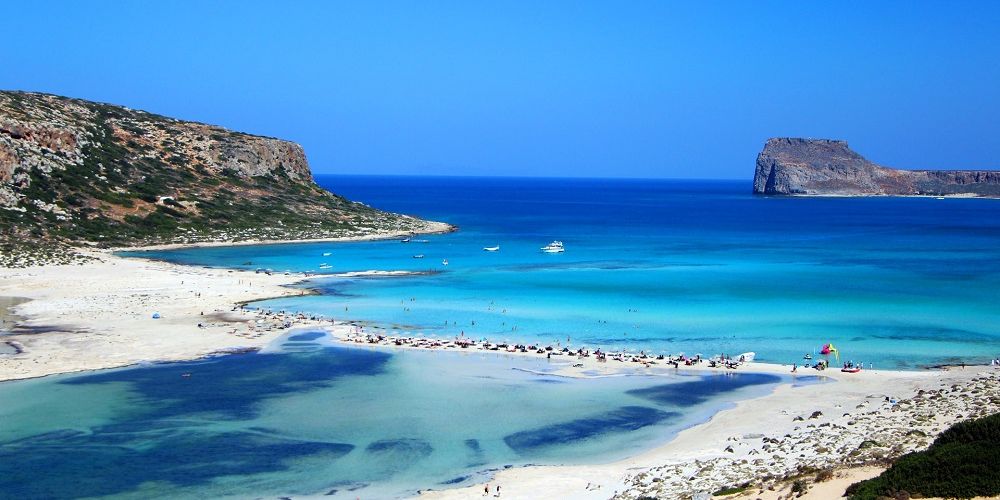 3/5

  Crete
Crete's the largest of the Greek islands, has two international airports, the longest summer in the entire country, and a Mediterranean and North African climate. There are more Blue Flag beaches here than not, and several of them are permanent fixtures on Europe's loveliest lists. It's also the only island in Greece with no dangerous or poisonous wild creatures, and even the tiniest coves have lifeguards during summer. If you can tear yourself away from the coast, agritourism is big on Crete and you're seldom far from quaint heritage farms often with cute animals to delight kids. 
Why this Greek island for under fives?
The north east coast, centred on Agios Nikolaos, is good for safe, sandy beaches and uncrowded resort towns.

The north west coast is the one for historic Chania and luxury family hotels or villa rentals.

Balos Beach in the far north west is fabulous for sea turtles, seals and safe paddling in the world famous lagoon.

Crete's family-friendly all over. But resorts closest to Heraklion tend to be crowded in summer, and the far south east of the island can feel a little remote.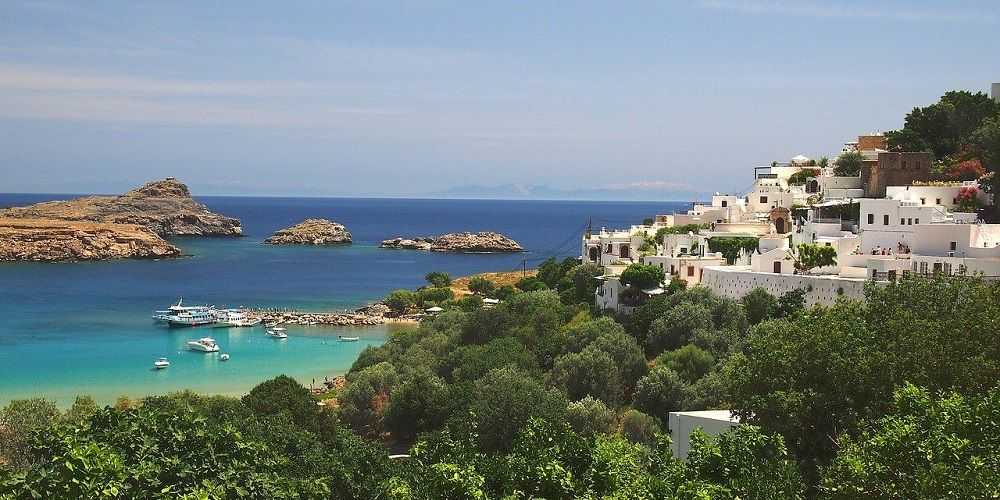 4/5 

Rhodes
Rhodes is the largest of the Dodecanese, but not so big you can't explore easily with under fives, and you've plenty of scope to mix a bit of city adventuring in with authentic island experiences and fabulous beaches here. Think about the sunny east coast, it's known for endless golden sands and fun family resorts. Chilled little Pafkos is a good choice with younger kids. Just under an hour's drive from Rhodes Town, it's also nicely close to the undeveloped and ethereally lovely south of the island. Plus, more like a village than a holiday town, it's peaceful in the evening, and the pretty beaches are never busy.
Why this Greek island for under fives?
Rhodes medieval old town is a UNESCO World Heritage site, traffic-free, and packed with good restaurants, shops, galleries and museums.

The island's famous for its 43 authentic villages, and plenty make an interesting change from the beach, even with younger kids.

If you're around in August, visit the Valley of the Butterflies in western Rhodes to see thousands of Panaxia emerging from their cocoons.

For complete escapism, pack a picnic and head to Genadi in the far south: the beaches are magical, and mostly deserted, even in summer.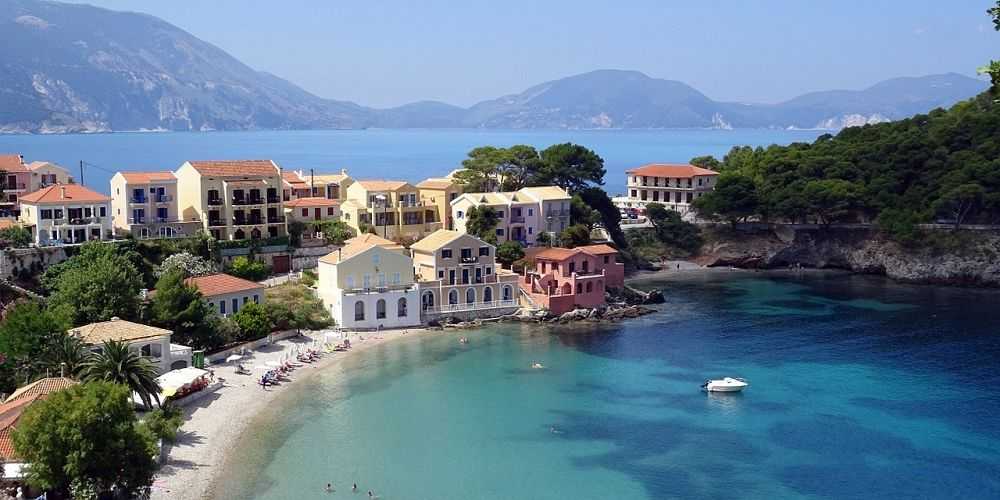 5/5 

Kefalonia
The largest of the Ionians, Kefalonia is surprisingly undeveloped, and seldom busy, even in July and August. It's a great island to get out and about with kids and introduce them to some outdoorsy fun beyond the seaside. Although 36 Mediterranean beaches are pretty persuasive reasons to stay on the coast. Think about the colourful little town of Assos on Myrtos Bay as a base with under fives. It's charming, peaceful and a close neighbour to Myrtos Beach: one of the most photographed in Greece. The airport's just outside the island capital, Argistoli, and about an hour's drive from Assos and several other beach resorts in the north of Kefalonia.
Why this Greek island for under fives?
36 beaches, mostly white sand, ranging from little coves to dramatic coastlines like Myrtos.

Sami on the east coast is a livelier alternative to Assos, very family-friendly, a good choice for larger hotels and kids' activities.

You'll probably want to hire a car for Kefalonia, but it's a pleasure to drive around this astonishingly scenic island.

If you don't want to drive, look at Skala in the far south, it's within easy reach of the airport, and pretty much purpose-built for family holidays.
Looking for UK summer staycation ideas? Find 12 magical places to add enchantment to your UK holiday plans. And don't forget to follow Family Traveller on Instagram and Facebook and tell us where your family wants to go when we can all go anywhere again.