Greece is one of the most popular child-friendly European holiday destinations with some amazing family resorts. We've rounded up the best family hotels in Greece, for those who like a little indulgence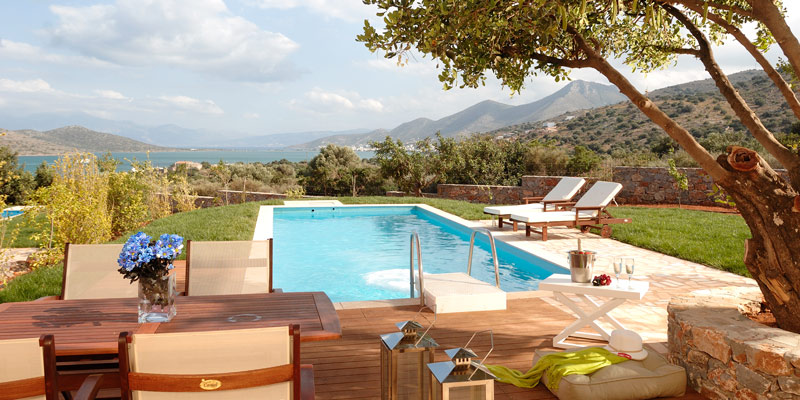 1/8

Domes of Elounda, Crete

The Domes of Elounda resort is one of the most exclusive European family resorts. Part of the Autograph collection, Domes is one of the best places to stay for families looking for indulgence.
Location
Domes of Elounda is near a fishing village in northern Crete. Knossos, the largest Bronze-age archeological site in Crete and a water-park are within driving distance.
Facilities and food
The hotel's 'Haute Living' concept includes villa managers, pre-booked sunloungers and a welcome open bar. Experience four restaurants, BBQ nights and gastronomy festivals.
Rooms
Family rooms cater for every need, from triple rooms to two-bedroom suites for up to five people. Garden views or private pools are also available.
Why it's great for families
Winner of last year's Family Traveller Award for Best Overseas Accommodation for Families, Domes of Elounda offers an outstanding 'Domesland' kids' club and creche with plenty of indoor and outdoor activities.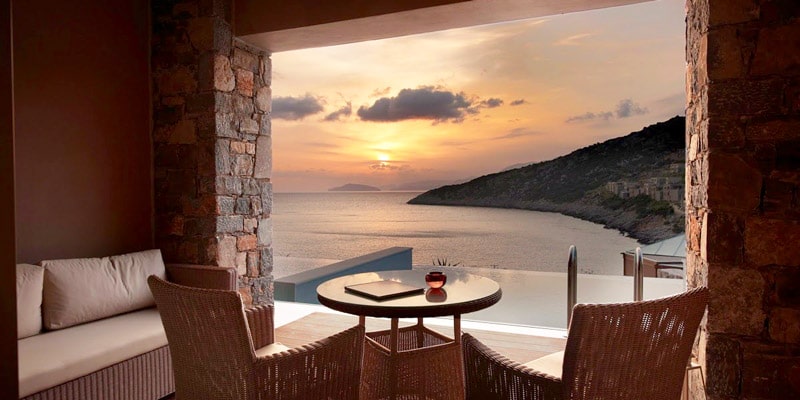 2/8

Daois Cove, Crete

If you're looking for privacy but want the option of daily adventure, Daios Cove is a family friendly option. The resort prides itself on its designer aesthetic; this is certainly one of the most elegant Greek family hotels.
Location
In a secluded cove on the north-east coast of the island, Daios is perfectly situated for a beach holiday or a more active getaway. See the island in a Land Rover tour before returning to paradise.
Food and facilities
Choose from six restaurants and enjoy dining beach-side. There is a heated infinity pool, two sea-water pools and a child friendly beach with its own kids' area.
Rooms
From sea-view hotel rooms to premium suites, Daios goes above and beyond other family resorts. All rooms can accommodate a child, and there are interconnecting rooms available for larger families.
Why it's great for families
Babysitting services and daily games make this a great family friendly hotel. The UK-run kids' club and creche will be the highlight of your stay.

3/8

Sani Resorts, Halkidiki

This family-owned ecological reserve is ideal for kids who love nature. The tranquil setting of olive groves and white-sand beaches is befitting of the resort's green and eco-friendly focus.
Location
Set on the Kassandra Peninsula, the Sani's five hotels are set in 1000 private acres. Take a cruise on the Aegean sea to Mount Athos, visit Turtle Island or try scuba diving.
Facilities and food
With over 20 restaurants, guests are spoilt for choice when dining at Sani. There are seven beaches; heated outdoor pools; watersports and a sumptuous spa.
Rooms
Choose from family friendly interconnecting rooms or suites with separate living area and bedrooms. A clean, neutral palette makes for ideal surroundings in which to unwind.
Why it's great for families
Children enjoy the UK-run Worldwide Kids club and parents love the 'Babewatch' beach care service. Face painting and pirate parties are just some of the child-friendly activities on offer.
Other Sani Resorts include:

4/8

Eagles Palace, Halkidki

One of the smaller family resorts in our selection, Eagles Palace is a stone's throw away from Mount Athos and is one of the best places to stay for parents who want to combine an elegant spa hotel with child-friendly services.
Location
Four kilometres from Ouranoupolis, Eagles Palace is privileged with access to mountainous landscape and golden beaches. The 1344AD tower of Ouranoupolis is a popular attraction and adventurers can visit the monasteries atop Mount Athos for a once-in-a-lifetime experience.
Food and facilities
Guests can choose from a selection of eight restaurants and bars along with an extensive room service menu, so parents can enjoy the flexibility that travelling with children requires. Kids' watersports, a playground and a kids club ensure that younger guests will have just as much fun as adults.
Rooms
Enjoy a garden view or sea view from the Eagles Palace hotel rooms for a couple's getaway, or upgrade to a suite or bungalow when bringing the kids. Splash out on a private pool for extra convenience.
Why it's great for families
Eagles Palace has a wide variety of child friendly facilities and offers babysitting services so parents can get to one of the stunning restaurants for a romantic date night. The spa is outstanding so parents can really feel like they have had a relaxing break and treated themselves as well as giving the kids a great holiday.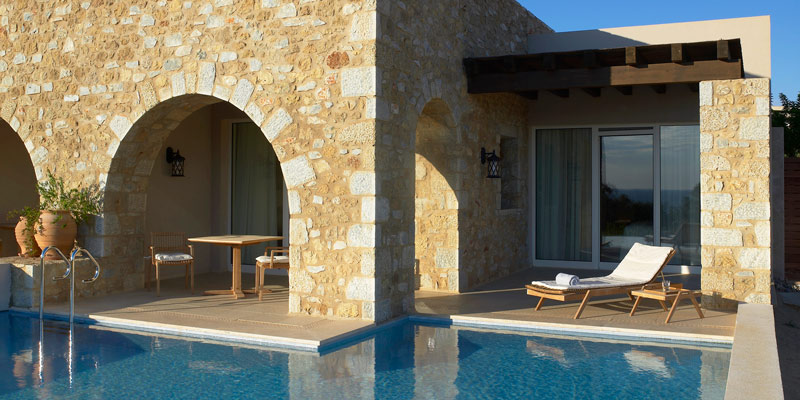 5/8

The Westin, Costa Navarino, Messinia

Inspired by Messinian mansions, The Westin combines old-world charm with contemporary luxury. There is an outstanding programme of activities to balance relaxation with enriching experiences.
Location
The area is rich with heritage, boasting medieval castles and Byzantine churches. Within driving distance are UNESCO Heritage Sites including Olympus and the Temple of Apollo Epicurius.
Facilities and food
There are ten exquisite restaurants to choose from and extensive in-room dining options. The Chef's table offers table-side carving and live cooking. After indulging, stretch out with a round of golf or hit the spa for some pampering.
Rooms
From Deluxe rooms to infinity pool suites, The Westin has family rooms to cater for all budgets. All rooms sleep a minimum of 4 people in a King bed plus a plush sofa bed.
Why it's great for families
Voted as "Best Family Destination" in 2016, Costa Navarino is one of the best places to stay for family friendly luxury. Kids will love the ice cream parlour and children's clubs.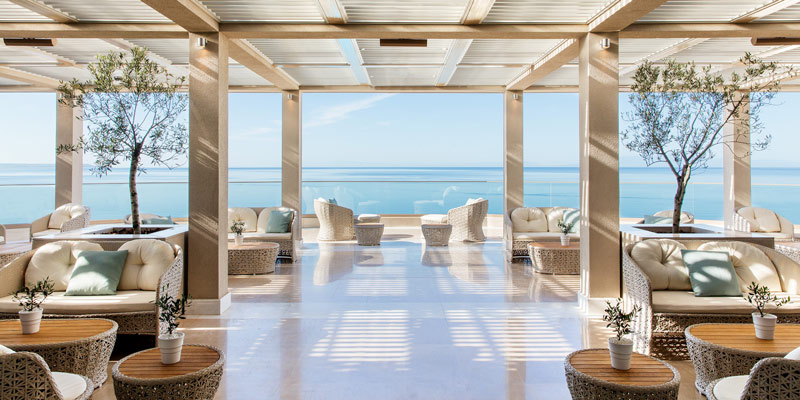 6/8

Ikos Resorts, Halkidiki

Another winner in the Family Traveller Awards, Ikos was named 'Best All Inclusive Resort for Families' in 2016. Boasting an ultra-all-inclusive service, guests will want for nothing and the child friendly staff are outstanding.
Location
Ikos Olivia is nestled in the Gulf of Torroneos, the flagship Oceania is in the heart of Halkidiki and Corfu's Ikos Dassia is set to open in 2018.
Facilities and food
The Infinite Lifestyle concept means that guests would be hard pushed to think of something not on the menu. A variety of restaurants with menus designed by Michelin chefs are complemented with 24/7 room service and daily refilled minibar.
Rooms
Cosy up in a sea-view hotel room or stretch out in a bungalow. Families can choose a private garden or pool and upgrade to the Deluxe collection for exclusive bars and pools along with a private beach area.
Why it's great for families
The all-inclusive concept means that parents are assured that there will always be something attractive on the menu. Tired kids are no problem; relax in your room and dial room service, 24/7.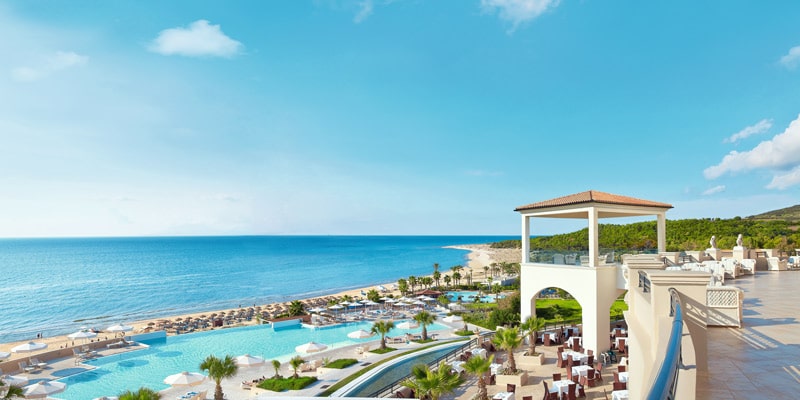 7/8

 Grecotel: Olympia Riviera Thalasso

Grecotel offers some of the best places to stay for families wanting a luxury Greek break. From Mykonos to Kos, Grecotel has mastered the art of creating outstanding family resorts all over Greece. Grecotel resorts draw inspiration from the local area, creating a unique and authentic aesthetic in each hotel. Activities from visiting Corfiot museums to riding banana boats mean boredom simply isn't an option.
Location
Located on a 2 km of golden sand lapped by the crystal-clear waters of the Ionian Sea, this is one of the longest sandy beaches in the Mediterranean.
Food and facilities
There is a great choice of varied dining in the 20 uniquely appointed restaurants & bars of the Olympia Riviera Resort complex. The main pool cascades to the beach, creating a relaxing waterfall. Luxury is in the fine details, so along with the best hospitality, a unique exhibition of natural art is displayed in the property, as well as marble replicas of ancient Greek sculptures. The Elixir Spa combines the age-old wisdom of the Greeks, who valued the healing properties of the sea, with modern wellness regimens to relax the body and rejuvenate the spirit.
Rooms
Elegant sea view suites strike a balance between the casual and the glamorous stay.
Why it's great for families
There's a brand new mega aqua park opening at the end of June that will be the largest in a Greek resort – 12,000 m2 of excitement waiting to be discovered. It is said to be filled with heart stopping, adrenaline pumping, record breaking waterslides, rides and aqua towers. In the resort there is currently an abundance of watersports & sports facilities that are perfect for families, including Olympia Equestrian stables, tennis courts, archery & multi-sports area. Arsenal football club training sessions and outdoor discovery adventures are only just a few of our suggestions for children. The Kids Summer Camp is a hit as it is full of great activities.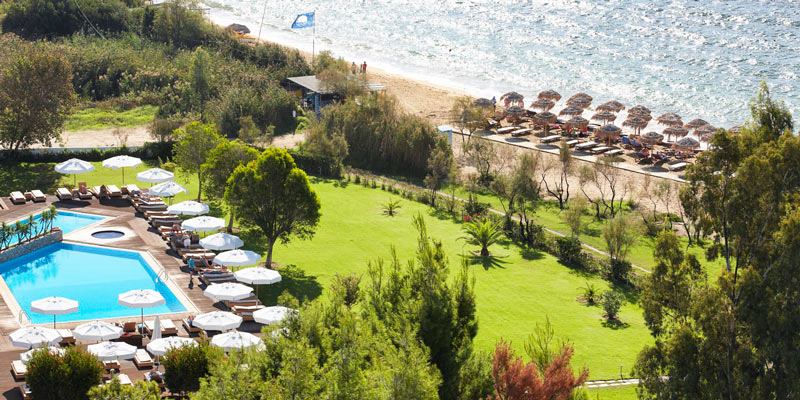 8/8

Skiathos Princess, Skiathos

The Skiathos Princess is a tranquil child friendly resort with a focus on health and wellbeing. Yoga retreats, paddle-board yoga and other sporty options promise to have you returning from holiday feeling 'zen, tan and bendy'!
Location
The Skiathos Princess graces the southern coast of the sunny Greek island that is famous for its soft, sandy beaches. For those wanting to see another side of the 'real' Skiathos, head inland to the dense woodland for complete peace and quiet.
Food and facilities
Recline in the lounge bar with a glass of champagne or enjoy the innovative Churrasco restaurant; with six dining options and beach-side snacks and drinks, food is one of the highlights of this resort. Take care of yourself with an aqua-yoga class or indulge in a spa massage.
Rooms
The sumptuous family rooms are equipped with two double beds so little ones can enjoy a holiday sleepover. Upgrade to Premier with a garden or Deluxe for a two-bedroom unit.
Why it's great for families
An 'Adventure Garden' for children as well as a vibrant kids' club offer plenty of daily activities for young guests. A la carte excursions are also available on request so parents can enjoy some quality time.