Nowhere on earth comes more drenched in myth and legend than Greece. The tiniest islands are scattered with monuments, and you can barely walk three steps on some of the larger ones without running into an ancient temple or ruin. But, fascinating as the backstories usually are, quite a few of the sites can be a little underwhelming for kids.
So, to spare you the tricky task of funning-up an old pile of rocks that may, or may not, have been hurled by Hercules back in the day. Here's a quick rundown of Greek sites where reality more than matches the myth for even the most reluctant young explorers.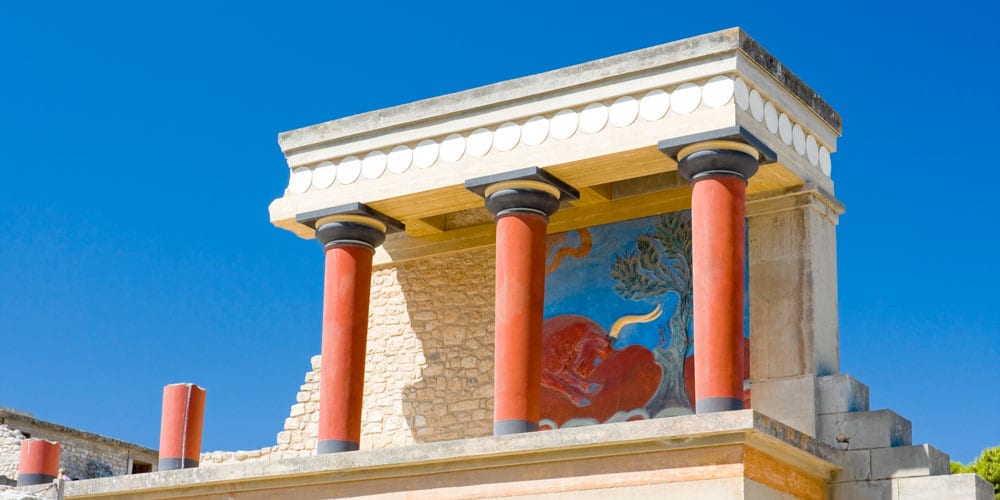 1/5 

Minoan Palace of Knossos, Crete
The origins of Minoan labyrinths are hazy, but the best tale by far is the story of King Minos commissioning an underground maze beneath his palace at Knossos on Crete, to be used as a prison for his son, The Minotaur.
There are dozens of ancient Greek myths linked to this half-man, half-bull, ranging from maze-architect Daedalus becoming trapped in his own creation to Theseus rescuing Ariadne from the monster, using nothing but a ball of twine.
The ancient palace at Knossos still stands in Crete and it's prime territory for unravelling the mysteries, and one of the top Greek sites for kids. There aren't any Minotaur relics, but the palace is vast and exciting. Plus, if they look carefully there's even a labyrinth, of sorts: it's actually a mosaic floor maze, but working it out isn't as easy at it sounds.
Lowdown
How to get there: Direct UK flights to Heraklion take four hours. Knossos is 20 minutes drive south of Heraklion city centre.
Where to stay: Stalida is a good family resort for older kids. 30km east of Heraklion, it sits on the Bay of Malia, close to waterparks, and overlooking a huge, sandy beach with great watersports and windsurfing.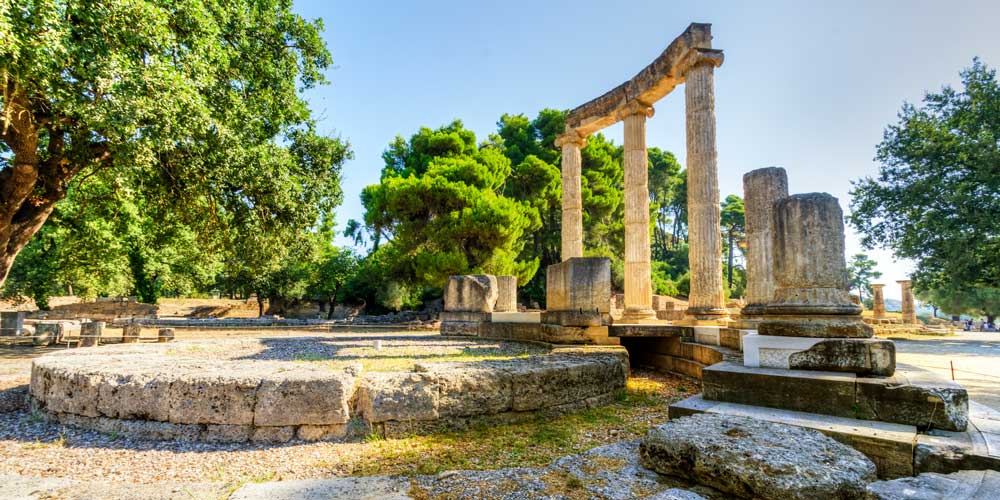 2/5 

Olympia, Peloponnese Peninsula
Most archaeological sites fall short for kids because they're fairly abstract: when you've heard one legend of Apollo, you've heard them all. Olympia bucks that trend completely. Not only is it the birthplace of the Olympic Games, the site is remarkably complete, so young visitors can actually visualise how spectacular the events were, even as far back as 4th century BC.
The athletes' tunnel into the stadium is still intact, and looks exactly like the players' tunnels at most major football stadiums. Kids can see the swimming pools and exercise grounds, and if the soaring pillars lining the east colonnade of the Palaestra don't stun them, there's always the mammoth Temple of Zeus to pad out the drama.
See the site first, then the museum. Understandably, most of the moveable artefacts are kept here, and after a walk round Olympia itself, kids are usually happy to have a browse.
Lowdown
How to get there: Direct UK flights to Kalamata, SW Peloponnese, take just under four hours. Olympia is an hour and 20 minutes drive north of the airport.
Where to stay: The lively seaside resort of Kyllini is about an hour north of Olympia. Famous for huge, sandy beaches, it's also a great base for outdoor adventures round the west of the Peloponnese Peninsula.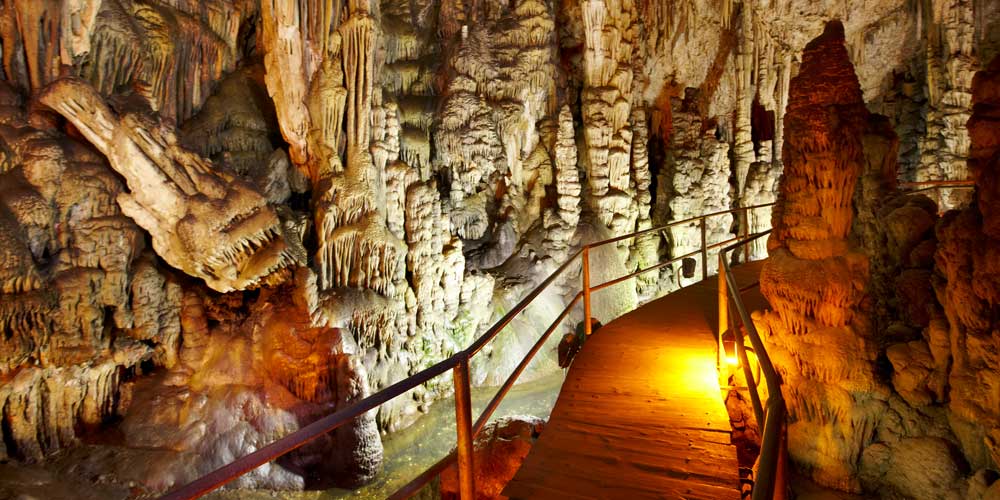 3/5 

Cave of Zeus, Crete
Zeus tales are scattered all over Greece, but they all begin in Crete, where legend has it he was born and raised in a cave under Mount Ida, just an hour's drive south of Heraklion. Apparently his father, Cronus, had a nasty habit of devouring his children at birth, hence the secrecy.
You might want to modify that story, but the cave itself is a fun visit for most kids, atmospheric enough to satisfy chill-seeking teens, and has some incredible stalactites at the entrance. You can walk through on your own, but guided tours are a good source of gory details.
Lowdown
How to get there: Direct UK flights to Crete take just over four hours. The Cave of Zeus is an hour's drive inland from Heraklion, at the base of Mount Ida. 
Where to stay: Agios Nikolaos is one of the most popular family resorts on Crete. It's on the north east coast, famous for Caribbean-style beaches, and just over an hour's drive away from the Cave of Zeus.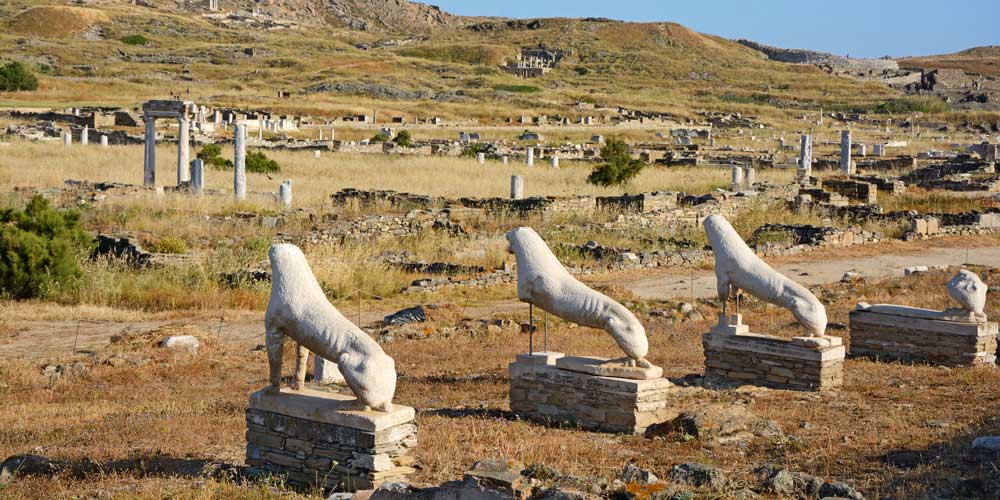 4/5

  Island of Delos
You can tell kids this is one of the most important archaeological sites in Greece, or you can just let them work it out for themselves. Either way the tiny, uninhabited island of Delos is amazing enough to blow away any doubts about how weird and wonderful the ancients were.
There's been no modern development here, ever, so the entire island is given over to acres of temples, ruins and monuments. If the fabled beasts lurking along the Terrace of the Lions aren't enough to strike some silent awe, go for a lighter note. Delos was supposedly the birthplace of Apollo, but it was also sacred to Dionysus, God of wine and fertility. Head to his temple (Stobadeion) and check out the southernmost pillar: the enormous symbol on top is instantly recognisable, even with the top lopped off. 
You can only visit Delos on a guided tour, which means you can leave it up to a local expert to fascinate kids here, which they will, effortlessly.
Lowdown
How to get there: Direct UK flights to Mykonos take four hours. There are guided tours of nearby Delos all summer, the crossing takes about 40 minutes.
Where to stay: Historic Mykonos Town is interesting for older kids, and you'll find a good choice of family resorts strung along the south coast. Close to Kalafati Beach is best for sporty teens, but the island's tiny and easy to travel around.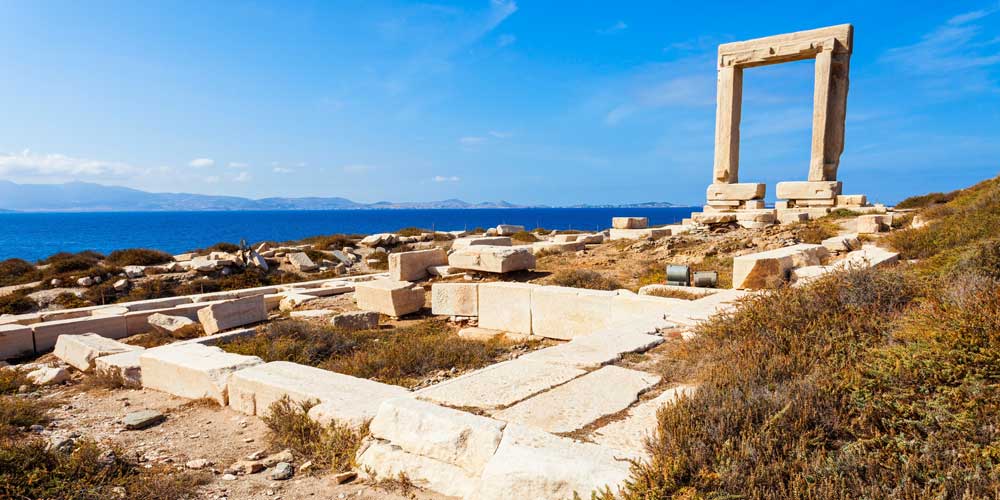 5/5 

Portara, Naxos
According to Greek legend, Theseus went to all the effort of rescuing Ariadne from the Minotaur on Crete, only to abandon her on Naxos. As places to pine go, the largest of the Cyclades Islands is lovely: and since Dionysus turned up to claim Ariadne, not long after Theseus sailed off, any languishing was short lived.
But deserted Minoan princesses won't impress kids half as much as the immense Portara (great door) which stands sentinel over Naxos harbour. Built in 530BC, it stands 26 foot high and sunsets over nearby Delos are captured in its heart every evening. For teens, it's a perfect selfie frame, kindly provided by the ancients. And younger kids like walking over the causeway and scrambling uphill to reach it.
Lowdown
How to get there: Direct UK flights to Mykonos take four hours, the ferry crossing to Naxos is just over an hour.
Where to stay: Agios Prokopios, just south of Naxos Town, is the island's main resort and best for beaches, and family hotels.
More interested in coasts than classics? Here's where to

find the best Blue Flag beaches in Europe

, including several in Greece.