Sponsored Content
Fabulously festive Christmas markets
Nowhere has more enchanting Christmas markets than South West Germany, with its medieval and Baroque palaces providing a fairytale backdrop for dozens of beautifully decorated wooden stalls. At a traditional Christmas market, families can buy locally-made toys and artisan gifts, relax with mugs of mulled wine and tuck into delicious fresh gingerbread cookies, sausages and baked apples.
Stuttgart Christmas Market
23 November to 23 December 2016
Stuttgart is the capital of South West Germany's Baden-Württemberg state. It is home to one of Europe's largest markets and also one of its oldest, with a 300-year history. Stuttgart market fills the city's car-free heart. Stalls compete for the coveted title of 'best decorated' and are adorned with greenery, twinkling lights and charming ornaments. During festive season, free Christmas concerts are held in Old Palace's Renaissance courtyard, as well as on the steps of the Town Hall.
Find out more about Stuttgart Christmas Market
Ludwigsburg Christmas Market
22 November to 22 December
Fittingly, the market in Ludwigsburg has a Baroque theme. Browse locally-made gifts under thousands of shimmering light and don't miss the chance to sample freshly baked Holzofendinnede, which are like mini pizzas (but tastier!)
Find out more about Ludwigsburg Christmas Market
Esslingen Christmas Market                               
22 November to 22 December
You've tried the markets, but what about a Medieval Fayre at Christmas time? 200 themed stalls and 500 cultural events fill the cobbled streets of Esslingen's medieval town centre. Discover artisan crafts and skills – anyone for axe throwing?
Find out more about Esslingen Christmas Market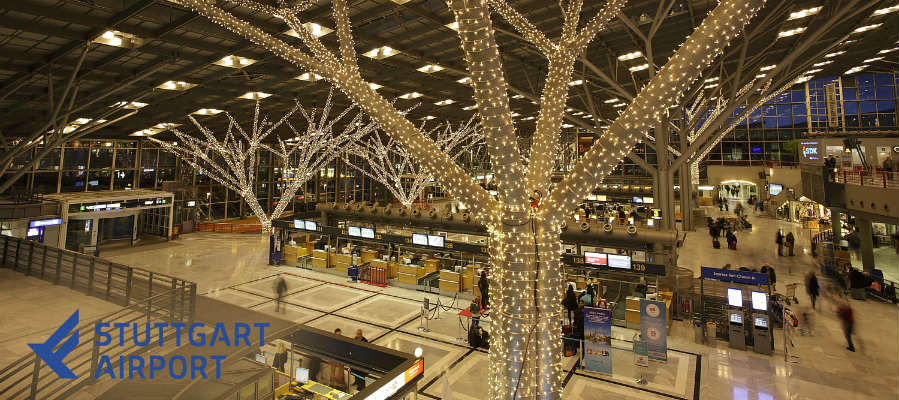 Five reasons to choose Stuttgart Airport
Regional charm and international flair in the heart of Europe
The perfect gateway to discover Stuttgart and Germany's prospering South West region
Easy to native – logical terminals, all a short walk from each other
VIP service to enjoy before departure and on arrival, including dreamy lounges where you can even relax in a hammock enjoying an incredible view of the airport
A wide variety of stores and duty-free shops
Enjoy an exclusive dinner in Top Air restaurant – the only restaurant in an international airport to hold a Michelin Star for 25 consecutive years
Your way to Stuttgart
Getting to Stuttgart couldn't be easier, no matter where in the UK you live. Eurowings, British Airways, Ryanair, Flybe and easyJet all fly direct from the UK to Stuttgart and you can fly from London (Heathrow, Stansted and Gatwick), Birmingham, Manchester, Edinburgh and Dublin. Now all you need to do is decide when to go!