Sponsored Content
A magical winter awaits at Europa-Park
Visit Europa-Park this winter and you'll be greeted by the glorious sight of snow-topped Christmas trees, the aroma of mulled wine and the sound of carols. Europa-Park is Germany's largest theme park and its Christmas season lasts three months, from 26 November to 8 January 2017 (excluding 24 and 25 December), closing with a grand finale between 13 to 15 January 2017.
During the Christmas season, Europa-Park glistens with thousands of baubles and lights and guests can look forward to live shows, family attractions and tasty winter food.*
Festive attractions
Europa-Park is divided into numerous country-themed areas. During winter, the Spanish area is home to an exhibition of stunning ice sculptures – a dreamlike world of intricately detailed sculptures standing up to four metres tall. Winter adventurers can explore the area on bob sleigh or swirl and swoosh on the ice-rink in the Scandinavian-themed areas.
Little ones can leave footprints in the snow that lead to the indoor discovery tour at the Limerick Castle play area in the new, Irish-themed area, while parents warm up over an Irish coffee at O'Mackay's pub.
In the Portuguese-themed area, there's a 55-metre-high big wheel, Bellevue, which offers a fabulous view over Europa's winter wonderland.
Some of the best treats are the huge advent calendar in the Italian area and Santa's office in the Russia zone, where little ones can deliver their wish lists personally.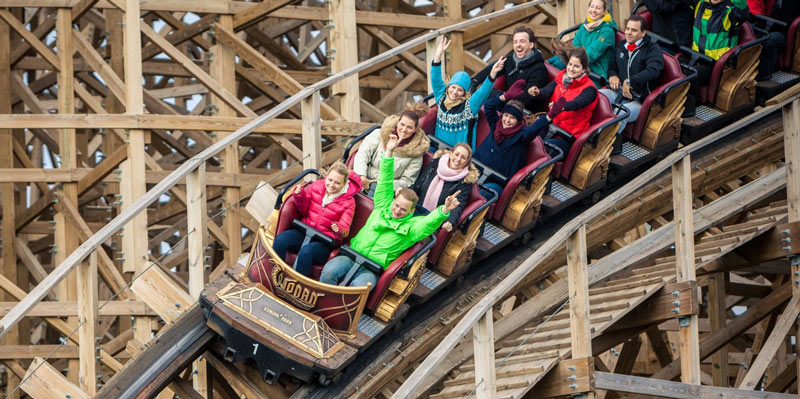 The Janosch Exhibition
In the 2016 winter season, Europa-Park features an immersive art exhibition dedicated to the works of famous illustrator Janosch, who is celebrated as one of Germany's most talented children's book authors and illustrators. The exhibition features over 200 illustrations of Janosch's characters, including Tiger Duck and Panama. The entrance to the exhibition is included in the park admission.
Fantastic family shows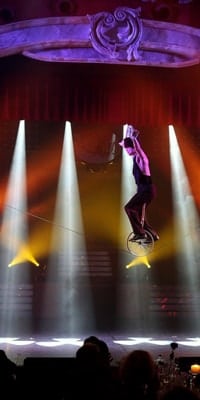 Dancers, artists, and clowns are all on hand to mesmerise audiences at the magical Circus Revue. Look out for 'A Musical Christmas Market' at the Globe Theatre, the ice show 'Surpr'Ice with the Son of Santa' and the popular children's musical 'I want… Christmas Chaos'.
To wave off 2016 in style, Europa-Park hosts a glittering New Year's party with illuminated rollercoasters and sparkling winter attractions.
The 'Cirque d'Europe' dinner show from 17 November 2016 to 11 February 2017 is another highlight. A unique combination of artistic performances, live music, comedy, and an exquisite menu created by 2* Michelin chef Peter Hagen.
Cosy Christmas markets
The warm atmosphere, jolly carols and delicious scents of the traditional Christmas market in historic Balthasar Castle Park make for a scrumptious winter stroll with the kids. When night falls and Europa-Park is bathed in the light of the moon, torches are lit and log fires illuminate paths and stalls. The Christmas market in the German Alley offers culinary delights such as sausage and cheese specialities, fine chocolates and spirits from local producers.
An enchanting stay
Europa-Park's five 4* themed hotels offer comfy nights with a charming ambience. Festive decorations, culinary delights and wellness treatments help you and the kids indulge, relax and unwind.
For a rustic alternative, stay at the Camp Resort. On certain dates, more adventurous guests can stay overnight in heated log cabins and experience a true festive German winter.
The lowdown: Europa-Park at winter
Opening times
Europa-Park will be open in the winter season from 26 November 2016 to 8 January 2017 (except 24/25 December), as well as from 13 to 15 January 2017.
The park is open from 11am to at least 7pm daily (31 December to 6.30pm).
Price
Adults £33, children (aged 4-11) £28. Evening tickets from 4pm: adults £18, children £14.
*Attractions might be closed due to severe weather conditions.