Welcome to Baden-Wurttemberg
With castles perfect for Rapunzels and half-timbered houses for Hansels and Gretels, SouthWest Germany is like a fairytale come to life.
But this region offers more than storybook scenery. Bordered by France, Switzerland and Austria, what is officially the federal state of Baden-Württemberg is the sunniest region in the country – and there is plenty to do all year round.
Go in spring for glorious gardens, especially on Mainau, the Lake Constance island known for its Mediterranean- like climate. Go in summer, for long, hot days ideal for swimming in clean lakes and hiking in cool forests. Go in autumn, when orchards are bursting with fruit. As for winter, nowhere has more authentic Christmas markets, with sweet treats for kids and warming Glühwein for parents.
Baden-Wurttemberg with kids: what to expect
[soliloquy id="8511″]
The first thing to decide is: what kind of a holiday should it be? Towns and cities, such as Stuttgart, have hands-on museums, as well as great shopping.
Posh Baden-Baden comes with a family-oriented spa and a casino straight out of James Bond. Olde-worlde Heidelberg is famous for its romantic ruined castle, while Freiberg centres on a cathedral, whose 380ft tower has terrific views – if you climb the 300-plus stairs.
Children need to be active, and in SouthWest Germany, working off energy is easy. The huge system of well-marked biking trails makes getting into the Great Outdoors simple and safe. For a real test of nerve, head for the Hirschgrund Zipline. This network of seven runs includes one 275ft above the valley floor and 1,900ft long.
And then there is food. Tasty local specialities include Maultaschen (like ravioli) and Käsespätzle (cheesy noodles, always a winner). Or go for steak and onions, or plain sausages. Children's menus are a given.
Everywhere offers terrific value for your pound; everyone speaks excellent English. With direct flights from all over the UK to airports in or near SouthWest Germany, getting there is straightforward. So is getting around, on motorways or the efficient rail and bus networks.
What to see
[soliloquy id="8517″]
Mercedes-Benz Automobile Museum, Stuttgart
Did you know that the car was invented in SouthWest Germany? Yes, Karl Benz patented the first Motorwagen here in 1886. In this modern museum, 160 classic and posh vehicles cover 'then' to 'now'. Displays also examine the car's development and social impact. Take selfies in front of the F1 car in which Lewis Hamilton won his first world title.
Museum entry: adults £6; children free
Find out more about Mercedes Benz Musuem.
Ritter Sport Chocolate, Waldenbuch
Dare to be square: that's what Clara Ritter suggested in 1932. After all, a square chocolate bar fits into a jacket pocket more easily than a rectangular one. The family agreed – and the rest is history. Ritter's interactive museum not only explains how bitter beans become yummy chocolate, but also has a workshop just for kids. With trained staff, they create their own flavours and design their own wrappers (£6). Meanwhile, grown-ups visit the Ritter art collection next door (£5), where all works are, of course, square!
Museum entry: adults free; children free
Find out more about Ritter Sport.
Hohenzollern Castle
Now, that is a castle! Sitting atop a rocky crag, Hohenzollern is one of Europe's most imposing castles. For 1,000 years, this was the ancestral home of Prussian kings and German emperors. And the Hohenzollern family still owns it today. Walk the battlements; admire the panoramic views and grand state rooms; peer at the magnificent Prussian royal crown. There are regular guided tours in English; check the website.
Castle entry: adults £9; children £5 (free on their birthday)
Find out more about Hohenzollern Castle.
World's biggest cuckoo clock, Triberg
A chirpy bird popping out of a little house: that's a cuckoo clock. But in Triberg, the World's Biggest Cuckoo Clock stands 50ft high and features a whopping 23-stone feathered announcer! The Black Forest is the home of this type of timepiece, invented 300 years ago. And they're still handmade in small villages, such as Triberg. In the Eble family's Clock Park, you not only learn all about how clocks are made, you can get up close to the mechanism of that enormous timepiece, to see how it works.
Entry: adults £1; children free
Play
Europa-Park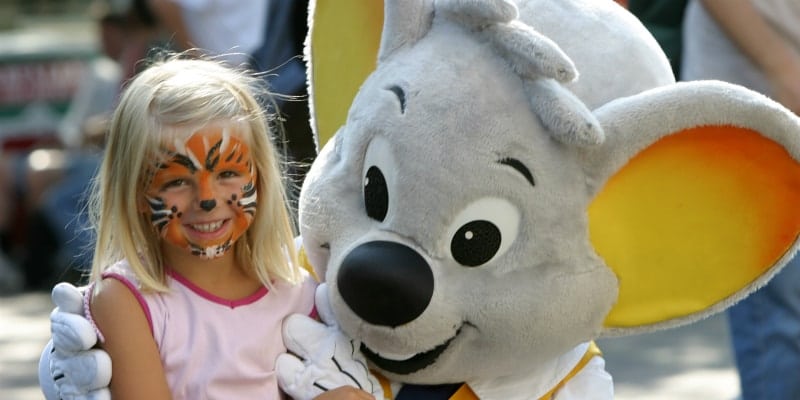 The clue is in the name: Europa-Park. This hugely popular leisure park has 14 areas themed on European countries. See flamenco dancing in Spain, a space shuttle in Russia and Hans Christian Andersen's Fairy Tale Tower in Scandinavia. Crêpes come straight from the pan in France; freshly baked pizza from the oven in Italy. Entertainment is on offer all day and every day: from parades and acrobatics to circus and a 4D Magic Cinema. For speed demons, the big draw is the world-class rollercoasters – a dozen of them. Accelerate to 60mph on Wodan Timburcoaster, all of 3,450ft long and 130ft high.The Blue Fire Megacoaster turns riders upside down four times. In summer, wet and wild rides include the Tirol Log Flume and, for little ones, the Elf Boat. If kids are fans of Arthur and the Invisibles, they'll love the Minimoys Kingdom, with high-speed bees and giant ants. Best of all for parents? The good-value prices.
Park entry: adults £35; children (4-11) £30 or free on your birthday!
Retail therapy

Toyshops and more, Stuttgart
Stuttgart has some of Germany's poshest shopping, including Breuninger, a glam department store. Nearby, stalls in the century-old Markthalle covered market are piled high with produce from around the world. Steps away are two shops where children can spend hours. Spielwaren Kurtz has been selling toys since 1833; Schülers is great for model trains.
Outlet city Metzingen
With discounts of up to 70% in this vast American-style outlet development, international names such as Armani, Prada and Swatch compete for your money. Stores aimed at the younger generation include Petit Bateau, as well as quality German brands: Sigikid (clothes and cuddlies) and Schiesser Kids (swimwear, pyjamas, underwear). So that you can browse without your offspring, trained English-speaking carers look after three- to 12-year-olds in Kids' Camp. Think facepainting, singing and games (£2 an hour).
Best places to eat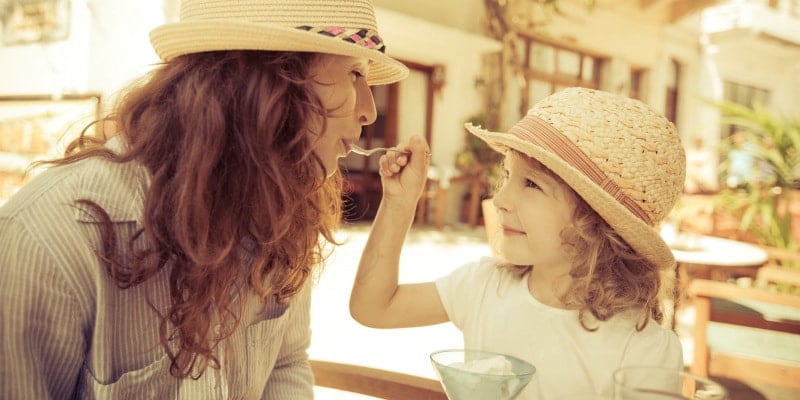 Black forest gateau, Triberg
Seriously dark chocolate, thick fresh cream and locally picked Morello cherries: that's what an authentic Black Forest gateau should be. At the Café Schäfer in Triberg, order the real thing, made from the original century-old recipe that has been handed down by the family for generations. As well as making delicious cakes, the Schäfers are also ace chocolate makers. Take home the perfect souvenir: a chocolate cuckoo clock.
Star-struck in Baiersbronn
With eight Michelin stars, the village of Baiersbronn boasts three world-class restaurants, run by superstar chefs, such as Harald Wohlfahrt (the Schwarzwaldstube) and Claus-Peter Lumpp (Restaurant Bareiss).
But you don't have to spend a fortune. Hike one of the eight himmelswege, marked trails through the Black Forest, and stop at rustic huts that are run by the very same chefs. Sit under a sunshade and order hearty local dishes including soups, salads, sausages – and cakes! Both have children's menus.
Where to sleep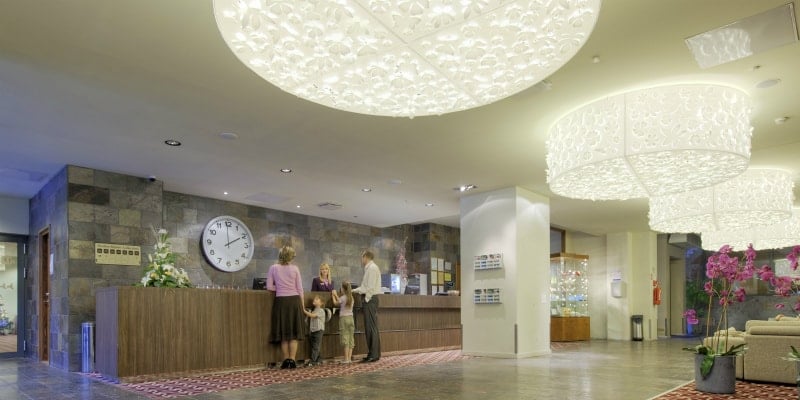 Europa-park Hotels
Get the most out of the park by staying on site in one of five themed hotels. Choose between El Andaluz (Spanish), Santa Isabel (Portuguese), Colosseo (Roman/Italian) or the Bell Rock (New England). Or ravel back to the Middle Ages at the Castillo Alcazar. More budget-minded? Stay just off site in log cabins, tipis and covered wagons in the cowboy-themed Camp Resort.
Price: B&B from £220 for four
V8 Hotel, Stuttgart
All about four wheels, V8 Hotel has 10 special car-themed rooms. Route 66 comes with a motorbike; in Gas Station, the bed is built into a VW Beetle's bonnet. Showers and linens are top quality and even the soap is shaped like a car.
Price: themed rooms from £140; family room from £150
Farm House Holidays in the Black Forest
For affordable holidays, stay on a working farm: B&B in the farmhouse or self-cater in a plain holiday apartment. The animals are a major draw.
Price: apartments from £30 for four
The lowdown
How to get there
Among the wide choice of airlines flying from the UK to SouthWest Germany and nearby airports are: British Airways and Ryanair. By car, drive to SouthWest Germany via Eurotunnel or cross-channel ferry (aferry.com).
Travel time
Plane: 2 hours; car: 7 hours from Calais; train: 7 hours from London to Stuttgart
Best for
Children of all ages, from babies to teenagers.
Best time to go
SouthWest Germany is a four-season destination, great for half-term breaks as well as longer school hols.
How to get around
Local trains and buses are efficient and inexpensive. Stay two nights in the Black Forest and receive a KONUS Guest Card, for free travel on local transport.
Find out more about South West Germany.
Want more city break inspiration? Check out our guide to getting the most out of a trip to Rome with kids.