Who said luxury and kids don't mix? Certainly no one who's ever been the Hotel Metropole in Monte-Carlo, Monaco. Monte-Carlo, on the French Riviera, is famous for yachts, casinos and price tags to match, which is often enough to put off parents of young children, who have visions of their kids cartwheeling across five-star hotel lobbies or having meltdowns in Michelin starred restaurants. Yet, choose the right hotel, one that encourages families to be themselves, and you'll discover that Monte-Carlo can be an excellent choice for a luxury retreat en familie.
The hotel
Hotel Metropole is one of the big kahunas in the who's-who of Monaco hotels. Metropole was built in 1886 and thanks to its unostentatious luxury, it wasn't long before it had won the hearts of even the most demanding international clientele.
As you might expect, the decor is traditional and conservative, but a grand-scale refurbishment in 2004 means that the interiors are far from dated. From the lobby to the lifts to the rooms, every corner of this special hotel is impeccably adorned with plush fabrics, period furniture and exquisite floral displays – always tasteful, never in the least gaudy.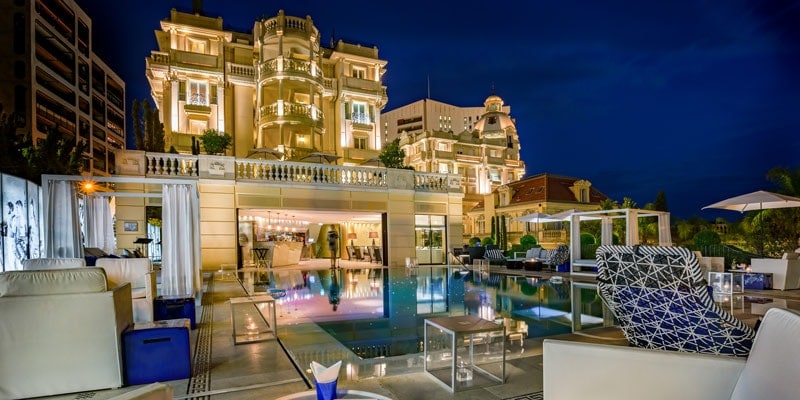 Hotel Metropole may be decked out with Louis IX furniture and opulent furnishings, but it prides itself on its relaxed and welcoming atmosphere. It's impossible to feel anything but relaxed there. This is also a hotel that doesn't take life too seriously, which isn't easy to pull off if you're a five-star establishment that hosts royalty. On the wall near reception is a display of silhouetted heads of people who've worked at the Metropole – elegant, certainly, but fun too. And looking closely at the grand floral display in the lobby, which is updated each season, you'll spot raw carrots hanging among the flora.
The eats
In true Monte-Carlo style, the hotel boasts not one, but three Joel Robuchon Michelin starred restaurants. Yoshi is a modern and not in the least intimidating Japanese restaurant. The lime green furnishings and light, bright space are both stylish and instantly appealing to kids. Robuchon was the first Monaco chef to do away with the shirt-and-tie dress code in his restaurants. As such the atmosphere is unpretentious, but make no mistake that the food at Yoshi is world-class. As is the French way, there is no 'kids menu' per se, but plenty of creative elements in the food that will delight young palettes and imaginations, such as the cod served wrapped in a banana leaf and the flying fish eggs hidden in the soup, which burst on your tongue like popping candy.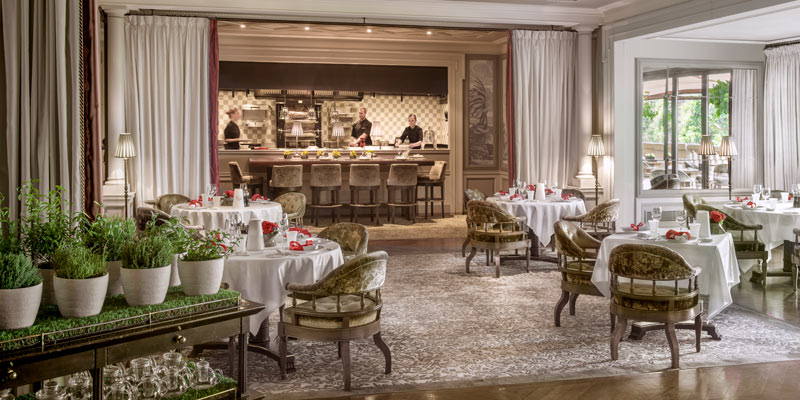 Joel Robuchon Monte-Carlo is a real gastronomic treat, especially if you're lucky enough to dine at the table that gives a direct view into the live kitchen (shown above). Watching the French chef's team cook and present the exquisite Mediterranean dishes is like watching men and women ballet dance in chefs' whites. There are no raised voices, hurled spoons or even a hint of dirty dishes (one can only assume the washing up is done elsewhere).
Odyssey is the hotel's newest restaurant and offers alfresco breakfast and lunchtime dining in a relaxed space by the swimming pool, which was recently given a theatrical makeover by Karl Lagerfeld. As if the hotel wasn't already bursting with treats, 2017 will see the launch of the brand new Givenchy spa.
The area
Slap bang in the centre of Monte-Carlo, Hotel Metropole is ideally positioned for exploring the principality. All the main attractions are within walking distance. In fact, the Boulingrins Gardens are opposite the hotel and Hercule Harbour, with its collection of Instagrammable superyachts, is nearby.
Monte-Carlo's Exotic Gardens house a curious array of stalactites and cacti in a stunning setting overlooking the French Riviera. Meanwhile, Monte-Carlo's zoo is home to 50 different species including primates, hippos and the oh-so exotic black panthers.
Monaco's public Larvotto beach, in front of the Avenue Princess Gate, has a playground and calm waters which are perfect for tots to swim or snorkel in. During July and August you'll find a lifeguard on duty.
While Monaco might be better known for hosting rockstars and royalty, if you know where to look, there's plenty going on for families too. If you're planning to visit the principality with the kids, the splendid Hotel Metropole, with its luxurious comforts and quirky twists, is at your service.
The lowdown: Hotel Metropole Monte-Carlo
How to get there
BA, EasyJet and Air France offer direct flights to Nice (from £80) from where the hotel will arrange a transfer.
Price
The starting rate for a superior room is £505.
The French Riviera oozes luxury, but you don't need a billionaire's budget to enjoy it with kids. Find out more about families holidays on the French Riviera.