First time mum Amy Hopkins travelled from London to Normandy with her young daughter. Here, she shares her tips for a happy holiday with a baby
A friend of mine refers to holidays with her kids as 'anxiety abroad', a phrase that played on my mind as I prepared to take my three-month-old daughter overseas for the first time. Now safely back, I'm pleased to report that, far from being an anxiety-fest, our first family holiday went surprisingly smoothly. Here's what I learned about travelling with a tot: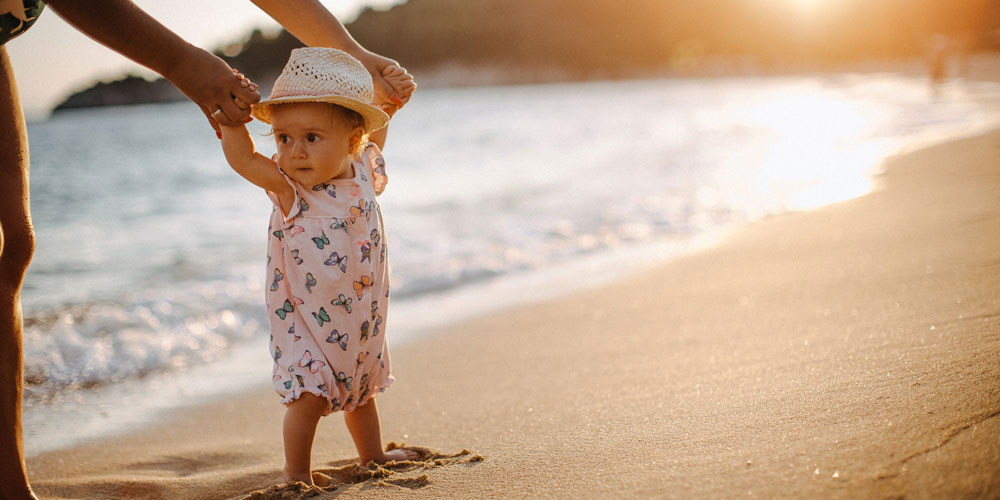 1 |

 Babies (especially under six months) are ideal candidates for travel
For a start, babies who aren't crawling yet generally stay where you put them, which means no running around after them and no need to babyproof once you get to your destination. They're also small enough not to mind whether their bed is at home or in a hotel room – as long as mum and dad are nearby for snuggles. Plus, they travel light (see no.6).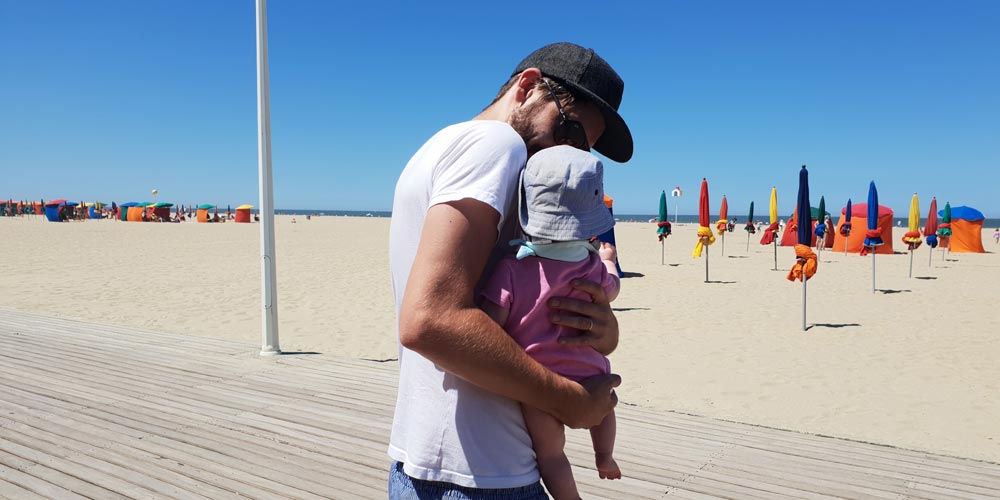 2 |

 A change is as good as a rest

Caught in an endless cycle of feeds, nappies and naps, life with a newborn can feel pretty monotonous and a change of scene will do you the world of good. Of course, you'll still have to change nappies, but there's something strangely restorative about wiping a bum on a beach.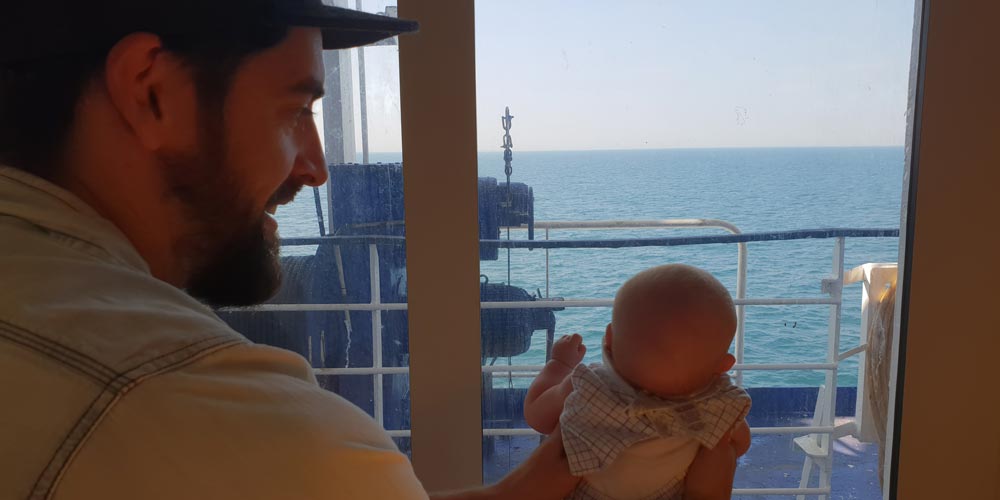 3 |

 Baby will need her own passport

Your little one will need her own red book, no matter how young she is. It costs £49 to apply online and the passport will take up to three weeks to arrive. Baby's first passport will be valid for five years, (although, by the time she's five, I hope my daughter will look nothing like the squidgy bald baby in her current passport). Make sure your little one is added to your travel insurance too.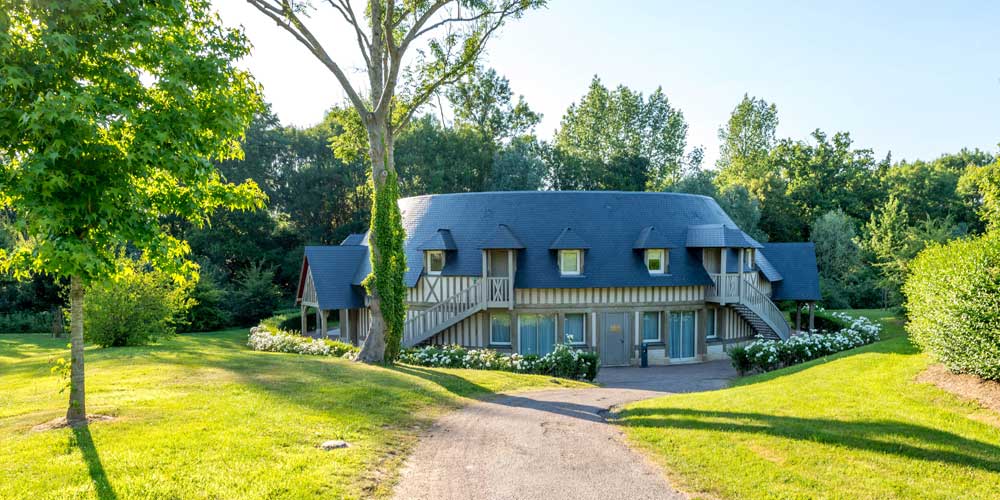 4 |

If you can, go somewhere familiar and not too far away

For our first trip as a threesome, my husband and I decided to go to Normandy in northern France – far enough to feel like we're getting away, but still a manageable journey (we hoped). Plus, we know France fairly well and speak the language (un peu).

For accommodation we chose Les Manoirs de Tourgéville, a four-star hotel near to the famous Deauville beach and a popular weekend retreat for Parisian families. Set in the heart of the Normandy countryside, the 25-room half-timbered mansion ticked all our boxes – intimate, quiet and relaxing, with added luxuries of an excellent restaurant, pool and spa. There's also a gym, tennis courts and free bike hire if you're feeling active (we weren't). Small for a hotel, Les Manoirs feels more like a private country house, yet with the reassurance of knowing staff are close by.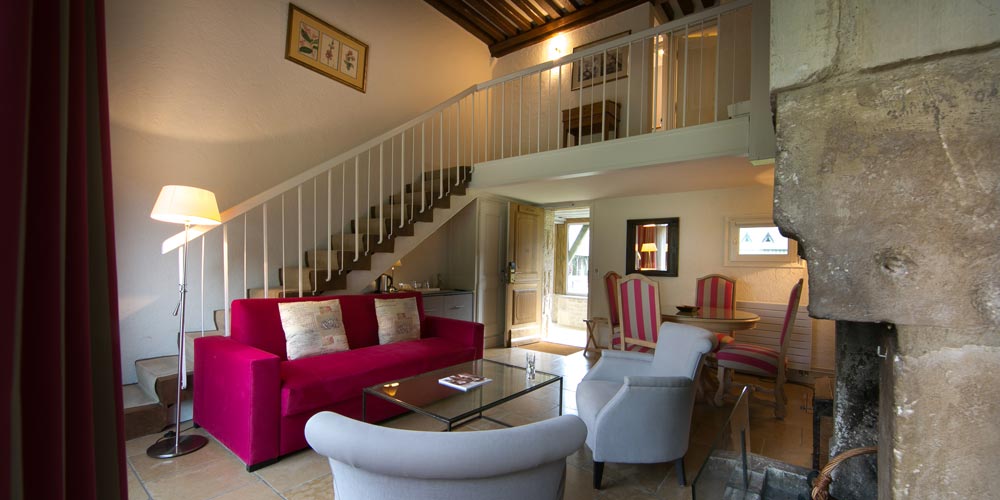 5 |

 Find somewhere child friendly

This sounds obvious, but it's worth investigating before you book. You can get a sense from a hotel's website whether it really is family-friendly. Are there pictures of children on the website? Are travel cots and highchairs provided? Is there a baby listening/child-minding service?

Les Manoirs de Tourgéville provided a sturdy travel cot and our split-level duplex room was ideal for the three of us. My husband and I slept in the double bed on the mezzanine floor, with our daughter in the cot on the floor below. This meant we could have the television on without disturbing her and to check on her, all I had to do was peek over the banister. The room was immaculate and quiet with great air con and our baby slept beautifully which, for a parent, is enough to make the holiday a success. The small size of the hotel was ideal. Whether baby and her dad were in our room, or playing on the grass quad outside, I could sunbathe, swim or nip to the bar and still be within shouting distance.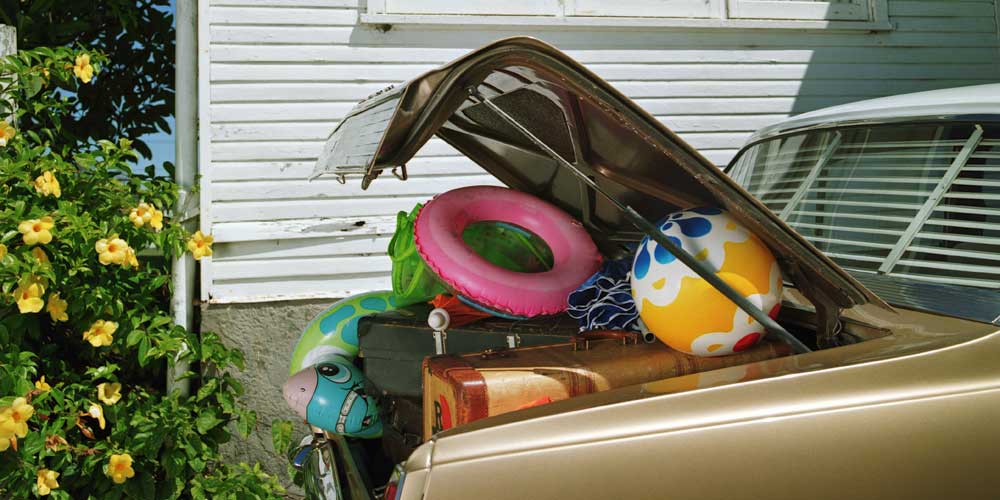 6 |

 Pack light (unless you don't need to – then take as much as you want!)

Tots under six months don't need much stuff. If you're breastfeeding, all you really need is nappy changing gear, clothes (which are tiny) and a couple of small toys (although a spoon works just as well). Plus your boobs of course – and you'll be bringing those anyway. Other useful items are blackout blinds, a universal bath plug that can turn a shower into a bath and sun shades for your car and buggy. Travel steriliser bags are great for bottle feeding and, if sterilising on the go is going to be a challenge, you can buy pre-sterilised bottle liners. Remember that other countries have babies too – and those babies also eat, poop and get sick. So unless you're staying somewhere very remote, you don't need to pack all those 'just in case' items like teething gel, Calpol and hundreds of spare nappies.

That being said, since we drove, we took full advantage of our roof box and took much more than we really needed, including a baby bouncer, play gym, night light and baby monitor (and plug adapter, of course). None of these things were strictly necessary, but we used them all and they did make life easier. I say, if you're going by car and it's not a hassle to transport something that will come in handy, you may as well bring it.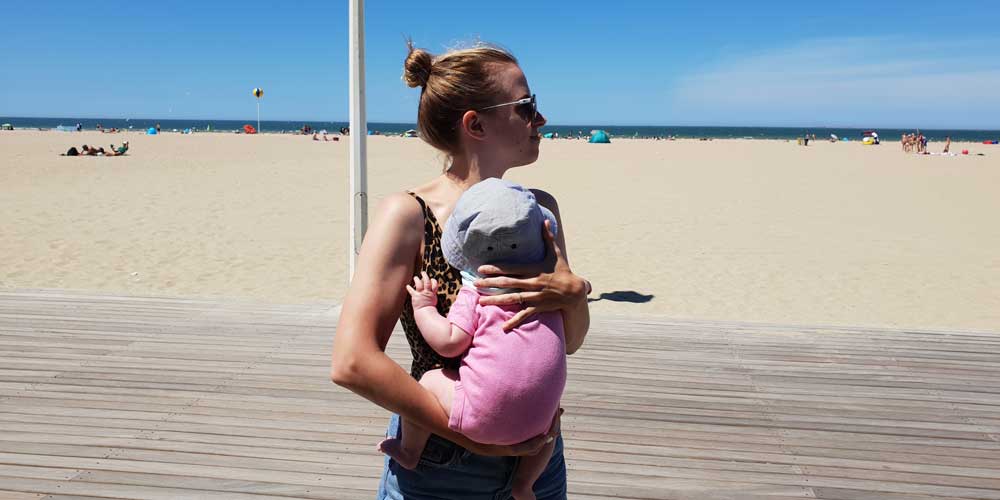 7 |

 Think about how you're going to transport your baby

Slings and baby-carrying packs are brilliant on holiday, not least because they leave you hands-free. In fact, if you're going somewhere without decent pavements, you might want to forget the buggy altogether. If you feel you need a buggy, invest in a lightweight travel pushchair that folds up like an umbrella – you'll be allowed to take it all the way to the plane if you're flying. If your accommodation doesn't provide a cot, think about investing in a travel system with a carry cot attachment that's suitable for sleeping in. We travelled to France by ferry and took the baby's soft bouncing chair on the boat with us. This proved a genius idea, as it gave her somewhere to sit, play and also nap.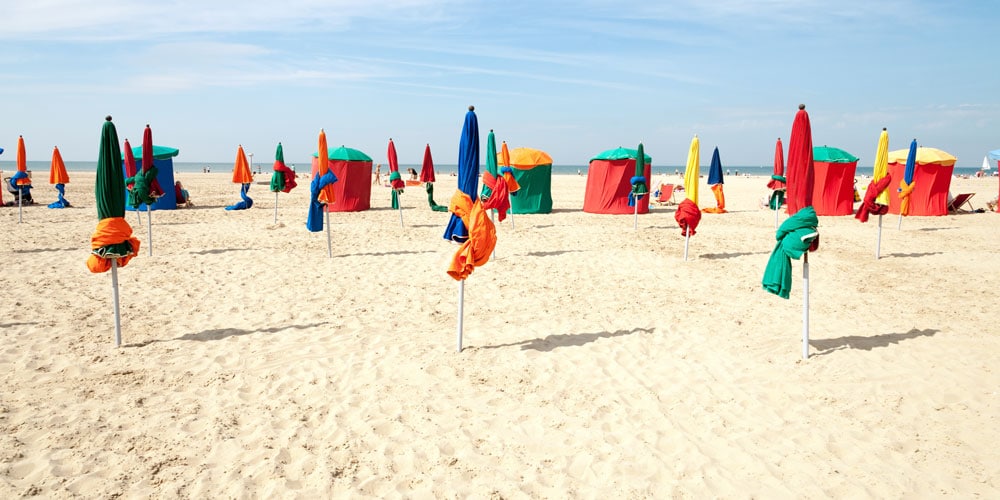 8 |

 Adopt a laid back pace

Avoid putting yourself under pressure to arrive by a certain time. 'It will take as long as it takes' was the attitude we adopted at the start of our journey and ended up being pleasantly surprised when we arrived a lot sooner than anticipated. Normandy worked well as a destination because the journey could be broken up into three legs: London-Dover (2 hours), ferry crossing (1.5 hours) and Calais-Normandy (3 hours).

Once at your destination, less is often more when it comes to planning activities with babies. During our stay at Les Manoirs de Tourgéville, we took a day trip to the nearby Deauville beach, where the beach huts on the boardwalk are named after Hollywood stars. We only stayed a couple of hours before the baby started to grizzle, but it was enough time to push her down the promenade in her pram and grab a bite to eat.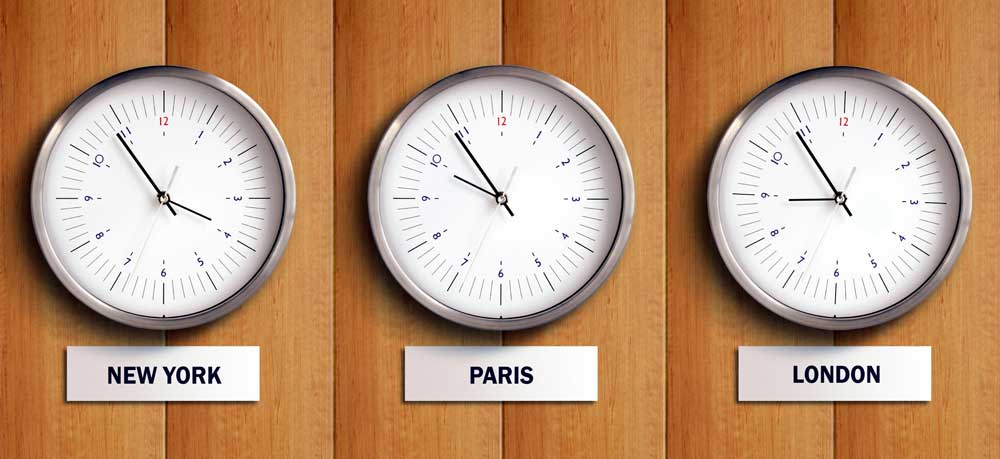 9 |

 Keep baby to UK time and plan your journey around her routine

If your baby has a routine at home (lucky you!) it's worth fitting your travel plans around her sleep patterns as much as you can. For instance, if you're driving, you'll want to hit the road just before baby's nap. A sleeping passenger is much more pleasant for everyone than one who's screaming.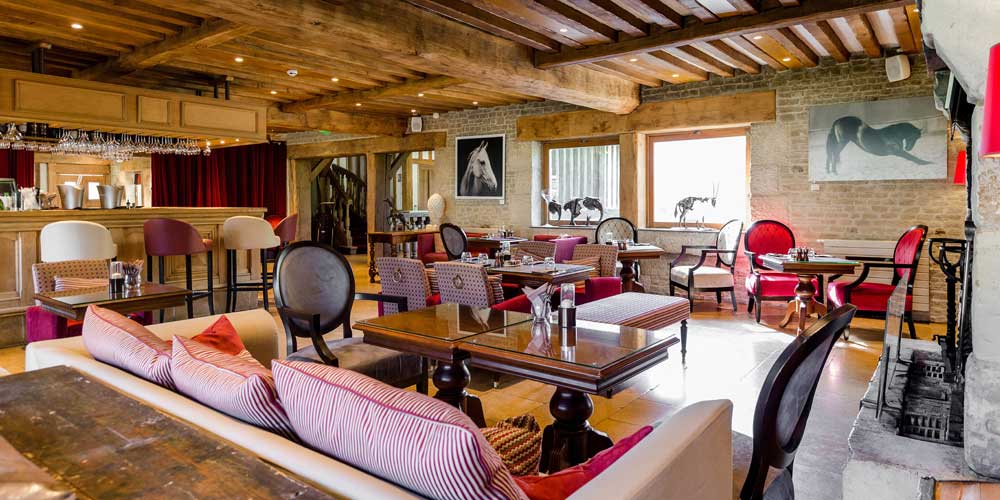 10 |

 Be prepared for things to go wrong and laugh about it when they do

One evening, we booked dinner in Les Manoir's gorgeous 1899 restaurant. Our booking was for 7pm, the baby's bedtime, and we naively assumed she would doze in her pram while we devoured into French cheeses and Calvados. However, babies rarely play ball and shortly after taking our seats on the terrace, she began screaming inconsolably. The restaurant staff couldn't have been kinder but, acutely aware of other diners, we retreated from the restaurant. Back in our room, we were astonished and delighted when a waiter appeared at the door carrying aloft an enormous tray laden with Normandy sole, steak, breads, dessert and wine. With the baby settled in her cot, we retreated upstairs and tucked into our lavish picnic on the bed.

We had a handful of other minor calamities during our trip, mainly involving explosive poos. When you combine travel and babies, there will be mishaps, but there are also mishaps if you stay home, so don't let that put you off. As with all travel, the challenges become the adventure. Said poos in French restaurants become the stories you'll share with your child when she's older.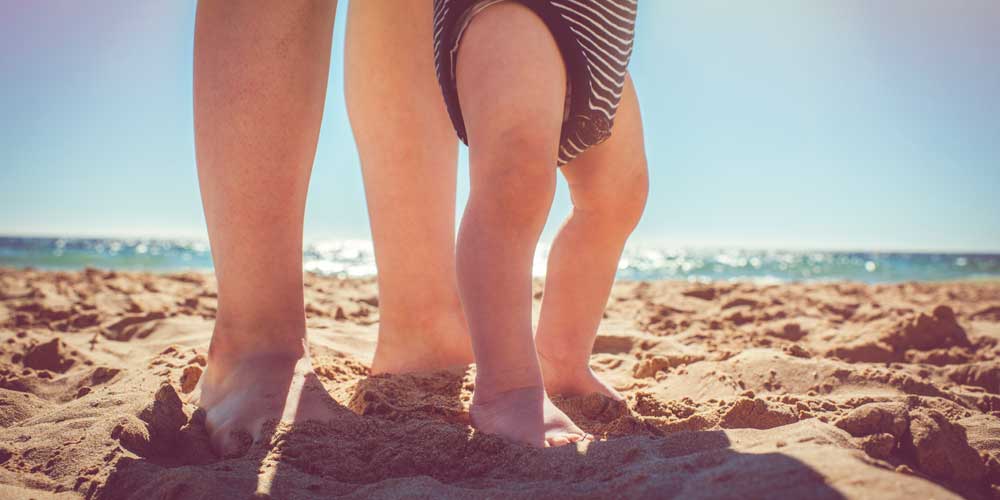 11 |

 Accept that things will be different

Make no mistake, holidays change once you have a baby. You'll be seeking shade instead of sunbathing, swapping late night dancing for night feeds and, if you're like me, probably enjoying fewer glasses of wine. But your trip will be wonderful in a whole new way. I had to forgo evening meals in restaurants and my beloved holiday lie-ins, but watching my daughter drip her toes in the ocean and hearing her very first laugh (in an arcade on the P&O ferry) more than made up for that.
The lowdown: Les Manoirs de Tourgéville
Where:
Les Manoirs de Tourgéville, Deauville, France
Price:
From approx £114 a room for a night, based on two adults sharing
How to get there:
Fly to Deauville from London Stansted with RyanAir, travel with Eurotunnel, or by ferry from Dover to Calais. Les Manoirs is a three-hour drive from Calais.