Why go?
It's the second largest city in France and, if it's sun you're after, you've come to the right place. Marseille basks in an average 300 days of sunshine a year (and only two days of rain a month in the summer)
It's steeped in history too. In fact, it's the oldest city in France – the port was founded by the Greeks around 600 BC and it's developed into a buzzing, hip and multi-cultural metropolis, full of character and energy. Whilst it might have had a reputation as being slightly rough around the edges, since its stint as European Capital of Culture in 2013, Marseille has smartened up a lot. Cutting-edge museums and creative spaces have sprung up, as well as new galleries and chic hotels.
Enjoy artisan shopping in the historic Le Panier district, soak up the vibrant atmosphere of The Vieux Port (Old Port), take a boat trip to nearby Cassis and the Calanques (20 km of rocky inlets carved into the cliffsides) find a haven in outlying city parks or pack your buckets and spades for the south-side family-friendly beaches Plage des Catalans, Plage du Prophète and Plage du Prado.
What to see 
City pass 
It's a good idea to buy a City Pass which gives you free travel on the metro, buses and trams, access to 9 museums, guided tours of the city, rides on the tourist train plus boat trips to neighbouring islands and discounts in certain shops. They are valid for 1, 2 or 3 days and cost from 24€ per adult and 17€ per child.
More information: marseille-tourisme.com
Parc & Palais Longchamp 
Marseille city centre is not renowned for its green, shady spaces but head out a few stops on the tram to Marseille's 4th arrondissement and you'll arrive at the grand and beautiful Palais Longchamp . The right wing of the Palais houses, The Natural History Museum and the left, The Museum of Fine Arts. But of more interest to smaller children will be the parks behind the Palais, one of which was a zoo in the 19th century.
Now closed, it's been renamed 'The Funny Zoo' and, while many of the old picturesque buildings which housed the animals are still standing, the animals inside them – and dotted around the park – are now brightly coloured fibreglass statues. Think yellow and black striped zebra, purple gorillas and pink bears! Look out for the Oriental-inspired giraffe house, which is now a small children's theatre. There are also children's playgrounds and a snack bar serving drinks, ice creams and hot dogs.
More information: marseille-tourisme.com/the-palais-longchamp
Sail on the seas
There are plenty of companies in the Vieux Port offering boat trips to the nearby pretty seaside resort of Cassis or to tour the Calanques where you can sail into hidden coves and beaches which aren't accessible by foot.  Kids will also love taking the shuttle boat from the port for a short hop off the coast to the Frioul Islands and the Château d'If (a fortress built by François I which was turned into a prison and made famous by Alexandre Dumas' novel, The Count of Monte Cristo).
The boat trip can be bouncy in windy weather (and on top deck you might get wet, which all adds to the fun). The Frioul Islands are famed for their rare plants and sea birds but you should also take your swimsuits as there are a couple of safe, pleasant beaches on the island to bathe in (a tourist train can drop you off at the furthest beach which is about a twenty minute walk). After a swim, head back to port on the island for lunch or a drink – there are plenty of quayside cafes to chose from.
More information: frioul-if-express.com/en
Parc Borely 
After a morning on the beach at Plage du Prado south of Marseille centre, make a beeline for this spacious park. There's a Château to explore or you can take a rowing boat onto the lake, enjoy a drink and snack on the terrace at the lakeside café, or spread out a picnic rug under some trees for some much-needed shade. The park has a mix of small winding paths and wide walkways perfect for cycling. You can also hire pedal cars from a stall just outside the park gates. There's a pretty Japanese Garden, a carousel and playground for small children too. The park is a short drive or bus ride from the city centre and Old Port.
Take a train tour 
Walking around the city in the blazing heat can take its toll on little ones, so see the sites on the Train Touristique de Marseille instead. This cute open carriage train takes you from The Old Port, past the grand Pharo Palace, built by Napoleon then onto a coastal road down towards the sea, before climbing up to the highest point in the city – the Notre Dame de La Garde, a basilica which sits overlooking the whole of Marseille, resided over by La Bonne Mère (the Good Mother). You can get off the train here to explore the cool interior of the church and the wraparound terraces which offer the best 360 degree views of Marseille. The train trip costs €8 per adult and €4 per child (3-11) but is free with a CityPass.
More information: petit-train-marseille.com
Where to eat 
Cafe Borely 
Set in the picturesque surroundings of Parc Borely, with its Chateau and museum and close to the beaches, Café Borély's bleached stone courtyard is bedecked with colourful chairs sitting in the shade of umbrellas and poplar trees with a fountain centrepiece. Check out their brunches – with watermelon, croissants, breads and sharing plates of cheese, meats, pastas and salads. Products are seasonal and from local producers and there are vegetarian and organic foods available too. Kids (well, girls) will love the Lassi 'Barbie' a bright pink Indian drink.
More information: cafeborely.fr
Chez Fonfon
You can't visit Marseille without enjoying their famous Bouillabaisse – a fish dish that comes in two courses. First, a broth with croutons, which you rub with garlic and spread with rouille (a garlic, saffron and cayenne mayonnaise). Then a second course of the fish themselves – served filleted at the table. This restaurant in the picturesque and colourful old fishing creek The Vallon des Aufffes is a half hour walk from the city centre or a short bus ride.
Chez Fonfon is not only credited as serving one of the best Bouillabaisse in Marseille but it also enjoys exceptional views. If fish isn't your thing, then there's a pleasant pizzeria Chez Jeannot just at the end of the creek offering the same views and a menu bursting with every pizza topping imaginable – in sizes large and small, so perfect for the kids.
More information: chez-fonfon.com, pizzeriachezjeannot.com
L'éléphant rose à pois blancs
Set in the multi-cultural and bohemian Cours Julien area of the city  – famous for its graffiti – this little treasure of an eaterie serves galettes, crepes and made-on-the-premises artisan ice-creams in a host of fragrant flavours. Kids will love Léléphant Rose à Pois Blancs small and colourful interior (and the pink polka dot elephant of course).
More information: elephantroseglacier.fr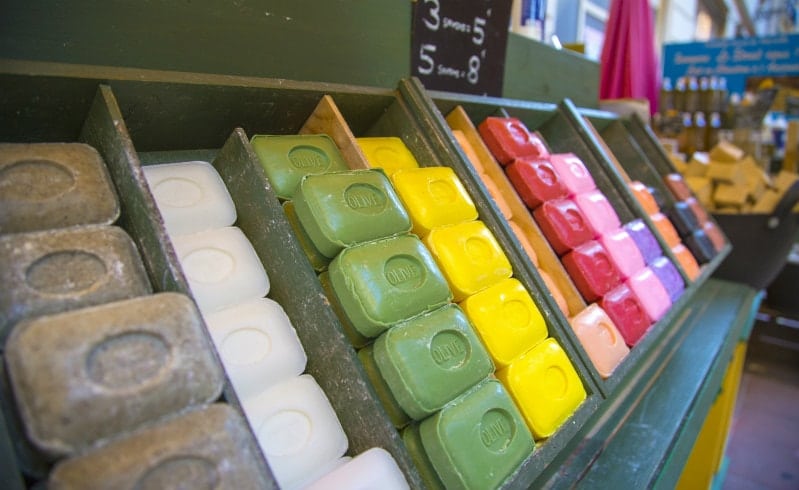 Where to shop 
La Grande Savonnerie
Marseille is famous for its traditional soap-making. You'll find lots of shops and market stalls selling soap labelled "Savon de Marseille" but authentic Marseille soap must contain a minimum of 72% natural olive or palm oils (and this percentage must be stamped on one of the faces of the bar). La Grande Savonnerie is a soap boutique in the Le Panier district is run by the youngest savonnier in Marseille and the kids (and you) will love taking a class to make your own personalised traditional soap to take home, or just spending hours sniffing all the sweetly scented soaps, cold-pressed beauty oils and handmade flower waters.
More information: lagrandesavonnerie.com/shop
Les Minots de Marseille 
A treasure trove of traditional, classic and wooden toys – plus ride-ons, dolls, dinosaurs, collectible figures and musical instruments –  it will be a true delight your younger children.
More information: lesminots.eu
La Maison de la Boule 
This newly-opened shop plus mini-museum sells sets of boules and explores the history of Marseille's favourite game – petanque. There's also a petanque court where you and the kids can have a game yourself. The shop is in Marseille's oldest district – Le Panier. Explore the cobbled streets dotted with art, pottery and craft shops.
Loisirs & Creation 
This store – in the indoor shopping complex Centre Bourse close to the Old Port –  is a creative kid's dream, crammed with colouring books, pens & pencils, craft sets, modeling clay, art sets and lots more.
Where to stay 
Hotel 96 
A 15 minute drive or bus ride from the city centre, this haven of a hotel is tucked away close to the famous Calanques . It's owned and run by a brother and sister team who have extended the family home to create a smart complex of 12 rooms (all individually – and quirkily – decorated by Alice, the sister).
There's a safely gated pool, plenty of toys to play with (Alice and her brother have young children themselves) plus a family dog who enjoys a game of catch.  A real highlight is the breakfast – with homemade yogurt, bread and cakes, plus local cheeses and meats plus freshly squeezed juices – served under the shade of plane trees on the garden terrace. Ground floor rooms have terraces.
More information: Rooms from €89 a night; extra beds in the room cost €20 each a night. hotel96.com
Residence du vieux port 
Slap bang in the middle of The Old Port, with views over the harbour and onto the Notre Dame de La Garde this hotel is where it's happening in Marseille. By day there's a bustling market lining the road in front of the hotel and by night there are street performers, musicians and a lively buzz. Family ensuite apartment rooms are nicely designed and separated into two by the bathroom – parents get the double room with a view of the port and a balcony; kids get the twin room set further back. Breakfast on the balcony overlooking the port as it wakes up is a real treat.
More information: En suite apartment rooms from €243.55.  hotel-residence-marseille.com
The lowdown
Getting there: Since May this year, Eurostar has been running a new, direct service to Marseille from London St Pancras. There are three classes of ticket: Standard, Standard Premier (which includes dedicated carriages with breakfast and a two course lunch served at your table), Business Premier (which offers a 10 minute fast track check-in plus breakfast and a three-course gourmet lunch.
The journey takes about six and a half hours there but on return, you have to exit the train at Lille to go through immigration there, which can add another 40 minutes to your journey. Tickets from £99 retune booked in advance. The service departs St Pancras at 07.19 and because of the early start we stayed at the King's Cross Travelodge which is just a short walk from the station. Family room from £59 booked well in advance.
More info: marseille-tourisme.com and visitprovence.com
About the author
Kim Jones is an experienced journalist who has worked at various women's weekly magazines, and now freelances for them and the national papers writing about travel, health and lifestyle. She lives in Cardiff with her partner and their two sons, aged 15 and 11 and loves persuading them all to come away on holidays with her in the family VW camper van.
Find Kim on Twitter @kimsfeatures