Amanda Statham finds a place to connect with her baby, rest and even enjoy exercise again (yes, really) on a post-natal retreat in France
There comes a time in every new mum's life when she thinks "I just need a break". It might not be the first month, or even the sixth, but there inevitably comes a time in that first year when exhausted, fed-up and unable to even unpack the shopping without interruption, you briefly feel like running away from the whole situation. Well, now you can, only with the baby and a post-natal retreat.
My baby, Sol, was three months old when I decided getting away would be a very good idea. Juggling an active four-year-old, writing travel features for women's magazines and caring for a newborn, all on an average of four hours' of sleep, was taking its toll. Luckily, I spotted a small feature in The Times for &Breathe, a post-natal retreat in France where the promise was an easy-going week with other new parents, some gentle exercise, home cooked food and even a massage. I was in.
Lift off..
[soliloquy_dynamic id="custom-random-images" images="7747,7753,7754″]
A few weeks later I boarded the 90-minute flight to Limousin followed by a 45-minute transfer through rolling countryside to reach Manoir la Croix de la Jugie, a renovated 18th century manor on the edge of a pretty village. The facade was the French escape of my dreams – shutters, a big barn and acres of garden – inside I was delighted to discover a chic interior but also baby gyms and toys in the large lounge, a choice of new cots and bassinets in my bedroom and high chairs in the kitchen diner.
So why so baby-friendly? After a chat with La Jugie's charming owners, husband and wife team Bryn and Clio, it became clear; the arrival of their daughter, who made the couple realise the manor's potential as a post-natal retreat, alongside the usual yoga and cookery getaways.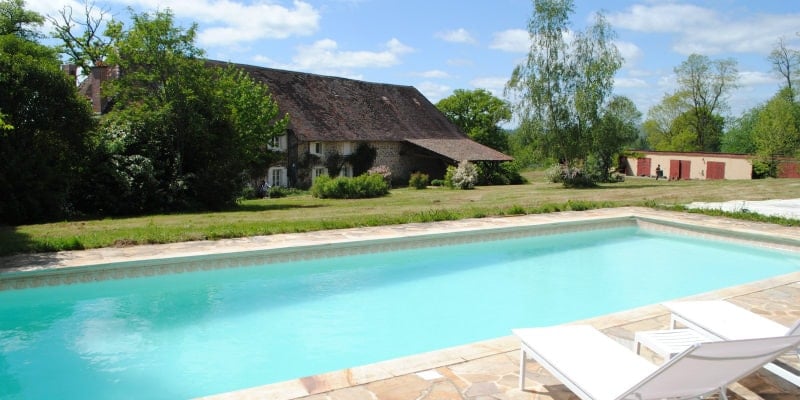 The first night was spent sitting around the long communal kitchen table tucking into Clio's delicious food (think chicken chasseur with root vegetables, curried apple and carrot soup) and meeting the three other couples and babies on the retreat (La Jugie can cater for up for five couples with babies, and will look after siblings too).
I was there solo and it felt so good to chat to others experiencing the same things: What are they eating? How are they sleeping? Will my stomach ever go back to its original shape? The fact they were strangers and from various backgrounds (banking, antiques, media) actually made it easier rather than awkward and everyone appreciated that if you weren't seated by 8pm because your baby hadn't settled, it was ok. Thankfully this wasn't a health retreat – the red wine flowed freely and a popcorn-topped chocolate mousse appeared for dessert – so I went to bed full and happy and discovered It's therapeutic to come down to breakfast (made for you) the next morning as late as you like and get never-ending sympathy if your baby didn't sleep through.
Major de-stressing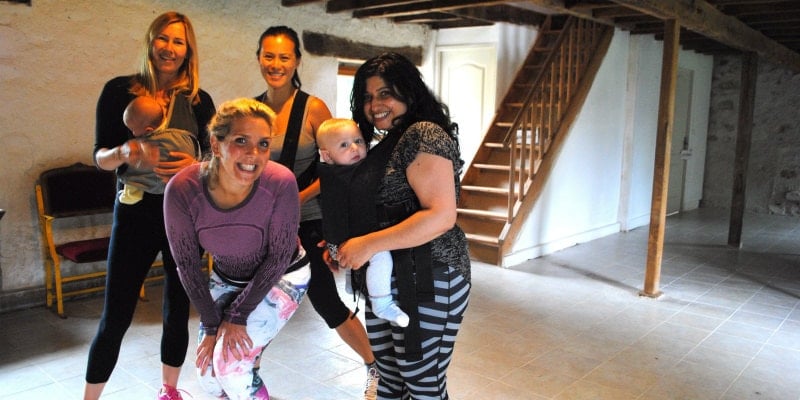 Exercise for mums is at the heart of this post-natal escape, with two classes on offer a day. The idea is that La Jugie encourages you to get back into the swing of things exercise-wise while still having time to bond with your baby. Great in theory, but in all honesty I was a reluctant to attend my first  class (which took place in a converted outbuilding) as I felt out of shape and was enjoying relaxing in the comfy lounge with Sol. I pulled on my neglected trainers and dragged myself there (leaving the baby with Clio) and, miraculously, an hour later I was on an exercise high and genuinely  felt better than I had in three months. It's easy to forget when you're fatigued the much-needed endorphin high exercise provides, but the retreat really reminded me.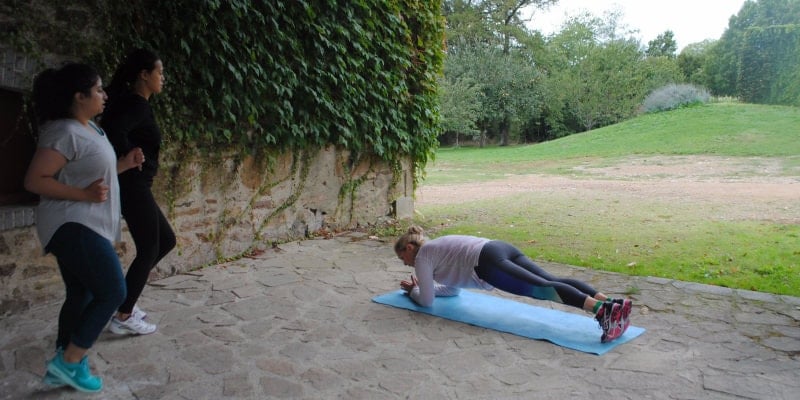 It helped that fitness instructor Caroline Bragg, flown in from London, had boundless energy and infectious enthusiasm. Over the week she taught everything from stretching to baby bounce (exercising with your baby in a sling), which was my favourite and something I vowed to continue back home.
A pamper treat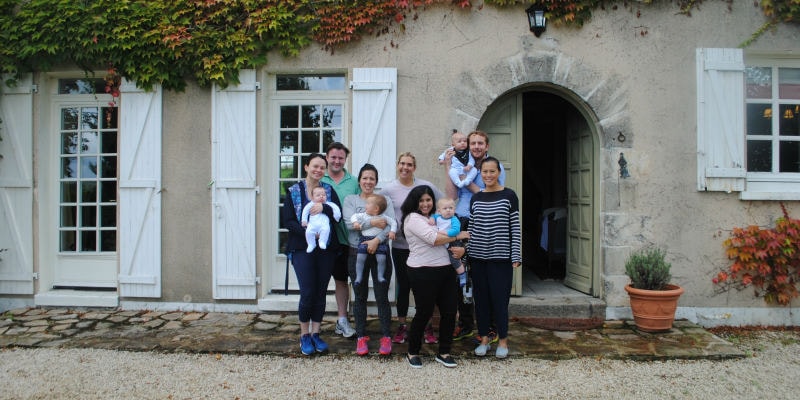 On day two I enjoyed a massage (every guest is treated to one) which took place in a quiet room at the top of the manor. While someone played with Sol, I enjoyed the first bit of pampering time I'd had for months. My arms ached from carrying Sol around and my back still felt a little out of shape post-birth, but I nearly fell asleep as the masseur worked her magic on my tired limbs.
Much of the focus is on mum and baby, but dad's aren't forgotten, enjoying an excursion (they all went running at the retreat I attended) and one-on-one fitness training if desired.
All too soon the week of exercise, delicious food, on-tap baby care and long, wine-fueled dinners and chats (no, the conversation wasn't always about children) drew to a close and I was genuinely sad to leave La Jugie.
A post-natal retreat in France might sound indulgent or even intimidating, but the reality is you're recovering from giving birth, are permanently tired and have probably NEVER been more in need of a holiday. Only a normal holiday isn't going to cut it any more. Suddenly high chairs, baby gyms, blenders and cots are more important than an infinity pool and Michelin-star restaurant. So thank goodness for La Jugie, a place where it feels fabulous to have a detox from email, Instagram and CBeebies (there is TV and WiFi, I just didn't really use them) and spend time focused on you, your baby and each other.
Sign yourself up!
Four-day &Breathe post-natal retreats at La Jugie cost from £950 per family. Seven-day retreats cost £1500 per family.

To book email hello@andbreathepostnatal.com

Find out more: andbreathepostnatal.com