Sponsored Content
How do you get kids interested in food? Make food interesting. Or take them on a family holiday to the Dordogne Valley where nurturing a passion for all things edible starts young and the natural local larder is stuffed full to bursting with extraordinary local produce.
Throwing a bit of fun into the mix is the secret ingredient in this glorious area of South West France, and nobody knows that formula better than the culinary experts at Dordogne Valley Travel. Here's their pick of five fun foodie adventures for families to give you a taste of how easy it is to convert kids into mini-gourmands in the deliciously exciting Dordogne Valley.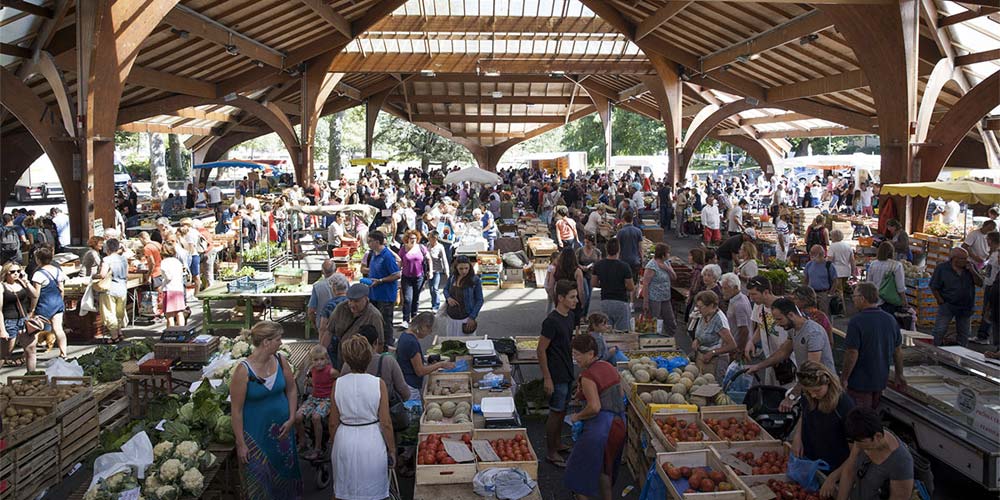 © Brigitte Beaudesson – Brive Tourisme
Kid-perfect food markets all over the Dordogne Valley
The ancient tradition of morning food markets is alive and well and flourishing in the Dordogne Valley. They're a year-round fixture in almost every town and village, boosted by an incredible range of farmer's markets during summer, and unbelievably cute festive markets selling all sorts of deliciousness in the run up to Christmas. Touring them all is a holiday in itself, and probably not one with masses of kid-appeal, so here are a few of the must-dos which effortlessly blend food and fun:
Sarlat Saturday morning market in the medieval town square, and the Organic Night Market every Thursday (from 6pm in summer).
Bergerac traditional Friday morning market, a great excuse to explore the city's Quartier Rive Gauche.
One of the most dramatic villages in the Dordogne Valley, La Roque-Gageac has a lovely Saturday morning market during summer. Pick up picnic supplies and take kids sailing for the afternoon on a traditional gabare riverboat.
Monpazier for the year-round Thursday morning market held in and around Place des Cornières: the town's medieval, arcaded main square.
Summer farmer's markets at Martel are spiced up for kids by the prospect of a ride on the traditional steam train once used to transport the town's legendary Black Diamonds AKA truffles.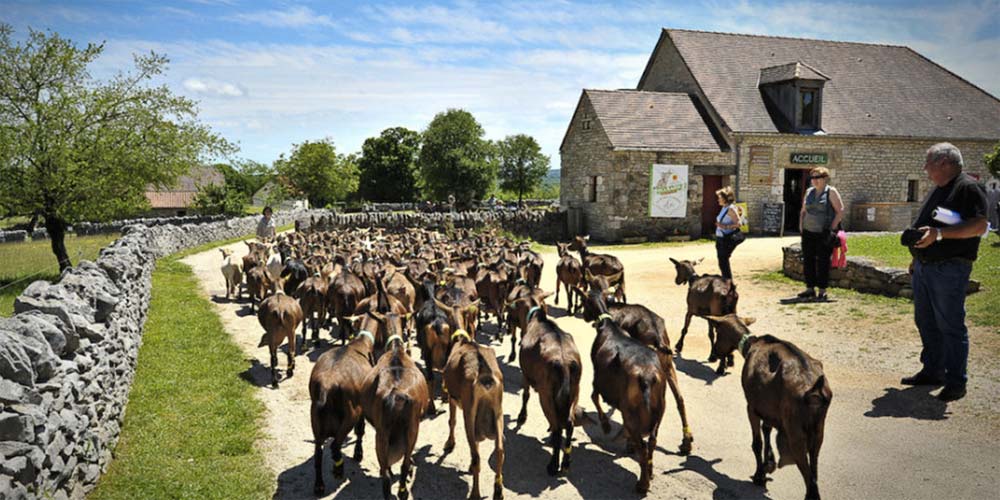 © La Borie d'Imbert
Meet the cheesemaking goats of Rocamadour
Grand and sacred Rocamadour has no less than two UNESCO World Heritage churches in its cliff-clinging collection of ecclesiastical architecture. It's been a place of pilgrimage since the Middle Ages and it's also the birthplace of Rocamadour Cheese, and the only place with permission to produce it authentically.
So once you've toured remarkable Rocamadour, have an afternoon at Borie d'Imbert, the lovely local farm where they make the unique 'little goat' cheese. Cheesemaking is close to alchemy at this level, so watching the production process is pretty magical for kids. Though nothing compares with meeting the flock of goats whose milk defines the distinctive flavour of Rocamadour. After that encounter kids tend to be happy to have a taste: admittedly goat's cheese is a bit 'love it or hate it', so try tender palates with a small piece spread on toast with a little honey.
Find out more about Rocamadour Cheese, only made in the Dordogne Valley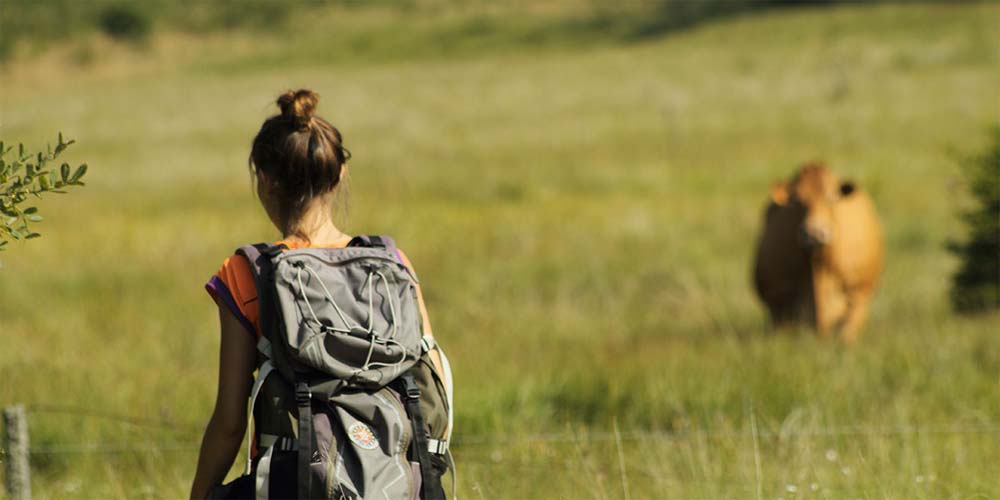 © Malika Turin – ADRT Correze
Walk in the footsteps of medieval Salers' cowherders
Salers cattle are prized worldwide for their meat, a result of munching lush green grass in the high meadows of the Cantal Mountains. And the paths once used to move herds up from winter to summer pastures are now well-marked walking routes heaped with fascinating history and amazing views.
All, or at least some, of the hikes are doable with kids. If they're keen-eyed it's still possible to spot the shaggy-coated, almost auburn, Salers' cattle in some places – they look so prehistoric, locals think they may be descended from the original beasts depicted on the walls of 19,000 year old Lascaux Cave.
And if you need a break from trekking, drop into one of the historic 'burons' on-route: small stone huts which were cowherder's dwellings at one time, and are now used to make Salers, one of the rarest French cheeses.
Find out more about pastoralist hikes in the Dordogne Valley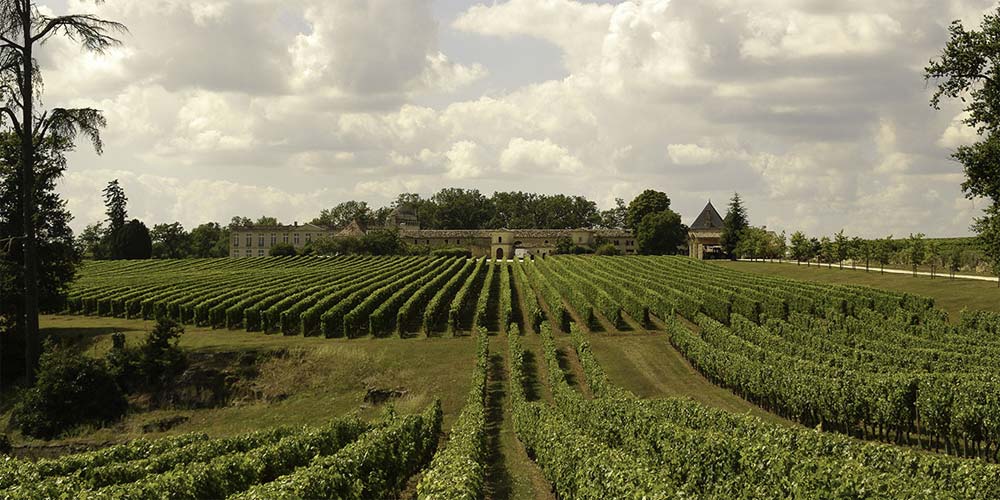 © Gironde Tourisme
Tour Saint-Emilion: the first ever UNESCO World Heritage vineyards
You may not think wine and kids is a great pairing, but the legendary vineyards of Saint-Emilion are set to prove you wrong. Not only are they collectively the first ever to be given UNESCO World Heritage status, many château now take a delightfully family-friendly approach to wine tours. Some even do vineyard cycling safaris and throw fabulous family picnics, lavish with local produce and carefully crafted children's menus. And a few of the larger châteaux organise activities for kids, so they can be treasuring hunting or creating art while you give your full attention to the serious business of wine tasting.
Then of course, there's Saint-Emilion itself to explore. It's one of the loveliest medieval towns in the Dordogne Valley and wandering round the cobbled streets surrounded by ancient architecture should appeal to the most history shy of kids. And don't forget, 'gabare' riverboats were designed mainly to transport wine along the Dordogne in the 18th and 19th century, so several of today's 'gabare' heritage cruises sail to Saint-Emilion: another very child-friendly approach to wine touring.
Find out more about Saint-Emilion in the Dordogne Valley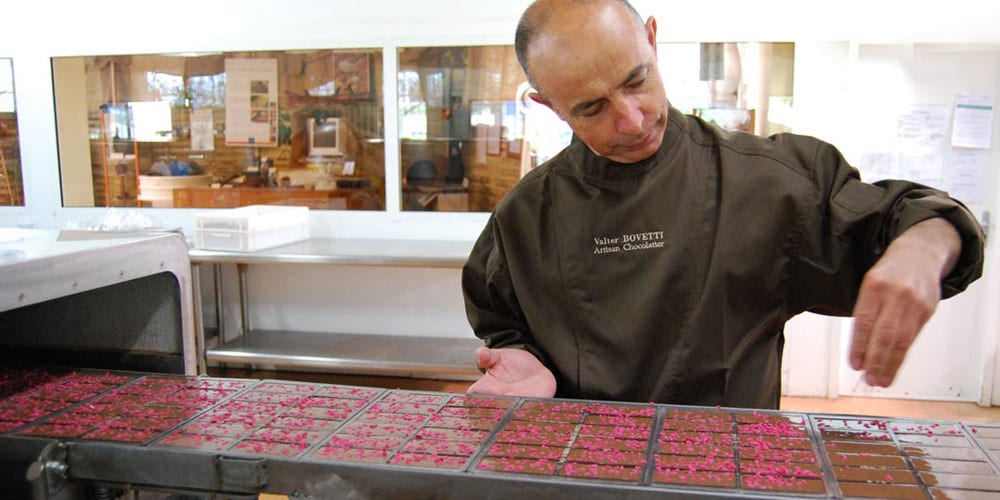 Discover the sweet history of chocolate in the Dordogne Valley
Take kids on a guided tour of the Bovetti Museum of Chocolate in Terrasson-Lavilledieu and introduce them to the science and history behind the sweets. Handmade Bovetti chocolate is exported worldwide but created in the Dordogne Valley and this charming museum has everything from a greenhouse full of cocoa trees to an insider's view of the chocolate making process from start to finish.
And if kids still have some space left, Chocolaterie Lamy in the heart of Brive regularly opens its atelier at weekends for tasting sessions and workshops where visitors can make their own chocolatey creations.
The lowdown
Where is the Dordogne Valley
The Dordogne Valley in South West France, stretches the entire length of the Dordogne River from its source at Puy de Sancy, west to the border of Gironde.
How to get here
There are direct flights to Bergerac from ten UK cities, including London.
Flights take from one hour, 35 minutes.
There are also direct UK flights to Brive in the Dordogne Valley.
Flights take from one hour, 40 minutes.
Now you know what fun food can be on a family holiday in the Dordogne Valley, visit Dordogne Valley Travel and discover dozens of other tempting reasons to visit with kids.