Sponsored Content
Voted the #1 Top Amusement Park in both France and Europe in the TripAdvisor Travellers' Choice Awards 2018, Puy du Fou, is not in fact in Paris but an hour's drive from the grand city of Nantes in the Loire. And if that news comes as a surprise to you, have a look at the 10 reasons why families love this particular park best, and all will become clear: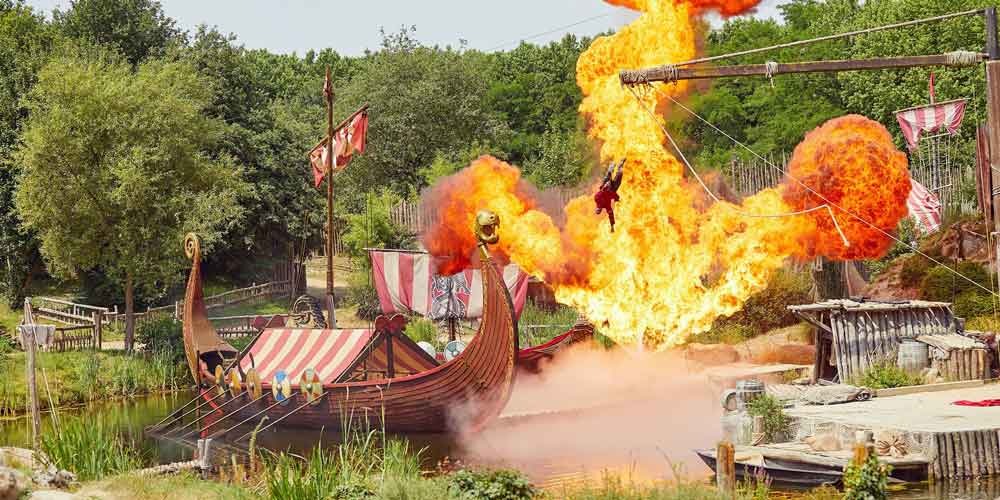 1/10 

 Six spectacular daytime shows

How do you engage kids with history? Puy du Fou literally transforms the past into living, breathing spectacles with six live-action shows, performed up to seven times a day. Each has the type of no-holds-barred approach to thrills capable of captivating an audience of thousands. And sensational special effects are matched only by breathtakingly realistic settings  – think gladiatorial combat in an authentic Roman amphitheatre and you get the idea.

You can also make some pretty wild promises to kids about Puy du Fou, and they won't be disappointed. There are more than 300 birds of prey in Le Bal des Oiseaux Fantômes show alone; a 20m longboat rises out of the water in Les Vikings; acrobatic equestrians perform extraordinary feats of daring during Le Secret de la Lance, and Le Signe du Triomphe chariot races are as edge-of-the-seat nail-biting as they are spectacular.
Six different live-action shows cover eras from the 3rd to the 20th century
Each show lasts around 30 minutes, with up to seven performances daily
French language performance is auto-translated via the free Puy du Fou app
Grand Parc day tickets include all daytime show performances
Check out a clip of Le Secret de la Lance for showstopping stunt riding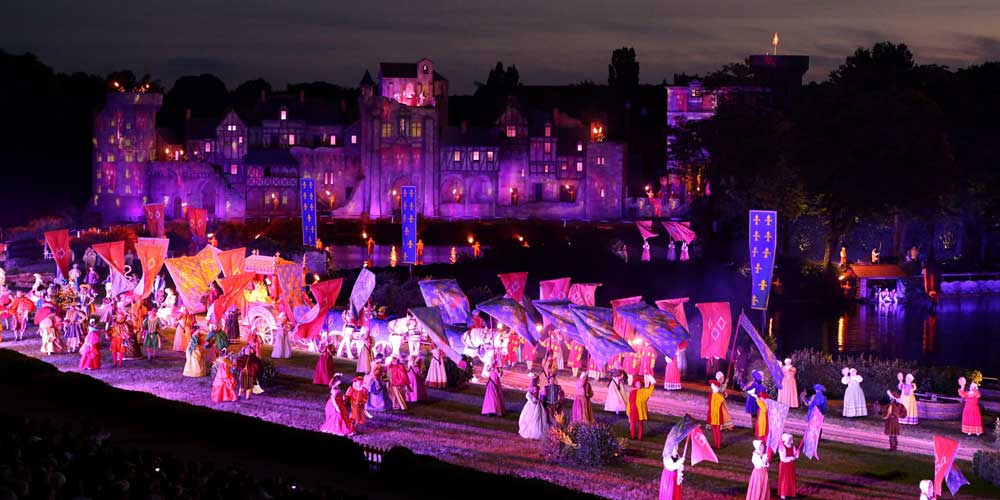 2/10 

 Two incredible evening shows

Puy du Fou lake is the atmospheric setting for Les Orgues de Feu: a glittering after-dark display of fountains, fire and light orchestrated against the night sky. It's a wonderful end to the day.

Unless of course, you're lucky enough to have tickets for La Cinéscénie. Officially billed as the 'greatest night-time show on earth', this incredible theatrical work is staged by more than 4000 volunteers, lasts for just under two hours, and takes an entranced audience on the journey of one Vendée family from the Middle Ages to World War II.

The stage covers 23 hectares and the cast is almost as big as the drama, with 2400 actors (130 of them on horseback), ably supported by flocks of geese and sheep, multitudes of other animals and incredible special effects. Culminating in an immense firework display, the show is performed to an audience running into tens of thousands.

Tickets to Les Orgues de Feu (nightly) are included in the day pass; tickets to La Cinéscénie (Friday/Saturday night from June-September) are £25pp.
Take a look at clips of Les Orgues de Feu and La Cinéscenie for a glimpse of incredible in action.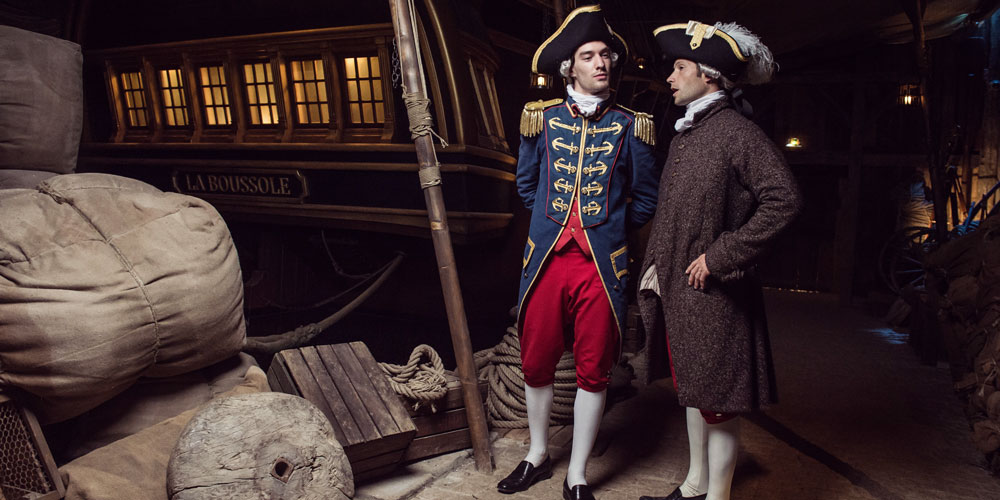 3/10

  Set sail on a global adventure

An immersive seafaring experience might sound daunting, but put your faith in Puy du Fou to take the whole family on the voyage of a lifetime and land them safely at journey's end. Le Mystère de La Pérouse is a fabulous, interactive recreation of the legendary 1785 expedition from Brest into the glacial waters of Alaska, via a balmy Pacific and fearsome Cape Horn. Young wannabe sailors get to live every moment of the epic odyssey through the ship's portholes, and they can expect sights, sounds and sensations beyond wildest imaginings – which is a pretty tall order.

Still got a bit of breath left on return to home port? Les Amoureux de Verdun is another of the park's phenomenal walk-through experiences, this time in the trenches of one of the most bitter and protracted WWI battles on French soil.
Take a peep through the portholes of Le Mystère de La Pérouse before you set sail.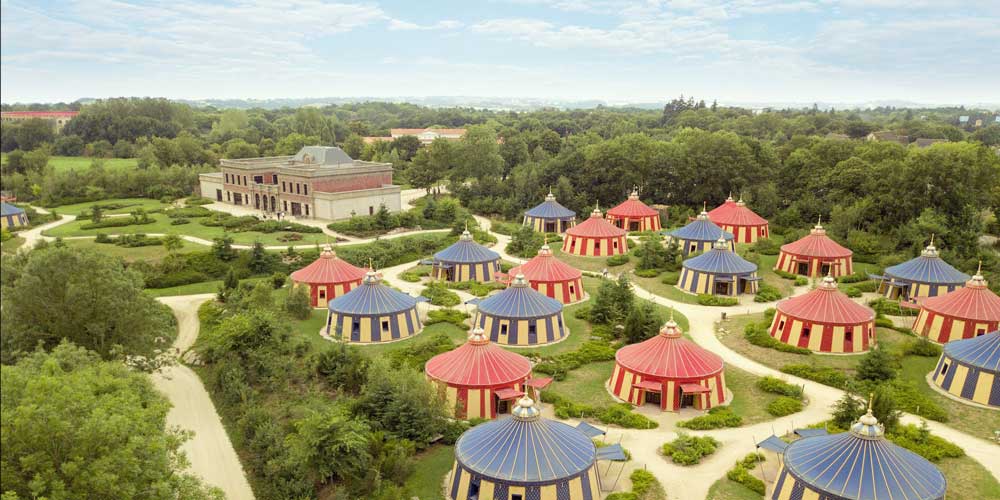 4/10

  Sleep in a different century

You can try to squeeze Puy du Fou into one day, but if you want to really see and do everything, it's worth thinking about an overnight stay: especially as the five historic Puy du Fou hotels are almost as exciting as the park itself.
La Citadelle is like an authentic medieval fortress right down to its portcullis. You have to look closely to spot its true identity as a delightful hotel. And the theme is definitely heritage opulence, liberally infused with luxe essentials like aircon, WIFI, cable TV and large family bathrooms. Classic Family Room, sleeps up to five in the main bedroom, with separate kids' bunk bedroom. From £60 pp per night including Park ticket and breakfast.
Sleeping in a stilt house suspended over water is the fantasy Îles de Clovis makes real for families. Designed as a medieval lakeside village, this extraordinary hotel covers seven hectares and thoroughly delights kids with everything from carp on the doorstep to cute thatched roofs. Family stilt house sleeps up to five in the family room with waterfront balcony. From £59 pp per night including Park ticket and breakfast.
Le Logis de Lescure is set in a beautifully restored 18th century Vendée country house. The elegant interior is meticulously traditional, and each of the four family suites has its own charming theme. Family Suite, sleeps up to six. From £80 pp per night including Park ticket and breakfast.
A glamping experience like no other is what to expect from Le Camp du Drap d'Or where authentic four-poster beds and Renaissance tapestries mix with contemporary luxury in a truly regal encampment. Family Tent, sleeps up to five. From £56 pp per night including Park ticket and breakfast.
Let La Villa Gallo-Romaine sweep you back 2000 years to the height of the Roman Empire. And just to add to the decadence of your surroundings, this grand hotel is minutes from Puy du Fou's Gallo-Romaine stadium. Family Rooms sleep up to four. From £55 pp per night including Park ticket and breakfast.
Find out more about Puy du Fou's and other good value park packages offered by over 30 local hotels in partnership with Puy du Fou.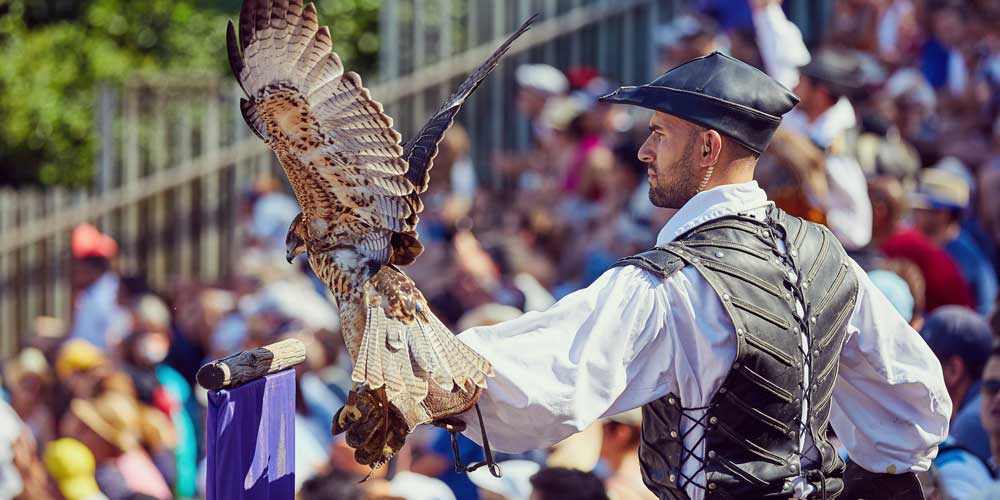 5/10 

 The stars of the shows

The real stars of Puy du Fou are its much-loved animals and birds who make celebrity appearances throughout the Park and in the skies above it. Count the different species (actually, over 70) amongst the 500+ birds of prey and marvel at the performances of the horses. Goats, sheep, pigs, ostriches, wolves and geese also enjoy celebrity status and younger kids will love spotting deer roaming in the woodland around the Park.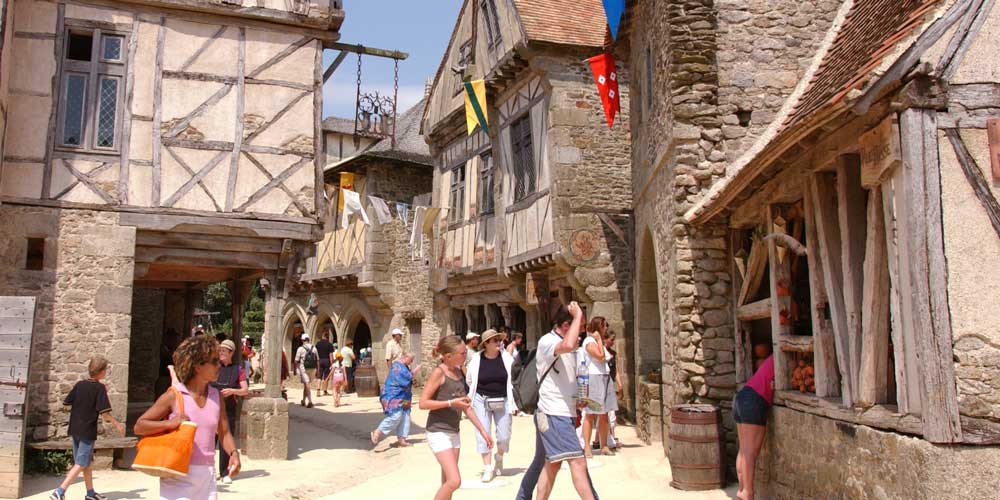 6/10  

Live history for real in Puy du Fou villages

Catch a breath between shows and step back in time into one of the amazingly realistic Puy du Fou villages. There are four, and each one's flawlessly reproduced to simulate a fascinating past era. Kids can delve into an ancient Viking stronghold; meet artisans at work in a medieval hamlet; get a taste of 18th-century life in a country village or wander round the market hall in a typical French Bourg from the early 1900s. The period detail is astonishing, and if kids have ever come closer to time-travel: it's time to share that secret with the world.
Visit the Medieval hamlet and see the local craftsmen at work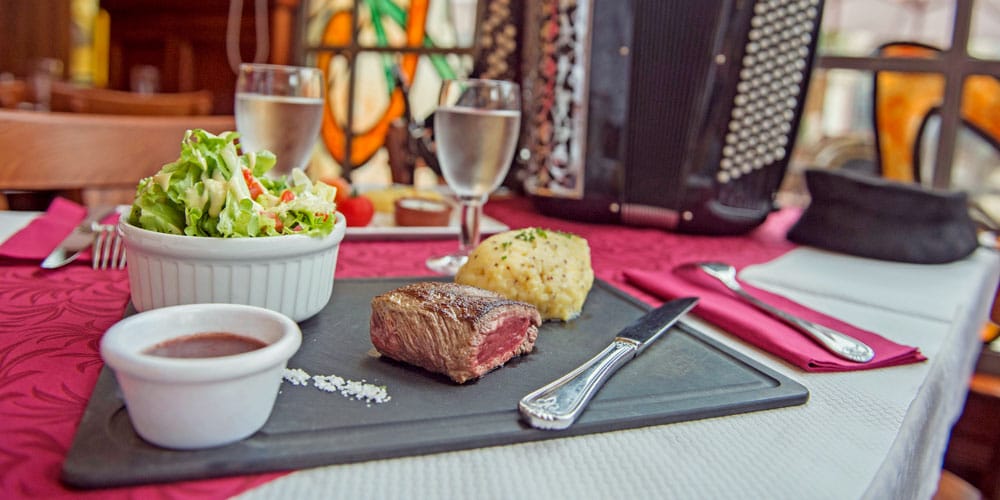 7/10

  Even eating is entertaining at Puy du Fou

No surprise to find that Puy du Fou in France pays particular attention to feeding families fantastically well, and entertaining them at the same time.

Choose from 27 different places to eat –  you can even join in a traditional Wedding Feast with Belle Époque cabaret at Le Café de la Madelon.  Restaurants like Le Bistrot are great for all the family, with a free ice cream and carousel ride for the kids. The traditional Vendée aperitif, La Troussepinette, is a more grown up sort of treat. And even Puy du Fou fast-food is done with customary French flair.

Fresh local ingredients are on every menu, and since great value is a big part of the Puy du Fou promise, you can look forward to paying as little as £15 per adult or £8 per child for a fabulous three-course meal
Have a look at the fantastic food (and fun) cooked up by Puy du Fou.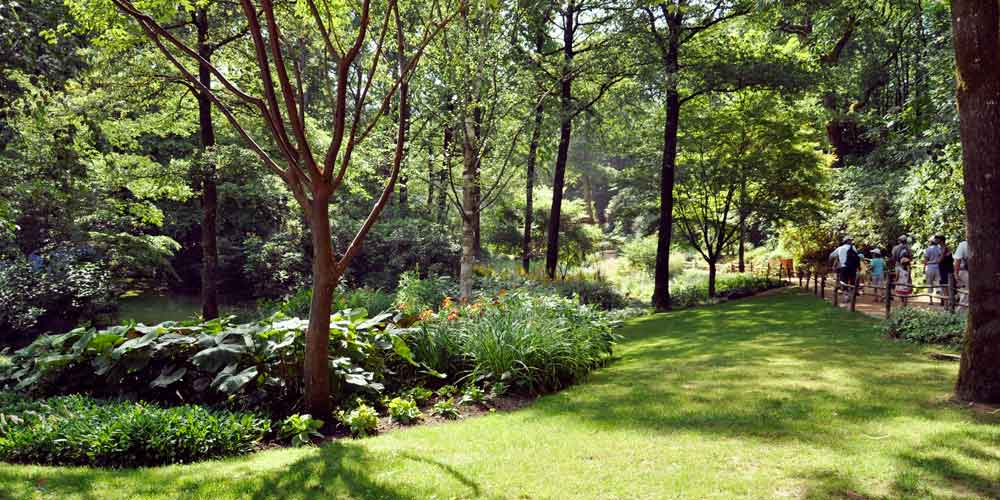 8/10 

 Family fun in a natural setting

Puy du Fou is in the Loire, just a short drive from the stunning Vendée coast, so it won't come as much of a surprise to find it's dipped into breathtakingly natural surroundings.

In between the incredible shows and immersive experiences, feel free to wander the romantic 100 year old forest; stroll by limpid lakes, through Rose Gardens and explore every inch of the gorgeously landscaped gardens. Kids should keep their eyes peeled for the resident birds of prey in enormous aviaries. And keen horticulturalists can pick up potager tips from charming vegetable patches faithfully recreated from plans dating as far back as the Middle Ages.
Wander through La Vallée Fleurie for a hint of all natural enchantment.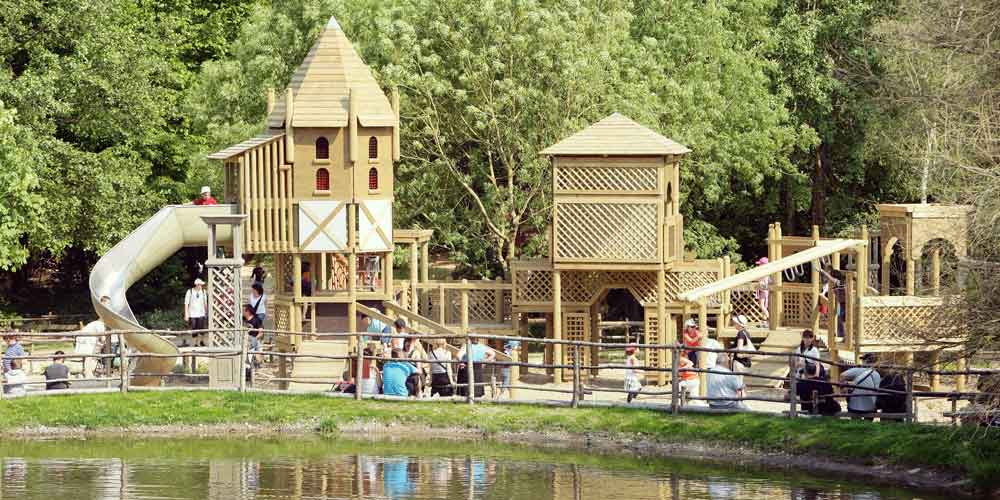 9/10 

 Fabulously imaginative kids' playgrounds

After all that excitement, most kids need some space to let off steam and explore on their own. And Puy du Fou knows exactly how to keep them happy.

Think playgrounds created like medieval citadels complete with turreted castles, ramparts to ramble round and puzzling mazes to solve. If that's not exciting enough, head to the heart of the park and meet talking trees, animals and statues from the legendary Fables de La Fontaine. And when you need to cool down, there are fun jumping water jets, great for all ages.
Explore all the fun of kids' playgrounds at Puy du Fou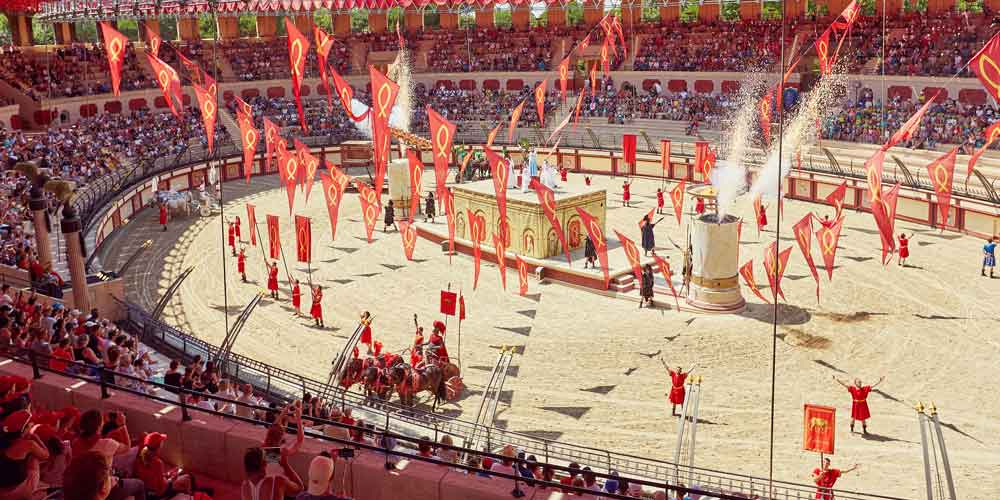 10/10

  Something for everyone from toddlers to grandparents

Award winning Puy du Fou has been voted one of the world's leading attractions, and a big part of its success comes down to making sure everyone is engaged, entertained, wonderfully well fed, cared for and, most of all, amazed on a minute-by-minute basis. And when they say, everyone, that's exactly what they mean: there is no lower or upper age limit to the adventure here and it's all about the shared experiences that go to making great memories. Plus, you'll be pleased to know, the balance of thrills and space to chill is also pretty much perfect for keeping kids of all ages calm and happy.
Discover why Puy du Fou is voted one of the world's top attractions year after year
The lowdown
Where
One hour's drive south east of Nantes in Pays de la Loire, western France.
An hour's drive east of the Vendée Coast in western France.
How to get there
Direct UK flights to Nantes, one hour and 20 minutes.
Transfer shuttle from Angers train station to Puy du Fou, three times daily.
Opening hours
Puy du Fou is open between April and November from 9.30am.
Prices
Grand Parc day tickets.  Adults from £31. Children from £22. (Grand Parc tickets include all shows and activities except La Cinéscénie)
Puy du Fou Short Breaks from £412, based on a family of four, including one-night B&B in a themed hotel and 2-day Grand Parc family tickets with 'Emotion' fast-track passes.
Find out more about family days out and short breaks at Puy du Fou: Europe's most popular theme park.