With the climate crisis taking centre stage and our children very much at the forefront of driving change, many families are looking to change their travel habits. If you're drawn to the idea of flying less in 2020, take heart; cutting out flights doesn't mean the end of exciting family holidays. Gemma Smith-Bingham recommends 10 fabulous flight-free holidays for February half term.
Quick trips: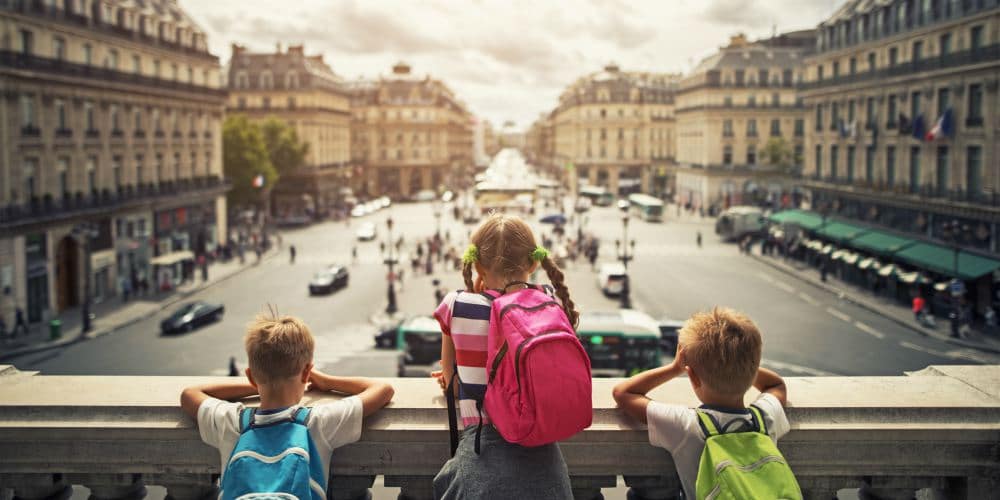 Paris
This trip is an ideal one for a family: the journey is rapid and comfortable and Paris is a great city for kids. Explore the sinister Catacombs, home to the bones of six million Parisians, before emerging for a walk in the Jardin du Luxembourg with its historic carousel and pony rides. There are too many world-class museums in Paris to count, from the Musée D'Orsay to the Musée de L'Orangerie. However, it is always worth taking the kids to see the legendary Mona Lisa at the Louvre and the fabulous Museum of Modern Art. Visiting museums doesn't have to be a chore with children. There are plenty of ways to make it good fun: challenge them to imitate every pose at the Rodin museum, and bring along pencils and paper to the Pompidu Center so they can create their own artwork. If you fancy a day's escape from the city, visit the Palace at Versailles and wander in awe at the decorative interiors and formal gardens. If all the culture and history of Paris doesn't win over the kids, the food will: who doesn't love crepes and pastries?
Journey: London St Pancras to Paris Gare du Nord (Eurostar)
Journey time: 2 hours 15 minutes
Cost: For a one way ticket, Adult ticket is £44, Child (under 12) is £32, Child (under 4) is free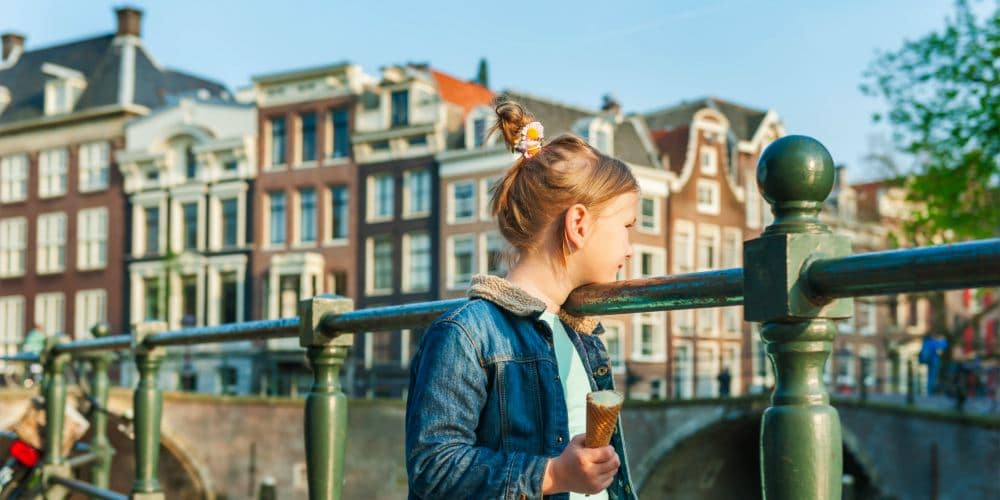 Amsterdam
Amsterdam is now easier than ever to get to without flying, thanks to Eurostar's four hour train journey (equipped with WiFi and an on-board restaurant and bar). Amsterdam is flat and criss-crossed with cycle lanes, so if your kids are old enough, renting bikes is a great way to enjoy the city. Soak up some culture in Amsterdam's museum scene, in particular the Rijksmuseum which contains some of Holland's finest masterpieces, and the Van Gogh Museum, where kids will likely recognise many pieces. Go for a walk in the trendy district of Jordaan and pop into great restaurants and antique shops, before indulging in a canal cruise to see the city by water. Soak up the atmosphere at Albert Cuypmarket and search for forgotten treasures in the IJ Hallan Fleamarket, or just chill out in one of Amsterdam's sprawling urban parks.
Journey: London St Pancras to Amsterdam Central (Eurostar)
Journey time: 3 hours 55 minutes
Cost: £35, one way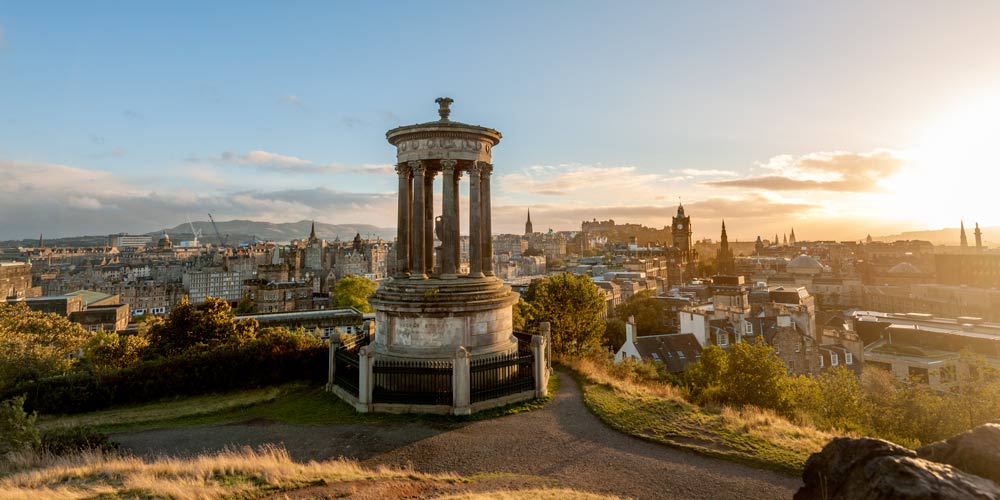 Edinburgh
Edinburgh is a great half term destination, not only because the city is so much fun, but because it acts as a springboard for other great Scottish adventures. While in Edinburgh, shop on Prince's Street and the Royal Mile where you'll be spoilt for choice when it comes to shortbread and tartan. It's well worth the scramble up the steep hill! If your kids are Harry Potter fans, they'll love the Harry Potter Walking Tour where a fellow enthusiast will guide them around the city, pointing out the parts of the city which inspired the creation of Hogwarts and the spots where J.K Rowling wrote some of the books. Edinburgh is also full of culture: the famous Edinburgh Castle is always worth a visit and if you're looking for more up to date entertainment, Dynamic World takes the family on a visual journey through the earth's creation and some of the natural wonders such as the Amazon Rainforest and the Aurora Borealis. A walk up Arthur's Seat is the way to catch some amazing views, but if its a wilder adventure that you're after a 2 hour train ride can take you to the Beautiful Loch Lomond and the surrounding countryside.
Journey: London St Pancras to Edinburgh (Eurostar)
Journey time: 4 hours 20 minutes
Cost: From £74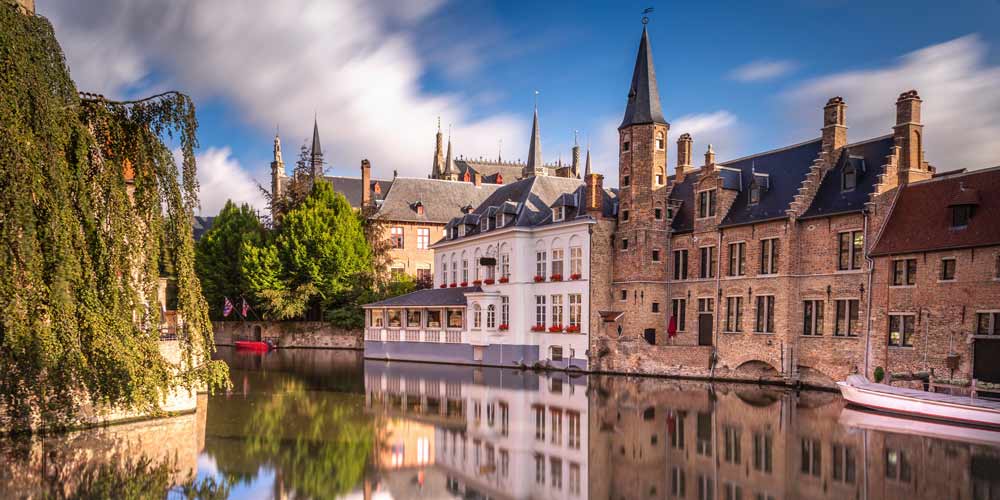 Bruges
Bruges is perhaps a lesser known holiday destination than Paris or Amsterdam, but it is a gorgeous city and full of great places to take a family. Bruges is positively bursting with inspiring architecture: walk through the cobbled streets to find the Belfry and the medieval Gentpoort, before following the Reie river to the Donkey gate and the Bontifacus bridge. From the Diamond museum to the Dali museum, Bruges is not short on culture and many of the city's museums are housed in handsome historic buildings. Shop every day of the week at quaint stores selling local arts and crafts, hidden antique stores and Bruges' open air vegetable markets. Most shopping streets are cobbled and pedestrianised, with a safe and friendly atmosphere. Bruges is also under two hours from Antwerp and Brussels which makes for great day trip opportunities.
Journey: 1. London St Pancras to Brussels Midi/Zuid (Eurostar), 2. Brussels Midi/Zuid to Bruges (half-hourly InterCity train)
Journey time: 3 hours 25 minutes
Cost: For a one way ticket, Adult ticket is £44, Child (under 12) is £32, Child (under 4) is free
Adventures further afield: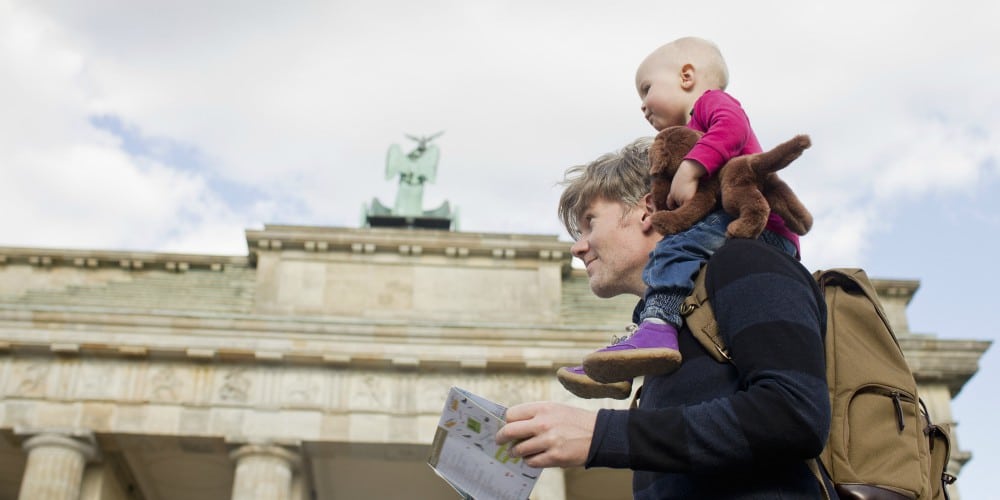 Berlin
Berlin is a fantastic city for a half-term break. As well as being packed with culture and history, older kids will appreciate the city's cool status. As well as the classic tourist sites like the Reichstag and Brandenburg gate, there are loads of family friendly activities to be enjoyed. The German Museum of Technology with its special 'touching is allowed' motto is popular with little ones and The Gardens of the World park with its cable car and bobsleigh is a fun place to let off steam. If history is your family's thing, Berlin is home to a range of sites which commemorate many of the key events of the 20th Century. The Berlin Wall, which divided the city for more than 30 years now remains in fragments, covered in artwork representing the feelings of a city separated for so long. Berlin is also home to The Memorial to the Murdered Jews of Europe, which is a powerful statement built to remember the horrors of the Holocaust. As well as being a place or rich historical significance, Berlin is a city of new attractions, from its blossoming art scene to its many different food trends. You can try everything from currywurst and shnitzel to Berliner Pfannkuchen (jam doughnuts) and apfelstrudel. The Berlin WelcomeCard is handy for families. With it, parents can enjoy unlimited travel on Berlin's public transport system, accompanied by up to three children under 14  who travel for free. The WelcomeCard also has savings deals with up to 200 great attractions and sights so you can enjoy the city for less.
Journey: 1. London St Pancras to Brussels (Eurostar), 2. Brussels to Cologne (High speed ICE3), 3. Cologne to Berlin (High speed ICE2)
Journey time: 8 hours 20 minute
Cost: £59, one way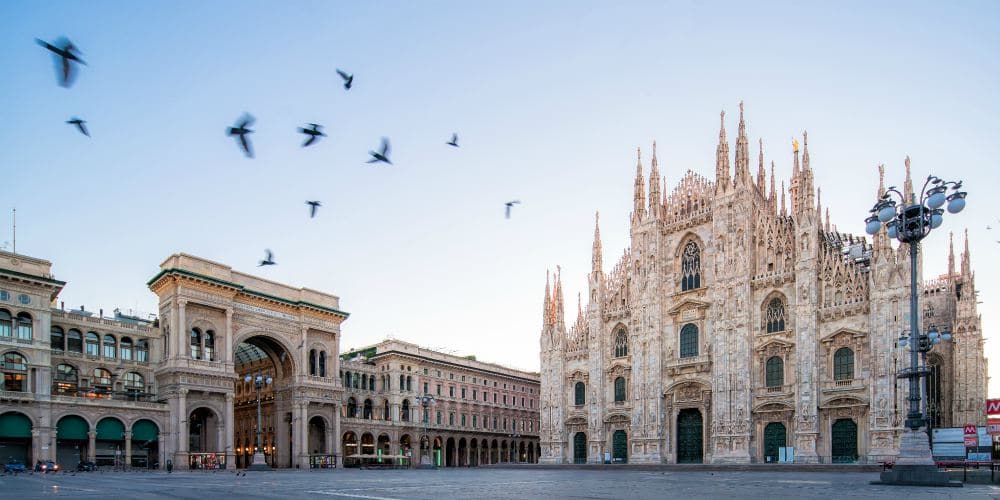 Milan
Milan is an amazing city and travelling there by train takes you on a scenic journey through France and the foothills of the Alps. The Duomo Di Milano Cathedral (pictured above) is bound to amaze the kids. Challenge them to find all 135 gargoyles hidden in its stonework and climb to the top for jaw-dropping views. Close by is Milan's Galleria, where legend says if you spin 360 on the bull with your eyes closed then you will have good luck. Walk through the beautiful Parco Sempione surrounding the Sforza Castle and slip inside to see an exhibition. To escape the city, take a day trip to Idroscalo Lake where you can try a range of activities, from horse-riding to canoeing, or just enjoy being in nature. Milan is also ideally located near many great places, accessible by train, which would make great day trips. For example, both Verona and Venice are under two-and-a-half hours away on a direct train.
Journey: 1. London to Paris (Eurostar), 2. Paris to Milan (high-speed TGV)
Journey time: Step 1: 2 hours 15 minutes Step 2: 7 hours 10 minutes – approximately 9 hours 30 minutes in total
Cost: £75, one way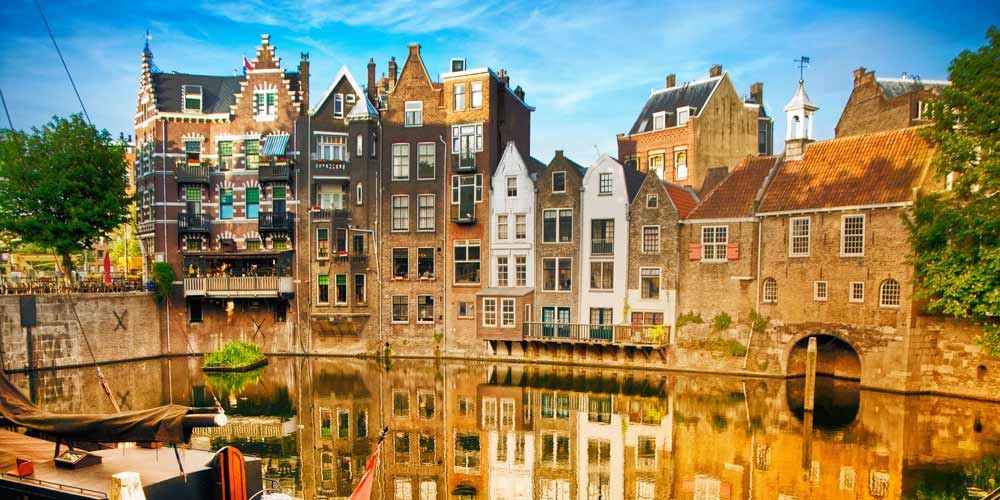 Rotterdam
Avoid the 4am alarm call that comes with flying into Rotterdam, and instead wake at 8am after a]night's sleep on the ferry to find yourself in Holland and a short metro ride away from your destination. This is the most efficient way to get to Holland, especially if you have kids to think of as it is relaxed, fun, and uses 80% less CO2 than flying. Once this exiting portion of your journey is over, there is plenty to do with the family in Rotterdam: take a waterway tour on the Pannenkoekenboot, (boats, pancakes, and a ball pit – what more could you ask for?), before stopping off at the Rotterdam Zoo, described by many as one of the most beautiful in Europe. The Maritime museum helps give a feel for the city, with model boats and a 360 offshore projector that transports visitors under the sea. Rotterdam was excessively bombed in WW2, and by consequence there have been many new builds; though this gives it less historical beauty than much of Europe it has provided the opportunity for highly inventive architecture. An interesting example of this, the city's Cube Houses are orientated at a 45 degree angle in order to maximise on available space. They must be seen to be believed, but are well worth a visit. If you're a family of foodies, don't miss the Rotterdam Market Hall. With over 100 fresh produce sellers, 15 food shops and eight restaurants.
Journey: 1. London Liverpool Street Station to Harwich, 2. Harwich to Hoek van Holland (Stena Line ferry), 3. Hoek van Holland to Rotterdam (metro)
Journey time: Step 1: 82 minutes, Step 2: 9 hours, Step 3:  30 minutes – approximately 11 hours overall
Cost: For a 5-berth family cabin with a window, it is £87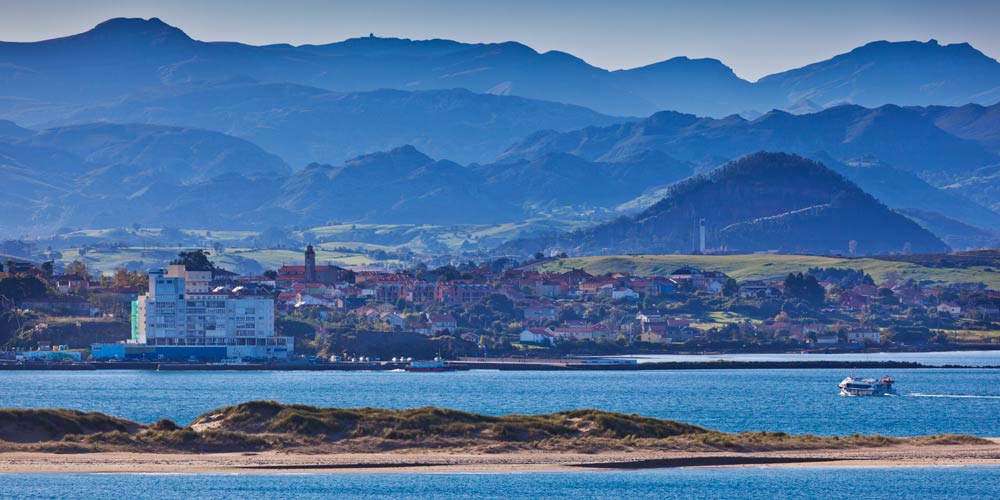 Santander/Bilbao
As well as the chance to indulge in great food and maybe even spot whales, the Brittany ferry gives families the freedom to travel around Spain in your own car. From Santander, you can road trip to any number of great cities and towns nearby, including San Sebastian and Bilbao. Once you arrive, around midday, go for a wander around Santander's lovely cobbled old town or, if it's good weather, stroll on its great central surfing beach. Cantabria is known for its fantastic food, so make sure you visit some of the tapas bars dotted all over the city and feast on delicious seafood and other regional delicacies. For a day trip, visit the Magdalena Peninsular, a beautiful sandy spit of land which was once the summer playground for the king of Spain. Here, you can delight the kids by seeing the penguins, seals and sea lions, and take them for a scenic walkthrough the parkland to the Magdalena Palace. Immerse yourself in Spanish culture with a trip to the Mercado la Esperanza and visit Santander's newest attraction, the beautifully designed Centro Botín, where you'll find works by Goya and others. Brittany Ferries also depart from Portsmouth to Bilbao, another great city for families. The little ones will love the abstract and absurd design of the Guggenheim museum and older kids can hhappily spend an afternoon looking at works by artists like Jeff Koons and Rothko. One piece sspecially worth seeing is the Richard Serra installation called 'The Matter of Time'. End the day with a stroll through the old town, a visit to the historic industrial Vizcaya bridge and another taste of Spanish cuisine.
Journey: Portsmouth Harbour to Santander Harbour (Brittany Ferries)
Journey time: 23 hours 30 minutes crossing time
Cost: From £235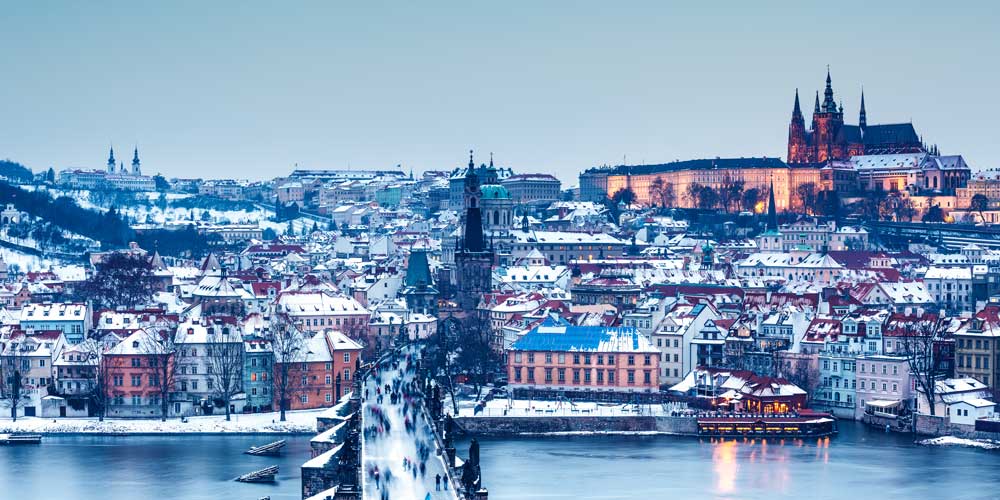 Prague
Prague is one of Europe's most beautiful cities, especially in winter, so it is an ideal city for February half term. The journey is admittedly long (approximately 11 hours in total), but the landscape you soar through makes it worth while. Once you arrive, soak up the culture by visiting some of Prague's most famous landmarks. Begin at Prague Castle and feel the magic of this historic monument, before travelling through the city to the Artpark at Rudolfinum and marvel at the building and the galleries within. There is also a kids section where children can take part in interactive and inspiring workshops. Experiment with some authentic Czech cuisine at Vinohradský Parlament, where you can see what the kids make of fruit dumplings and sweet pasta. There is also a playroom, which is handy if you need a break. It can get very cold in February, so remember to wrap up warm!
Journey: 1. London St Pancras to Brussels Midi (Eurostar), Overnight stay in Brussels, 2. Brussels to Prague Hlavani (High speed ICE)
Journey time: Step 1: 1 hour 56 minutes, Step 2: 9 hours – approximately 11 hours overall
Cost: From £70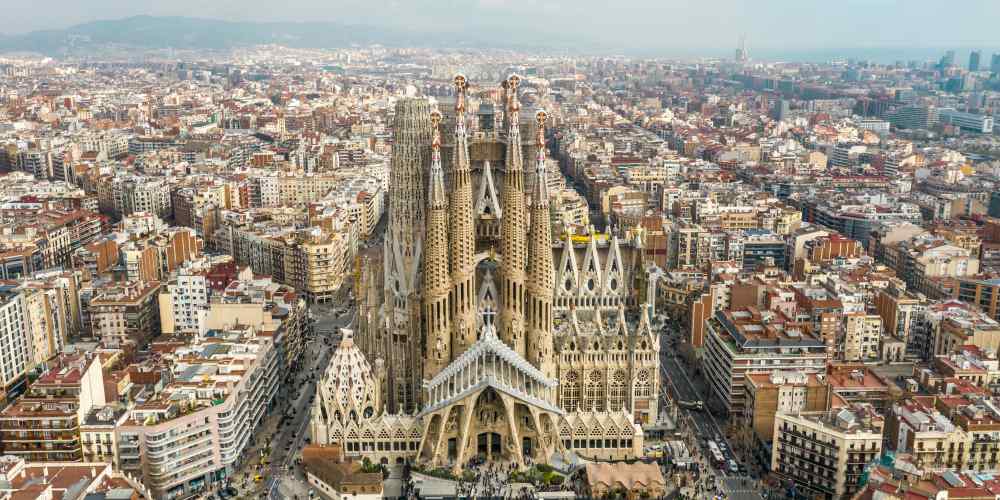 Barcelona
Though there are more scenic, longer routes that you can take, (see option four, here), travelling to Barcelona by Eurostar, via Paris, is the fastest route and gives you more time to enjoy the city. This six-and-a-half hour journey allows you to breakfast in London, lunch in Paris, and dine in Barcelona. Once there, explore the twists and turns of the narrow cobbled Gothic Quarter streets and fuel up on Patatas Bravas. La Rambla is Barcelona's wide pedestrianised street and will take you to the best spots for shopping. From La Rambla you can walk to Gaudi's eccentric masterpiece, La Segrada Familia. From there, marvel at Gaudi houses, (the rooftop tour of Casa Milà is well worth the money), or visit the free Gaudi Park, Park Güell. If the weather is good, have a splash at Barceoloneta or Badalona beach, and try the The Olympic Village beaches, where you'll also find a playground. Climbing up to the Montjuïc national park is a great adventure: begin at the architecturally amazing The Fundació Joan Miró, home to colourful and unusual statues. From there, drop in at the botanical gardens before crossing to the Castle Montjuïc for a sea view. Finally, head to the olympic swimming pool for the best view in all of Barcelona. Time it right and you can enjoy the sun setting over the city.
Journey: 1. London to Paris Gare du Nord (Eurostar), 2. Paris Gare du Lyon to Barcelona Sants (double-deck high-speed TGV Duplex)
Journey time: Step 1: 2 hours 15 minutes, Step 2:  6 hours 30 minutes  – approximately 10 hours 45 minutes overall
Cost: Approximately £85 one way