Sponsored Content
Spain has more Blue Flag beaches than anywhere else in the world. Turkey's Antalya region has the highest concentration in Europe in a single area. Greece even has blue flag boats and marinas, as well as Europe's second highest beach count.
So you know a fluttering flag is a mark of quality by the sea, but which seaside out of the many thousands do you choose? Here are 20 of the best of the best to get you started.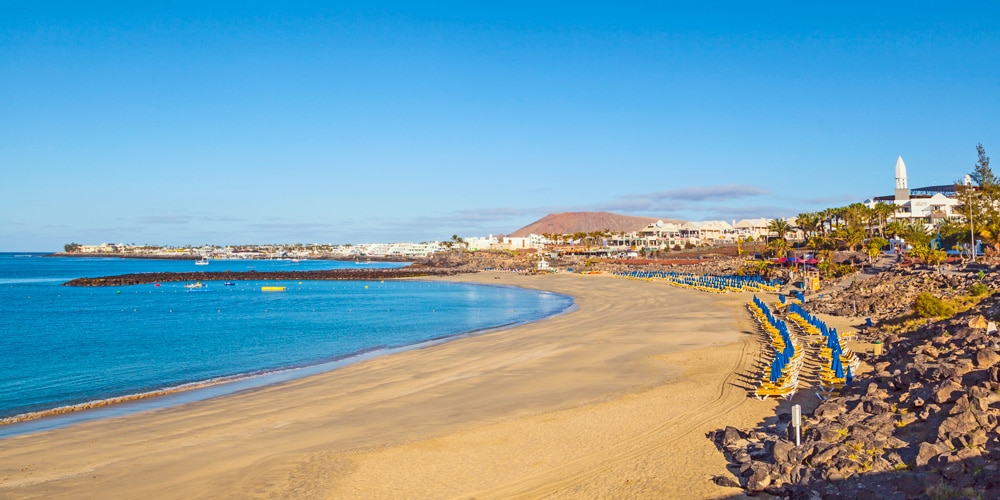 1/20 

Playa Blanca, south west Lanzarote
One of six beaches in Lanzarote which proudly fly a Blue Flag, Playa Blanca is so splendid they named the resort after it.
Don't expect peace and tranquillity though, this broad stretch of glittering sand is an unashamed visitor attraction, and more given to sunbeds and water sports than solitude. Which doesn't make it any less lovely, just remember to head down early for a pick of prime lounging spots.
Where: Playa Blanca, south west Lanzarote
Best for: water sports; sunbathing; safe, shallow waters
Nearby: minutes from Playa Blanca old town
Book

Villa Los Arcos

five minutes walk from Playa Blanca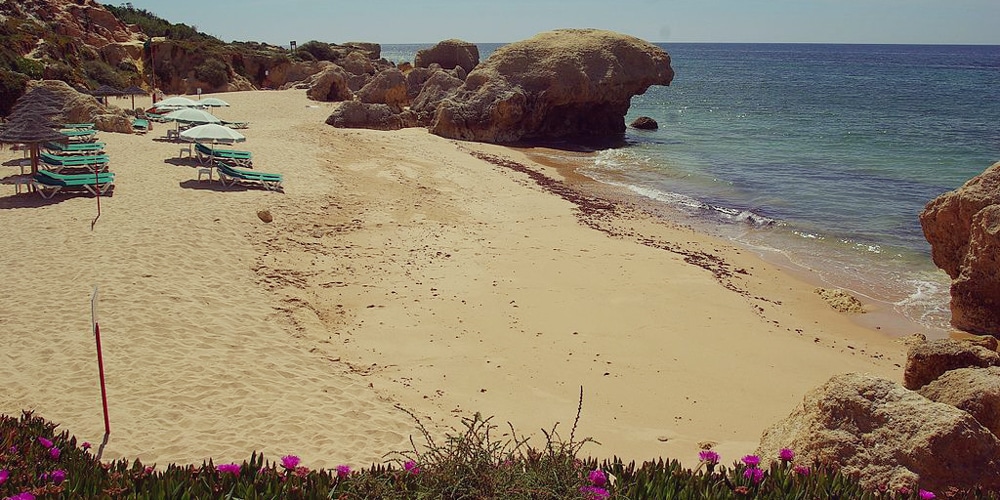 2/20

  Praia da Galé, Albufeira, Algarve
Portugal's Algarve region is a bit of a show-off when it comes to Blue Flags, with 86 beaches, along its 155km coast, more than making the grade.
Dune-trimmed Praia da Galé is just a whisper off the beaten track, so it's possible to stretch out a bit here, even in high season. But lifeguards are on duty all summer, you can hire sun loungers, the local fish restaurants score top marks and there's even a cool little beach bar.
Where: Central Algarve
Best for: swimming; rock-pooling; sandcastles; fish restaurants
Nearby: 20 minutes drive west of Albufeira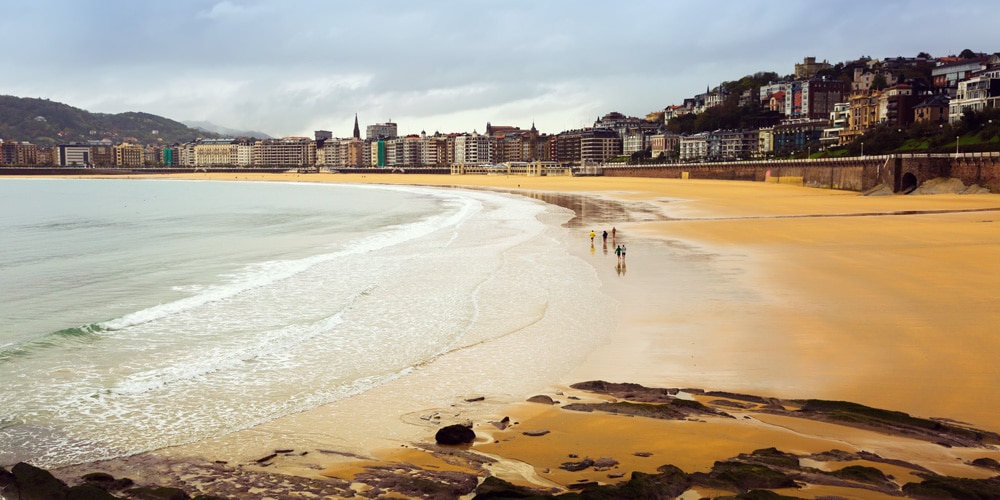 3/20 

La Concha, San Sebastian, Spain
Not only does La Concha fly one of Spain's many, many Blue Flags, it's also one of the world's top 10 urban beaches.
Hard to know what's lovelier here; the long, sweeping crescent of flawless sand or the backdrop of elegant San Sebastian itself. But take a stroll down to the seafront on a balmy Basque afternoon and you can't help but agree with the world, La Concha is gorgeous.
Where: San Sebastian, Basque Coast
Best for: broad, immaculate sands; surfing; beach spas; people watching
Nearby: La Concha promenade connects the Belle-Époque 'new town' and the city's historic old town.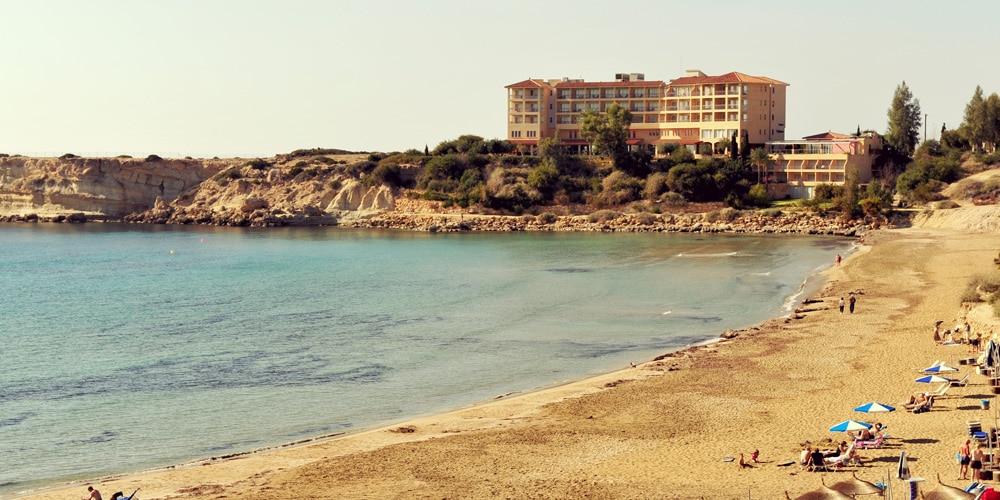 4/20

  Coral Bay, Paphos Region, Cyprus
Cyprus is another country blessed with a healthy share of fluttering Blue Flags, 49 at the last count, on a coastline you can drive less than two hours.
Unofficially, Coral Bay is said to be the loveliest beach in the Paphos region, and it's tricky to argue with 500m of golden sand, sheltering limestone cliffs, water sports, lifeguards in summer and, of course, the big, blue Mediterranean.
Where: Coral Bay, western Cyprus
Best for: golden sands; water sports; swimmable seas; excellent disabled facilities
Nearby: Next to Coral Bay resort for shops, cafés, restaurants and bars.
Book

Villa Mermaid

five minutes drive from Coral Bay beach
5/20

  Polombaggia Beach, Corsica
Another of Europe's Top 10 Most Beautiful Beaches, Polombaggia also waves a Blue Flag and claims the title of loveliest of all Corsica's beaches, and the competition for that prize is fierce.
Shimmering white sands, views of the Cerbicale Islands, chic beachfront restaurants and cool little bars, all add a hint of the Caribbean here. But, head a little north to the ancient town of Porto-Vecchio, and you couldn't be anywhere else but the Mediterranean.
Where: south east Corsica
Best for: spotless sands; nature reserve status; few crowds; stunning views.
Nearby: historic and charming Porto-Vecchio is just 20 minutes drive north.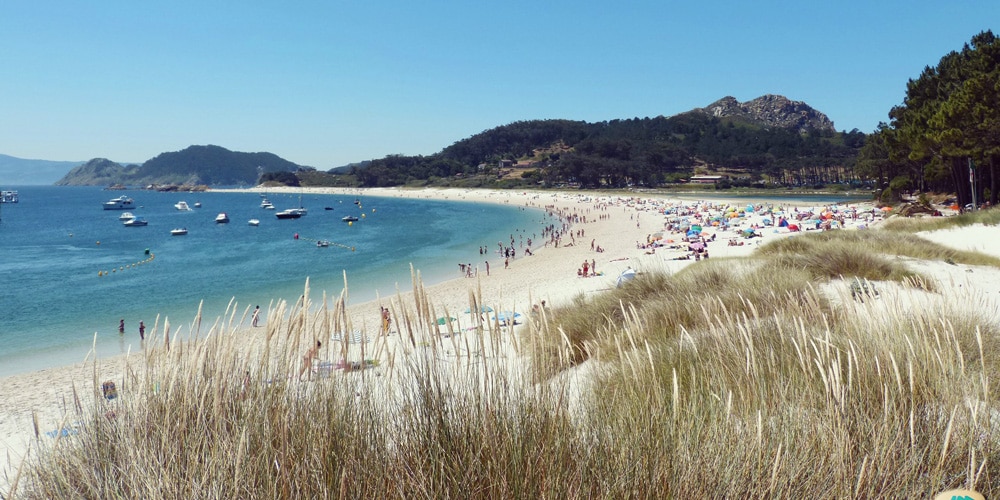 6/20 

Praia de Rodas,
Cíes Islands, Spain
How do you keep your Blue Flag beach beautiful? In the case of heavenly Praia de Rodas, you simply put a limit on the number of daily visitors, and make sure you're not that easy to reach.
If you're keen to see Spain's slice of the Seychelles, it's on the Cíes Islands, 40 minutes by summer-only ferry from the Galician port of Vigo. And don't worry, the beach is never gets too crowded and the islands may be small, but there are still several excellent restaurants and easy-going chiringuitos.
Where: Galicia, north west Spain
Best for: Dos Nenos Lagoon; desert island dreaminess.
Nearby: lively Vigo is 40 minutes away by ferry.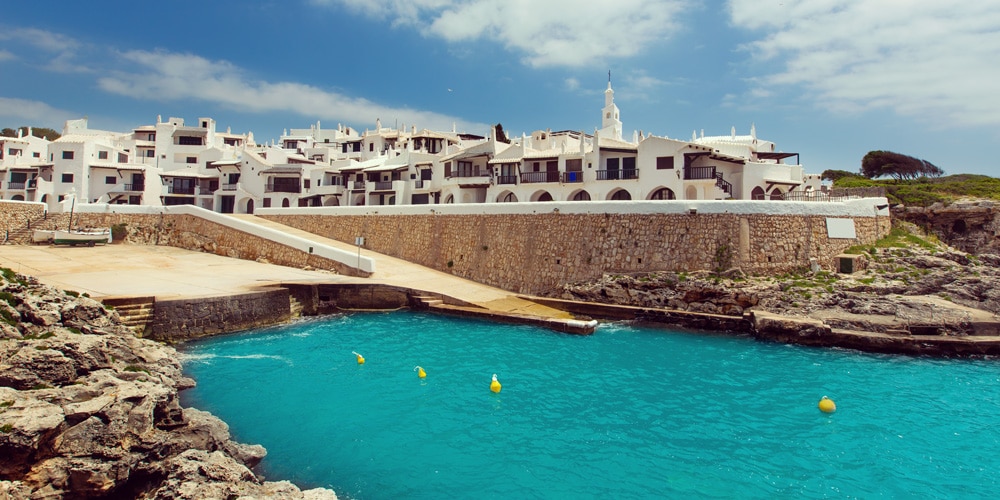 7/20 

Cala Binibeca, south east Menorca
Cala Binibeca on the south east coast of Menorca is pretty, fun, and couldn't be more kid-friendly, a great Spanish seaside combo which definitely plays a part in snaring the country such a vast haul of Blue Flags.
If you want a traditional family beach right down to cheerful snack bars, boat hire, water sports, sandcastle-perfect sands and safe paddling waters, Binibeca ticks all the boxes. And it also happens to be next to cute Binibeca village, just for added appeal.
Where: Binibeca, south east Menorca
Best for: great family atmosphere; shallow seas; water sports; summer shade.
Nearby: next to Binibeca resort for shops, cafés, restaurants and bars.
Book

Villa Paradis

directly opposite Cala Binibeca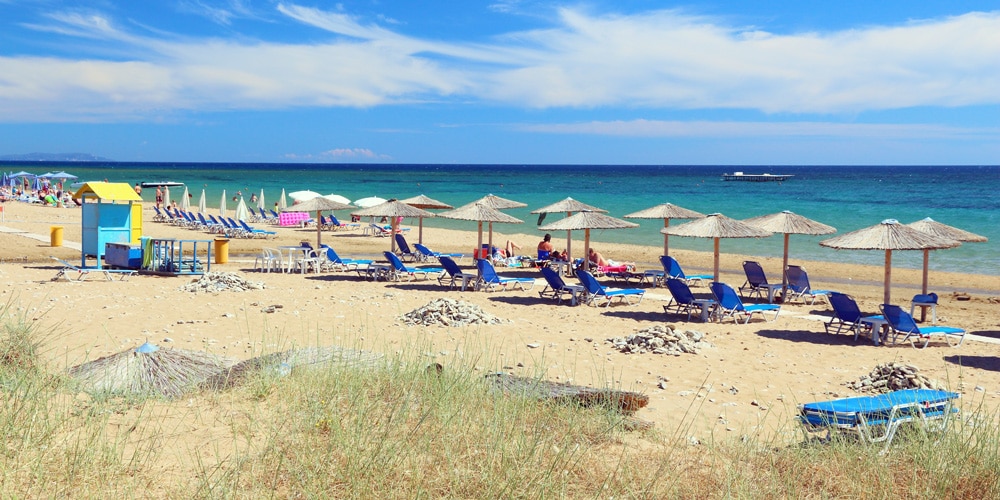 8/20 

Issos Beach, south west Corfu
Greece has 486 Blue Flag beaches, and beats almost everywhere else in Europe hands down for secret coves, archaeology by the sea, and sheer abundance of staggering natural phenomena.
Issos Beach on Corfu is a perfect example, not only is it huge, beautiful and dune trimmed, it's washed by the waters of the Ionian Sea and by Lake Korission. If that's not exciting enough for kids, you can tempt them with amazing water sports, and some of the best windsurfing on the island.
Where: south west Corfu
Best for: nature reserves; windsurfing; water sports; kite surfing; dramatic dunes.
Nearby: UNESCO World Heritage Corfu Town is 40 minutes drive north.
Book

Villa Victor

an hour's drive north of Issos Beach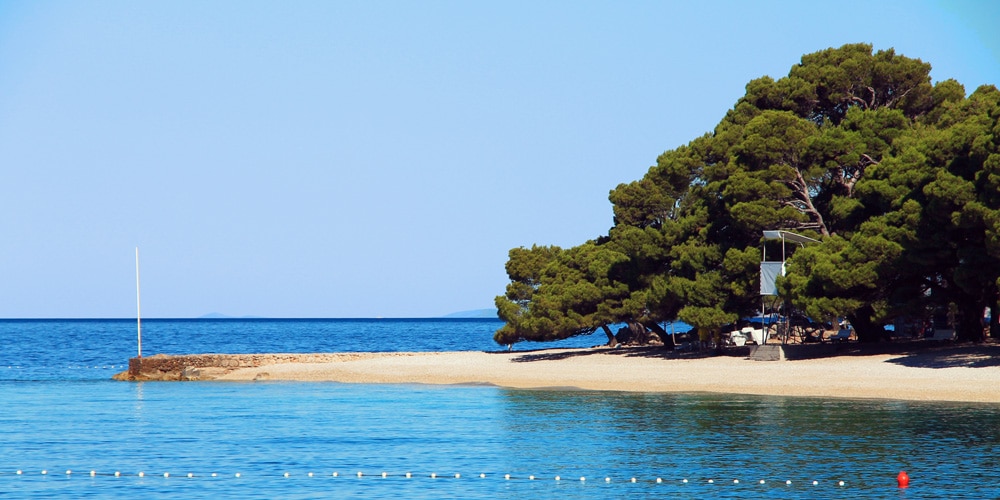 9/20

  Punta Rata, Makarska Riviera, Croatia
Blue Flag holder and regularly named one of the most beautiful beaches in Europe, Punta Rata is covered in the tiny white pebbles which make Croatia's Adriatic coastline a gleaming landmark, even from space.
It's also famous for astonishing sunsets, and an unusually large rock just offshore; a favourite goal for swimmers and a great natural diving board, if you dare. The beach is good for water sports, and a bit of a banana boat legend.
Where: Brela, Makarska Riviera
Best for: water sports; beach games; swimming; shady pine forests.
Nearby: the lovely Adriatic resort of Makarska is 20 minutes drive west.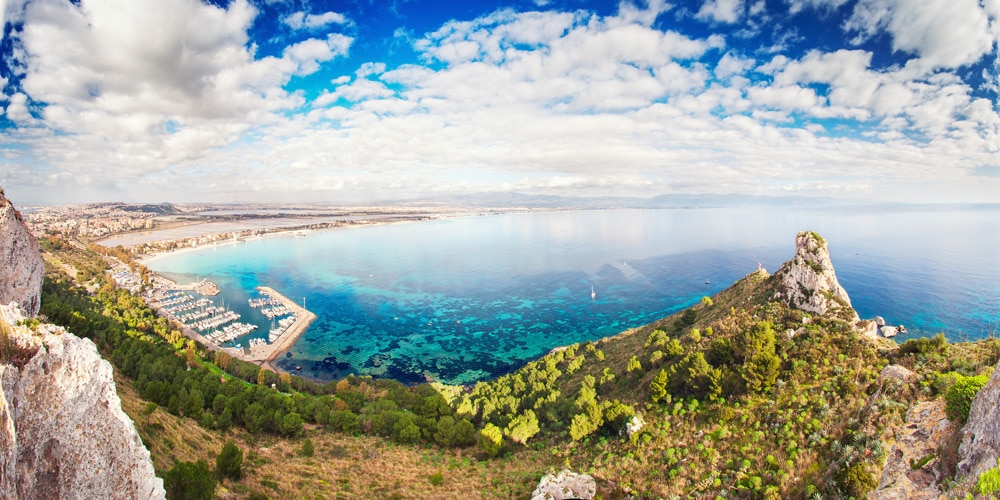 10/20 

Poetto Beach, Cagliari, Sardinia
Seven kilometres of soft, white sand alone could have earned Poetto Beach a Blue Flag. But for all its paradise good looks, it's only 20 minutes drive from the island capital, Cagliari, and one of the top spots for locals to cool down during long, hot Sardinian summers.
The Mediterranean seems to stretch forever at waist depth here, kids love the lively atmosphere and you could spend two weeks solid on the shore and never visit the same beach bar or restaurant twice.
Where: Cagliari, southern Sardinia
Best for: shallow swimming waters; water sports; beach bars; acres of sand.
Nearby: historic Cagliari old town is 20 minutes drive west.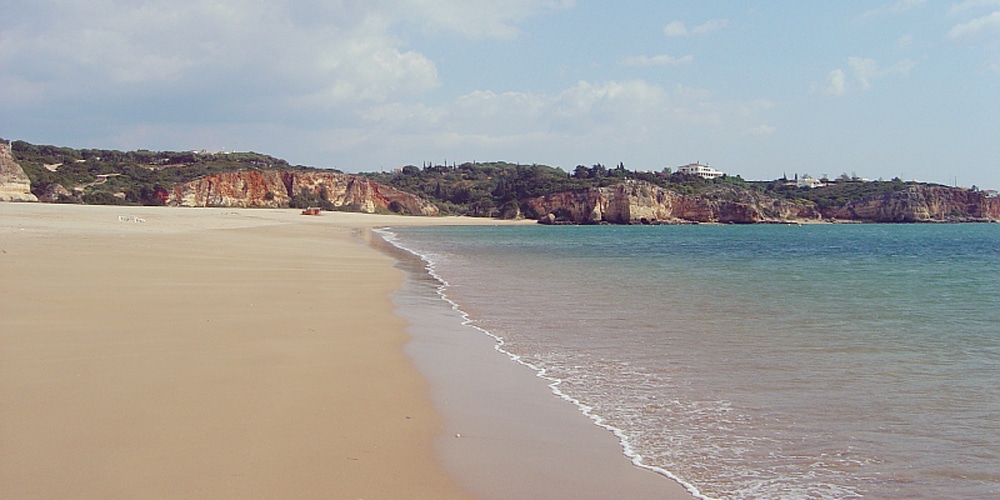 11/20

  Praia Grande, Ferragudo, Algarve
Exactly as the name suggests, Praia Grande is enormous and clearly earned its Blue Flag for being so generous with everything from excellent beachy playgrounds to fish restaurants, laid-back little bars, great value water sports, and possibly the most magnificent Atlantic sunsets in the Algarve.
If you need more distractions, pick the right spot to rent a cloud-soft sun lounger and you can spy on the glossy yachts sailing into Portimão Marina.
Where: western Algarve
Best for: vast stretches of sand; water sports; beach sports; safe swimming.
Nearby: Portimão is 10 minutes drive north, and the pretty walled city of Lagos is 30 minutes west.
Book

Villa Tess

15 minutes drive east of Praia Grande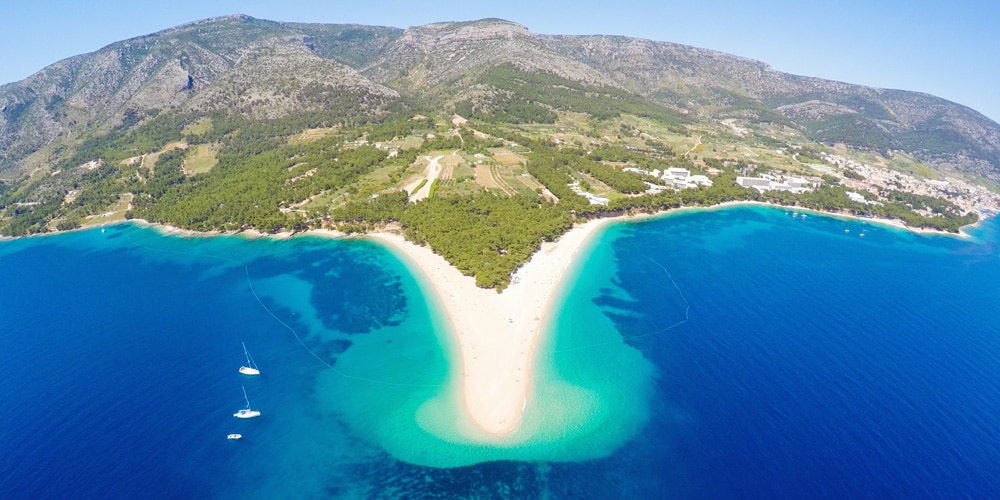 12/20

  Zlatni Rat, Brač Island, Croatia
Brač is the most accessible of Croatia's irresistible Adriatic islands, and even a day sail from Split or Makarska is worth the effort to spend a few hours on mysterious Zlatni Rat.
More like a long spit of sand surrounded by sea, than a traditional beach, this Blue Flag holder changes shape depending on the weather, tides and seasons. But it's always breathtaking, and even the pebbles have a hint of intrigue: find one with a hole in it and you'll have luck forever, apparently.
Where: Brač Island, Croatia
Best for: natural drama; transparent waters; island views; pine forest walks.
Nearby: Split and Makarska are both one hour and 40 minutes away by ferry.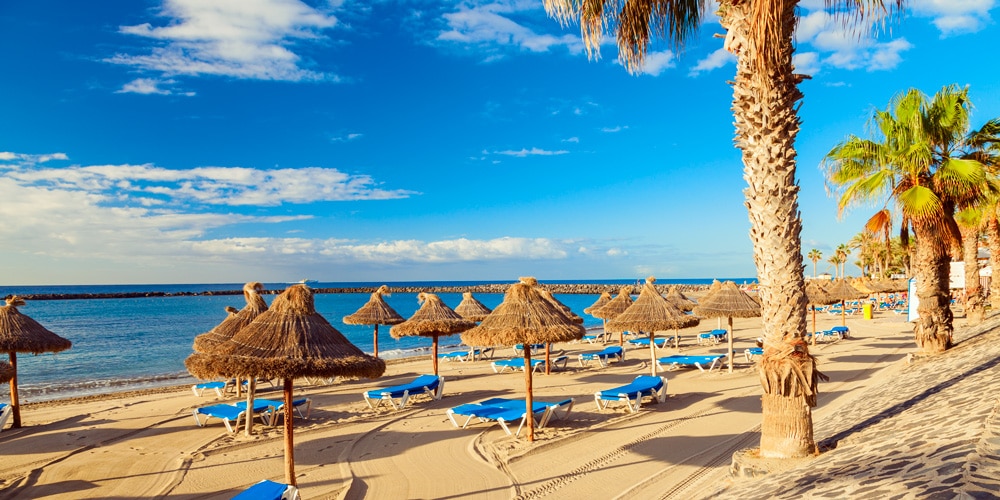 13/20 

Playa de los Cristianos, south west Tenerife
Tenerife has most of the Canary Islands' Blue Flag beaches, and one of the finest trims along the coast of Los Cristianos. The resort itself is hugely popular, crammed with hotels and the heartland of waterparks and theme parks, but the beach is just perfect.
Even if you choose to stay in one of the island's more authentic areas, this vast stretch of manicured, golden sand is worth a visit. And it's packed with everything from beach bars and cafés to every imaginable water sport, so you can arrive early, and stay late to watch the sun set.
Where: Los Cristianos, south west Tenerife
Best for: family days out; golden sands; water sports; beach clubs; sunbathing.
Nearby: Los Cristianos town centre is five minutes walk from the beach.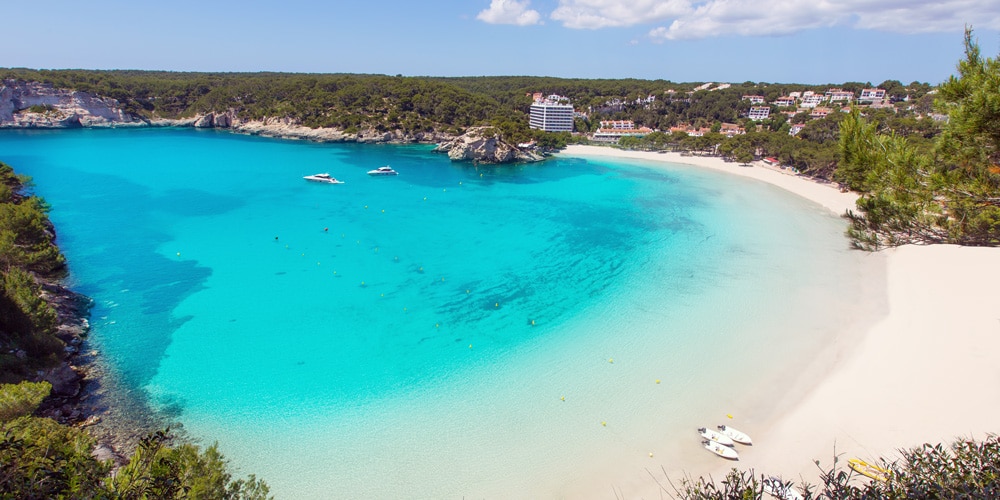 14/20

  Cala Galdana, south west Menorca
A huge, crescent of pure white sand sweeping round the calmest of bays, is probably why Cala Galdana is regularly named loveliest beach in Menorca.  A backdrop of dense, sweet-smelling pine forest is another plus point for this charming Blue Flag holder.
It's well-liked families in summer, but seldom feels overcrowded, and if kids are keen to try some famous Menorcan sailing, the calm waters here are perfect, and you can hire canoes or kayaks.
Where: south west Menorca
Best for: beautiful sands; safe sailing and swimming; water sports.
Nearby: Cala Galdana resort is a few minutes walk from the beach.
Book

Villa Susana Blanca

25 minutes drive west of Cala Galdana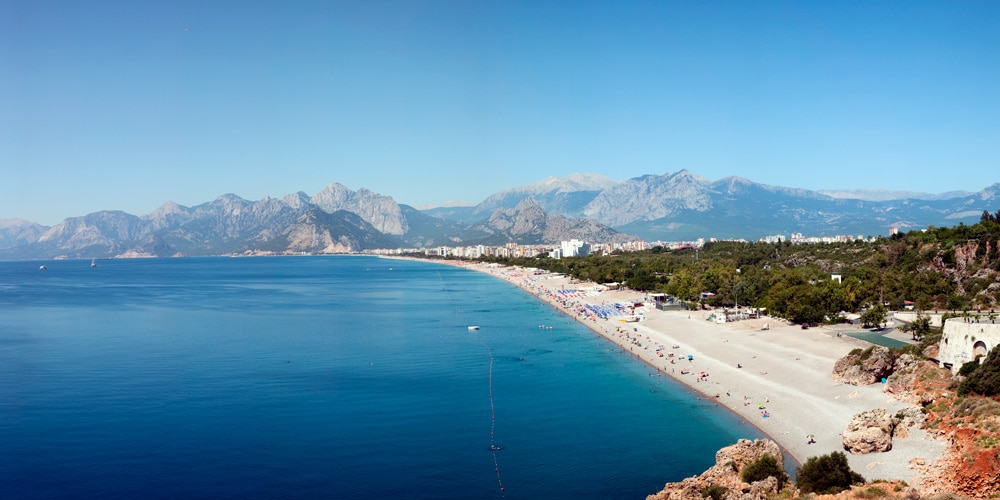 15/20 

Konyaalti Beach, Antalya, Turkey
Turkey has 454 Blue Flag beaches along its Aegean and Mediterranean coasts, but magnificent, bone-white Konyaalti in the heart of ancient Antalya is the one to beat.
As far as urban beaches go, this one is truly spectacular. It's hemmed to the west by the dramatic Bey Mountains, the sea views give a hint of why they call this area the Turquoise Riviera, and absolutely nothing compares to one of the most historic cities in Europe in the background.
Where: south east Turkey
Best for: long white sands; mountain views; fabulous urban setting.
Nearby: the historic centre of Antalya is a few minutes walk from the beach.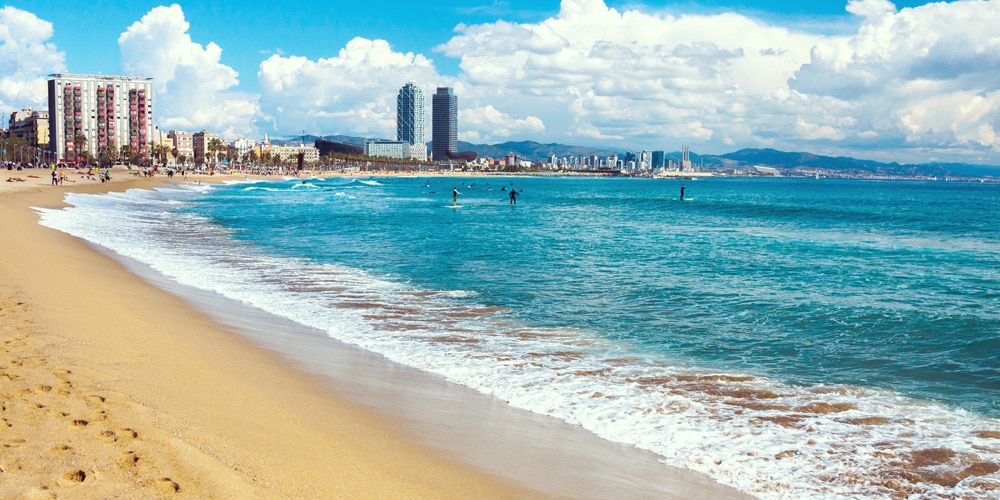 16/20 

Barceloneta Beach, Barcelona
There are urban beaches, and then there's Barceloneta, the beach that defines Barcelona as one of the greatest Mediterranean cities in Europe.
Almost as well known for its cute chiringuitos and monumental sculptures as it is for acres of shiny sand, this legend by the sea is also in one of the city's coolest barrio. So if you get bored staring at the blue water and even bluer sky, grab a ride on the Montjuic Cable Car, stroll along the huge boardwalk, or go visit the city's amazing aquarium.
Where: Barcelona
Best for: sea and city views; street art; beach bars and restaurants; water sports.
Nearby: Las Ramblas and Barrio Gotico are easy walking distance from Barceloneta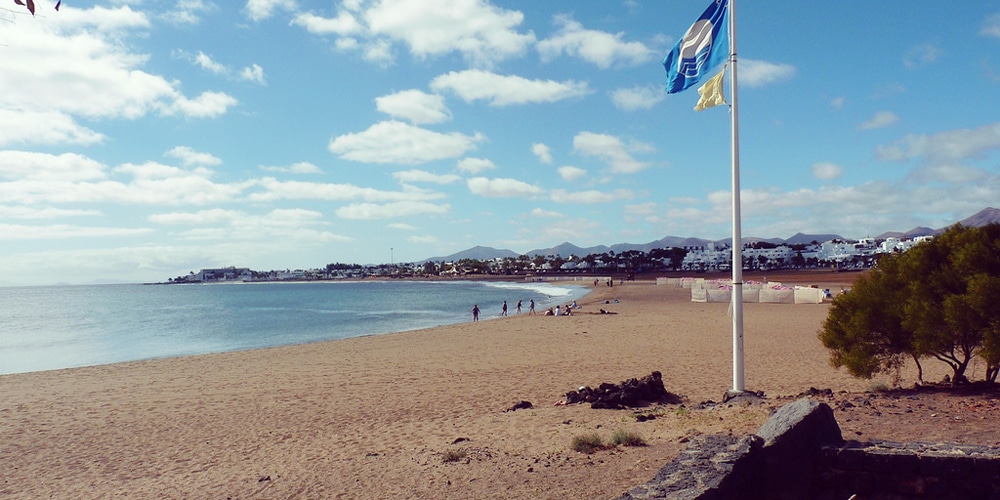 17/20

  Playa de los Pocillos, Lanzarote
Puerto del Carmen is famous for big, golden sand beaches, but only Playa de los Pocillos flies a Blue Flag and ticks all the perfect family day out boxes from calm swimming waters to fun sports.
Visit in September, to grab some of Lanzarote's late sunshine, and you can sometimes see the 'mareas del pino' submerging the entire beach under a few centimetres of water. These 'pine tides' mark autumn's equinox, give sands a serious clean after summer, and take paddling to a whole new level for kids.
Where: south west Lanzarote
Best for: golden sands; good restaurants; kids beach clubs; natural phenomena.
Nearby: Puerto del Carmen Strip is five minutes walk from Los Pocillos
Book

Villa Ana Maria

10 minutes walk from Playa de los Pocillos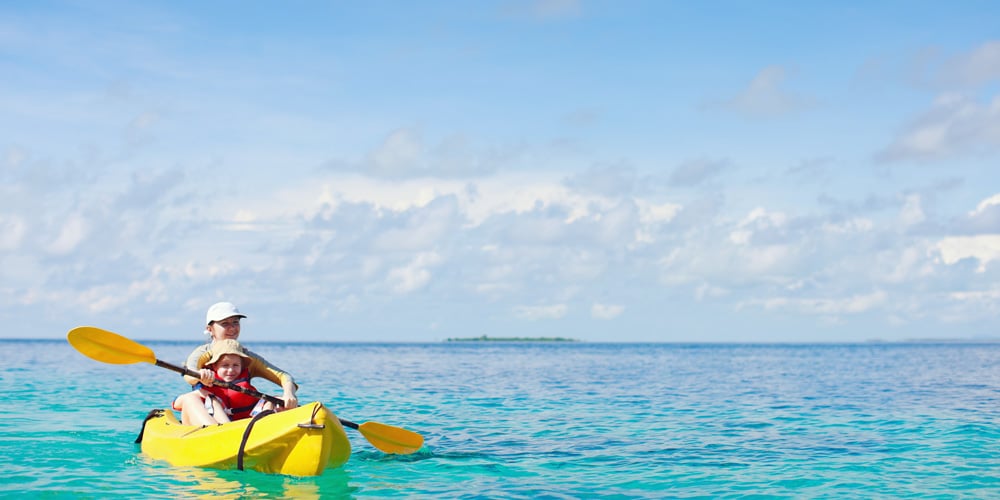 18/20 

Playa de las Salinas, Almeria, Andalusia
Just 20 minutes from the city of Almeria, Playa de las Salinas takes its name from the local San Rafael salt mines, so along with silvery sands as far as the eye can see, you also get a little bit of history with your Blue Flag here.
Great for all sorts of water sports, the calm waters are perfect for canoeing but there's just enough of a breeze to make kite-surfing a bit of a thing too. The beach can be busy in summer, although Almeria is still one of Andalusia's lesser known regions, and busy seldom means crowded.
Where: Almeria, Andalusia
Best for: vast stretches of sand; mountain backdrop; water sports; sailing.
Nearby: the city of Almeria is 20 minutes drive east of Las Salinas.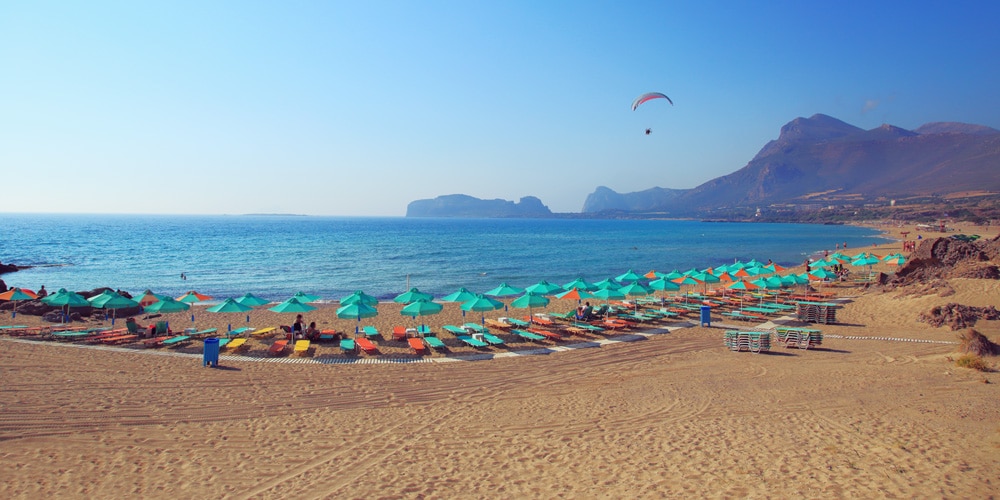 19/20

  Falassarna Beach, Chania, Crete
Falassarna on the west coast of Crete is one of the island's loveliest beaches and in true Cretan style, comes complete with its own set of ancient ruins, some sheltering hills and an historic city within easy driving distance.
Often listed as one of Europe's top 10 beaches, Falassarna is surprising peaceful, even in high summer. Kids can swim safely in the shallow, horseshoe bay and you should prepare to answer endless questions about the unusual pink sand.
Where: western Crete
Best for: calm bay; pink sands; snorkelling; friendly little beach bars.
Nearby: the fascinating city of Chania is an hour's drive east of Falassarna.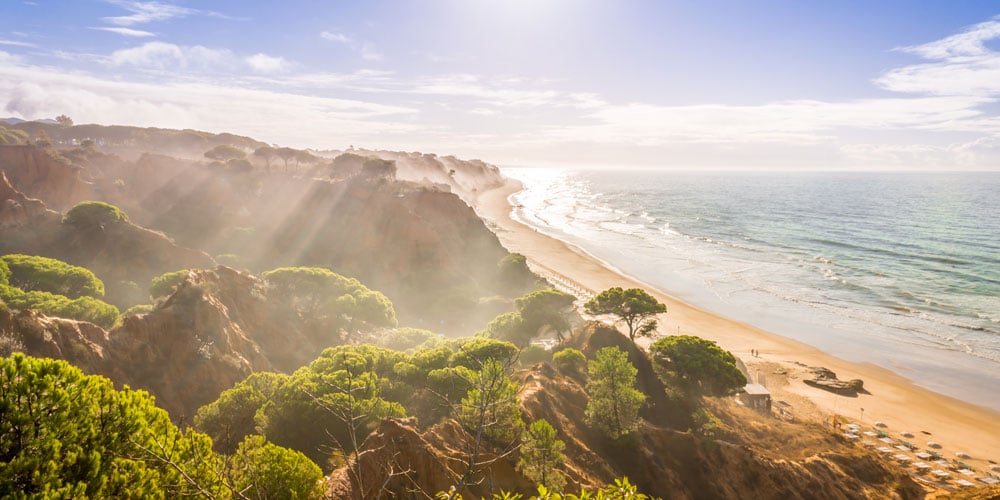 20/20 

Praia da Falesia, central Algarve
Even on the famously dramatic Algarve coast, few beaches compare to stunning Praia da Falesia with its iconic white and terracotta streaked cliffs.
A combination of endless golden sands and a great location make for massive appeal, but at six kilometres long, Falesia never feels too busy. If you're looking for fantastic water sports, surf schools and shallow seas, choose the eastern end, closest to Vilamoura.
Where: central Algarve
Best for: cliff top walking trails; fun caves; kilometres of sand; water sports.
Nearby: almost exactly halfway between Albufeira and Vilamoura
Book

Villa Eve

20 minutes walk from Praia da Falesia
Have a look at even more beautiful beaches and beachfront villas and

book now

with Family Traveller.