The Danish city of Aarhus is no longer under the radar since being awarded 2017's European Capital of Culture. Ingrid Osborne seeks out its family hotspots
Well overdue to receive destination recognition, the medieval and rather cosy candlelit city of Aarhus steps out from Copenhagen's shadow, carrying with it a large dose of Scandinavian pride from its recently awarded titles of 2017 European Capital of Culture and European Region of Gastronomy 2017, the first place to receive both accolades in a single year.
Clean, green, and historically rich, Denmark's second-oldest and second-largest city is by no means Copenhagen's weaker sibling. Freshly unearthed as a gastronomy hotbed, in fact, this humble township has long been home to experimental culinary art forms. Tracing its beginnings back to the last quarter of the 700s, the canal-threaded city is an architecture lover's chocolate box, full of Viking, medieval, Renaissance and modern landmarks, with works from design giants including Arne Jacobsen, CF Møller, and Henning Larsen, truly making Aarhus one of the prettiest jewels in Denmark's crown.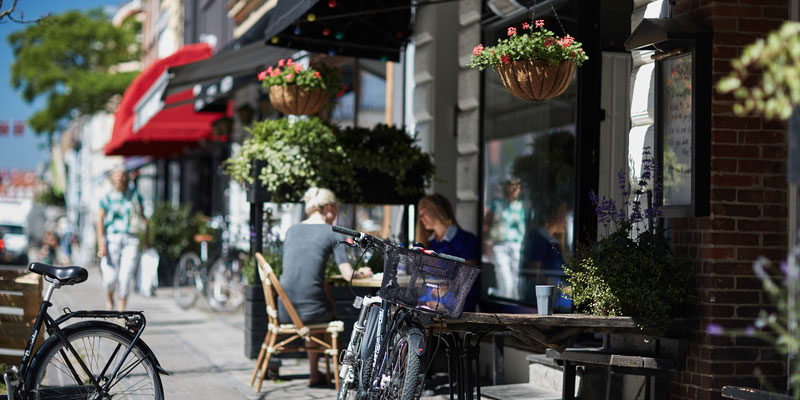 Opening wide its doors of diversity for 2017, Aarhus will host an impressive schedule consisting of hundreds of performing arts, galas, and debates throughout the year, including the world's first International Children's Literary Festival by the renowned Hay Festival. The city has collaborated with local and international talent, who will take centre stage with an eclectic mix of family-friendly entertainment, ensuring there's no better time for your family to explore this warm-hearted city.
Where to eat

Langhoff og Juul
In the heart of the Latin Quarter, Langhoff og Juul puts a modern spin on traditional Danish dishes, using seasonal organic ingredients. Expect sizzling pork belly handsomely dressed with a scatter of garden-picked herbs. Time-dependent menus operate throughout the day, and yes, it's advisable to book a table in advance.
Hours: Monday–Saturday, 9am–10pm; Sunday, 10am–4pm
Price: From £20pp for dinner

Sjette Frederiks Kro
Nestled within woodlands overlooking Bellevue Beach is Sjette Frederiks Kro, a family-orientated organic café that serves traditional Danish fare. Expect open sandwiches with layers of salmon or ham, crisp salad on a bed of rye, paper-thin charcuterie, cucumber fingers and sun-kissed tropical fruits.
Hours: Wednesday, Thursday, Friday: 11.30–2.30pm; Saturday, Sunday: 9–5pm, Closed Monday, Tuesday
Price: From £15pp for a set menu

Aarhus Street Food
Drawing inspiration from London's Borough Market, the newly opened Aarhus Street Food is set within a former bus garage that houses colourfully painted shipping containers transformed into kitchens. Alluring scents of tangy spices mingle as oversized blackened steel pans are put through their paces, bubbling with ethnic dishes including thick pork stews garnished with entire capsicums, and plump noodles coated in peanut sauce then tossed with the greenest of pak choi. Communal tables encourage a hyggelig (cosy) atmosphere, while al fresco dining can be found out on the deck – it's also spacious enough to accommodate prams.
Hours: Monday–Thursday, Sunday: 11.30am–9pm; Friday and Saturday: 11.30am–10pm
Price: From £5pp

Steff Houlberg hotdog stands
For an easy and affordable refuel, Steff Houlberg hotdog stands can be found dotted around town. Piping-hot sausages dolloped with rémoulade – a type of cheery yellow mayo, topped with crispy onions and sweet gherkins, all washed down with Cocio, a chocolate milk drink, refreshingly tasty to little mouths.
Price: From £3pp

Emmerys bakery
If there's anywhere to eat a Danish pastry, it's Denmark. Try Emmerys, a locally loved organic bakery, where artisans craft authentic buttery Danish pastries, treacle-coloured rye breads, seeded loaves, and marzipan cakes dipped in chocolate, all deliciously Scandinavian and guaranteed to satisfy. Handily located on the ground floor of Magasin du Nord department store.
Hours: Monday–Friday, 7am–8pm
Price: From £3pp
Where to shop

Illums Bolighus
Tucked within a recently restored mansion house, Illums Bolighus' shelves groan with stylish Danish homeware. Pieces by icons of Danish design, from Georg Jensen to Royal Copenhagen, can be picked up here, and the store has a superb range of heritage toys, including works from the late Kay Bojesen, whose exquisite wood-turned playthings have a cult following. In the 1950s, the Victoria & Albert Museum exhibited Kay's work, including his famous Monkey. Today, the Bojesen family oversee the toy production, ensuring designs stay true to Kay's original sketches. The conundrum, of course, is whether the sleek metal vintage pedal car designed by French toymaker Vilac could also fit into your luggage?
Hours: Monday-Friday, 10am–7pm; Saturday, 10am–6pm; Sunday, 11am–4pm

Magasin du Nord Department Store
Britain happens to have a small foothold in Aarhus, in the form of Magasin du Nord department store, a subsidiary of Debenhams. Located on the city's main shopping strip, Magasin offers a range of mid-priced Scandinavian and British products. Whether you need to source snacks, replace a child's milk-soaked T-shirt in a hurry, or freshen up with cosmetic supplies, Magasin covers the lot. A bus stop is found at the rear of the building, with routes to most of the city's popular destinations.
Hours: Monday–Sunday, 10am–8pm
Where to sleep

Hotel Royal
Built in 1838, the historic Hotel Royal has remained true to its roots, boasting opulent grandeur, yet at times kitsch décor, complete with brightly coloured stately furnishings, presidential-style desks and ceilings that glitter with hand-cut glass chandeliers. Overlooking Aarhus Cathedral, and with ARoS Museum only 15 minutes away on foot, it's in an ideal location to reach the sights.
Price: From £258 per night for two adults and two children, B&B

Hotel Oasia
Borrowing design influences from its Nordic sisters, contemporary Hotel Oasia offers an easy-on-the-eye assortment of soothing beiges, whites, and a sprig of black décor. Designer beds ensure a restful sleep, and a grand breakfast buffet of cereal, cheeses, breads, scrambled eggs and fruit will set you up for a busy day. It's best to request a quiet room, due to the hotel's proximity to the railway station; however, it has the benefit of being close to ARoS Museum and the Old Town.
Price: From £145 per night for a family of three

Hotel Marselis
Hotel Marselis, found at the edge of Marselisborg Forest, provides a blissful escape from the hubbub of the city. Its sea views set a restful tone, and gentle strolls through Marselisborg Deer Park offer families a fresh dose of nature. While parts of the hotel's decor resemble buffed vinyl chairs from Grandma's rest home, the rooms are clean and spacious, complete with comfortable beds. Dip toes in the sea, or enjoy a swim in the hotel's pool before heading out to experience culture at Moesgaard Museum. Aarhus city centre is only 5km away, served by bus and taxi (ordered through the hotel).
Price: From £189 per night for a room with sea view, for a family of three
The lowdown
How to get there: It's staggering to think that, at times, it is cheaper to fly to New York than to Aarhus. However, try your luck with Ryanair, or consider the proven, cost-effective route instead, by flying from London to Copenhagen with Easyjet (easyjet.com) or Norwegian (norwegian.com). From there, an airport train leaves for Copenhagen Central Station, where a connecting train can be boarded that heads over to Aarhus Central in less than three hours. It's easier than it sounds, and offers a scenic journey through agricultural farmlands and coastal regions. Flights cost from £60pp. Trains from Copenhagen Central Station to Aarhus cost from £62 for a family of four.
Best for: Aarhus is the quintessential family destination suitable for all age groups. Its pram-friendly terrain makes travelling easy, leaving families to enjoy expanding their knowledge of Viking history while exploring the works of design legends, and an abundance of first-class gastronomy firmly puts the icing on the city's proverbial cake.
Best time to go: Aarhus a city well equipped to cope with whatever the weather unleashes – they even heat its central pavements at the first snow flurry. For a winter wonderland experience, visit in January or February. Late summer sees Aarhus shift into full festival swing as its students graduate, making for a jovial environment throughout. The only time many of the city's restaurants and attractions grind to a halt is Christmas day and the week that follows it. However, it's worth pairing a trip with one of many 2017 European Capital of Culture events to maximise the very best Aarhus has on offer.
Get into the Danish spirit with some light reading: The Little Book Of Hygge: The Danish Way To Live Well by Meik Wiking, £5
Top tips: Open 24 hours, Aarhus Løve Apotek is a pharmacy that provides an assortment of over-the-counter medicines, baby supplies, and prescription medicines.
For Waitrose-quality groceries, head to Denmark's best supermarket, on the lower ground floor of Salling department store, along the main inner city shopping strip.