Writers Toby and Melanie Clark review the newly opened Parklane Resort & Spa in Cyprus with their three boys.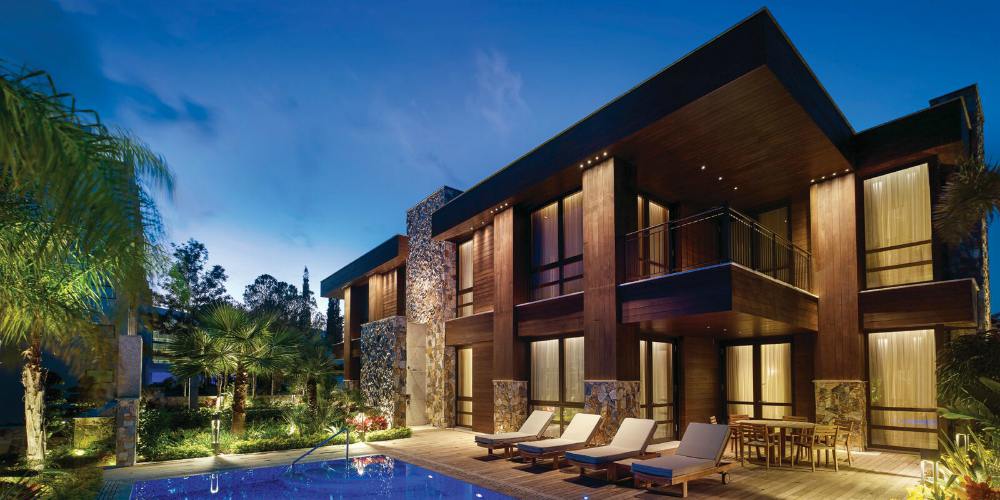 There's relief all round when we arrive with our three young boys – Zac, eight, Silas, seven, and Felix, five – at the newly opened Parklane Resort & Spa, as the ambience here is one of luxury but also relaxation, where children are not just tolerated but genuinely welcomed. It is a smart five-star but you'll see people strolling casually around in swimwear too.
The Parklane Hotel opened last spring, and it is part of the Marriott Luxury Collection franchise. To qualify for this hotel branding, the owner needs to demonstrate the hotel has elements of the local culture, and this is done exceptionally well with a beautiful theme capturing the spirit of the nearby ancient perfumery of Pyrgos, through subtly designed references. Pyrgos itself was rediscovered in 2005 by Italian archaeologists near to the resort.
Located in a beautiful setting on the coast in Limassol, the resort is set in acres of newly landscaped grounds with a glorious beachfront. In the gardens, pathways snake through verdant groves with olive, palm and lemon trees, providing a source of pleasure for both parents and children.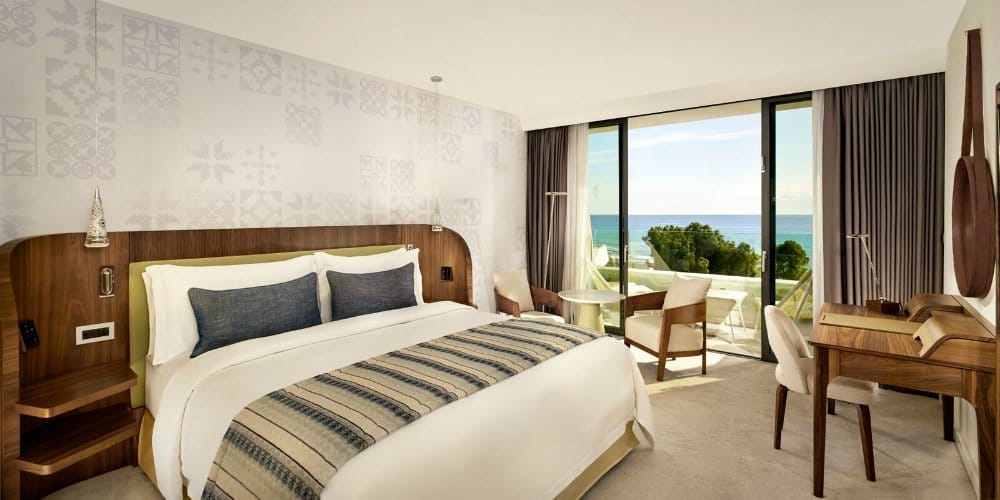 The main accommodation overlooks the three outdoor pools towards the Mediterranean with rooms facing the sea or the landscaped gardens and Mount Olympus. Behind the hotel are a number of villas and the sporting facilities, plus the all-important kids club as you head up the hill.
The accommodation types suit a wide range of guests and families of all shapes, sizes and ages. There are more than 200 standard rooms and 52 suites, around half of which have private pools. The hotel rooms are designed and sourced by Harrods, using natural and earthy tones. There is a luxurious feel but fortunately nothing too ornate or decorative that three young boys can't swing off. Inter-joining rooms are a must, and there are 64 in the resort.
Kids clubs are important for many families on holiday and we are no exception. Parklane have invested heavily here, with a bespoke Princesses and Pirates Park, incorporating a splash park, football area, climbing and bouncy castle – and that's before you move inside the castle-themed building, where indoor options such as pottery and jewellery-making can give children time out of the sun. The key test for our family is whether our children want to go to the kids club each day and Parklane passed this with flying colours.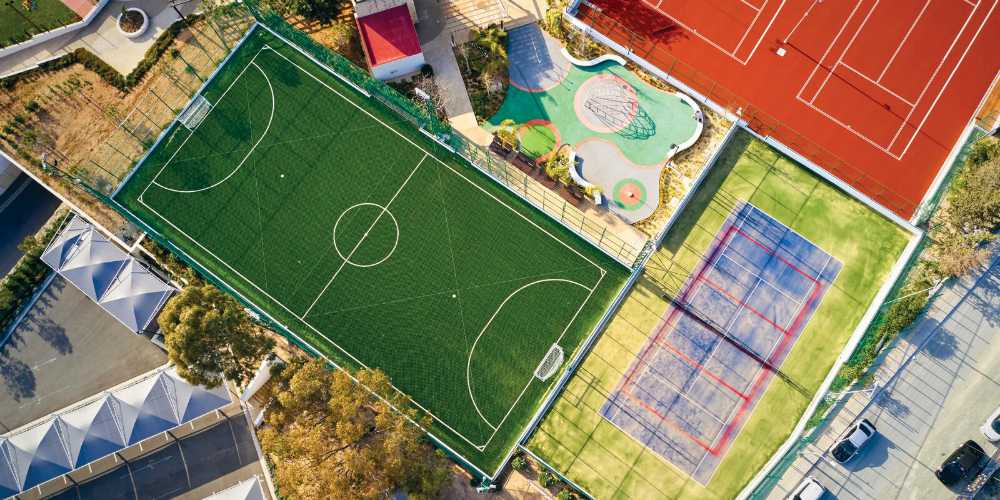 Sporting facilities are excellent with tennis courts and a football pitch. An informal match of football every evening with other families was an established tradition, as the football academy season primarily runs in the school summer holiday period. This year, they have six ex-professional footballers coming to run the academy – Rio Ferdinand, Dimitar Berbatov, Bobby Zamora, Wes Brown, Richard Dunne and Danny Murphy. Courses run for five- to 15-year-olds and kids receive their team's kit.
Aside from sports, the four swimming pools at Park Lane are a huge draw, for kids and parents, as is the extensive spa, with private suites available for hire for days or part-days for those wanting extended relaxation in private.
Dining at Park Lane is to a high standard and combines international with local options. Lanes is a buffet restaurant that serves a very high-quality breakfast as well as a great lunch and dinner buffet option – often the easiest option for parents with fussy, hungry or tired children. Our other favourite option was Daphnes, with beautiful indoor/outdoor Greek dining.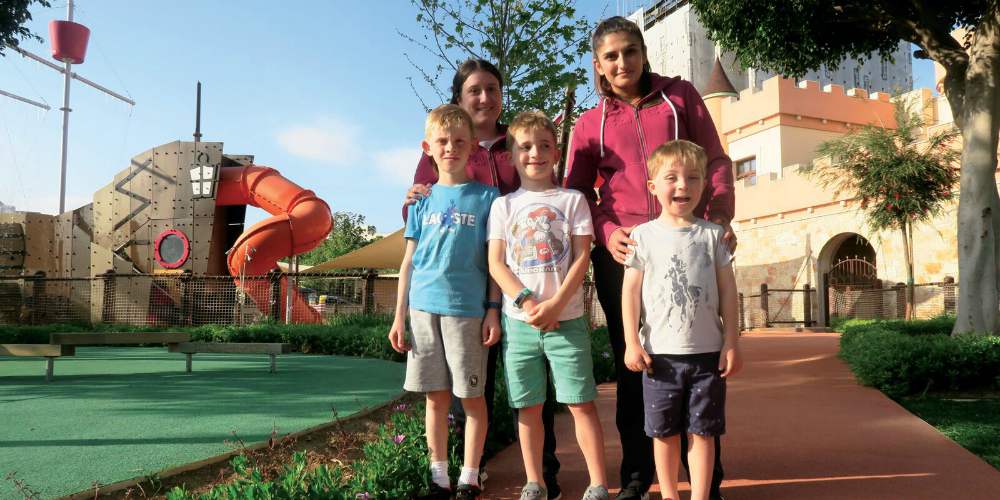 When we could bear to drag ourselves away from the resort, we drove up into Troodos, a small village at towards top of Mount Olympus. On the way, you can walk to waterfalls, visit vineyards and taste wine, buy traditional sweets and enjoy lunch in some of the beautiful villages. We also spent some time in Limassol where there is a bustling boardwalk in the evenings with parks, skateparks, cafés and jetty for the family to explore before having dinner in the old town.
With its mantra, 'Make everyone happy', staff at Parklane aspire to heartfelt hospitality and it's now on our list of places we plan to return to, but only once we have weaned ourselves off halloumi…
The lowdown
Price
From £5,280 per family for 7 nights in a Family Suite Sea View, including breakfast, economy flights, private transfers & UK lounge passes. Based on 2 adults and 2 children travelling during February half term with Elegant Resorts
Best time to visit
February, May and October half terms