Cyprus is one of the largest Mediterranean islands in Europe. It's also one of the warmest, with an average of 3200 hours of sunshine every year – most of the UK only manages 1200 hours.
Origins dating back to the 10th millennium BC, give a hint to the history here. But, if it's a first visit, prepare yourself for entire towns designated as World Heritage sites and many an ancient monument.
The coastline is trimmed from end-to-end with big, sandy beaches. Spectacular mountain ranges and unspoiled countryside make for excellent eco-tourism credentials. When all you want is waterparks, theme parks, and fun, Cyprus has plenty of those too.
The island is a great choice for warm, sunny weather – even in autumn and winter. All you need is somewhere to stay; have a look at these four great family villas to start with.
1/4

  Villa Golden Thalassa, Latchi
Sleeps up to seven. Entire villa from £679 per week.
Minutes away from the harbourside resort of Latchi, this pretty, three bedroom, three bathroom villa has sea views, and a private pool. The garden terrace and roof terrace take full advantage of long hours of sunshine, and it's just a short stroll to the beach. 
3 bedrooms
3 bathrooms
Sleeps up to seven
Private pool, roof terrace, garden terrace, sea views
Minutes from beach and resort shops
North west coast of Cyprus
50 minutes' drive from Paphos Airport
About the area
Latchi is known for its traditional harbour, and lovely beaches. A little further east, the village of Polis is good for shops and restaurants. The lively family resort of Coral Bay, home to one of the island's loveliest Blue Flag beaches, is nearby too. The villa is also less than an hour's drive from the UNESCO World Heritage town of Paphos.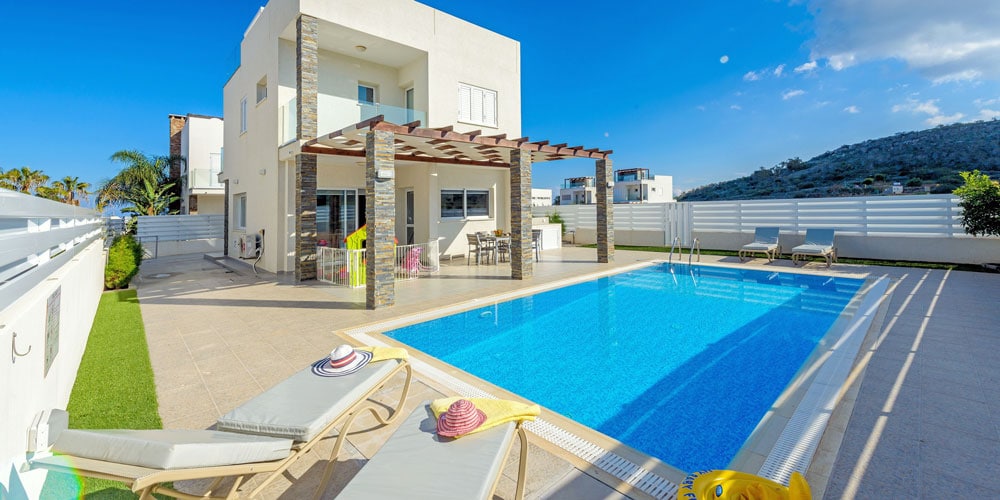 2/4  

Villa Diana, Protaras
Sleeps up to eight. Entire villa from £995 per week.
A good choice for older kids and teens, this cool villa has four bedrooms, three bathrooms and a roof terrace. There's a private pool and shady gazebo outdoors, plus plenty of space for sunbathing and playing. It's just a few minutes walk from the family resort of Protaras, and closer still to much loved, Fig Tree Bay Beach: voted one of the world's 20 Best Beaches in TripAdvisor Traveller's Choice Awards 2017.
4 bedrooms
3 bathrooms
Sleeps up to eight
Private pool, roof terrace, garden terrace, dining gazebo
Minutes from Protaras resort and beaches.
South east coast of Cyprus
45 minutes' drive from Larnaca Airport
About the area
Protaras is a bright, lively resort for shops and cafés. Nearby Fig Tree Bay has excellent fish restaurants, and water sports. You'll find dozens of sweet, sandy little coves scattered along the coast, along with waterparks, theme parks, and big, fun beaches in nearby Ayia Napa. The seaside city of Larnaca is only 45 minutes from Protaras by car.
Find out more about Villa Diana with Villas4Kids.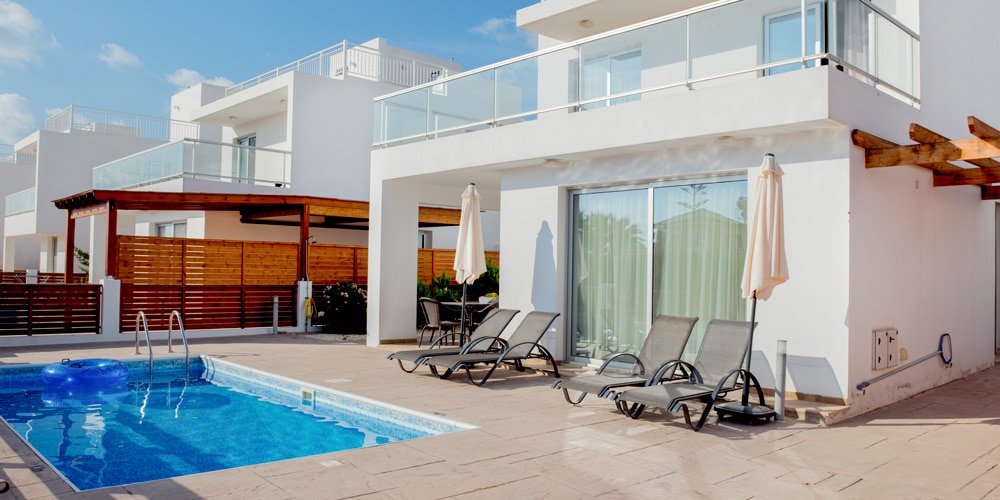 3/4

  Coral Bay Villa 2, Coral Bay  
Sleeps up to six. Entire villa from £789 per week.
A bright, modern villa in one of the west coast's most popular holiday resorts, Coral Bay 2 has three bedrooms, two en-suite bathrooms, and sleeps up to six. There's also a large family bathroom with bath. The ground floor opens out directly on to a sun terrace and swimming pool, with a shady dining gazebo and barbecue to the side.
3 bedrooms
3 bathrooms
Sleeps up to six
Private pool, sun terrace, dining gazebo, barbecue, cable TV
Five minutes walk from Coral Bay and Blue Flag beaches
West coast of Cyprus
15 minutes' drive from Paphos Airport
About the area
Coral Bay is famous for a stunning Blue Flag beach, charming seafood restaurants, and its cheerful resort atmosphere. There are more than enough shops for every day essentials here, but the historic town of Paphos is just 15 minutes' drive away for specialist stores, traditional morning markets in the old quarter, and good museums and art galleries.
Find out more about Coral Bay Villa 2 with Oliver's Travels.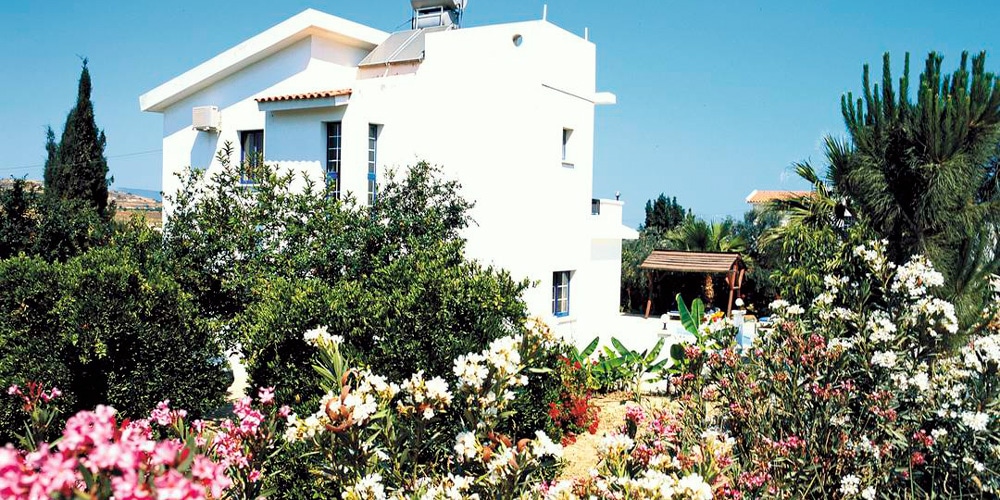 4/4

  Charoulla Villa, Polis  
Sleeps up to four. Villa, UK flights and car hire from £1516 per week
This family villa sits in a flower-filled garden, edged with olive trees, just outside the lively village of Polis. It has two bedrooms, two bathrooms, and open countryside views. A large sun terrace surrounds the outdoor pool and, after dark, the grounds are lit up with lanterns, just to add to the enchantment.
2 bedrooms
2 bathrooms
Sleeps up to four
Mature garden, private pool, sun terrace
Five minutes from Polis village and beaches
Return UK flights, and car hire included
15 minutes' drive from Paphos Airport
About the area
Less than five minutes drive away, Polis is one of the west coast's prettiest seaside villages, much loved for its laid-back atmosphere, local restaurants and gorgeous beaches. Akamas Peninsula National Park is just to the west of Polis, and UNESCO World Heritage Paphos is under an hour from the villa by car.
Find out more about Charoulla Villa with Thomson Holidays.
Want to book your villa holiday now? View a handpicked selection of our favourite family friendly villas in Europe.