Asha Phillips and family – including 18-month old daughter Isla – seek out toddler-friendly relaxation in sunny Croatia.
Toddler in tow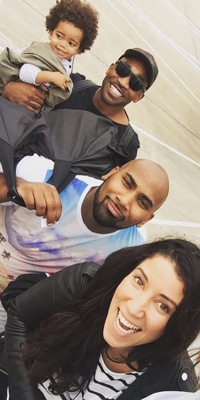 We're at the start of what is going to be a memorable family holiday. My partner Clare (bottom left) and I decided that this time around, it might be fun to invite our friends Adele and Darren (shown left, second from the bottom), who could give a helping hand during our week away with our 18-month old daughter Isla (shown on the left, in my arms).
This being only our second holiday together since her birth, we wanted to visit somewhere that ticked all our boxes: short flight time (two hours max), lots of activities, great weather (it ended up being 24°C or over throughout the entire trip), and of course, toddler friendly.
The Valamar, a sprawling resort 7km outside the town of Porec in Croatia, didn't disappoint. In fact it far exceeded our expectations.
After a relatively short transfer, the taxi driver took three attempts to locate the correct entrance, which suggested that this is a very large resort. We later discovered that the combined size of the Tamaris Club with the adjoining Camping Resort Laterna is well over 100 hectares.
Valamar Tamaris Resort
Our base for the week was the newly built Beverly Hills-style Casa Palma apartments. It has two large bedrooms, a lounge and vaulted ceilings which gives the illusion of extra space – something us parents crave. It's also very close to all the amenities we had most need for during our stay. The resort has over 30 different room or villa options, which can suit any type of family large or small. Visit the website to see all options.
As only second-year parents we can be apprehensive about leaving our daughter in childcare, so when we discovered the resort's daycare facility, the Maro Club, we went to suss out. As soon as we walked in and were greeted by huge smiles from the staff, and the cleanest and best kept children's play area we have encountered (and I've seen quite a few!) our fears were quickly put to rest.
Isla immediately ran towards the staff and other kids and started playing, and we decided to check her in for a test hour without reservation. You can leave kids under two for up to two hours free of charge, which we found was a godsend as the holiday progressed.
Having so many activities to chose from and new found time on our hands, we decided to play mixed doubles tennis on one the choice of 18 clay courts. One hour court time and hire of four racquets was charged to the room at 17 euros –what a bargain! We were now set to try our best to emulate Andy Murray and Serena Williams!
After discovering tennis is the type of sport that looks a lot easier on the TV, we built up a huge appetite. We headed across, with Isla in tow, to the main restaurant for a buffet dinner. We were greeted by a large dining room with many differing food stations, with chefs cooking fresh dishes to order from prime rump steaks to swordfish fillets. This is all-inclusive done the right way! The Valamar also has local beer, wine and soft drinks on tap for guests to help themselves to.
Waking up after such a huge feast is always difficult, but we managed to make our way back to the dining hall for breakfast, which was equally as impressive as dinner the night before. Next we headed to the pool for some well deserved R&R. The main pool is the hotspot for activities in peak season, with a children's splash pool adjacent and water slide at the far end. We lounged by the pool ordering cocktails and thinking about the days ahead. I was just about to dose off, when Darren suggested hiring bikes.
We cycled to the chateaux-style lighthouse villa on the outskirts of the resort. Although the lighthouse looks as though it should be a cherished heritage site, it is still operational. With panoramic sea views from almost every corner, alongside private secluded beach and enough room to house 12 adults, we unanimously decided this is where we want to stay next year, even if it's just a night or two.
Bike hire, including adult bikes with child's seats attached and kids bicycles, are free to hire for the day, but I would advise you arrive early to take advantage. We headed towards the next part of our journey, the resort's campsite, Camping Resort Lanterna.
Camping Resort Lanterna
Camping Resort Lanterna is perfect for adventurous families. Families return year after year for the variety of accommodation. Cycling through the site, it feels like a small town set over 83 hectares, with facilities like a daily market, fresh bread bakeries scattered across the park, butchers, a supermarket, four restaurants, 15 showers, baby launderette, changing facilities and some also have private bathrooms.
There is a variety of accommodation to chose from. The Med village has a unique community feel, with its circular cul de sac layout, private sandpits and play areas for the kids to stay amused. Investment from 2016 included a new aqua park, added two mobile home villages, new glamping tents and an overall improved experience.
The secluded glamping estate is the piste a resistance. All mod cons are provided in this quiet enclave, with fantastic views. Although we didn't have the opportunity to stay here, it's definitely on the list for next year.
The aqua park is central to Camping Resort Lanterna, with accommodation available right at the poolside and shallow pool areas for kids. The entire layout of Camping Resort Laterna has a nature feel, with acres of trees and forestry giving this destination a real feel of getting away from it all.
Valamar Isabella Island Resort
Isla's eyes widened as we approached the boat for the five minute trip across the water to Valamar Isabella Island Resort. I think she picked up on our sense of excitement, and she began pointing at her surroundings feverishly, as if everything was brand new. The boat trip added to the whole drama of this resort, which is spread out evenly across the entire small island of St Nicholas with its five-star hotel, villas and apartments within the newly renovated castle.
I took the chance to look at one of the castle apartments, and if you are looking for a home away from home then this is the place. Plus when was the last time you holidayed in a castle?
The boat arrives every 30 minutes and guest can take a transfer from 7am–11pm to the centre of Porec.
Some guests we met mentioned that they arrived at 1am that morning, but if that's the case you needn't fret as the resort provides a private speedboat for guests who check in after 10pm, with a dinner wait for them on arrival.
Views from the sandy beach where we decided to spend the day showed Porec at its most captivating. The colourful architecture, super yachts and casinos let you know there is an air of luxury, but luxury for less. Our dinner, which included freshly prepared pasta and truffles, octopus salads and gourmet hamburgers for all four adults plus Isla barely scraped 60 euros.
With an infinity pool as our immediate backdrop, and the uninterrupted crystal blue sea as a secondary background, the Miramare restaurant takes some beating for sheer beauty and sophistication.
The sun terrace at bubbly hour is like St Tropez at its most captivating. Sunsets here stretch across the horizon lighting up the sky with a warm deep orange glow that ripples across the water like some thing out of a James Bond movie.
But don't be fooled into thinking Valamar Isabella Island Resort is all about luxury and relaxation. If I'm honest, it does lean mostly in that direction, but it also has at its disposal one of the most additive water slides I've been on in my life.
It's the kind of slide that turns grown men into kids. After 15 times in a row you would of thought I would be bored of sliding down at speed and crashing into the pool, but I went back for a 16th time.
Isla enjoyed us all having  fun in the pool, her shrieks of joy echoed around the large pool area, providing smiles for all other guests. The pool area also has children's splash area with smaller slides and water spray features. It was only the fact that we planned to take a walk around Porec town that finally got us all out of the pool and back to adulthood.
Valamar Isabella Island Resort today is far removed from its origins of a place of quarantine for poorly Porec residents in the 18th century. Every Thursday, history tours include a view from the top of the lighthouse, as well as tours of the nature garden trail found on the grounds. If you're lucky you can catch a glimpse of the impressive looking kestrel used to deter the seagulls.
The island continues in the calm and relaxing Valamar theme. Even when at capacity the island is quiet and secluded, the spa has interconnecting outdoor and indoor pools and an outdoor gym. There are four restaurants, a teen lounge open from 9am–7pm, and Proscesco bubbly hour between 5–6pm. What's not to love?
We all agreed that we would return in a heartbeat, and perhaps next time it will be in a lighthouse or a castle.
Valamar Resorts: the lowdown
How to get there
Fly from the UK by regular, low cost or charter flights to Pula airport (PUY), the biggest international airport in Istria. There are also a number of airports in the surrounding area: Venice (VCE), Treviso (TSF), Trieste (TRS), Ljubljana (LJU), Zagreb (ZAG) and Rijeka (RJK).
Best time of year to go
May–September
Price info
Valamar Tamaris Resort from £73 per night, Valamar Isabella Island Resort from £88 per night, Camping Resort Lanterna mobile homes from £64 per night
How to book
Call the Valamar Reservation Centre: +385 52 465 000; email: reservations@valamar.com; or book online