If you aren't up for the commitment of a family ski holiday this year but you want some frosty, Christmassy enchantment come winter, you're in luck. Wintery magic without ski-slopes is all over Europe and several of the prettiest and chilliest places have low-cost direct flights from the UK too. So instead of packing snowsuits and snowboards, pack enough for a weekend, grab the kids and go see what the snow's like without lift passes and queues.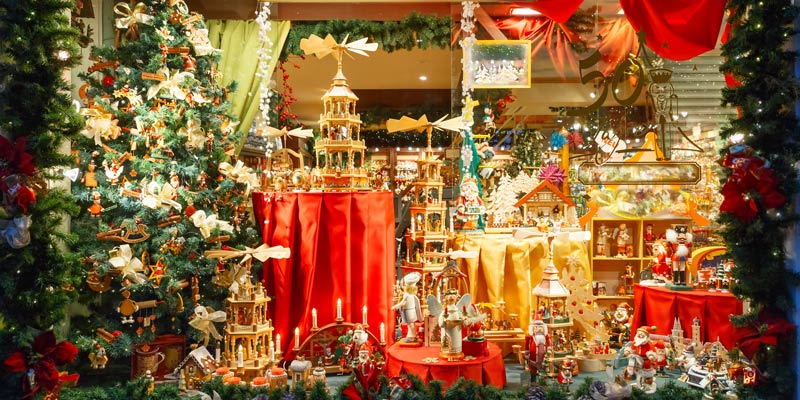 1/5

Beautiful, chocolaty, World Heritage Bruges
One look at Bruges and it's easy to see why UNESCO just decided to make the entire city World Heritage. This is where location scouts head when they want medieval cobbled streets, ancient canals, 15th century Flemish houses and a bell tower so pretty it justifies Europe's only full-time bell ringer. But Bruges isn't just lovely, it's fun for kids too. Visit Choco-Story, the chocolate museum where you make your own pralines. If that isn't quite sweet enough, go see the chocolate art at the historic Christmas Market. Or window shop the pretty squares where chocolatiers don't know the meaning of the word restraint in the lead up to December 25th. Walk off all that sugar around great galleries like Historium and Groeningemuseum. Or wrap up warm, follow the canals and stroll through the atmospheric 13th century Begijnhof – only Amsterdam's is lovelier.
Snow forecast: good – daytime temperatures drop to -1˚C in December.
Flights: Direct flights from Heathrow to Brussels with Brussels Airlines from £69. Flying time 1 hour and 1 hour by train from Brussels to Bruges.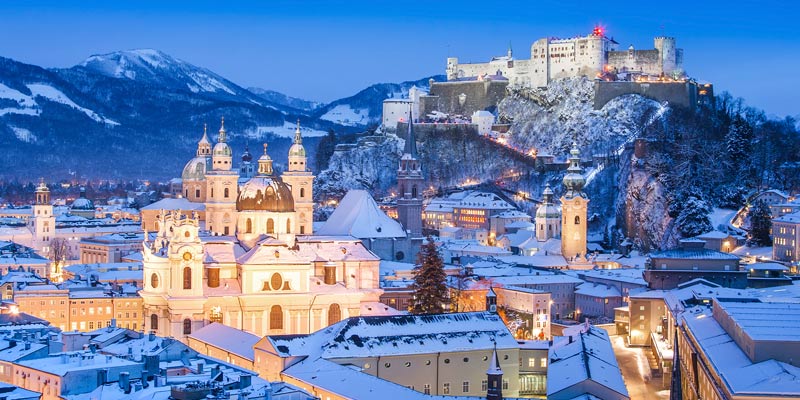 2/5

Sweet, cinnamon scented, snowy Salzburg
The loveliest Baroque city in the world is even more stunning under a dusting of snow and you can expect at least that for most of winter in Salzburg. Europe's oldest Christkindlmarkt, complete with angels, is here and it's Mozart's birthplace so there's never any shortage of music – take the kids to hear the amazing Glockenspiel in the Old Town. The Little Prince, The Nutcracker, Peter and the Wolf and Hansel and Gretel are just a few of the children's shows planned this December. And if all that sounds too tame and cultured, look out for traditional Krampus Runs – one glimpse of Austria's hairy, fearsome Santa doppelganger is enough to convince most kids to behave beautifully for life.
Snow forecast: excellent – December daytime temperatures about -2˚C
Flights:Direct flights from Gatwick to Salzburg with British Airways from £190 return. Flying time 2 hours.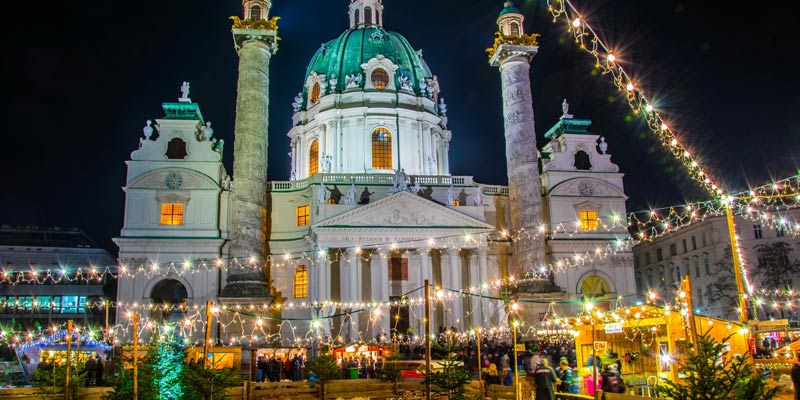 3/5

Ice rinks and fairy lights all over Vienna
Normally sedate and elegant, Vienna is wild about Christmas. It's not enough to freeze anywhere that can be frozen for ice skating, the city has dozens of traditional markets and so many glittering light displays, they have guided tours. So if you need your festive spirits revived this is where to start. Visit Christkindlmarkt in the huge Rathaus square for pony rides, stalls, miniature trains, a forest of trees and fun children's events for weeks on end. Enormous Prater Gardens are as wonderland as ever with a giant Ferris wheel for the best views of dazzling Vienna and live music every night from November until Christmas Eve. The Museum Quarter has a winter art festival where you can try curling or pick up unusual presents. And it's never too early to introduce kids to Viennese hot chocolate from Demel on Kohlmarkt – it's famously good and tins of the cocoa powder are great presents, if you can bear to part with them.
Snow forecast: excellent – night temperatures drop to -6˚C in December.
Flights: Direct flights from Stanstead to Vienna with Eagle Atlantic Airlines from £110. Flying time 2 hours and 15 minutes.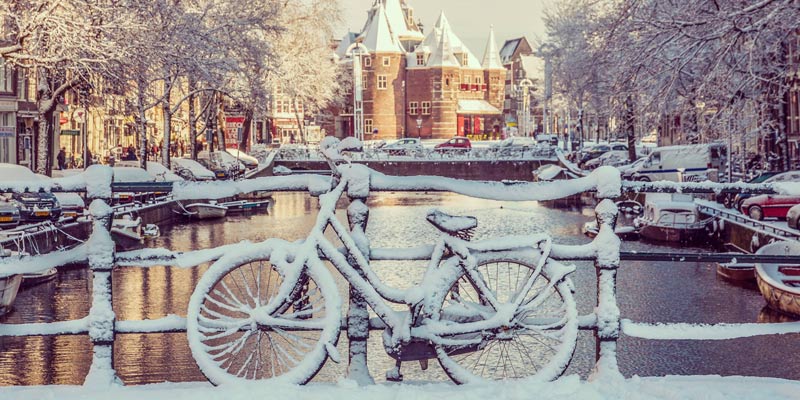 4/5

Sailing Santa and floating tree markets in Amsterdam
Over 400,000 Amsterdammers turn out every year to see Santa sail into their city and announce the start of Christmas. The annual Sinterklaas parade is spectacular and known to turn the most cynical kids into true believers.
If you can't make it for Sunday 13 November, remember it's just the beginning. Amsterdam has the world's only floating Christmas Tree market as well as dozens of other local markets. There are festive events everywhere from Hortus Botanicus to Artis – one of Europe's best city zoos. The Light Festival turns city canals, canal houses, bridges and squares into even more of an enchantment. And if you haven't seen Jordaan, De 9 Straatjes or De Pijp, late afternoon in December, it's time you did. Any extra time, take a kids' tour of the fabulous Rijksmuseum. Wrap up warm and go ice skating in the city centre. Or visit Efteling – it's even more captivating in the lead up to Christmas and just an hour's drive from Amsterdam.
Snow forecast: good – December daytime temperatures about 3˚C.
Flights: Direct flights from London Southend to Amsterdam with EasyJet from £48 return. Flying time 1 hour.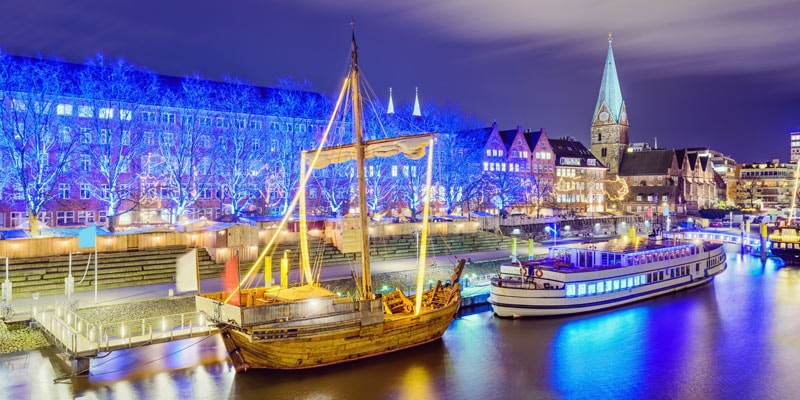 5/5

Bremen for fairy tales, music and markets
Bremen's the only place name used in a Grimm fairy tale – all the others happened in a 'land far away or a time long ago'. Drop in for December and you'll understand instantly why this delightful town deserved a mention. From the medieval square with its traditional Christmas market, real nativity and charming old-fashioned fairground to the acres of brightly lit boats along the River Weser, choirs of carol singers and sweet smell of fresh baking, Bremen is just breathtaking. It's in northern Germany so there's a high chance of snow. And, if you can drag your kids away from the festive merriment for a minute, go say hello to the statue of The Musicians of Bremen as told by the Brothers Grimm – you're looking for a donkey, dog, cat and cockerel standing on each others back, you can't miss them.
Snow forecast: excellent – December daytime temperatures about -1˚C
Flights: Direct Flights from Stanstead to Bremen with Ryanair from £55 return. Flying time 1 hour 25 minutes