Laura Hamilton, presenter of Channel 4's A Place in the Sun and mum of two, enjoys a whistle-stop tour of the Flemish city of Bruges with her family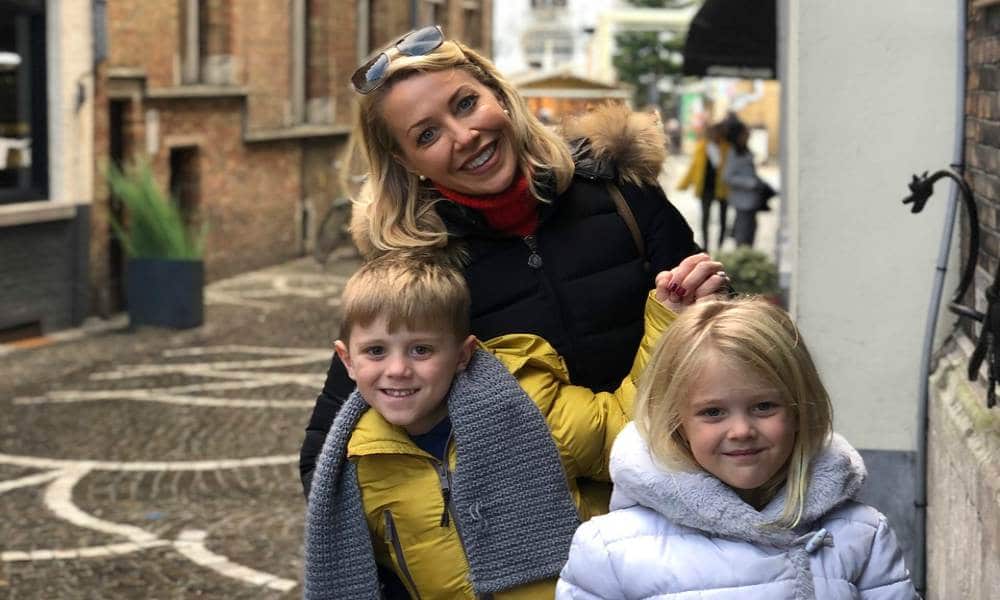 Bruges is a picture-perfect, Flemish city, bursting with history. It currently attracts over four million visitors each year and is easily accessed by taking the Eurostar from either London St Pancras or Ebbsfleet in a little over three and a half hours. Having never visited before, I was excited to experience this city for a wintery, weekend away with my husband Alex and our two children.
Travelling by train is something of a novelty for my family and when I told Rocco (six) and Tahlia (four) we would be taking a train through an underwater tunnel to another country rather than taking a plane, they were extremely impressed. I was also interested to see for myself how travelling by train would compare to travelling by air with little ones. Sometimes we forget how lucky we are in the UK to have so many destinations on our doorstep. With so many of them easily accessible by train, Eurostar is a fantastic (and, I'm pleased to report, easy) way of travelling with children.  
We decided to board at Ebbsfleet International, which is just a few miles from my parents' home in Kent.  There is ample parking and you are only required to be at the station 30 minutes before your scheduled departure. After a smooth two-hour journey (and of course, no turbulence!), we arrived in Brussels and boarded a local train to Bruges. We arrived in Brussels at rush hour which wasn't ideal, so I would recommend getting a premium-priced ticket on the local train if you are travelling with children. It doesn't cost much more and you are guaranteed a seat. An hour-and-a-half later we reached our beautiful destination.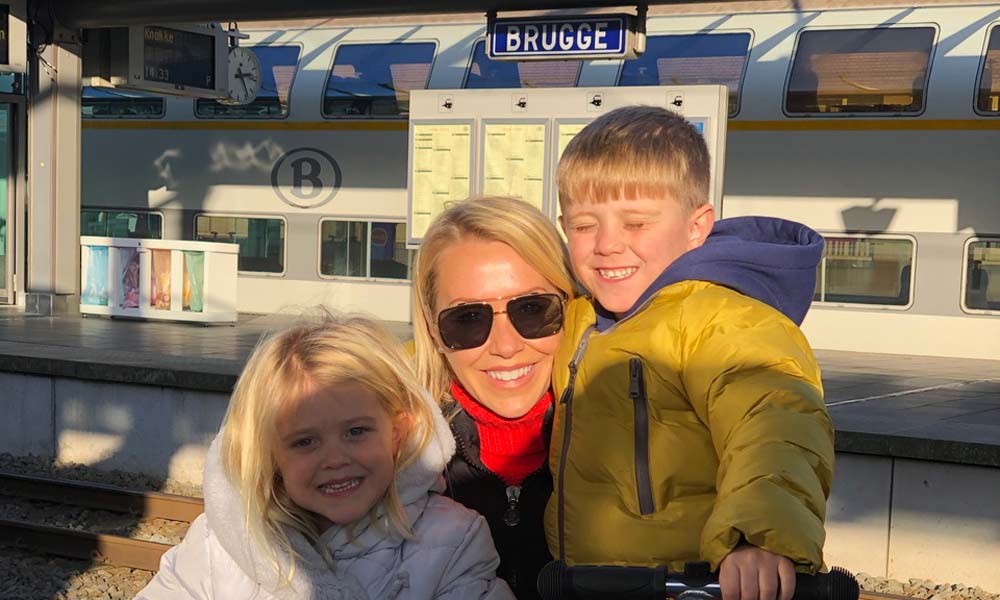 Bruges station is in the city centre so there's no need to take taxis anywhere. In fact, it's quicker to walk to the market square, even with little ones, but be mindful if you are travelling with pushchairs, as many of the streets are cobbled. If you only have 36 hours in the city as we did, I highly recommend jumping on a horse and carriage ride to start exploring this chocolate box city right away. The ride takes you around the city centre and there are opportunities to get off and take photos.  
With colourful, characterful properties lining the city's waterways, Bruges has been described as the Venice of the north. It's a pretty place, no matter what time of year you visit. If you visit during the winter months, the markets are quite magical, especially for little ones. The market square is decked in fairy lights and the architecture is stunning. The majestic belfry tower is without doubt the most striking building in the city and it is easy to imagine it hosting medieval festivals, fairs and tournaments. Another absolute must is taking a family boat trip. No matter how big or little your children are, it's a lovely way of taking in the city. Our hour-and-a-half guided boat trip only cost us £35 and was well worth the money. 
When it comes to finding accommodation, there are some wonderful boutique B&Bs to choose from. I was hoping to stay at The Secret Garden Suites but unfortunately it was fully booked.  If you can get a room, this hotel is a beautiful building overlooking the water, described as romantic, yet family-friendly. On this occasion, we opted to stay at Dukes Palace, the former residence of the Burgundian aristocracy and a unique five-star hotel. It is ideally located in the heart of the city with 110 rooms. Our spacious, duplex family room was perfect for the four of us. We enjoyed breakfast and dinner at the hotel and at the buffet, the children particularly enjoyed grating Belgian chocolate onto their waffles. We didn't get a chance to spend time in the spa but sneaked a peek at the fascinating salt wall with 10,000-year-old stones from the Himalayas.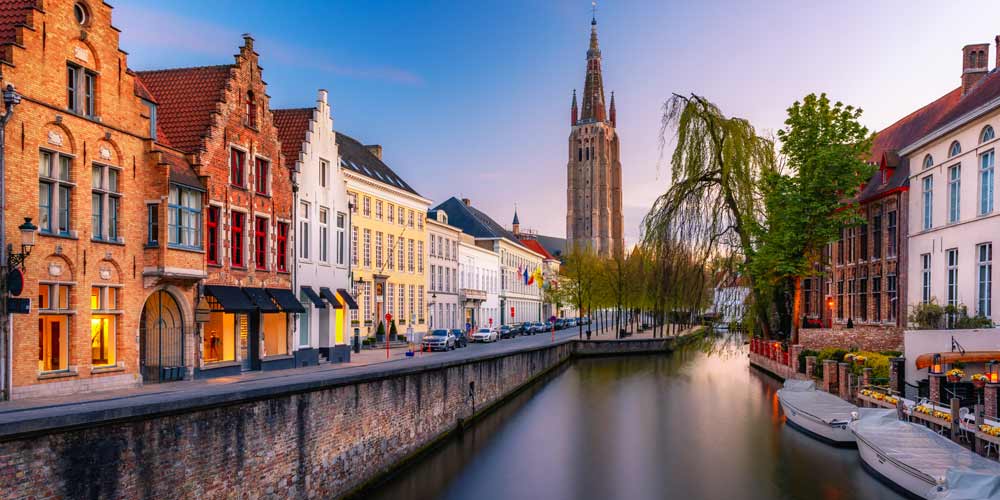 No visit to Bruges would be complete without trying some local beer but, be warned, it's strong! We were impressed with Cambrinus, a restaurant that had been recommended to us. Located on one of the side streets of the main square, it's an extremely busy place so I would advise booking in advance if you can. We had just one beer, but they have a selection of over 400 to choose from and the menu is varied, with lots of traditional meat and fish dishes on offer. We opted for the mussels, which were delicious. Although it might seem easy to eat only on the main square, I suggest finding places off the side streets where the quality is superior and prices lower.  Had we been staying in Bruges longer, La Tache and Goffin were on our list of places to dine at.  
If you are a fashion-conscious family, Bruges has some lovely independent clothes stores for children. We didn't spend too much time looking in them though as Rocco and Tahlia were more interested in looking in the sweet and chocolate shops where they kept getting samples!
The 36 hours we spent in Bruges were jammed-packed yet great fun. I'd love to visit again in the spring or summer months as it's one of those cities that is simply stunning year-round and knowing that it's so easy to access by train makes it even more tempting to go back.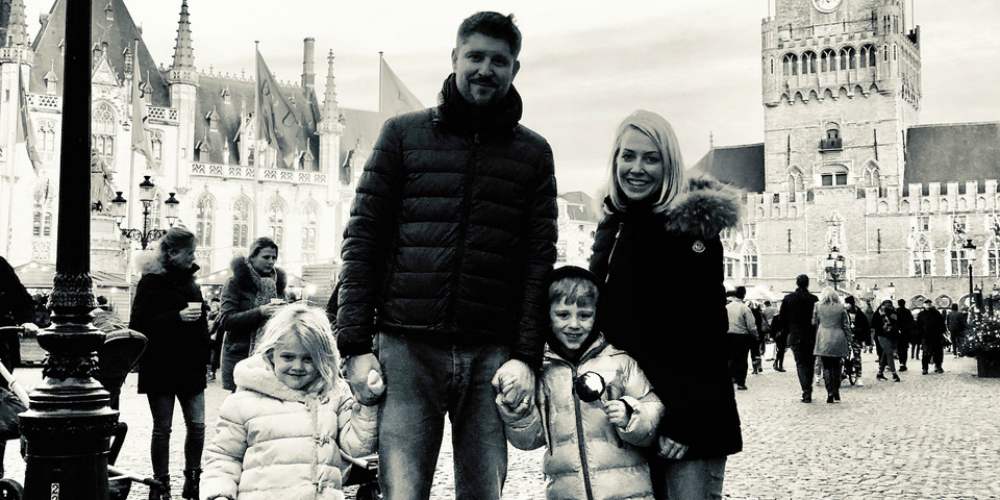 The Lowdown
How to get there: Eurostar Standard Premier return tickets to Bruges from Ebbsfleet International cost £116.00 per person 
Where to stay: A Family Duplex Room at Dukes Palace costs £620 per night
Find out more about family holidays to Belgium