St. Johann in Salzburg is Austrian for 'active family holidays' this summer
Sponsored
This summer, almost nowhere in Europe is putting a family's spirit of adventure through its paces like SalzburgerLand in Austria's magnificent eastern Alps. You might already know the area for exceptional skiing or the famous Salzburg Festival or maybe even the oldest Christmas market in the world (another Salzburg legend). But you may be less familiar with its flower-strewn Alpine meadows, incredible cycling routes, fabulous family hiking trails, swimming lakes and mountain railways, massive adventure playgrounds and hoards of totally snow-free, sun-drenched summer activities.
And if you haven't had the pleasure of SalzburgerLand's charming towns and villages yet, 2019 is definitely the year to put that right and delightful St. Johann in Salzburg  is the ideal place to start. Nestled in a peaceful valley just 40 minutes south of Salzburg, this little town has an outsize reputation for family activity holidays all year round, but really comes into its own in summer when you can catch the Alpendorf gondola all the way up to gargantuan Ghost Mountain (more of that later), snake into the phenomenal Liechtenstein Gorge, bike safely on scenic cycle routes or hike to your heart's content all over the place.
Need a little more persuading? Direct flights from the UK to Salzburg take under two hours and St. Johann in Salzburg has its own railway station and a free summer bus service, so you don't need to drive, unless you want to. And if that's still not enough to put St. Johann in Salzburg on the holiday wish list this summer, here are another few irresistible incentives to help seal the deal: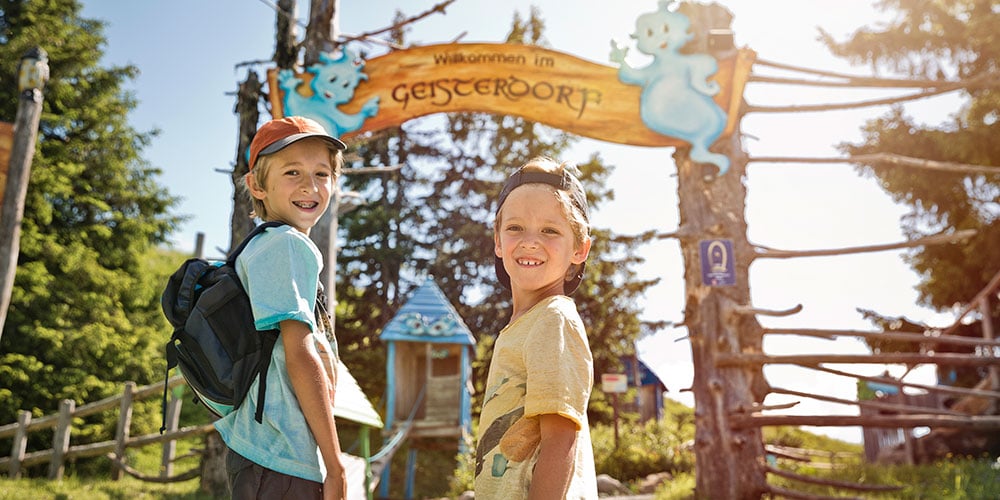 Ghost Mountain
Ghost Mountain is one of SalzburgerLand's best family adventure parks and it's minutes from St. Johann in Salzburg  on the thrilling Alpendorf Gondola. Don't be fooled by the park's eerie name, the ghosts here are seriously into fun and sweep kids up in a fantasy play world from the moment they walk through the talking Ghost Gate. In between wild water games, swings and slides, climbing and scrambling round magic castles, scaling towers and taking on dragons, there's heaps of hiking on well-marked trails and the type of views you'd expect this high up in the summery Austrian Alps.
Find out more about Ghost Mountain in St. Johann in Salzburg