Sponsored Content
This summer, almost nowhere in Europe is putting a family's spirit of adventure through its paces like SalzburgerLand in Austria's magnificent eastern Alps. You might already know the area for exceptional skiing or the famous Salzburg Festival or maybe even the oldest Christmas market in the world (another Salzburg legend). But you may be less familiar with its flower-strewn Alpine meadows, incredible cycling routes, fabulous family hiking trails, swimming lakes and mountain railways, massive adventure playgrounds and hoards of totally snow-free, sun-drenched summer activities.
And if you haven't had the pleasure of SalzburgerLand's charming towns and villages yet, 2019 is definitely the year to put that right and delightful St. Johann in Salzburg  is the ideal place to start. Nestled in a peaceful valley just 40 minutes south of Salzburg, this little town has an outsize reputation for family activity holidays all year round, but really comes into its own in summer when you can catch the Alpendorf gondola all the way up to gargantuan Ghost Mountain (more of that later), snake into the phenomenal Liechtenstein Gorge, bike safely on scenic cycle routes or hike to your heart's content all over the place.
Need a little more persuading? Direct flights from the UK to Salzburg take under two hours and St. Johann in Salzburg has its own railway station and a free summer bus service, so you don't need to drive, unless you want to. And if that's still not enough to put St. Johann in Salzburg on the holiday wish list this summer, here are another few irresistible incentives to help seal the deal: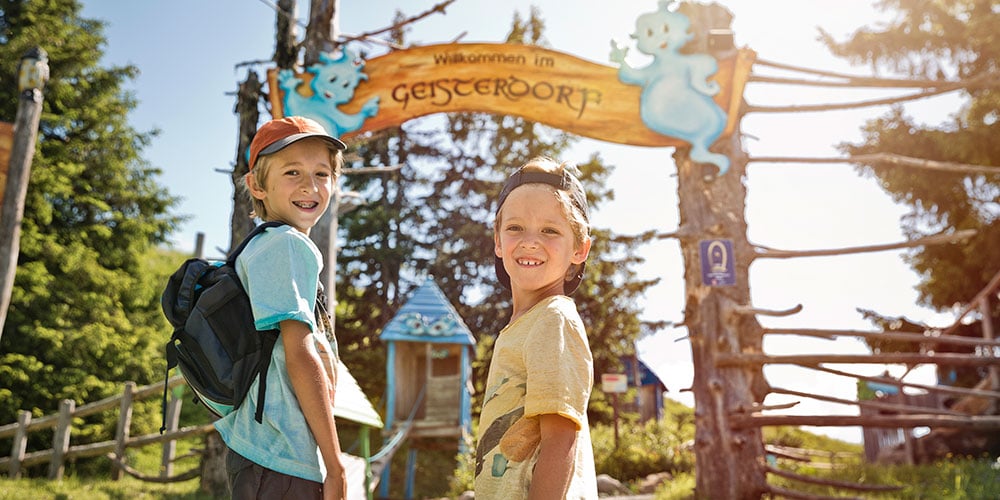 Ghost Mountain
Ghost Mountain is one of SalzburgerLand's best family adventure parks and it's minutes from St. Johann in Salzburg  on the thrilling Alpendorf Gondola. Don't be fooled by the park's eerie name, the ghosts here are seriously into fun and sweep kids up in a fantasy play world from the moment they walk through the talking Ghost Gate. In between wild water games, swings and slides, climbing and scrambling round magic castles, scaling towers and taking on dragons, there's heaps of hiking on well-marked trails and the type of views you'd expect this high up in the summery Austrian Alps.
Find out more about Ghost Mountain in St. Johann in Salzburg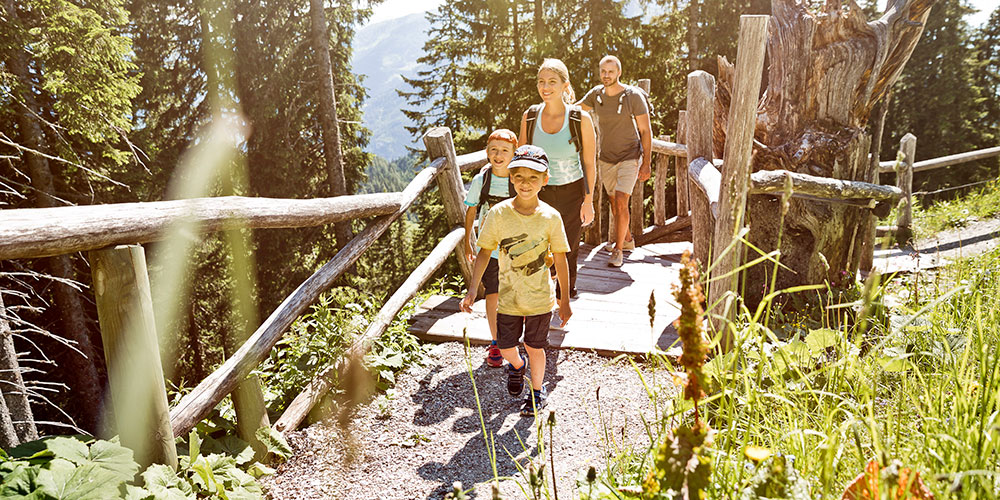 Liechtenstein Gorge
Phenomena packed St. Johann in Salzburg is also home to the Liechtenstein Gorge, only the longest, deepest and most dramatic in the entire Austrian Alps. Closed for the past two years, it's set to reopen for summer 2019, just in time to take kids on one of the most mesmerising walks of their life. At some points the gorge snakes ribbon-like between immense towering rocks leaving only a sliver of sky in sight. At others it's a romance of vivid green vegetation showered with rainbow-coloured mists. Slightly more than a kilometre of the gorge is accessible on a network of wooden walkways and bridges. And if kids need an incentive for their legwork, the big reveal of Liechtensteinklamm Falls at the end of the route is awesome.
Find out more about the Liechtenstein Gorge in St. Johann in Salzburg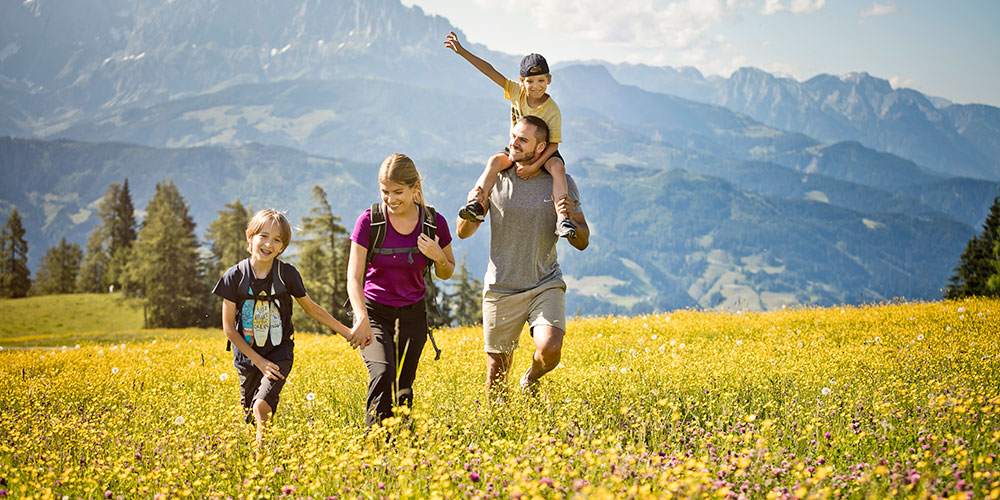 Kid-friendly Alpine hiking
Austria's eastern alps are challenging enough for serious climbers and endurance walkers, but they're also plenty doable with kids and family hiking is a summertime speciality in St. Johannin Salzburg. Walking maps and guides are free at the local Tourist Office. The Salzburger Sportweltbus takes you to the start of several hiking routes for one euro each (or totally free if you're staying in St. Johannin Salzburg). If you've loftier ambitions, the Alpendorf Gondola sweeps families up to higher hikes all summer long. And families holidaying in St. Johann in Salzburg can even take advantage of free guided hikes, every Thursday, right through to October 2019.
Find out more about family hiking holidays in St. Johann in Salzburg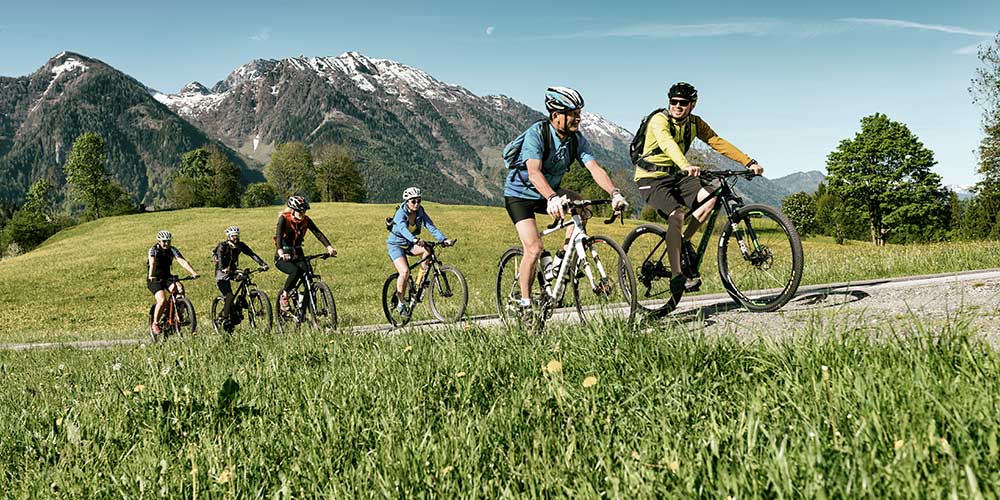 Family cycling fun
Both the legendary Tauern and Alpe-Adria cycle routes run right through St. Johannin Salzburg. Which means, even if you only ride a few kilometres with kids, you still have bragging rights. Less famous but no less fun routes criss-cross all around the local area, many are signposted, mostly traffic-free and cover every possible terrain from pretty valley ambles to high hill challenge. Factor the Alpendorf Gondola into your ride and get to know a few of SalzburgerLand's cute mountain cabins – ready-made rests with fantastic food, perfect for refuelling with a side-order of breathtaking views. And you don't even need to supply your own wheels, since you can hire anything from mountain bikes to e-bikes in St. Johann.
Find out more about family cycling in St. Johann in Salzburg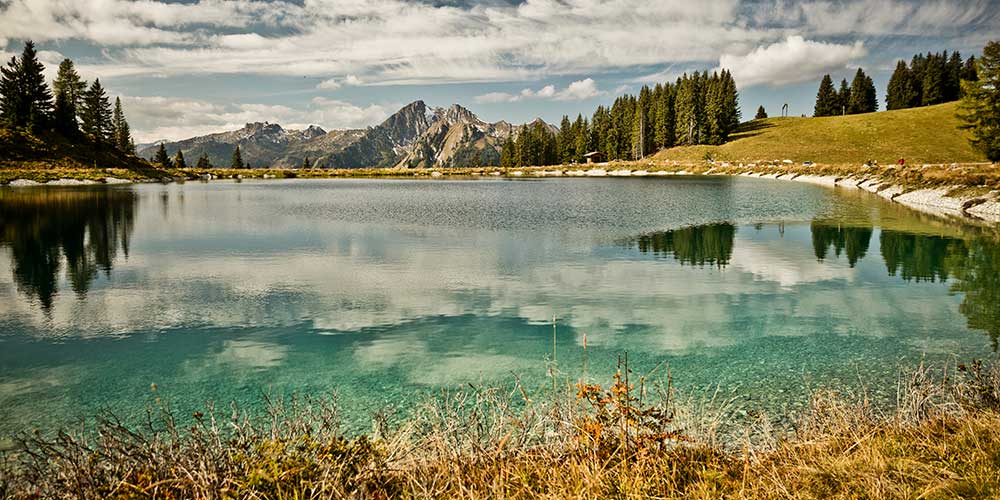 Wild and wonderful water sports
Crystal clear Alpine rivers, streams and lakes are magical to see and even better to splash around in, particularly as the water's pure enough to drink and deliciously cool on a warm summer day. St. Johanner Forest swimming pool would be brilliant even if it didn't come with waterslides, diving towers and heaps of dry-land activities on the side. Plankenau is St. Johann's freshwater bathing lake surrounded by mountains for extra enchantment. And if kids are that little bit older and feeling the need for extremes, white water rafting and canyoning expeditions are available locally too, and guaranteed to satisfy all cravings.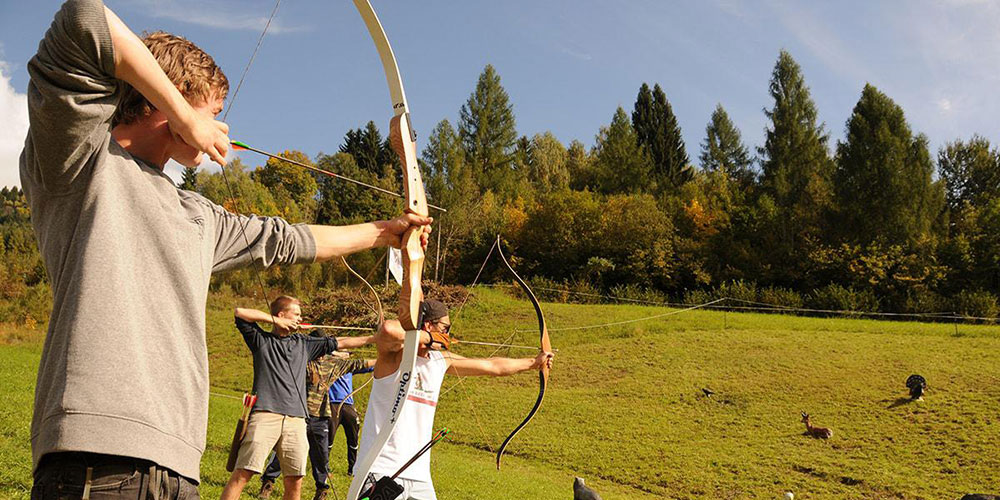 Action-packed family activities
The ancient sport of archery is funned up to extremes at Bogen Jagd-Park on the outskirts of St. Johannin Salzburg. Kids learn how to handle bows, shoot straight and true, test out their new skills with target practice and try traditional bow hunting for real. Not really 'for real', you'll be comforted to know: the 14 different types of animals roaming the shooting range are manmade models, but the thrill of the chase is completely authentic.
Younger kids will love Alpendorf Adventure Park and Street Karting in St. Johann in Salzburg is a great way to unleash some healthy family competition, particularly if you have teens in tow.
Find out more about Bow Hunting in St. Johann in Salzburg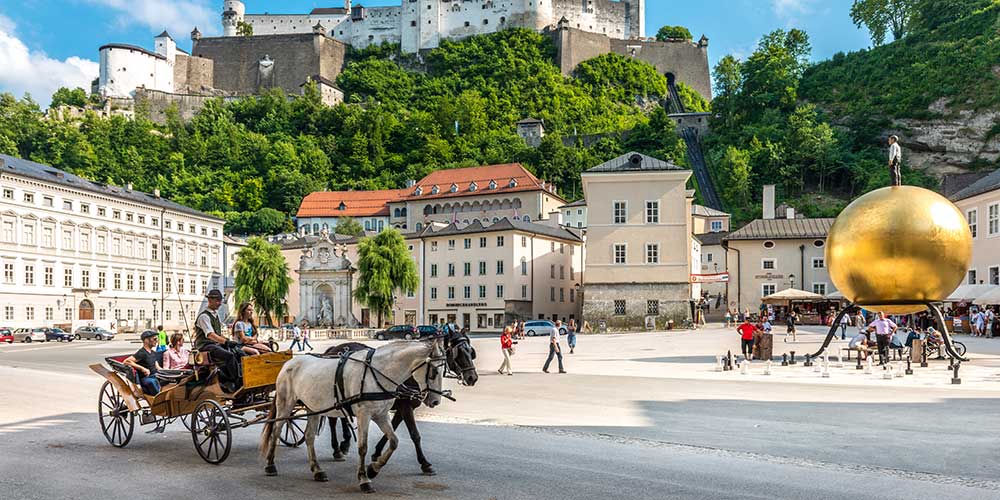 Easy to do days-out in SalzburgerLand
St. Johann in Salzburg could keep you busy all holiday long, all by itself. But when you want to go exploring it's well placed for that too. The fabulous Baroque city of Salzburg is less than an hour's drive north, and Werfen Ice Caves – the largest frozen caverns in the world – are closer still. Neighbouring Hohenwerfen Castle is a must-do for its award-winning guided tours and birds of prey displays. And the Freilicht Open-Air Museum isn't just the largest in SalzburgerLand, with over 100 historic buildings, living displays of traditional rural life and family events during summer, it's also one of the most fun for kids.
Find out more about family days out all round St. Johann in Salzburg
The Lowdown
How to get there
Direct UK flights to Salzburg take from one hour, 55 minutes.
St. Johann in Salzburg is 40 minutes' drive south of Salzburg.
Where to stay
Sporthotel Alpina, four-star family hotel next to Alpendorf Gondola Station.
Hotel Oberforsthof, one of SalzburgerLand's leading sport and wellness hotels.
Hotel Lerch-Plankenau, family-friendly country hotel with natural swimming pool.
Time to start planning your summer adventure in St. Johann in Salzburg? Take a closer look at the town and get to know a little bit more about SalzburgerLand too.