Happy, healthy Höchkonig owns family holidays this summer
Sponsored
How do you persuade kids to buy into healthy and active family holidays this summer? Introduce them to Hochkönig, the SalzburgerLand region with a natural talent for transforming dedicated little digital natives into outdoor adventurers in no time at all.
Obviously it helps to have Austria's lovely eastern Alps to play around on: the combo of sunshine and pure mountain air is all the encouragement most kids need to stride – or ride – out in this part of the world. Regular eyefuls of amazing phenomena and awesome views don't hurt either. And of course, the friendly locals are masterful at giving nature a bit of a boost now and then: this is the region for the world's first Forest Slide Park, extraordinary flow trails, lux hiking and biking hotels, ingenious kids' playgrounds and great lift networks.
Just don't mention the healthy bit to kids, focus in on the fun instead, then let Hochkönig work its magic. Here's a hint of what to expect on the spellbinding front for summer 2019.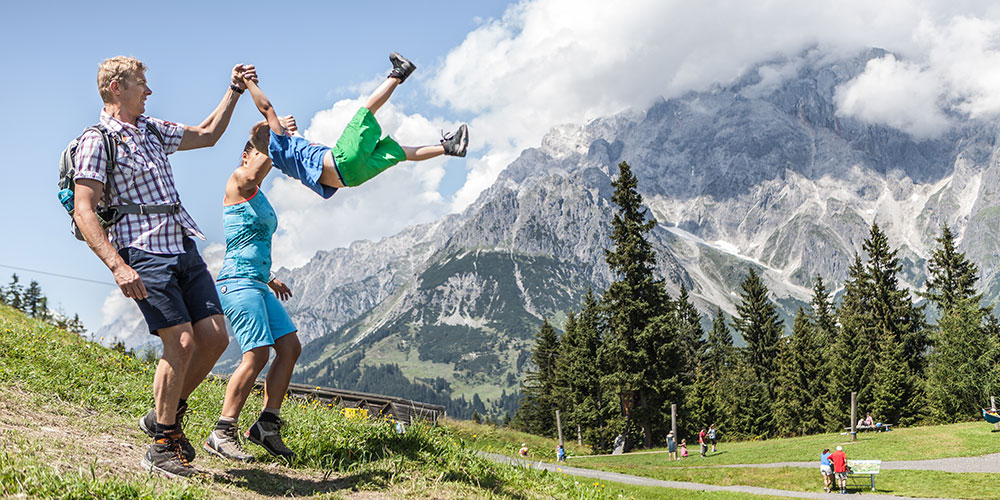 Take your pick of pretty holiday villages
There's only 20 minutes between each of Hochkönig's three holiday villages, they're all historic and lovely, packed with Alpine charm, and every one has a fair share of mountains, heaps of family activities and great sporting credentials. How to choose?
Maria Alm is the gateway to Hundstein: the highest, cycle-friendly, grass mountain in Europe. Young MTB fiends can also look forward to outstanding trails on Natrun Adventure Mountain, and the village is also home to the world's first ever Forest Slide Park.
If this is the summer to introduce kids to the exhilaration of real mountain hiking, the village of Dienten is right at the heart of Hochkönig and the starting point for over 300km of spectacular Alpine trails.
Mühlbach majors in kid-appeal with everything from an Alpine Meadow Playground to petting zoos, archery courses, slackline parks and even its very own mining museum complete with explorable tunnels.