Sponsored Content
How do you persuade kids to buy into healthy and active family holidays this summer? Introduce them to Hochkönig, the SalzburgerLand region with a natural talent for transforming dedicated little digital natives into outdoor adventurers in no time at all.
Obviously it helps to have Austria's lovely eastern Alps to play around on: the combo of sunshine and pure mountain air is all the encouragement most kids need to stride – or ride – out in this part of the world. Regular eyefuls of amazing phenomena and awesome views don't hurt either. And of course, the friendly locals are masterful at giving nature a bit of a boost now and then: this is the region for the world's first Forest Slide Park, extraordinary flow trails, lux hiking and biking hotels, ingenious kids' playgrounds and great lift networks.
Just don't mention the healthy bit to kids, focus in on the fun instead, then let Hochkönig work its magic. Here's a hint of what to expect on the spellbinding front for summer 2019.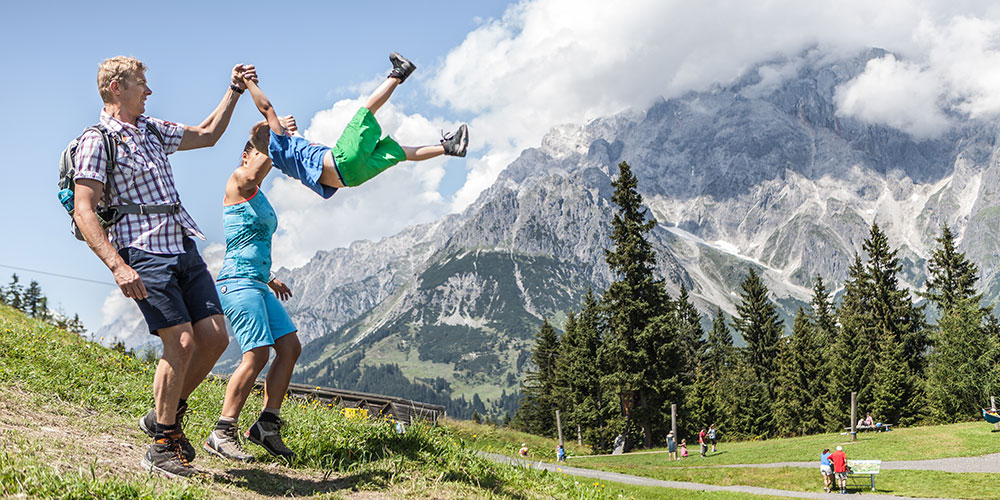 Take your pick of pretty holiday villages
There's only 20 minutes between each of Hochkönig's three holiday villages, they're all historic and lovely, packed with Alpine charm, and every one has a fair share of mountains, heaps of family activities and great sporting credentials. How to choose?
Maria Alm is the gateway to Hundstein: the highest, cycle-friendly, grass mountain in Europe. Young MTB fiends can also look forward to outstanding trails on Natrun Adventure Mountain, and the village is also home to the world's first ever Forest Slide Park.
If this is the summer to introduce kids to the exhilaration of real mountain hiking, the village of Dienten is right at the heart of Hochkönig and the starting point for over 300km of spectacular Alpine trails.
Mühlbach majors in kid-appeal with everything from an Alpine Meadow Playground to petting zoos, archery courses, slackline parks and even its very own mining museum complete with explorable tunnels.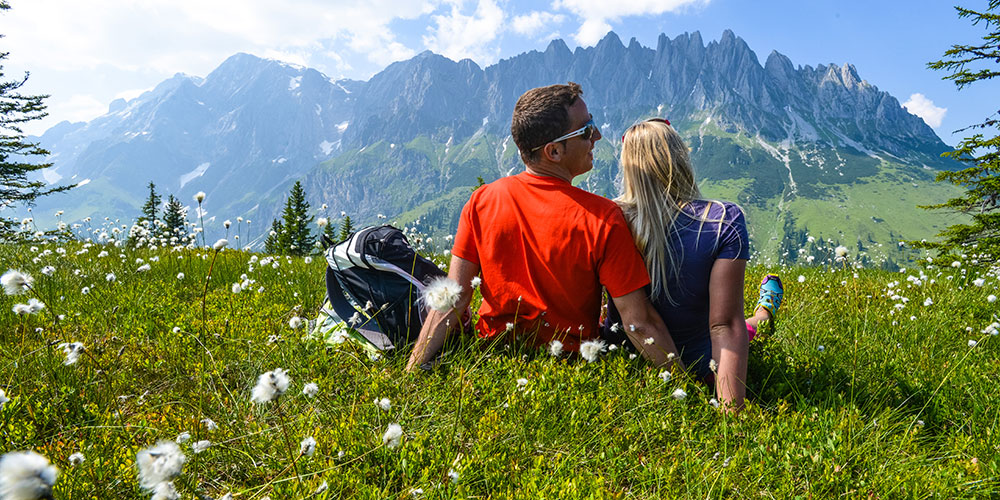 Explore hundreds of family hiking trails
Höchkonig is one of SalzburgerLand's top hiking areas. Over 340km of trails criss-cross the region, they're all stamped with the Austrian Hiking Seal of Quality, well signposted and clearly graded in order of difficulty. It couldn't be easier to find routes you can confidently tackle with kids, even if you're complete novices. And judging by the range of excellent support services, the locals are more than keen to share their spectacular scenery and fresh mountain air with families.
Rest and refuel at over 70 rustic hill farms scattered across Höchkonig's network of hiking trails.
Cable cars and hiking buses connect most routes, so you could feasibly have a completely car-free holiday here.
Family-friendly hiking hotels in Maria Alm, Dienten or Mühlbach add essential lux at the end of a day's walking.
Guided hiking tours are easy to arrange and fantastic experiences with older kids and teens.
And speaking of older kids and teens, the Höchkonig Tour App lets them map and plan regional hiking routes on their phones.
Find out more about family hiking in Höchkonig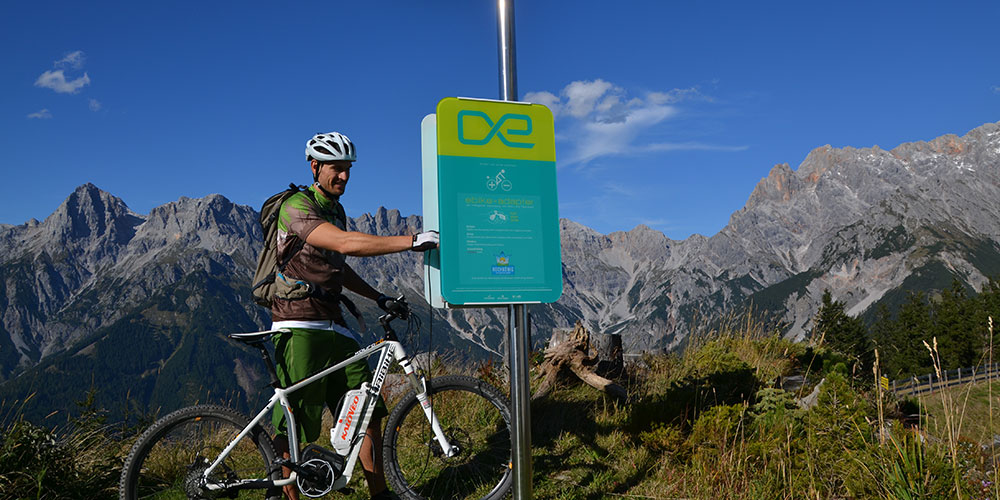 Discover next level mountain biking
Between its soaring grass mountains, easy cable-car connections and wonderfully well-marked trails, Höchkonig is close to cycling heaven this summer.
If you're up for a challenge, try the four-stage Königstour: part of the 2015 Iron Man World Championship, so even riding a bit of the route is a heroic experience with teens. E-biking gives you the same scenic splendour with a lot less effort, and charging stations all over the region make it an easy alternative to MTB. And since biking and hiking warrant almost equal levels of passion round these parts, you're never short of support whatever set of wheels you choose.
Höchkonig's region-wide network of e-bike charging stations is a European first.
Family-friendly bike hotels across the region make even the tougher tours easier by taking care of details like transporting your luggage between stages.
The Höchkonig Card gives families 15% off bike rental, and the fun of free guided MTB and e-bike tours on Tuesdays and Thursdays throughout the summer.
Young MTB fiends can earn their stripes on fantastic flow trails at both Dienten and Maria Alm.
Explore the info-packed Höchkonig Bike Portal to find your ideal family cycle on any type of bike.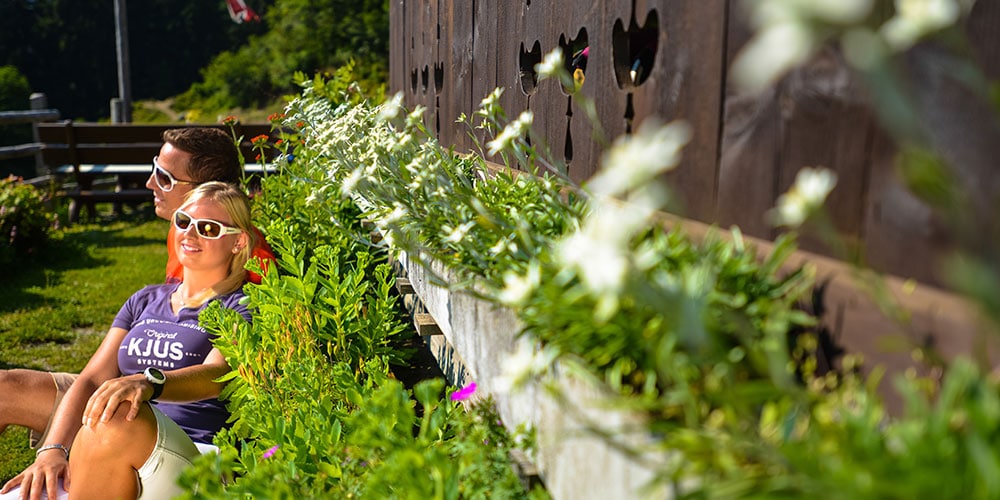 Fall in love with magical mountain huts
Austria's mountain huts should all come with a caveat, warning visitors of extreme enchantment, but Höchkonig's huts are so delightfully original they deserve a captivation category all of their very own.
Discover fresh local cooking and fascinating stories at Herb Huts punctuating the region's unique Herbal Hikes. Find huts with sunny summer terraces and fabulous mountain views. Choose authentic rustic charm or award-winning design, depending on your mood. And don't forget, Höchkonig's mountain huts go very well with cable-cars so they fit just as easily into lazy days as hiking and biking adventures.
Find out more about mountain huts all over Höchkonig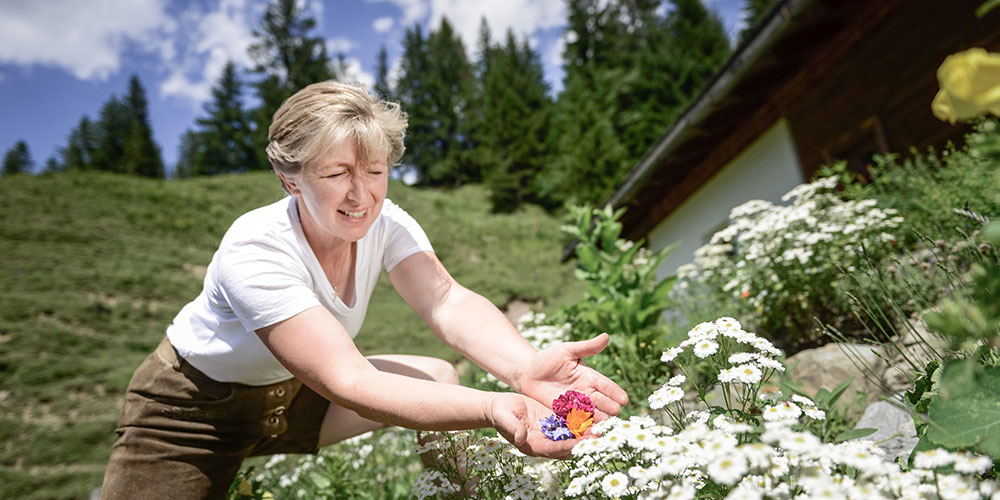 Try summer's phenomenal family attractions
Höchkonig is amazing in winter, but they don't need snow to have a great time here. In fact, summer is fast becoming season of choice for family holidays and a lot of credit for that popularity comes down to the type of innovative thinking that produces wonders like snow-free tobogganing, converts ski-lifts to bike-carriers and adapts icy slopes into legendary MTB trails during the warmer months of the year.
Test the 1.6km Alpine Coaster at Biberg, just outside Maria Alm. It's wild winter tobogganing under a sunny summer sky and with 61 curves, three jumps and a height of 345 vertical metres, definitely not just for kids.
Head to Natrun Adventure Mountain in Maria Alm for the world's first Forest Slide Park, MTB flow trails, mini-golf and children's archery courses. Don't miss the hour long foot safari through the mountain Wildlife Enclosure where kids can spot anything from mighty stags to cute mouflon, at home in their natural habitat.
Catch the Kurbachalm Lift in Mühlbach and soar up the mountain for a day out in Toni's Alpine Meadow Playground. This is the place for climbing towers, slacklining, ziplining, barrier-free family hiking, swimming and catching lots of summer sun.
Children's Herb Hikes during summer turn walking into a game, introduce kids to new sights and tastes, fill a day out with fascinating stories, and give you a chance to indulge in a few of the region's lovely Herb Huts.
In Mühlback animals outnumber people, hence the name, Mountain Village of Animals. So it's here that kids can look forward to endless close encounters at petting zoos, farms and on the intriguing Marmot Path.
The Lowdown on Höchkonig
How to get there
Direct UK flights to Salzburg take from one hour, 55 minutes.
The Höchkonig region is just over an hour's drive south of Salzburg.
Where to stay
From four-star family hotels to hill farms and cute mountain chalets, there's no shortage of superb accommodation all over Höchkonig. There are even family-friendly hotels designed just for hiking and biking holidays, and great value offers with the Höchkonig Card.
Time to start planning your healthy (and fun) summer holiday in Höchkonig? Take a closer look at the region and get to know a little bit more about SalzburgerLand too.