Sponsored Content
Thinking about a holiday with under fives this year? Your timing couldn't be better because Tots to Travel have just added another four destinations to their Tots Exclusive Experience collection, making a total of seven Tots Exclusive Resorts from the sunny south coast of Tenerife to beautiful Brittany.
If you haven't heard of Tots to Travel until now, they're the company responsible for making holidays with under fives easy, safe and the type of adventures you want to have with the world's most inquisitive, wide-eyed and up for anything mini-travellers. For the past 13 years Tots to Travel have visited and inspected all their properties personally, carried out a unique 30-Point Safety Check on every one; made sure all private pools had safety barriers, and hand-picked destinations for particular little-kid appeal. Plus they've always included 20+ Tots Essential Kit in every property at no extra cost and made a point of listening to parents. Which is probably why they keep coming up with fresh ideas like Tots Exclusive Experience: resorts and accommodation created exclusively for families with younger kids, and personally designed by Tots to Travel.
So now, instead of hoping under fives fit in, you can choose resorts made to measure for them right down to cute bedrooms, creative play zones, cool in-villa toyboxes and exciting Playmaker activity programmes; Stay and Play sessions, kids clubs and splash perfect children's pools. Breakfast is served from 7am, a civilised hour for most hungry tots. Kid-friendly pool bars and family restaurants come good on inventive menus to tempt trainee eaters. And beaches, fun attractions, outdoor adventures and grown-up distractions are all nearby, along with convenient airports and blissfully short transfers.
In fact, it's probably not going too far to say that the Tots Exclusive Experience has thought as carefully about your under fives as you do, every minute of the day. So how does such an attentive approach work in practice? Take a look at the seven Tots Exclusive Experience Resorts and see for yourself.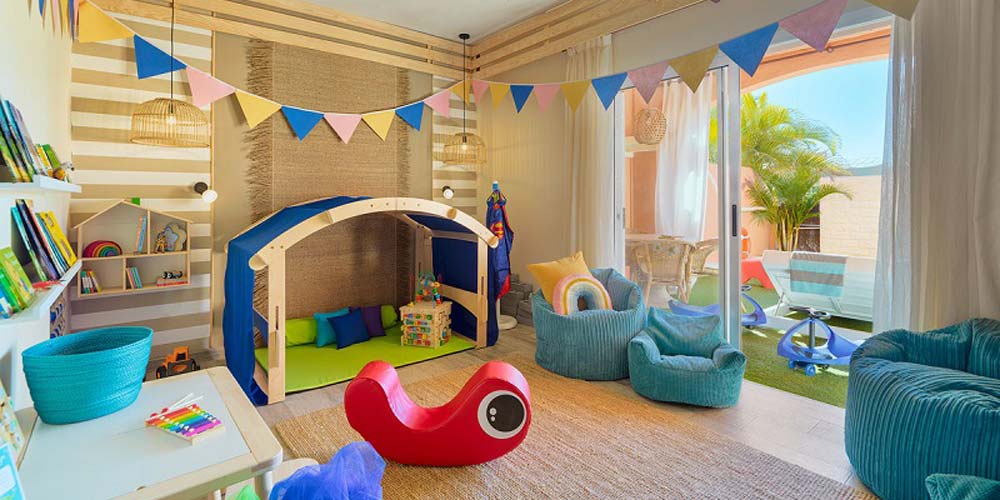 1/7.

Green Garden, South West Tenerife

Green Garden is the first Tots Exclusive Experience Resort on the sunny south west coast of Tenerife. Between their very own Tots boulevard, cute playgrounds and ride on toys, heaps of colourful toys and family activities, tots really do rule here. Even all-inclusive is tailored to their little heart's desires from drinks and snacks on demand to buffets stacked with under five favourites. And everything has been personally designed by Tots to Travel so you can look forward to adorable kids' bedrooms, thoughtful extras at no extra cost, all the equipment you need, and plenty of peaceful, private space for family together time.
Why families love the Tots Exclusive Experience at Green Garden
Choice of one and two bedroom apartments and two or three bedroom villas.
Choice of villas with private pools or villas with pools and playrooms.
Apartments and villas have private terraces or gardens, and fully equipped kitchens.
Dedicated Tots Exclusive zones and play areas.
All-inclusive includes breakfast, lunch and dinner, plus all snacks and drinks.
Tots Playmakers activity programme for under fives.
Green Garden resort grounds and lagoon-style family pool.
Free shuttle buses to local beaches and legendary Siam Park.
15 minutes drive from Tenerife South Airport.
All-inclusive family holidays at Green Garden from £230 per family, per night.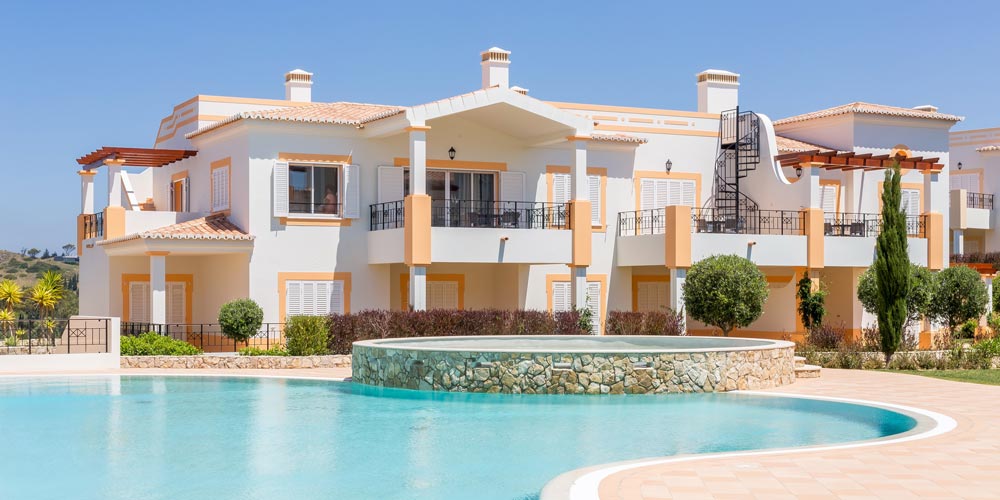 2/7.

Salema Beach Village, Western Algarve

Families like Western Algarve for much more than Blue Flag beaches. It's the part of the coast where you can still find traditional villages and historic towns, along with peaceful countryside and phenomena like the remarkable Vicente Coast Natural Park. So needless to say it's also where you'll find Salema Beach Village, the Tots Exclusive Experience resort overlooking the Atlantic, minutes from one of the region's loveliest beaches and just west of charming Lagos. It's a gorgeous spot, but if you're planning to explore, be prepared for some resistance when you try to tear your under fives away from their new 'home'.
Why families love the Tots Exclusive Experience at Salema Beach Village
Choice of two or three bedroom villas with fully equipped kitchens.
All villas have private patios and grown-ups-only, roof terraces.
Shared, enclosed gardens and tot-perfect playground.
Large, heated resort pool and separate kids swimming pool.
Full breakfast served from 7am every morning.
Poolside snack bar and villa room service.
15 minutes walk (or free golf buggy ride) from Blue Flag Salema Beach.
Short drive from Lagos, Portimão and Cabo São Vicente.
One hour's drive west of Faro Airport.
Family holidays at Salema Beach Village from £136 per family, per night.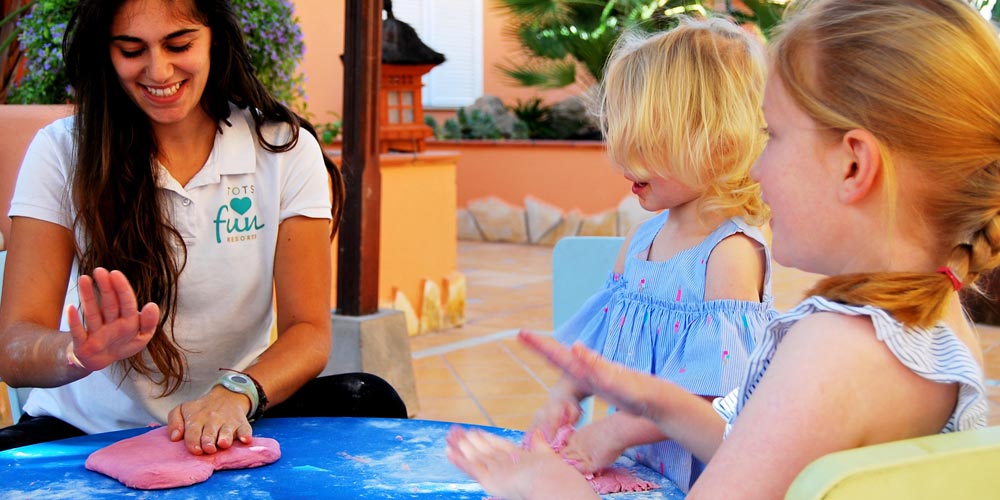 3/7.

Villacana, Costa del Sol

With its lush gardens, charming architecture and tranquil atmosphere, Villacana is a perfect match for the Tots Exclusive Experience. The grounds are magical for curious under fives, but there's plenty of other distractions vying for their attention like Playmakers Stay and Play sessions, tot-size playgrounds, no less than three pools and a free summertime kids club. Safe, sandy beaches are nearby too and Marbella and Estepona are just 20 minutes away.
Why families love the Tots Exclusive Experience at Villacana
Choice of one, two and three bedroom apartments with fully equipped kitchens.
All apartments have private patios, dining terraces or enclosed courtyards.
Lovely resort grounds with shaded seating areas and lawns.
Three resort pools, one indoors.
Exclusive Tots Play Zones and Playmakers tot activity programme.
Kids club for four to 12 year olds, and babysitting service.
Four resort restaurants and kid-friendly pool bar.
Close to Costa del Sol beaches, 20 minutes from Estepona and Marbella.
Under an hour's drive west of Malaga Airport.
Family holidays at Villacana from £75 per family, per night, including family breakfast.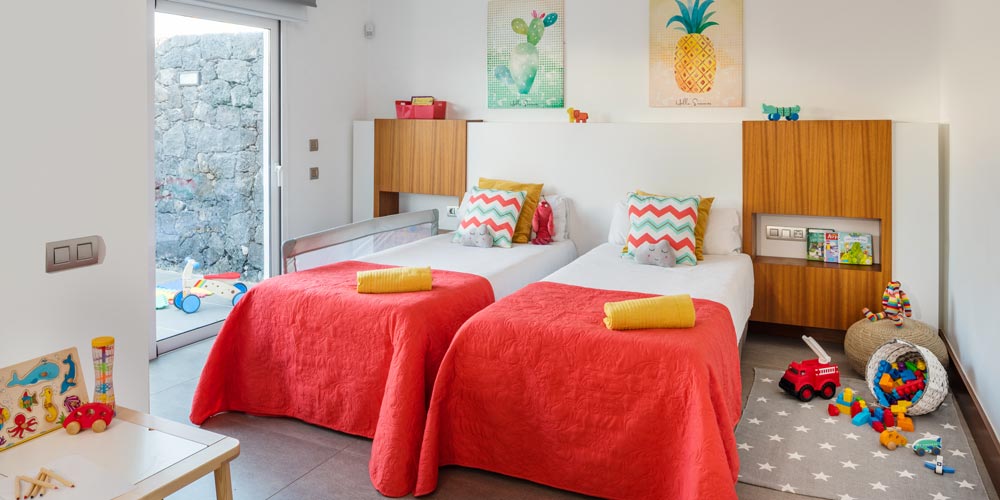 4/7.

Hyde Park Lane, Lanzarote

Apart from the leftfield name, Hyde Park Lane is pure Lanzarote from the cool design to its friendly, family atmosphere. Naturally under fives are particularly welcome and the Tots Exclusive Experience here is extraordinary. Not only are all villas detached, with private pools, delightful kids' bedrooms and amazing kitchens, they sit slightly separate from the rest of the resort. So you can have perfect peace when you want, but you're still close to fun stuff like Tots Play Zones, children's pools and playgrounds, Hyde Park Lane's kids club, restaurant and snack bars.
Why families love the Tots Exclusive Experience at Hyde Park Lane
Two bedroom, detached villas with private, heated pools.
Individually designed kids' bedrooms, fully equipped kitchens.
Tots Play Zones designed by Tots to Travel.
Two large resort swimming pools and separate children's pool.
Resort kids club for ages four and over. Hyde Park Lane Spa.
Relaxed family restaurant and snack bars.
A short walk from lovely Los Pocillos beach.
Close to Puerto del Carmen, and 20 minutes' drive from Playa Blanca and Arrecife.
Five minutes' drive from Lanzarote Airport.
Half-board family holidays at Hyde Park Lane from £257 per family, per night.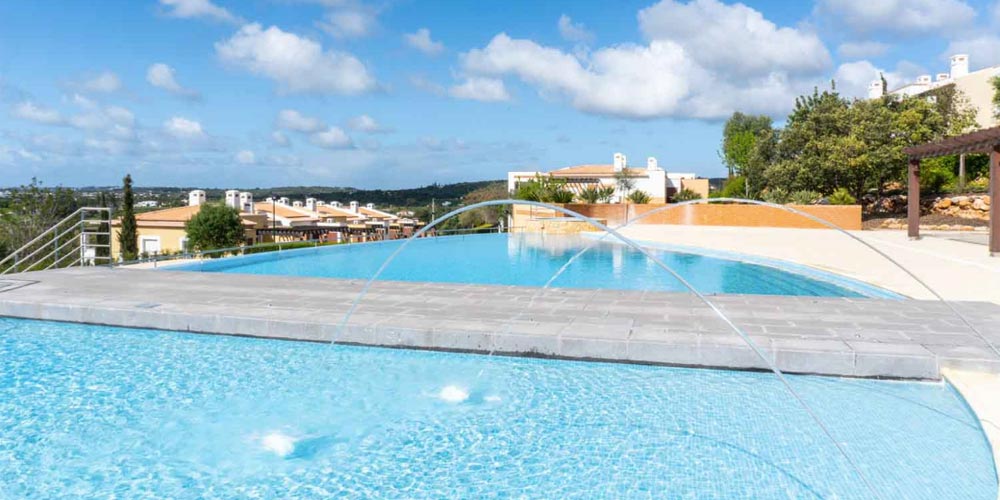 5/7.

Vale da Ribeira, Western Algarve

Western Algarve has some gorgeous countryside which often gets overlooked in a rush to the coast. Fortunately Tots to Travel miss very little when it comes to picking idyllic locations and they don't disappoint with lovely Vale da Ribeira, the Tots Exclusive Resort surrounded by rolling hills and pretty pine forests, yet only a teeny tiny drive from Atlantic beaches, and almost no distance at all from the delightful town of Lagos.
Why families love the Tots Exclusive Experience at Vale da Ribeira
Two bedroom family villas with fully equipped kitchens.
Individually designed kids bedrooms.
Safe and colourful children's playground and easy to supervise kids' pool.
Playmakers' activity programme with 'stay and play' sessions.
Large resort pool, landscaped garden grounds, countryside views.
Full family breakfast served from 7am every day.
Poolside snack bar, and Deli coffee shop.
10 minutes drive from family beaches, 20 minutes from Lagos town.
One hour's drive west of Faro Airport.
Family holidays at Vale da Ribeira from £85 per family, per night, including breakfast.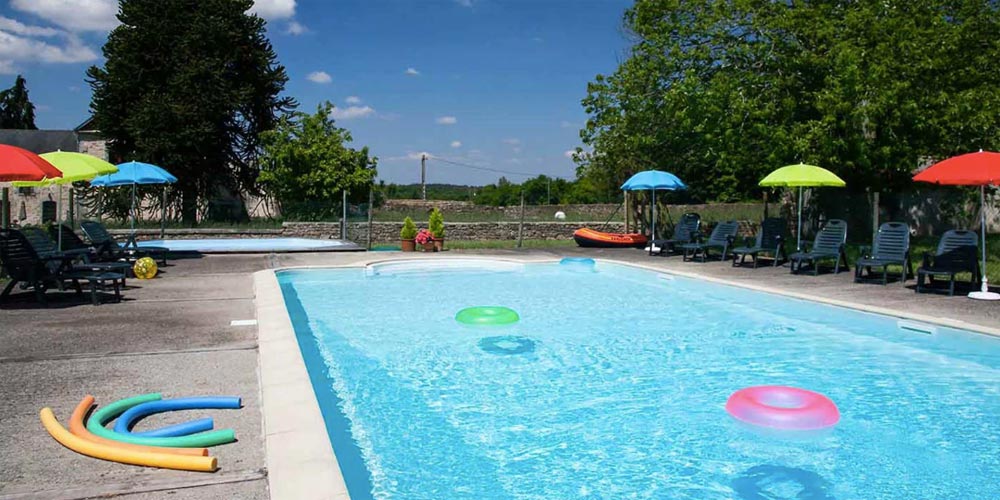 6/7.

Berry Farm, Southern Brittany

Kids are never too young to fall in love with Brittany and that reaction is almost guaranteed at delightful Berry Farm. This Tots Exclusive Resort is tucked into beautiful Breton countryside, next to legendary Camors Forest, and positively surrounded by traditional towns and villages. Big, beautiful Atlantic beaches are within easy driving distance, but everything from pony riding to treetop adventure parks could keep you happily close to home.
Why families love the Tots Exclusive Experience at Berry Farm
A choice of characterful gites with two to six bedrooms.
Fully equipped kitchens and fun children's bedrooms.
Heated, enclosed saltwater pool and separate toddler pool.
Extensive landscaped garden grounds with outdoor play zones.
Large play barn and children's playground.
Home cooked family meals to order, pre-arrival shopping service.
Direct access to Camor Forest.
30 minutes from Carnac Beach, five minutes from Baud.
Just under two hours drive from Nantes Airport.
Family holidays at Berry Farm from £114 per family, per night.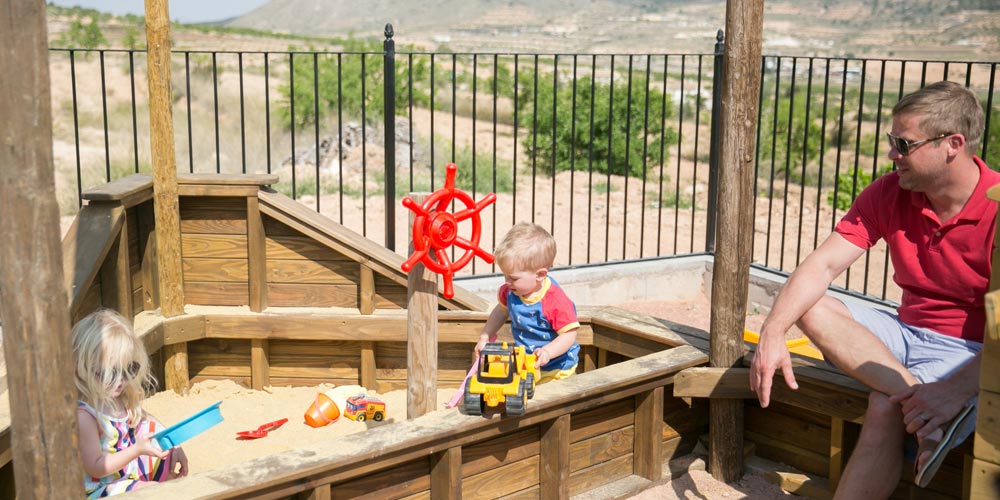 7/7.

Almond Grove, Costa Blanca

Almond Grove isn't just an exceptional Tots Exclusive Experience Resort, it was also voted one of The Times 'Best Villas in the Med 2018'. Particular praise was heaped on the facilities for families with young children, and it's easy to see why. Between cool chill-out zones for tot-size siestas to heaps of creative activities, family movie nights, fantastic kids pools and playground, welcome barbecues and pamper-centric Mummy Mondays, it more than lives up to its rave reviews.
Why families love the Tots Exclusive Experience at Almond Grove
A choice of two and three bedroom family villas with fully equipped kitchens.
Cute, individually designed kids' bedrooms.
Large children's playground, Sand & Splash playground, creative activity programme.
Enormous, heated and gated resort pool with separate toddler area.
Adorable chill-out zones; family cinema nights; indoor playroom.
Home cooked meal service, pool bar, pre-arrival shopping service.
Professional babysitting service.
45 minutes from Alicante and Costa Blanca beaches. 30 minutes from historic Elche.
40 minutes' drive from Alicante Airport.
Family holidays at Almond Grove from £174 per family, per night.
Can't decide which Tots Exclusive Experience is the one for your tots? Give Tots to Travel a call on 0800 014 2770 and talk to someone who knows just about everything there is to know about amazing holidays with under-fives.