6 awesome destinations by ferry
From now until 20 May, it's National Ferry Fortnight. The two weeks each year when UK ferry companies remind everyone how easy it is to hop on a boat and get the adventure started straight away. 2017's theme is 'Ferry Together' and all about families. So no surprise that DFDS are celebrating energetically; you don't do things by half when World Travel Awards names you, 'World and Europe's Leading Ferry Operator 2016'.
With DFDS you can travel by ferry from Newcastle to Amsterdam or from Dover to either Calais or Dunkirk. If you book before 20 May this year you can sail anytime you want in 2017 and you still get National Ferry Fortnight deals. Basically, that's France or The Netherlands family-style for as little as £39 each way for a car and up to nine people – if you start planning ahead now.
Need some quick inspiration? Think family camping and know that almost nobody does that with more originality than the French and Dutch. They love staying under canvas but are just as keen on beachy eco-cabins, urban igloos, gypsy caravans by lakes, tepees in forests and even American Airstreams on conservation islands.
So if the combo of world-class camping and ridiculously cheap ferry fares sounds like it might be this summer's perfect family holiday, here are a few places in France and The Netherlands to convince you completely.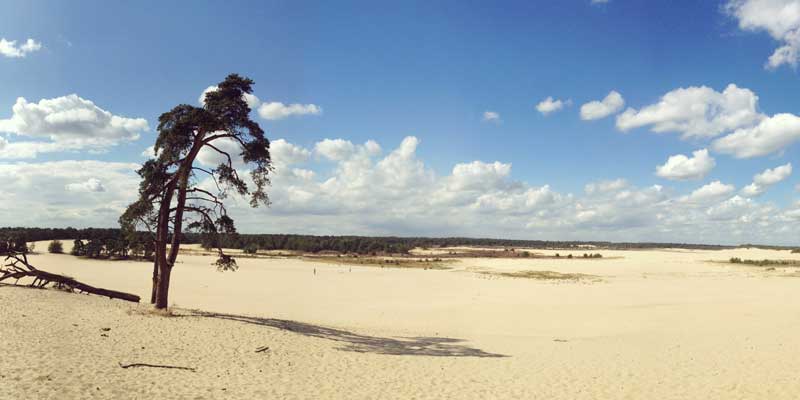 1/6

 North Brabant camping for Loon and Drunen National Park and Efteling
The term 'accessible wilderness' is thrown around a lot in Europe these days. But it's hard to argue with Loon and Drunen's 35km² of dunes, moors and marshland, known as the 'Sahara Brabençon', and really only an hour by car from the centre of Amsterdam. Kids can get up to all sorts here, from cycling and horse riding to rollerblading, hiking, canoeing or just romping around stunning mountains of shimmering sand. And, even if you haven't heard of the exotic national park yet, chances are you'll know its nearest neighbour, Efteling: Europe's most enchanting theme park, bar none.
Where to stay:
Camping at Duinhoeve Holiday Park is 12 minutes from Efteling and five minutes walk from Loon and Drunen Dunes National Park.