With the exception of Paris, a lot of European capitals aren't considered as cool for urban breaks as scrappy, wannabe second, third or fourth cities. But before you dismiss the centres of governance as heartlands of dull, have a closer look at what's happening in a few of them this year. There's a lot to like, plenty to love and not one isn't perfect for a family weekend – or longer.
1/6 

Amsterdam

If you need another reason for a family city break in Amsterdam – apart from the museums, galleries, zoos, beaches, 300 plus annual festivals and pancakes as a food group – just think: the city's an hour from the UK and there are direct flights from London every day, all year round.

It's one of Europe's smallest capitals too, so you don't have to blow the budget on city centre hotels. Stay in good value Noord or Nieuw-West and you're 10 minutes from the Anne Frank House, Museum Quarter and Artis Royal Zoo, Jordaan's historic canal houses, ridiculously pretty De Pijp and shopping on De 9 Straatjes.

You could even pitch outdoors in summer. Amsterdam loves camping and has the urban sites to prove it. So expect not a hint of roughing-it from delights like wigwams at Rekreatiepark, Zeeburg's colourful chalets and beachy cabins at Zandvoort by the sea. All less than half-an-hour from the Rijksmuseum – taking your time.

Easter 2017's good for the Tulip Festival (1 -15) and the biggest party The Netherland's throws all year on King's Day (27 April); not strictly the UK school holidays, but a Saturday and spectacular enough to make an exception.

Visit for May half-term and you're in time for the start of free Vondelpark Open Air Theatre (every Friday, Saturday and Sunday night until September). It's also the month for Rolling Kitchens and Amsterdam Art Fair.

And summer has ARTIS ZOOveramonden, the Milkshake Festival, Over het IJ, Grachtenfestival, Mysteryland and De Parade Theatre – just for starters.

Try West Side Inn for family rooms 15 minutes from the city centre in Nieuw-West or see Strandcamping de Branding for family cabins at Zandvoort aan Zee from £470 a week in July and August.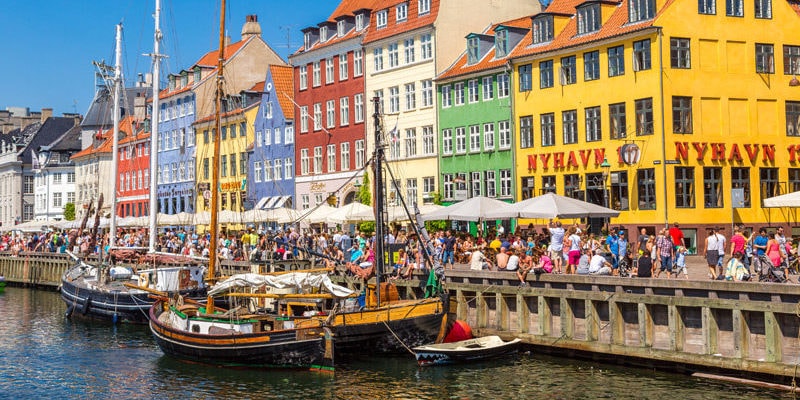 2/6 

Copenhagen

Poor Copenhagen, it's only the world's third happiest city*. But cheer up, it's the capital of the happiest country and the safest place on earth to cycle. No surprises then that it's also one of the best family city breaks in Europe for 2017.

If you're struggling to imagine how anywhere can feel so good about itself, spend five minutes in Copenhagen and all is revealed. It's the city of Hans Christian Anderson, Tivoli Gardens, Christiana Bikes, Den Blå Planet aquarium and colourful districts like Nyhavn, Østerbro and hipster Vesterbro. Hop on a train and you'll find big, big beaches 20 minutes from the city centre. Or board a Harbour Bus and sail round the historic waterfront with the locals and without tourist cruise prices.

Another small capital, you can walk just about everywhere easily. But public transport runs 24/7 and kids under 12 travel free with a City Card. It's not Europe's cheapest place to stay, but city centre design hostels are good value and geared towards families.

Visit for Easter events in the city's Carlsberg district and Den Blå Planet. Or have a traditional Danish celebration at the 1000ha Royal Deer Park just outside the city – it's wildlife packed in spring.

Then there's the Sand Sculpture Festival in May, Hamlet at Kronberg Castle in July or Kulturhavn family festival in August.

Try Danhostel Copenhagen City for cool Danish design and affordable family rooms all year round. Scandic Front is also in the city centre and famously child-friendly and affordable too.

*Aarhus, Denmark's second city, officially became the world's number one happiest in 2016.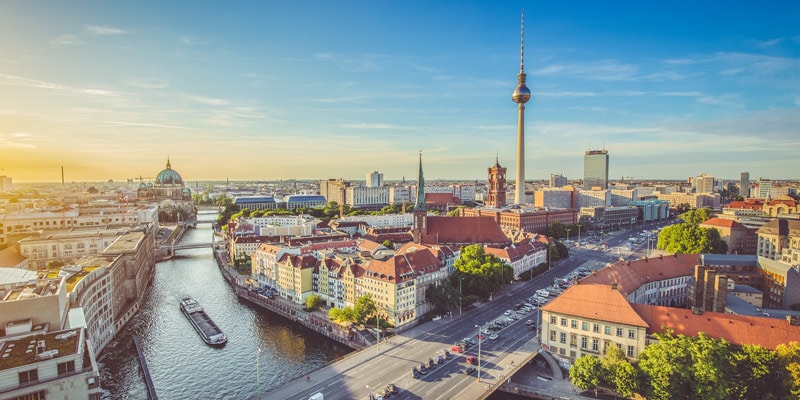 3/6 

Berlin

It might be Europe's largest city, but Berlin's an easy-going city break. It's more like a collection of friendly villages than an urban sprawl and U-Bahn and S-Bahn transport services run end to end and operate non-stop at the weekend. Avoid staying in Mitte, and it's a surprisingly reasonable city to visit too.

Long weekends work well here: flights from the UK take under two hours and both Berlin's airports are less than 30 minutes from the centre: where you want to be for big hitters like the Brandenburg Gate, Museum Island, Checkpoint Charlie, Tiergarten and Berlin Zoo.

Magical Spreewald's an hour from Mitte if you want to go sailing or cycling in an enchanted land-that-time-forgot fairy tale. Tempelhof's where to be on Sundays for everything from kite-surfing to skateboarding on the vast, repurposed airfield. Spend Saturday wandering round Kreuzberg to impress cool teenagers. And, if you want to get your bearings fast, the 203m high Fernsehturm observation deck is the best place to start.

Visit in May for the Carnival of Cultures. The Long Night of the Sciences and the Long Night of the Museums are both in June. And Lollapalooza Berlin in September is the biggest outside Chicago – fantastic fun with older kids.

Try Pegasus Hostel on Alexanderplatz for inexpensive family rooms right in the city centre. Or Hotel Kastanienhof, in very cool and creative Prenzlauer Berg, is another good choice for families.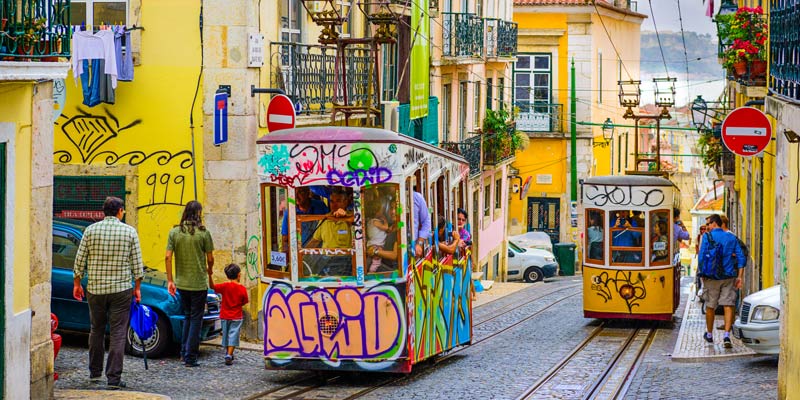 4/6

 Lisbon

Lisbon has Atlantic beaches on the Costa Caparica, medieval Alfama and Age of Discovery legends all along the waterfront at Belem. It's an easy city to get around with kids – sky-high historic elevators and old-fashioned trams are just two weird, yet wonderful, public transport options. And the Lisboa Card is the only one in Europe to give free entry to major attractions – rather than 25p off a glass of water like some.

Try the city's Baixa district for affordable hotels right in the centre or check out beach resorts in summer – 30 minutes from Alfama.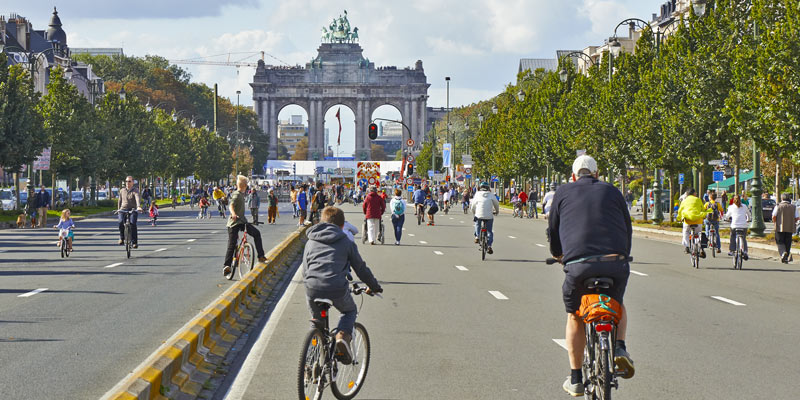 5/6 

Brussels

Brussels isn't the business-like city everyone imagines. It has the biggest, cycle-friendly green belt of any European capital. All six Royal Museums are within walking distance of each other and contain over 20,000 major works covered by one €13 adult ticket – cheapest in Europe. The chocolate is as good as you've always heard (so are the frites and waffles and beer). And Antwerp, Ghent and Bruges are all less than an hour away by train.

Try the city's Jam Hotel for affordable, kid-friendly cool close to Grand Sablon, historic Chatelain and Saint-Gilles.
6/6

 Barcelona

Barcelona is still top of the heap for family city breaks in 2017 and why wouldn't it be? From Barceloneta's big sandy beaches to haunting Barrio Gotic, cable cars up Montjuic and Tibidabo funfair to top it all, the Catalan capital can't put a foot wrong. If you want to stay in a Modernist masterpiece, room rates are high. But reduce your artistic expectations just a little and there's a surprisingly affordable selection of hotels in several central districts. And direct flights from the UK to Barcelona only take two hours, so it's another city worth thinking about for a weekend break.

Try Poblenou and Santi Marti for affordable family hotels within easy distance of La Sagrada Familia, Ciutadella and Barrio Gotic.