Sponsored Content
All-inclusive Beaches® resorts are the only ones in the Caribbean to include just about everything in their family holidays, even unlimited motorised and non-motorised water sports (no other resorts anywhere do that).
But just in case 'everything' wasn't quite enough, Beaches® Autumn Sale kicked off on 21 August 2018 with savings of up to 45% plus up to an extra £325 off, on all-inclusive family holidays booked for 2019 at their Turks & Caicos, Negril and Ocho Rios resorts in the Caribbean.
Tempted? Of course you are. And while you're thinking about it, have a look at the top 10 reasons why families and kids love Caribbean holidays with Beaches® best of all.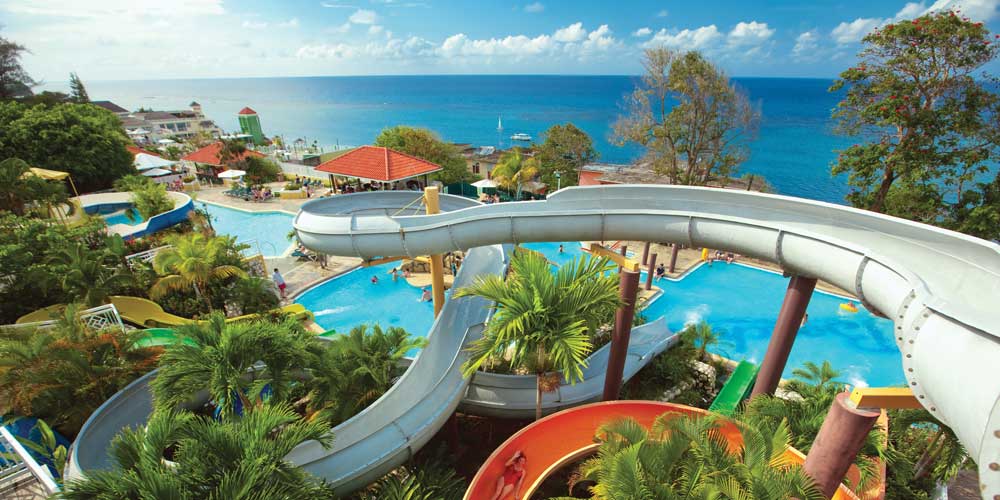 1/10

Pirate Island Waterparks: biggest and best in the Caribbean

Pirate Island waterparks are the ones all Caribbean resorts wish they had, but you'll only find them at Beaches® resorts in Turks & Caicos, Negril or Ocho Rios in Jamaica. And unless kids really aren't kids at all, they'll love everything from immense waterslides to longer than long Lazy Rivers; water cannons and waterfalls; zero entry pools; extraordinary inflatables and heavenly snacking at ice cream machines, swim-up bars, beach grills and diners.
Recently extended Pirate Island waterpark at Beaches® Turks & Caicos now covers 27,000ft², and has a 50's style American diner, and kids-only swim-up bar.
Beaches® Ocho Rios in Jamaica is another 27,000ft² giant packed with every slide imaginable from kiddies slides and vast waterslides to speed slides, body slides and tube slides.
At 18,000ft² Pirate Island Negril might be smaller than the others, but more than makes up for it in terms of sensational fun, plus it's beachfront on 7-Mile Beach: one of the loveliest in Jamaica.
Find out more about Pirate Island Waterparks at Beaches® Caribbean resorts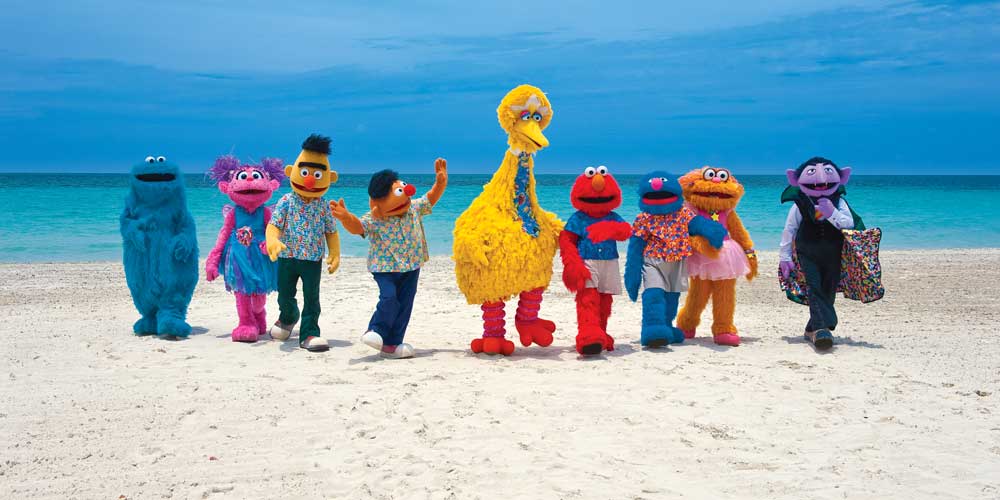 2/10

Kids' favourite Sesame Street® characters, only at Beaches®

Beaches® resorts are 100% committed to creating positive, inclusive, empathetic and thoroughly engaging holiday experiences for kids. And their exclusive partnership with Sesame Street® says all that, and more. Children of all abilities are encouraged to be amazing in the company of favourites like Big Bird, Elmo, Oscar the Grouch, Grover or Cookie Monster. They can express themselves through art with four year old Julia, the show's first character with autism. And colourful Sesame Street® parades, stage shows and special events make unforgettable family memories for everyone.
Find out more about Sesame Street® at Beaches® Caribbean resorts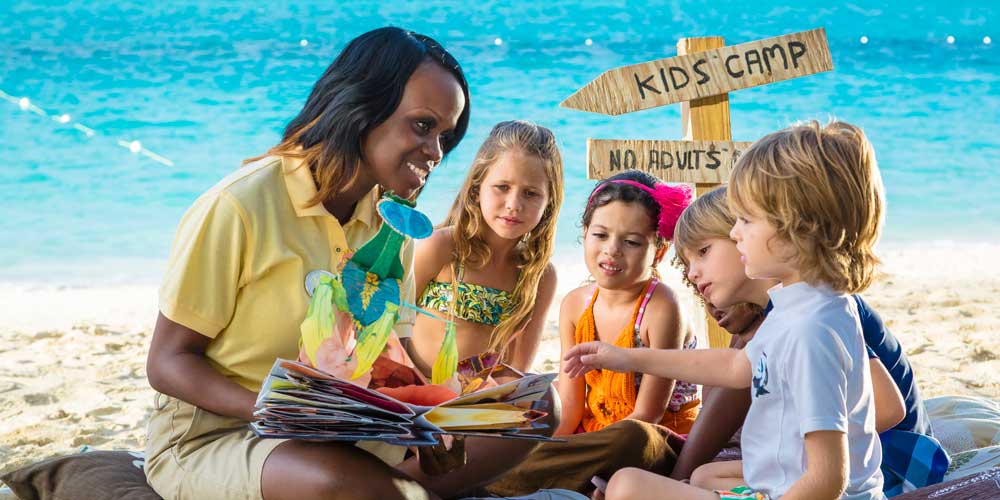 3/10

Beaches® have Certified Nannies and amazing kids' clubs

Beaches® make it their mission to provide extraordinary childcare. All nannies and Kids Camp staffers are members of the International Nanny Association: the oldest and largest in-home childcare association in the US. They're also the first resort company in the world to attain IBCCES Autism Certification, and offer a full range of care for children with special needs. And Beaches® have yet to find a tiny baby, toddler, tween or teen who doesn't love kids clubs packed with activities, loads of beach time, fun creative play, and cool hang-out spaces.
The Infant Programme is dedicated to giving the world's best care to babies from birth to 24-months.
Engaging under fives in fantastic fun is what it's all about at Beaches® Toddler Kids Camp.
Eight to 10 year olds can dream big at Pre-Teen Kid Camp and try anything from learning to paddle their own canoe to snorkelling.
Tough to please over 12s are a speciality for the incredible team taking care of Beaches® Teens Programme.
Find out more about childcare and kids clubs at Beaches® Caribbean resorts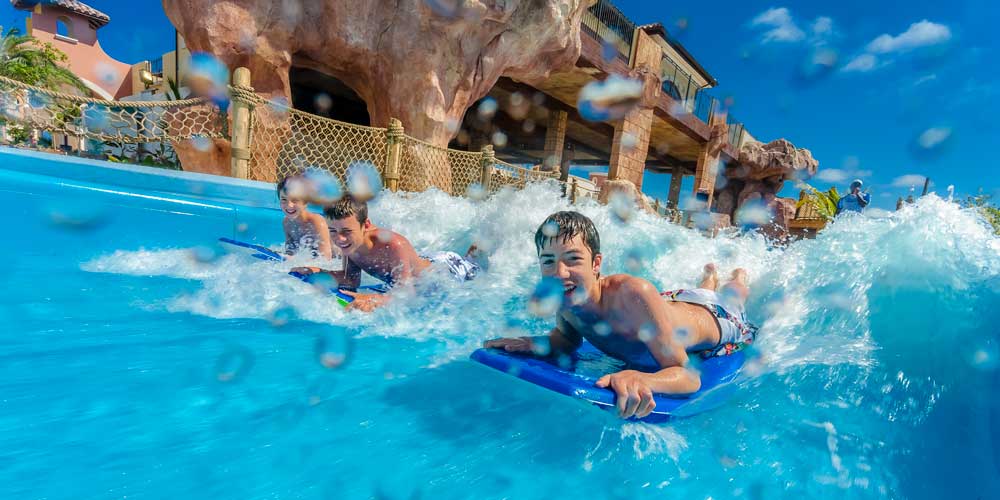 4/10

Beaches® all-inclusive includes unlimited land and water sports

When Beaches® say 'all-inclusive', they include everything without limits. Even big ticket items other resorts always charge extra for, like motorised water sports, sailing and diving, golf, tennis, and fun stuff like snorkelling or wakeboarding. And if you want to try something new, you only have to ask; free, unlimited instruction for dozens of different sports and activities is also included in all-inclusive holidays.
Beaches® has the largest water sports operation in the Caribbean.
Unlimited free instruction for all water sports.
A fleet of more than 270 sailing boats.
All Beaches® resorts are Green PADI Certified.
H.O Hypolyte equipment used at all resorts.
Largest zero-entry swimming pools in the Caribbean.
Find out more about land and water sports at Beaches® Caribbean resorts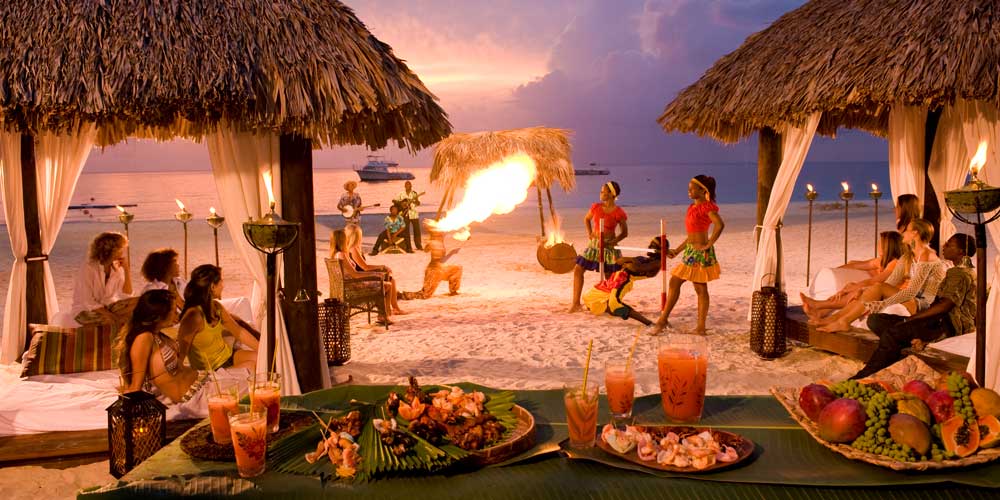 5/10

Beaches® make family holidays fabulously entertaining

What does it take to make a truly incredible family night out? You might feel like a Caribbean beach party that's authentic right down to limbo dancers and fire eaters. Perhaps you'd prefer an evening of animation, theatre, music, dance and extraordinary circus performance, all in one show. Or does your heart beat faster at the thought of theme nights and talent nights; Sesame Street® parades, live bands and bonfires? Whatever you have in mind on holiday, Beaches® probably have it lined up and ready on their packed list of fabulous family entertainment.
A mix of art, spectacle, comedy, theatre and acrobatics in live shows designed by Creativa Caribbean, Voilà is dazzling, daring and only at Beaches® Turks & Caicos.
Weekly beach parties on some of the world's loveliest beaches are typically Caribbean extravaganzas for all the family.
Liquid at Beaches® gets the party started for families, clubs until late with under 18s, then plays into the morning for grown ups.
Families can only experience Sesame Street® stage shows and colourful street parades at Beaches® resorts in the Caribbean.
Find out more about family entertainment at Beaches® Caribbean resorts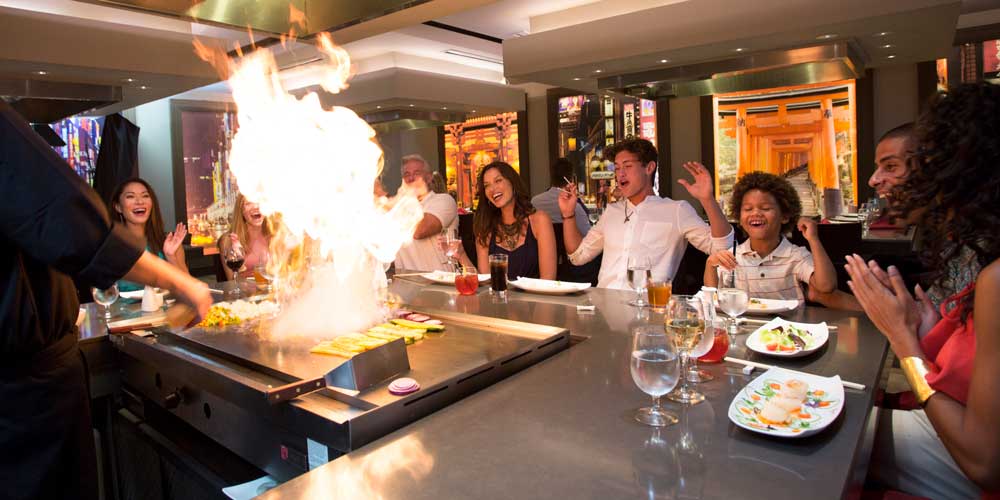 6/10

Up to 21 restaurants at every Beaches® Caribbean resort

Families can eat their way round the world and back with 5-Star Global Gourmet™ dining at up to 21 different restaurants, all part of the #1 all-inclusive dining experience from Beaches® resorts.
Taste-test 22 extraordinary food concepts from countries worldwide.
Healthy and delicious menu choices for kids of all ages and stages.
Fuss-free catering for special dietary requirements or food allergies.
5-Star Global Gourmet™ dining is #1 all-inclusive dining experience.
7/10

Beaches® are on the most beautiful Caribbean beaches

A resort company calling itself 'Beaches' might seem like a bold move, but in this case it's perfect, since every single Beaches® resort sits right on a stunning Caribbean beach. And, as well as acres of white sand, blue seas and sheltering reefs, all shores come with complimentary sun loungers and sun umbrellas, cool cabanas, beach bars, towels, and ever watchful lifeguards.
Beaches® Turks & Caicos sits on Grace Bay in Providenciales, regularly voted regularly listed as one of the world's loveliest beaches.
Beaches® Negril overlooks Jamaica's 7-Mile Beach, which is actually a little under the seven mile mark, but so beautiful nobody's counting.
Beaches® Ocho Rios presides over one of the loveliest and most exclusive stretches of white sand on the north east coast of Jamaica.
Find out more about the beautiful beaches at Beaches® Caribbean resorts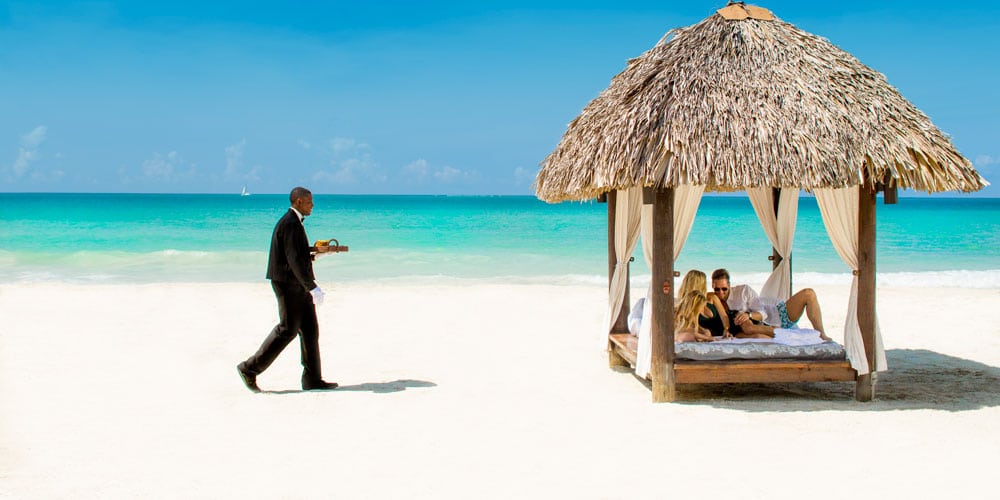 8/10

Beaches® indulge families with personal butlers or concierges

Beaches® resorts make it their mission to make families feel at home in the most luxurious rooms and suites in the entire Caribbean. Then they give you the luxury of choice – you can even pick suites with personal butler service or opt for the sheer indulgence of your very own concierge. And more room to be a family and be yourself is the philosophy behind stunning Together Nest Suites®, which are spacious enough for up to 14 guests.
Nothing is too much trouble, and everything is effortless for families staying in Beaches® BUTLERELITE Suites: included in the Autumn Sale 2018.
Suite Concierge Service is exclusive to Beaches® and takes luxe Caribbean holidays to a whole new level for families: also part of the 2018 Autumn Sale.
Find out more about luxury accommodation at Beaches® Caribbean resorts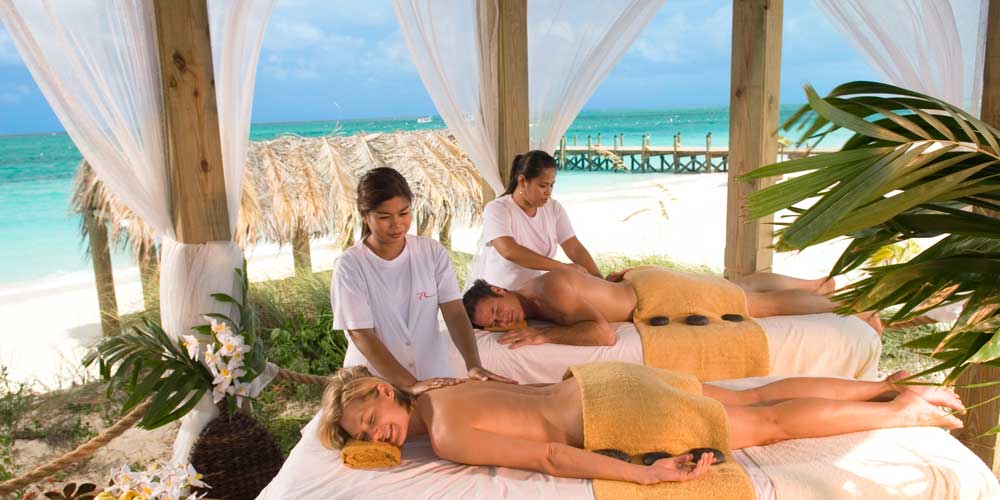 9/10

The Caribbean's finest pampering at Beaches® Red Lane® Spa

Beaches® award-winning Red Lane® Spa is a permanent pamper-rich treat for the deserving at all Caribbean resorts. And almost everyone is deserving: even under-18s get to wind down at Red Lane® Spa for Teens. Treatments and therapies aren't included in all-inclusive family holidays but can be booked as an extra treat.
Find out more about Red Lane® Spa at Beaches® Caribbean resorts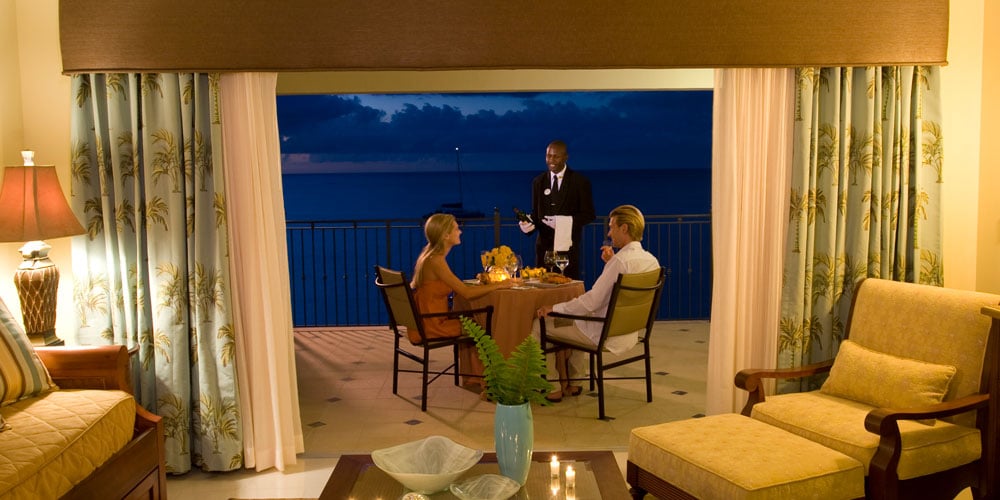 10/10

Beaches® do holiday romance, even for busy parents

It's easy to forget that a holiday with kids is your holiday too. Happily Beaches® are good at jogging memories and reminding you being a grown-up occasionally doesn't make you a bad parent. So take advantage of the excellent resort childcare, book a candlelit dinner for two in a choice of romantic restaurants, and spend some time together: you've probably more than earned it during the day.
Find out more about candlelit dinners at Beaches® Caribbean resorts
A top 10 list doesn't even begin to cover all the reasons families love Beaches® Caribbean resorts. Discover dozens more, along with quite a few of your own personal favourites, and take up to 45% off all family holidays booked in Beaches® Autumn Sale which starts on 21 August 2018. Holidays can be booked up until August 2020.