Sponsored Content
The greatest luxuries on any family holiday these days are space and time. A sensational destination obviously doesn't hurt, good weather is always a bonus and a stream of constant fun activities to pick and choose from works too. But it's the room to relax, be yourself, make memories and escape all the day-to-day distractions that really matters most.
Elite Island Resorts have the family holiday equation down and perfected to the last tiny detail. Not only are their handpicked resorts in some of the world's loveliest (and sunniest) locations, they come with big beaches as standard and there isn't one which doesn't value family privacy and space as much as you do.
The all-inclusive approach is very appealing too. Nothing feels packaged because there's always plenty of choice in everything from villa design and room sizes right down to water sports, family cookery classes, mother and daughter spa days or resort restaurants.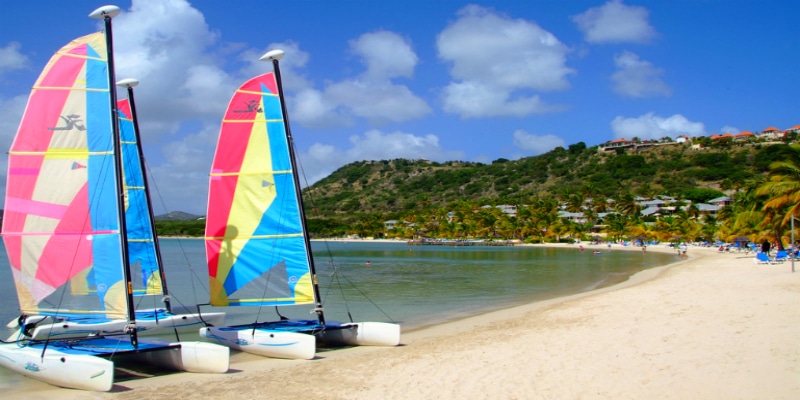 Kids love treats like unlimited ice-cream and popcorn, but get together family meals are just as relaxed and easy going whether they're fun beach barbecues, breakfast buffets or sit down dinners in pretty waterfront dining rooms.
And working up an appetite's never a worry. All Elite Island Resorts specialise in low-impact, high-energy water sports and motors are strictly outlawed. With kayaking, catamaran sailing, paddle boarding, windsurfing, snorkelling and diving, nobody ever complains about the lack of noise. And if that isn't quite active enough, families can get competitive with golf or tennis, beach volleyball and cricket or just take it easy with some gentle walking and cycling.
If the luxury of space and time is what you're after on your next family holiday, but you wouldn't mind a few Caribbean luxuries in the mix too, have a look at Tropical Sky on Antigua and Saint Lucia. It's hard to imagine how you could improve on these archetypal island paradises, but you might be surprised.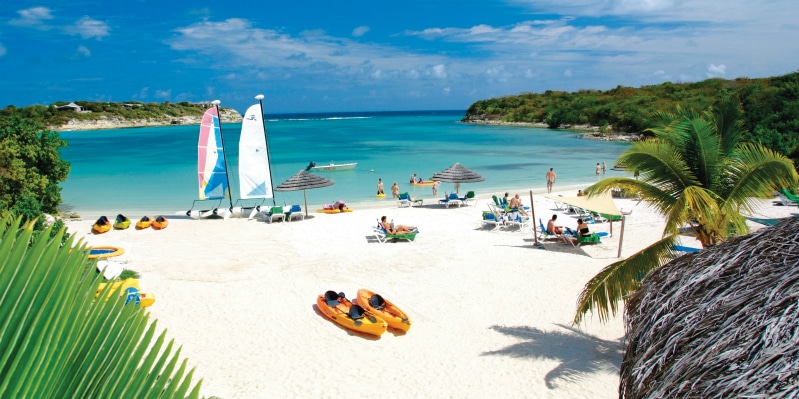 1/3

 The Verandah Resort & Spa, Antigua
You can't visit Antigua without spending at least a few hours in Devil's Bridge National Park. It's a local legend and packed with as many dark tales as dramatic blowholes and imperious natural stone structures. But for The Verandah Resort & Spa, it's simply the next door neighbour and one of many reasons this exceptional four star resort is number two in Tropical Sky's worldwide top ten family resorts.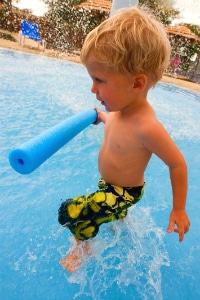 Sheltered by sandy beaches, low hills and rich, tropical greenery, the Verandah's a calm contrast to the rugged, natural beauty of Devil's Bridge. Although it's close enough to the park for adventurous kids to go exploring any time they like. That's if you can tear them away from the homegrown all-day-long fun of beach volleyball tournaments, club activities, sailing, swimming, windsurfing or snorkelling on the pristine local reef.
Spend days exploring Antigua, cruising round the island, lazing on the beach or playing in the sea. Take some guilt free time in the soothing spa while kids learn new skills on the water. Discover the local bird and wildlife in the wonderful national park. Or just enjoy time by the pool doing nothing much apart from simply being together – the true essence of a classic Caribbean family holiday.
And the Verandah is a classic Caribbean resort, right down to its beachy bars and waterfront restaurants, acres of palm trees, glorious weather and the charming traditional architecture. Even pretty, ice-cream coloured family villas in exotic gardens wouldn't look out of place in the 19th century, if it weren't for the private swimming pools and relaxed, very un-Victorian atmosphere.
The Verandah Resort & Spa at a glance
Set on the stunning north east coast of Antigua, next to Devil's Bridge National Park.
Kid's Club for 4-12 year olds, teen games room.
Four pools; day-to-night tennis courts; 18 hole mini golf course; full-service spa; water sports; scuba diving; evening entertainment.
Four restaurants and bars.
Two separate beaches and family villas with private swimming pools.
Half-an-hour's drive from St. John's and Antigua International Airport.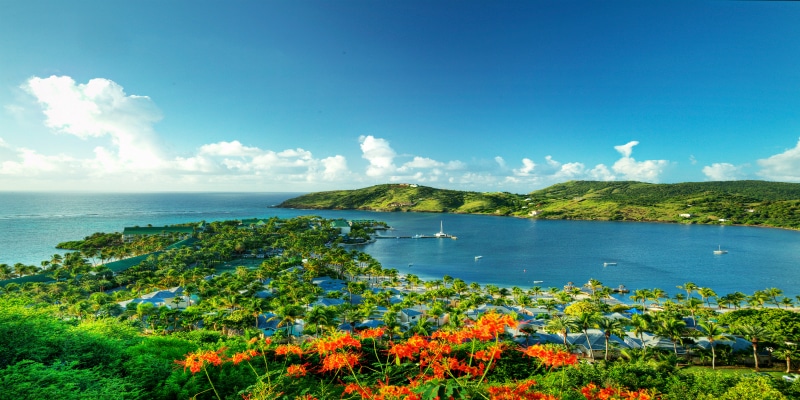 2/3

  St. James's Club & Villas, Antigua
The four star St. James's Club & Villas sits on the south east coast of Antigua, between two lovely beaches and surrounded by lush national park. There isn't a bad side to the island, but this is probably its best, most sheltered and sunniest, all year round. Perfect conditions for the Royal Navy to build English Harbour here in the 18th century and just as idyllic for an exquisite Elite Island Resort over 200 years later.
The neighbourhood might be aristocratic, but St. James's Club couldn't be more relaxed. Kids love the easy-going atmosphere almost as much as endless water sports, huge grounds to adventure around in, no less than six swimming pools and ice-cream on demand. You might not be as sold on pudding as a food group but there's no resisting the temptation of family time for bike rides, mini-golf tournaments and the fierce competition of all out sea kayaking and catamaran races.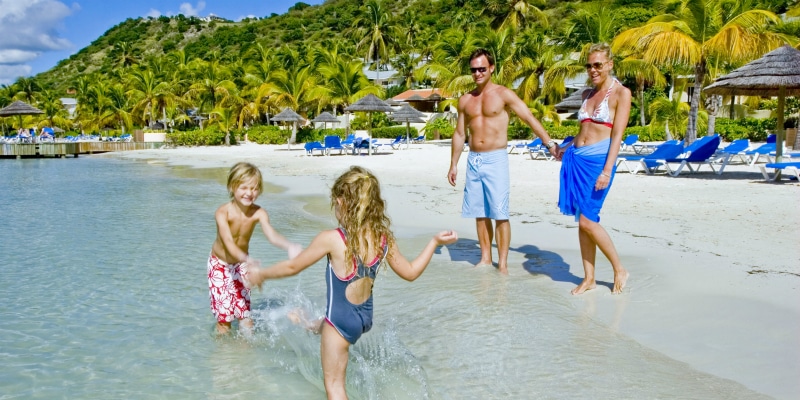 Space to relax is the rule round the resort's gorgeous family villas too. Forget turning up and discovering, 'two bedrooms', loosely describes a mean spirited couple of cupboards. At St. James's Club & Villas, spacious doesn't even begin to describe the space, right up to a separate living and dining room and a full-size kitchen. Designed around Marmora Bay, sweet sea views are standard and so are the private patios or balconies to enjoy them. Climate controlled air-con guarantees comfortable kids on sultry Caribbean nights and flat screen TVs with cable come in handy for before bed wind-down time.
The well-equipped kitchen in your villas are great for cool drinks and midnight snacks, but it's hard to believe you'll be doing much serious cooking here. The resort has four restaurants ranging from romantic enough to justify hiring a babysitter to family-friendly and eat all you like – an invitation kids almost never turn down. And it's Antigua, so lively beach barbecues are naturally part of the deal too.
St. James's Club & Villas at a glance
South east of Antigua, five minutes from UNESCO World Heritage English Harbour.
Kid's Club for 4 to 12 year olds and teenage chill zone.
Four tennis courts; spa services; beach games; water sports; diving school; fitness centre.
Four restaurants and a snack bar.
Six swimming pools and two separate beaches.
40 minutes drive from St. John's and Antigua International Airport.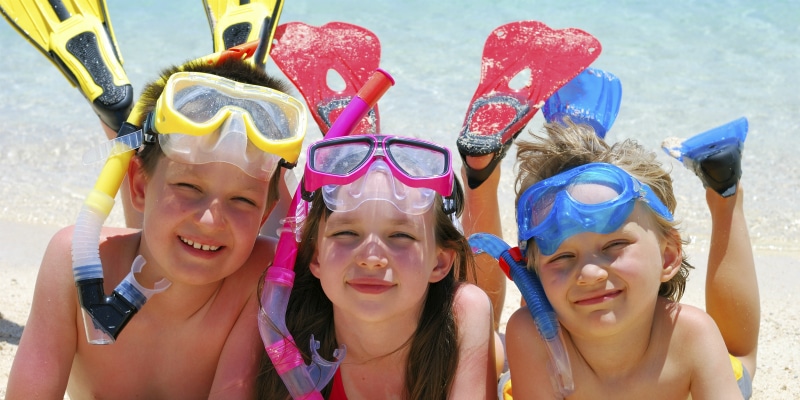 3/3

 St. James's Club Morgan Bay, Saint Lucia
Saint Lucia looks like the mind's eye perfect image of a Caribbean island. Famous for its soaring twin pitons, swathes of dense forest and enormous white sand beaches, it's also the only place in the world where you'll find a drive-in volcano and kids can go zip-lining round the 18th century plantation where the First Empress of France spent her childhood.
If all that isn't temptingly exotic enough, there are swashbuckling tales of pirates and buccaneers in lively Rodney Bay, colourful Creole festivals all year round and any amount of adventures to be had in the tamed wilds of Pigeon Island National Park or the island interior.
And in pole position for all this excitement is the calm oasis of St. James's Club Morgan Bay. Sitting on the sheltered south west coast overlooking one of Saint Lucia's loveliest stretches of sand, this idyllic four star resort has long been a Tropical Sky favourite thanks to its gorgeous location. But, after a multi-million pound restoration, it's better than ever – without losing even a whisper of traditional island charm.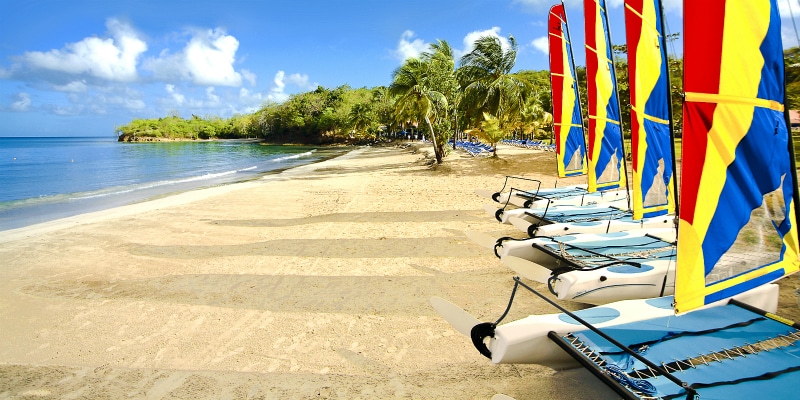 Entertaining kids has never been an issue in Saint Lucia and at St. James's they can virtually fall out of bed and into pretty much non-stop fun. From water sports on the beach to sailing in the bay, splashing around their own pool, cherry-picking activities at the children's club or just hanging out and seeing what happens on the beach, the possibilities are limitless. Almost everything's made for families but if you want a breather, a few hours winding down in the spa usually does the trick.
Large, interconnecting family suites give you the space and privacy you need to relax on holiday with your kids. But they're cleverly designed to keep you within easy reach of the sea and any one of the resort's ten very different restaurants and bars – there's even a cute café for afternoon tea.
St. James's Club Morgan Bay at a glance
Set on sheltered south west coast of Saint Lucia close to Pigeon Island National Park and Rodney Bay Village.
Kid's Club for 2-11 year olds, teenager's activity programme.
Four pools; day-to-night tennis courts; full-service spa; water sports; scuba diving; fitness centre.
Six restaurants and one café, including the Plum Tree Grill and Choc Bay Café.
Beachfront location, family suites.
10 minutes drive from Castries and just over an hour from Saint Lucia International Airport.