Tucked between Barbados and Martinique, the eastern Caribbean island of St Lucia offers a heavenly blend of pristine beaches, luxury accommodation and breathtaking volcanic landscapes. It's hardly surprising that this ridiculously romantic little island is a favourite for honeymooners.
You might think that this lover's bolthole has little to interest children, but when you find out it's home to an inflatable water park, a giant natural mud bath and some of the tastiest chocolate on the planet, you might think again.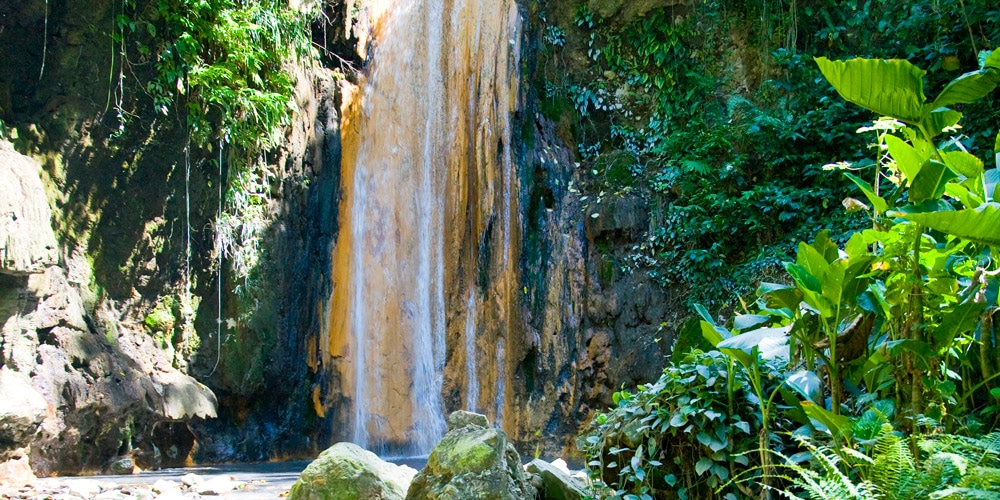 11/11

Diamond Botanical Gardens, Soufriere

Enjoy the beauty and the warmth of the tropics and take a walk through Diamond Botanical Gardens. Steeped in history, the gardens are the oldest in St Lucia and boast a diverse range of beautiful flowers and plants. The easy terrain makes the Botanical Gardens a relaxing and child-friendly day out. After strolling through the gardens you'll come to the stunning, 17m high Diamond Waterfall. The water has a unique pigment due to the mixture of rainwater and sulphur springs. On scorching hot days, the Botanical Gardens are the perfect place to relish in St Lucia's natural beauty and shelter from the sun.

Price: Adults £5.40; children £2.70

Find out more about Diamond Botanical Gardens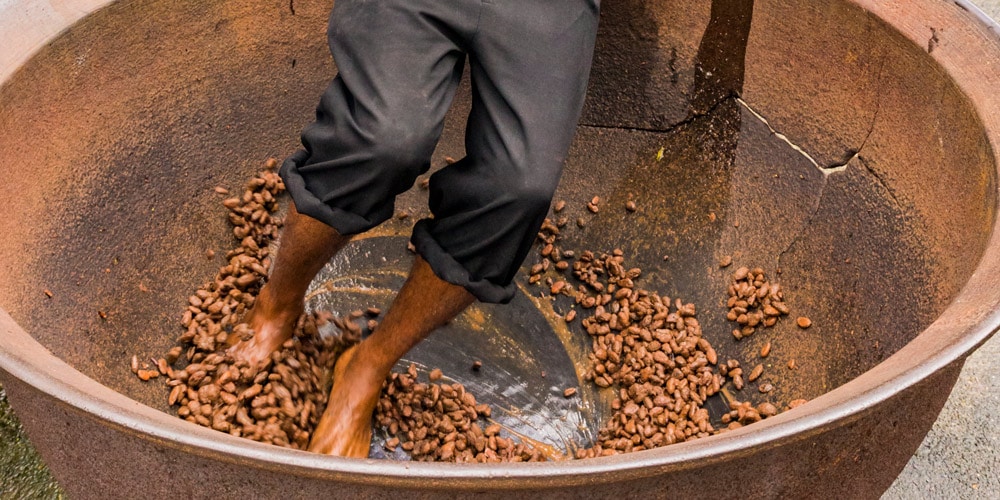 10/11

Fond Doux Heritage Tour, Soufriere

This-fun packed tour educates kids about the island's vegetation and history. The 250 year old plantation, Fond Doux, is situated alongside cocoa groves where visitors are invited to participate in the process of making chocolate and even enjoy some traditional cocoa dancing! You'll sample a variety of delicious organic fruits native to St Lucia, such as bananas, mangoes, love apples, guavas, star fruits and refreshing jelly coconuts, all picked by the Fond Doux Tarzans. During this experience, your guide will also show you the unique and varied bird life of the island and teach you how to call hummingbirds. After learning about St Lucia's wildlife and farming you'll kick back in the sun on the beautiful plantation with some fresh mango. 

Price: Tour & snacks £19 per person; tour & lunch £30 per person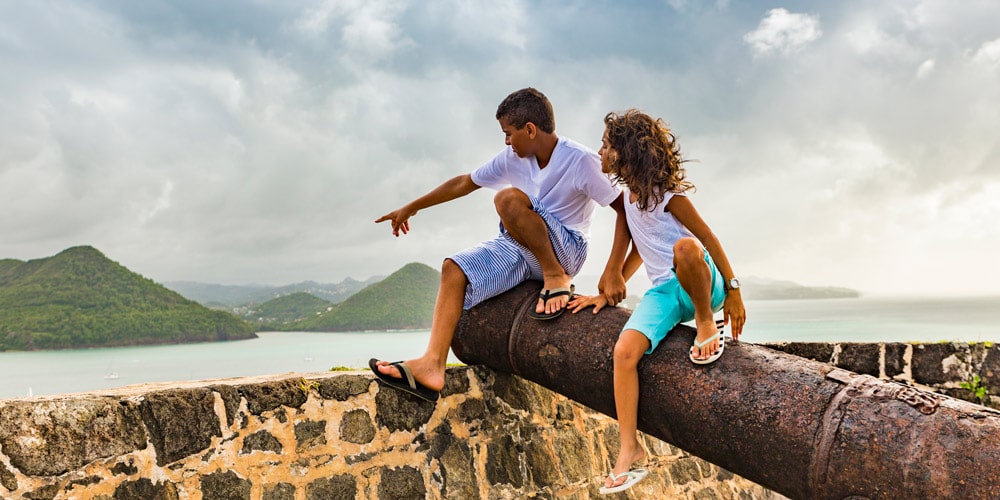 9/11

Pigeon Island

Relax and pause on Pigeon Island, an idyllic spot with rich history, stunning views and glorious beaches. This national park is marked with trails that will lead you through the ruins of Fort Rodney, an 18th century fort built by the British. Although a challenging climb to the top of the fort (an ideal occasion for your baby-carrier backpack), you'll be repaid with panoramic views of the island's magnificent coastline. After a sweaty hike, recline on one of Pigeon Island's gorgeous beaches. More peaceful than the popular Reduit beach, the southern side of Pigeon island has two sheltered stretches of golden sand, perfect for families.

Price: Adults £6; children 5-12 years £2.30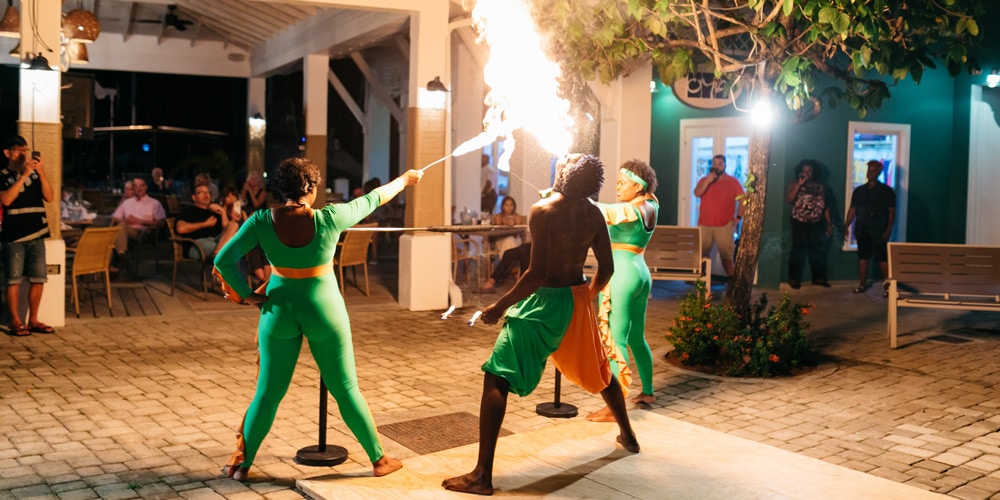 8/11

BBQ night at Hurricane Hole Bar and Restaurant

On Tuesday night get yourselves down to the Hurricane Hole Bar and Restaurant and Marigot Bay resort. The luxury resort hosts a spectacular weekly BBQ night, open to everyone – you don't have to be staying at the resort to attend. Enjoy family time, delicious traditional food and lively performances from fire eaters and limbo dancers, while the sun sets. Hurricane Hole is located next to the charming marina village, an ideal place to sip on a cocktail and watch the yachts float in and out of the Marigot Bay's picturesque marina. A fun-filled and cultural experience, the staff dress in traditional St Lucian attire and teach guests the (sometimes amusing!) significance of their outfits.

Find out more about BBQ night at Hurricane Hole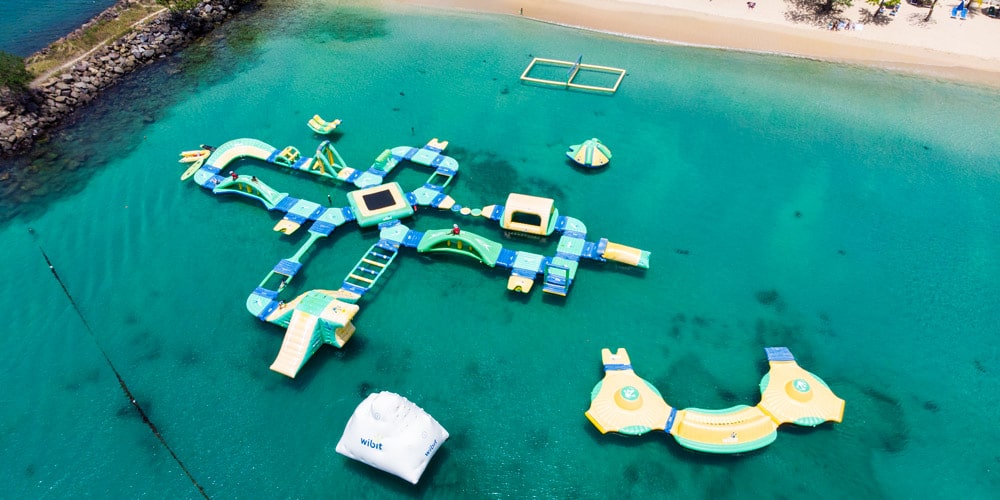 7/11
Splash Island Water Park, Reduit Beach
Splash Island is a thrilling inflatable obstacle course located on St Lucia's picturesque Reduit Beach. Parents get the chance to sit back, relax and soak up some rays while the kids tire themselves out with trampoline, slides, monkey bars and water volleyball. The obstacle course is suitable for kids aged six and over. All participants must wear life vests and lifeguards are on duty at all times. For teeny tots, the calm and shallow waters of Reduit Beach are perfect for a paddle.
Price: Hourly pass £10; Half day pass £26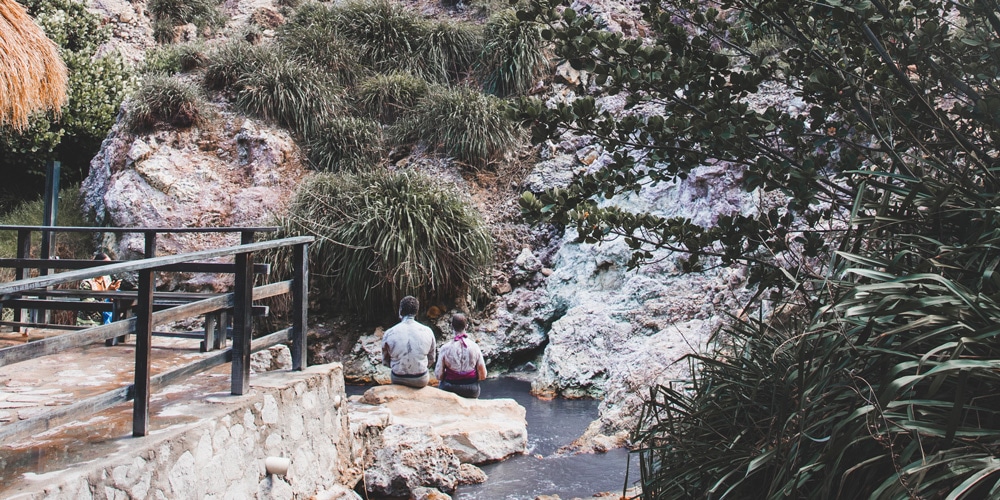 6/11

Hot Springs and Mud Bath, Soufriere

Visit the hot springs of La Soufriere and bathe in the volcanic baths. Advertised as the 'world's only drive-in volcano', visitors are able to drive and walk right into the heart of a dormant volcano (handy for kids with tired little legs). Sulphur Springs park is in the midst of a dormant volcano that last erupted in 1766. The boiling springs give rise to the therapeutic and relaxing waters, which form the park's mud bath. This is a unique and adventurous experience, where your children will learn about St Lucia's geology, take in some beautiful landscapes and of course, roll around in a volcanic mud bath. 

Price: £77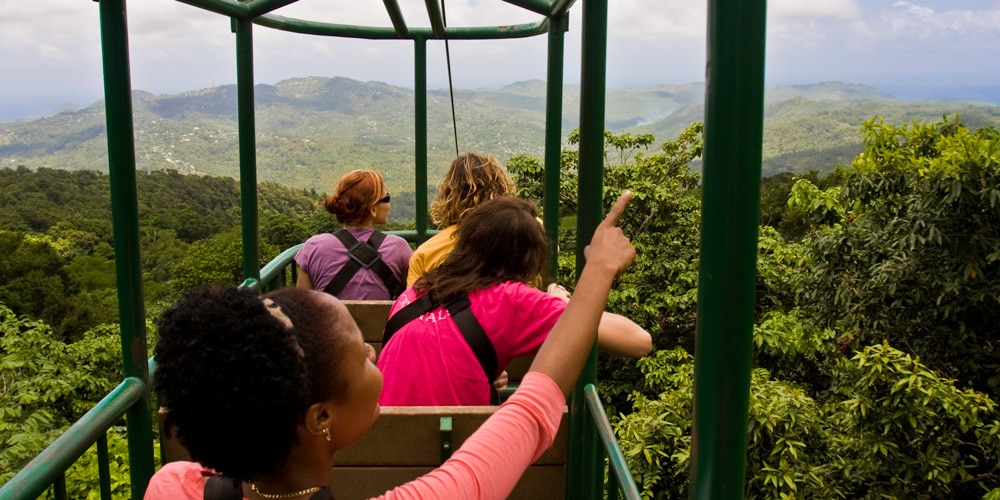 5/11

 Aerial Tram Tour

Enjoy a bird's eye view of the luscious rainforest of St Lucia with the Aerial Tram Tour. The tram transports guests to an ecological park located in St Lucia's rainforest reserve. Your tour guide is an experienced nature interpreter who will point out the calls of the hummingbirds and the giant ferns, teaching your kids about St Lucia's fascinating habitats and vegetation. If you're feeling really brave, you can try the canopy zipwire. The tram tour is suitable for all ages, so even your tiny ones can enjoy the tropics from a height. Don't miss out on the chance to enjoy the incredible panoramic view of the island's natural beauty.

Price: £61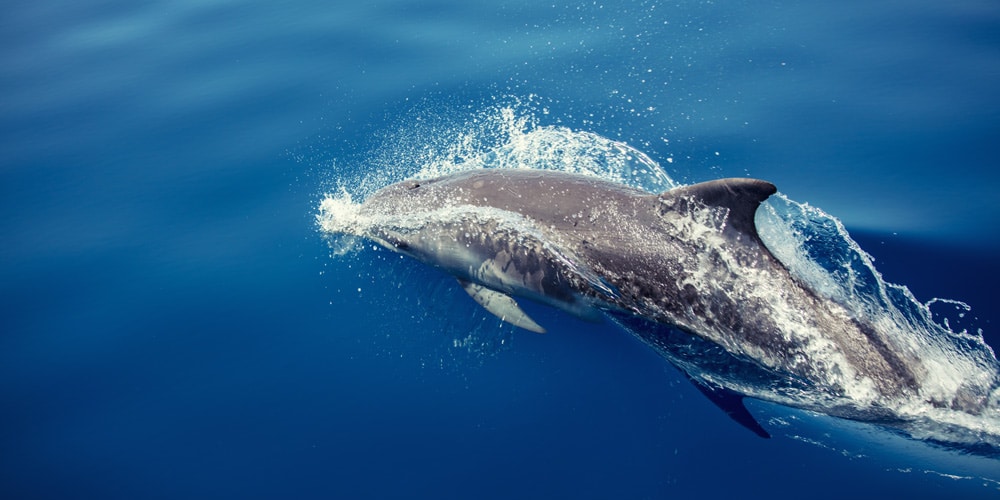 4/11

Whale and Dolphin watching

See whales and dolphins in their natural habitats on Hackshaws whale-watching cruise. A far cry from a cramped aquarium, you'll witness these incredible animals relishing their freedom and playing in vast wild waters. You'll sail past picturesque, quaint fishing villages on your way to deeper waters, soaking up more and more of St Lucia's beauty. Your kids will love looking out for sperm whales, humpback whales and dolphins. There's certainly no shortage of wildlife in the island's waters, with 25 varieties of whale and dolphin waiting to be spotted. 

Price: Adults £53; children 5-12 £39; children under 5 free

Find out more about Hackshaws Dolphin and Whale Watch Safari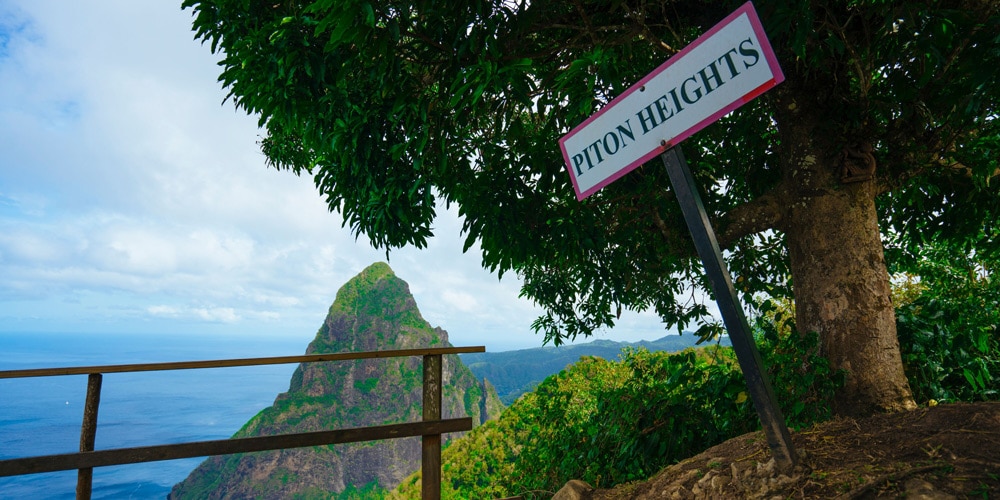 3/11

Tet Paul Nature Trail

If you have small children, you may not want to hike for hours up steep mountains, but don't let this deter you from the delights of St Lucia's nature trails. Tet Paul is one of the easiest hikes on the island. The walk takes around 40 minutes and offers incredible views. The unforgettable scenes of the sea, pitons and valleys will be among your proudest holiday pictures. You won't need hiking boots on this trail, but make sure your shoes are comfy. Take the trail at your own pace or, if you want a more informative experience, you can opt for a guide. Embarking on Tet Paul is a great opportunity to learn about vegetation and farming in the area, while taking in the breathtaking landscapes.

Price: £7.70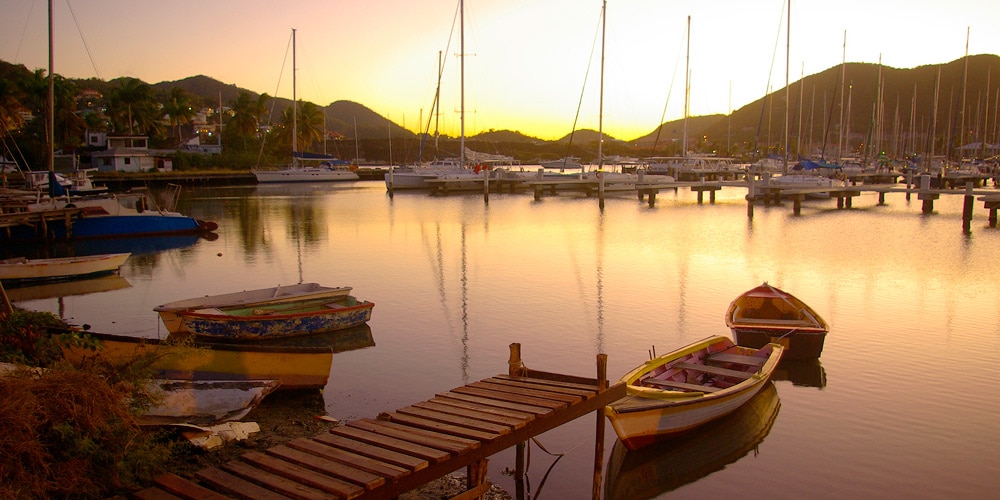 2/11
Rodney Bay Marina
Looking for a quick bite to eat after a busy day of sightseeing? There are plenty of places to get delicious and inexpensive food in Rodney Bay Marina while you chill out under a shaded umbrella overlooking the glistening water of the Marina. Café Olé offers refreshing smoothies – the perfect accompaniment to the hot Caribbean sun – as well as an extensive choice of made-to-order baguettes, wraps, paninis and salads. The cafe offers simple and light food, and caters well to fussy little eaters.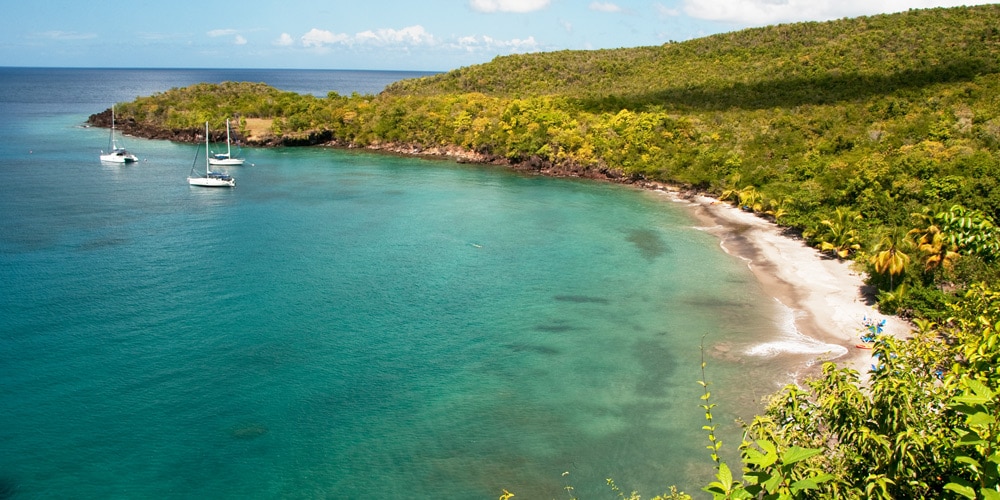 1/11

Snorkel at Anse Cochon beach 

The natural beauty of St Lucia's coastline is nothing short of awe-inspiring. The waters are so shallow and calm that even little ones can try some snorkelling with mummy and daddy. You don't need to dive deep to see all sorts of fascinating wildlife, such as blowfish, reef fish and intricate corals. There are several notable spots that are home to an array of wildlife, including Anse Chastenet, Anse de Pitons and Anse Cochon. Who knows, the kids might even find Nemo! If the water's not for you, there are excellent sandcastle building opportunities on the shore.