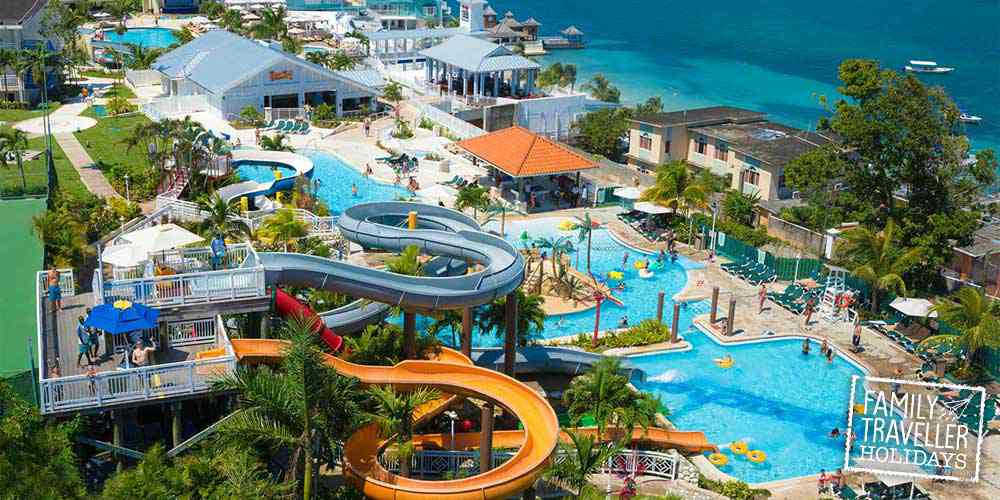 1/8

 Beaches Ocho Rios

★★★★

The four-star Beach Ocho Rios resort offers a spa, golf and waterpark with excellent facilities and accommodation for both adults and children. Each room includes a balcony, private bathroom, flat screen TV and air conditioning, while upgrades provide guests with an area for extra seating. Beaches Ocho Rios is ideal for young ones, offering both a kids and teens club, a purpose-built playground and pool for children, plus an extended Pirates Island Waterpark with 11 water slides. The area is also a popular location for golfers and snorkelers, as well as aficionados of darts and mini-golf. When it comes to food, the resort has six dining options, serving kids' menus and special diet meals on request.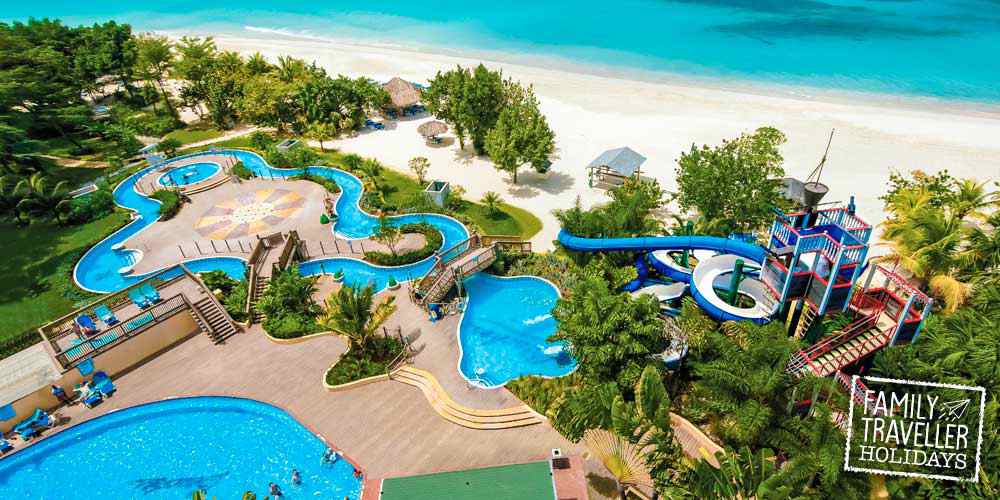 2/8

 Beaches Negril

★★★★

Occupying an exclusive spot along Negril's stunning seven-mile beach, Beaches Negril is an all-inclusive four-star resort and spa that provides guests with fantastic facilities, including a restaurant, water park, outdoor pool, sauna and 24-hour concierge. In the morning, families can choose between a continental or buffet breakfast, before embarking on a full-day of exciting activities, be it enjoying the slides at the on-site water park, snorkelling in turquoise waters, or trying their hand at mini-golf. The kids club at Beaches Negril provides supervised fun, giving adults the chance to relax on the white sand beach overlooked by the resort, or indulge in some quality treatment at the Red Lane Spa.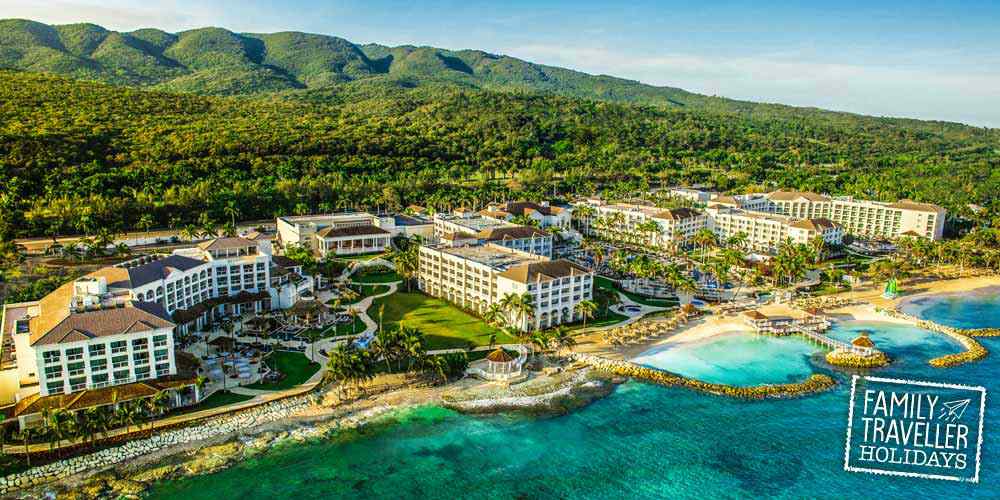 3/8

 Hilton Rose Hall Resort & Spa

★★★★

★

Formerly the site of an 18th-century sugar plantation, Hilton Rose Hall Resort & Spa is a family-friendly resort offering a fine selection of restaurants, water sports, child-orientated facilities and rooms with spectacular views over the Caribbean Sea. The hotel occupies a secluded position between a private beach and mountains, providing guests with plenty of engaging activities to enjoy, including water skiing, golf, snorkelling and scuba diving. Each room comes with a flat screen TV and free WiFi access, while there is also the option to upgrade to a suite with a private balcony. The daily kids club gives parents the opportunity to kick back and relax on the 'lazy river', or get the heart pumping with a spot of golf, tennis or swimming in Hilton Rose Hall Resort & Spa's exclusive swimming pool. There is a babysitting service on request.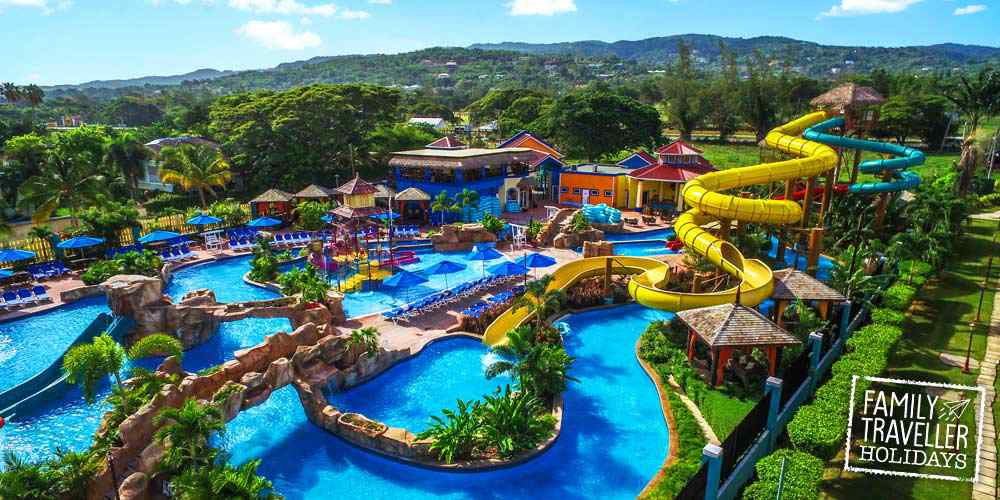 4/8

 Jewel Grande Montego Bay Resort & Spa

★★★★

★

Jewel Grande Montego Bay Resort & Spa combines luxury accommodation with exotic local culture to provide a stunning space where guests can enjoy everything the region has to offer, from unrivalled white sand beaches, to delectable dining, to a vast array of water sports. The dedicated kids club offers fun, age-specific activities to keep children entertained, while adults go and take full advantage of the Grande Spa with its 14 treatment rooms, or head over to use the two pools and fitness centre located on-site. Jewel Grande Montego Bay Resort & Spa is home to a range of different dishes from its selection of poolside restaurants, including Cricket's Beach Grill, which serves mouth-watering American dishes, and Pierside Restaurant, specialising in Asian cuisine. All 217 of the hotel's rooms provide deep-soaking baths, complimentary WiFi, air conditioning and flatscreen TVs.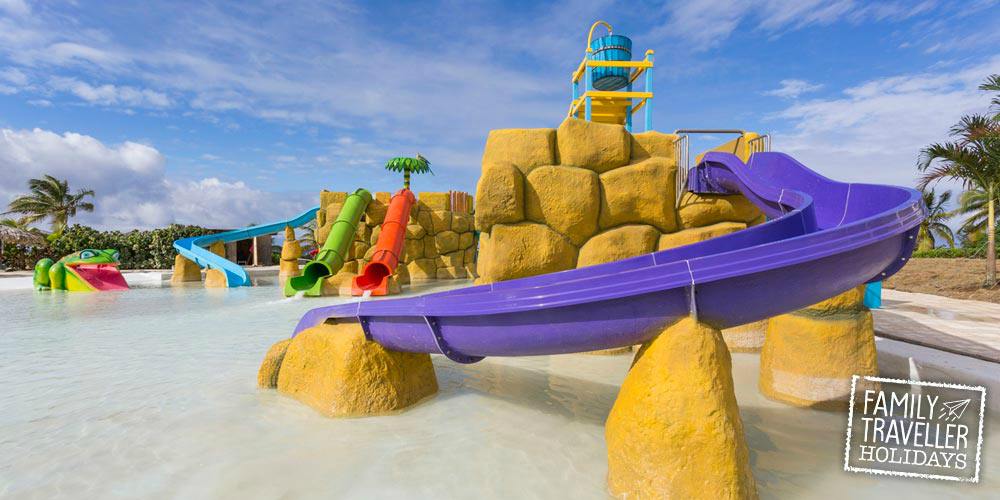 5/8

 Grand Palladium Jamaica Resort & Spa

★★★★

★

Five-star Grand Palladium Jamaica Resort & Spa is home to one of the largest swimming pools in the Caribbean, and has become a top choice amongst families who come to enjoy the hotel's spacious grounds, interesting architecture, and range of sport and leisure activities. Authentic Jamaican cuisine that incorporates the region's specialities, as well as Italian, Mediterranean, Asian and American dishes can all be found at the hotel's six restaurants, while those with a preference for seafood can head over to the Tusty Crab restaurant, situated just a stone's throw away. There is also an on-site water park, and a kids club offering daily supervised activities for children. Each room provides ocean views, air conditioning, private balcony and minibar, as well as a flatscreen TV and free internet access.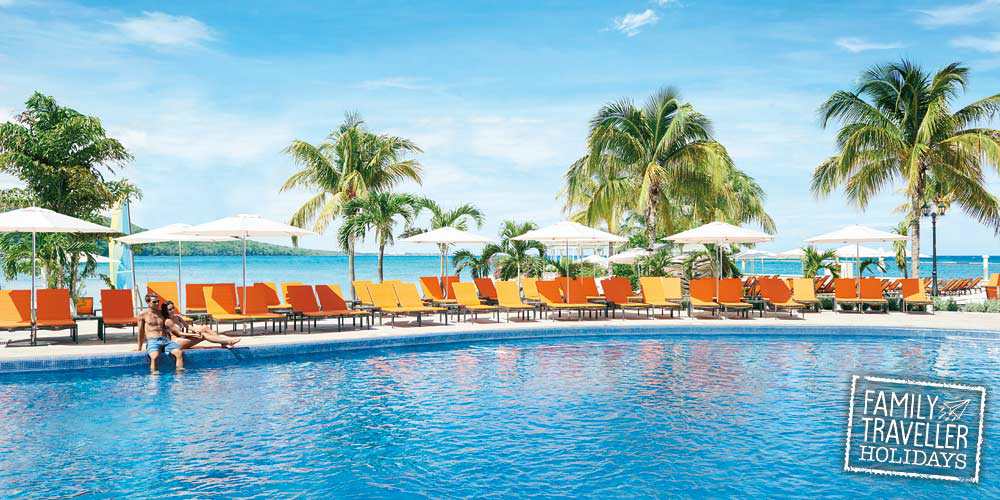 6/8

 Moon Palace Jamaica

★★★★

★

Four swimming pools, four restaurants and six bars make up the Moon Palace Jamaica, which occupies an highly coveted position on the largest private beach in Ocho Rios. Nearly all of its 705 rooms have exceptional views across the Caribbean sea, while each one comes equipped with a private bathroom, satellite TV, air conditioning, minibar and free WiFi. The kids club provides daily supervision for specific age groups, and the dedicated pool with FlowRider wave simulator offers children plenty of entertainment during the day. In addition, there are a wide-range of outdoor activities for adults to enjoy in the surrounding region, including cycling, fishing and snorkelling. However, Moon Palace Jamaica sets itself apart from the competition with its dolphinarium, which gives guests the opportunity to swim with dolphins at an additional cost.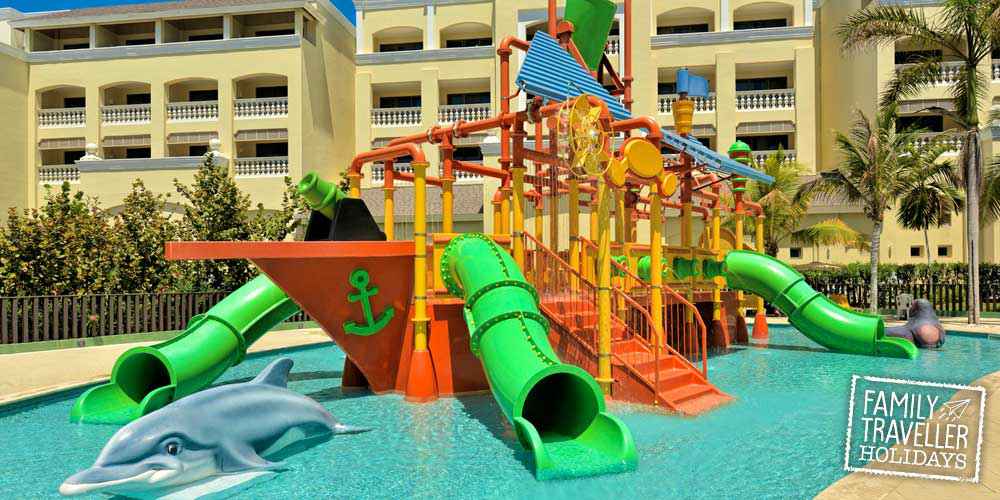 7/8

 Iberostar Selection Rose Hall Suites

★★★★

★

With direct access to one of Jamaica's most exclusive private beaches, Iberostar Selection Rose Hall Suites has become a popular choice among families in search of a five-star luxury getaway combined with lots of exciting water activities. The two outdoor swimming pools, sauna and fitness centre are all situated in a family-friendly environment, while activities are wide-ranging, from snorkelling and sailing to scuba diving and golf lessons. There are plenty of facilities to keep the young ones entertained, including a splash pool and themed parties, as well as a kids club offering supervised activities for four to 12 year olds. Iberostar Selection Rose Hall Suites boast rooms with spectacular ocean views thanks to its location right on the seafront, in addition to private bathroom, air conditioning, free WiFi, minibar and in-room childcare for an additional charge.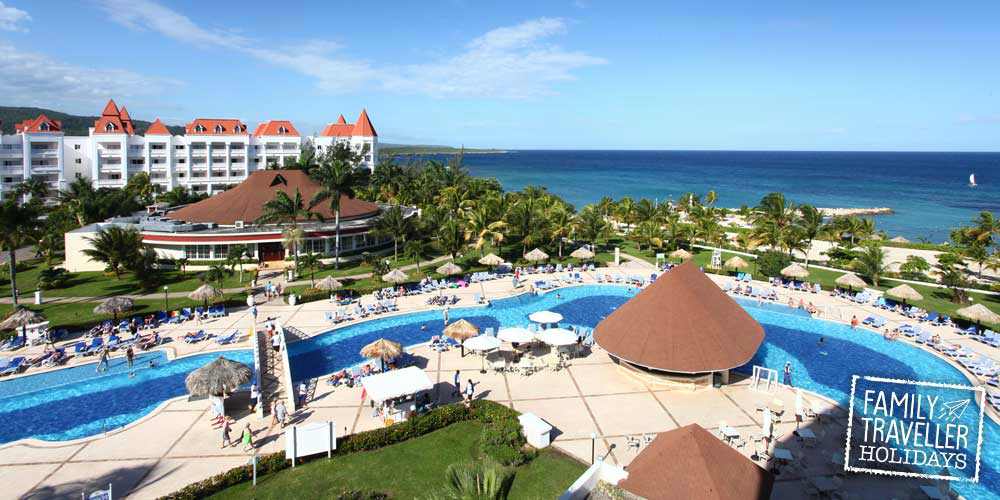 8/8

 Grand Bahia Principe Jamaica

★★★★

★

Boasting three pools, six restaurants, four bars and 850 rooms, Grand Bahia Principe Jamaica offers its guests the chance to experience a slice of Caribbean culture, with its selection of delicious cuisine, tropical parties and breathtaking landscapes. Its seafront location means that activities are wide-ranging and readily available, including kayaking, snorkelling, rowing, canoeing, volleyball and beach football. Entertainment options for children are impressive, from a dedicated kids pool and waterpark, to live performances and daily club for ages four to 12. In the evening, families can enjoy food from one of Grand Bahia Principe Jamaica's speciality restaurants, before heading to the ampitheatre for an a spell-binding show of Caribbean culture, or dancing the night away at the Ska Disco.