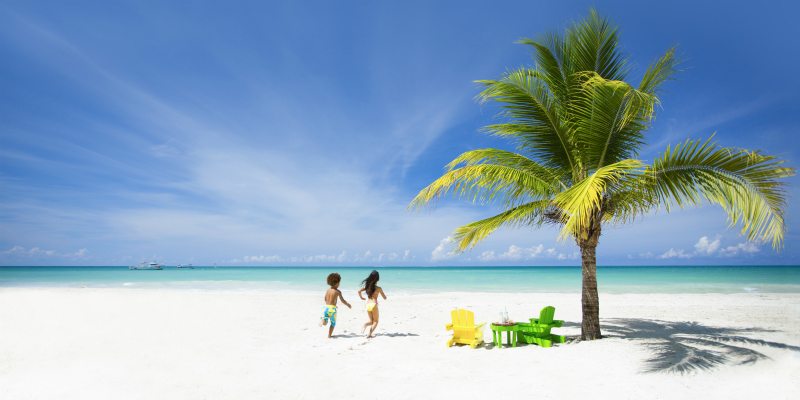 The first sight of Negril's sugary white Seven Mile Beach is unlikely to have you down on your knees with a tape measure. But, if you did manage to ignore the flawless sands, bluest Caribbean seas and lushly planted palm trees stretching back to the distant hills. And you were feeling particularly accurate, instead of simply soothed into the cool Jamaican holiday vibe: you'd find award-drenched Seven Mile Beach is really only just over four miles long.
Disappointed? Don't be. The three mile discrepancy is just another quaint Negril eccentricity and only makes the beachy town on the very western tip of Jamaica all the more loveable. As Caribbean resorts go, this one teeters between secluded and very secluded. A dense, green, sheltering plantation doesn't hurt. And, believe it or not, the most famous beach is quite long enough to absorb discretely spaced sun loungers, lazing families and energetic kids without coming anywhere close to crowded.
But, Negril isn't entirely unknown. It gets namechecked briefly in Ian Fleming's 'The Man With the Golden Gun' (perfect retro reading on the sand, with a martini: shaken not stirred, obviously). You'll also hear tales of early hippy sunseekers arriving here by boat in the 1960s and having to wade ashore. Appropriate beachwear back then almost certainly involved Coachella-style wildflower wreaths and the only available 'resort' accommodation ran to pitching tents in local gardens.
The 'resort for everyone' where everything's included
Easy-going's still the Negril way, even if the places to stay have become considerably less basic. You won't find much camping out at Beaches Negril Resort & Spa, but just about everything else you could ever want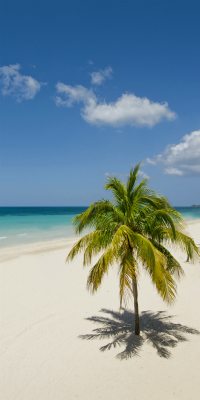 in an all-inclusive family holiday is covered: up to and including the most coveted spot on Seven Mile Beach's widest stretch of sand and the fragrant embrace of immense and lush tropical gardens.
The resort's west-facing for prime sunset views and, as happy coincidence would have it, Jamaica's biggest reefs is just offshore: great for dives or sheltered, gentle swimming and snorkelling. It's up to you how laid back or all-out-active you want to get, but nowhere else in the Caribbean has such a wide choice of water sports: motorised, non-motorised and free for the asking. The resort's also Green PADI Certified and diving's included in all-inclusive. Zero entry pools are almost as lounge around and relaxed as Red Lane Spa. And when the mood's wind-up not down, Pirate Island Waterpark's beachfront and packed with buccaneering rides, chutes and slides.
This most laid back of Caribbean resorts doesn't do much in the way of demanding, although you might find it a bit of a challenge deciding between huge oceanfront villas, enormous family suites and penthouses with personal butlers. And if you want to pay equal attention to all nine restaurants and six radically different bars, don't expect to have much time left for anything else.
Beach-loving kids, from babies to teens, love Beaches Negril
Zero's the right age to start having fun here and it's non-stop right up to notoriously difficult to please teens: fantastic childcare is just one of the reasons Beaches Negril lists in the World's Top 25 Family Hotels. Younger kids can stroll down Sesame Street with their favourite characters or hang out at Kids Camp; pre-teens don't know the meaning of excitement until they've met Beaches' staffers; and, if 13 to 18 year olds are looking forward to being 'unimpressed' by everything, some serious disappointment is coming their way.
Beaches Negril is also the first Caribbean resort to have IBCCES certified Autism-Friendly Kids Camps, Julia joins the Sesame Street team in autumn 2017 and there's an inclusive play and care programme for children with special-needs.
Step off the beach and right into astonishing Jamaica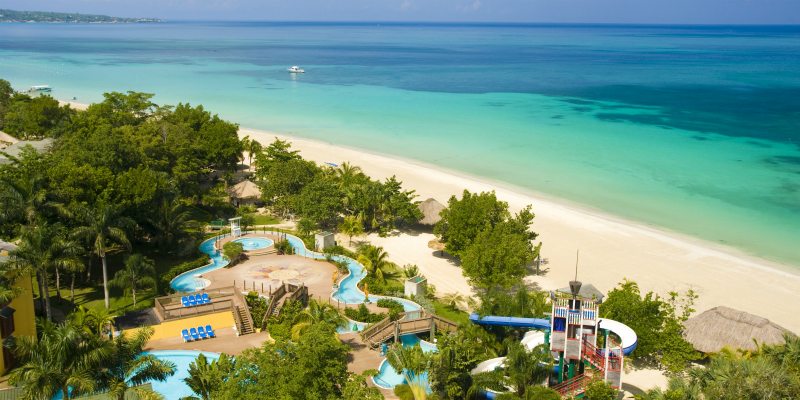 Cocooning families in the lap of excessive holiday fun is clearly Beaches' credo. But you're in Jamaica, so you might want to go explore a little bit beyond the beach, even just for the day.
There's a road out of Negril now and if you're in the mood to travel, Montego Bay's just an hour's drive from Seven Mile Beach. Ziplining devotees can speed through the Jamaican jungle here. Gentler types might prefer surf 'n' turf horse riding in the sea. Or you could open up horizons completely and head to Ocho Rios for famously daring Dunn's River Falls – as good as a rite of passage for bold teens round these parts.
Just east of Negril, Roaring River Park's set in an 18th century sugar plantation and it's part natural splendour, part all-out action, so earmark quite a few hours for this adventure. Even closer to home, Negril Royal Palm Reserve is one of Jamaica's eco-icons and a must-do day out for spotting wildlife, birds and wandering around aimlessly – like you only really get to do on holiday.
For a complete contrast to absolute serenity on local beaches, Negril also happens to be home to Kool Runnings: Jamaica's largest adventure and waterpark. Try traditional bamboo rafting to keep the vibe tranquil, ramp up the energy with family paintball tournaments or go full frenzy on the fearsome slide line up. Names like Lightning Bolt and Conqueror make no bones about their true character. But don't let sweet-sounding 'kickpuppalick' fool you: it's patois for somersault and involves a 40 foot plunge into a splash-bowl, not even slightly cute on the way down.
And if you want neon cocktails, mighty fine jerk chicken and extreme spectator sports, Rick's Café is a bit of a Negril legend for all three. A perfect romantic sunset spot, but better known for its crazy-as-crazy cliff-diving twenty-somethings, Rick's is the deal with teenagers. But you might want to establish a few ground rules before you go: refusing to let your baby (however old they are) plunge off a clifftop into the Caribbean, does not make you a boring old parent.
There's no denying, Seven Mile Beach is not as long as billed. But if you can move past that minor quibble, everything else about Beaches Negril Resort & Spa exceeds expectation entirely. And honestly: it's very hard to tell the difference between four and seven miles of immaculate Caribbean sand when the sun's shining, kids are ecstatic and being completely carefree is the only concern you have.