Family Traveller's CEO Andrew Dent visited Beaches Turks and Caicos Resort Villages and Spa in February 2021 to find out for himself why the World Travel Awards have named Beaches Resorts the 'World's Leading All-Inclusive Company' for the past 23 years.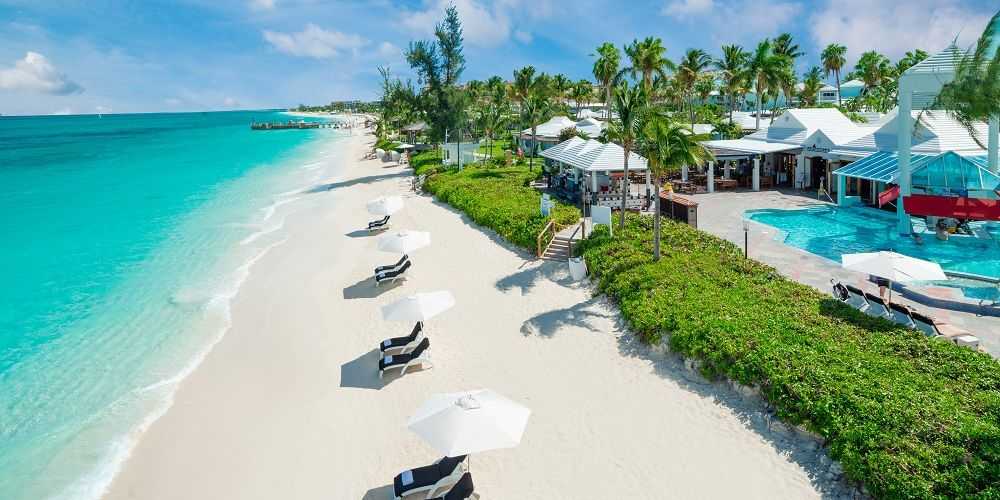 So after months of being locked down in the UK, how does a break on an exotic Caribbean island sound? How about if we throw in the 'world's best beach' and some of the most aqua blue water you have ever seen? To top it off you can stay at one of the most comprehensive all-inclusive hotels in the world.  Step forward Beaches Turks and Caicos Resort Villages and Spa.
For those readers unfamiliar with the Turks and Caicos islands, they are a British protectorate of 40 idyllic sandbar islands, situated a two hour flight from Antigua, which itself is about nine hours from London. Grand Turk is the largest island by size, but Providenciales (Provo to the locals) is the most populated and this is where you will find the Beaches Resort set on the aforementioned, Grace Bay Beach.
Let's tackle this claim of the 'world's best beach' right away.  As a travel journalist, I have had the opportunity to visit hundreds of beaches all over the world. I am happy to lay my professional reputation on the line and confirm that Grace Bay beach is in my top three globally. It is an extraordinary stretch of sand and water. Grace Bay Beach alone, is worth price of your stay at Beaches Turks and Caicos but, believe me, there is so much more to come.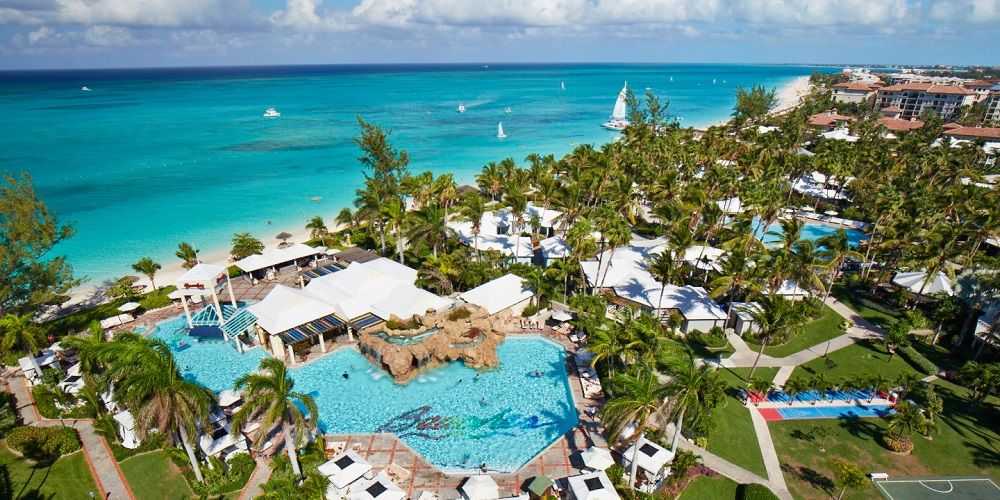 Beaches Turks and Caicos is made for family holidays
Beaches is the family version of the Caribbean 'Sandals Resorts' brand. The idea is, once you have graduated through the couples/ honeymoon 'Sandals Resorts' you end up here with the kids. (Note: it is not families only and is perfect for an adults-only trip too). This place is so good, we met several guests who were on their fourth or fifth consecutive holiday to this particular resort. Surely there is no better validation? Just for the record it is not a cheap holiday. But I can assure you it is fantastic value and all in all a good way to experience the Turks and Caicos, which are famously expensive islands.
At Beaches you can do everything, or nothing, depending on your mood. My guess is you will end up doing most things. But you will need to plan your stay to achieve that. Do you need to leave the resort? Not really. The Turks are essentially all about the beach and the water and you have these on your doorstep. There are some excursions to book but I don't believe it is necessary.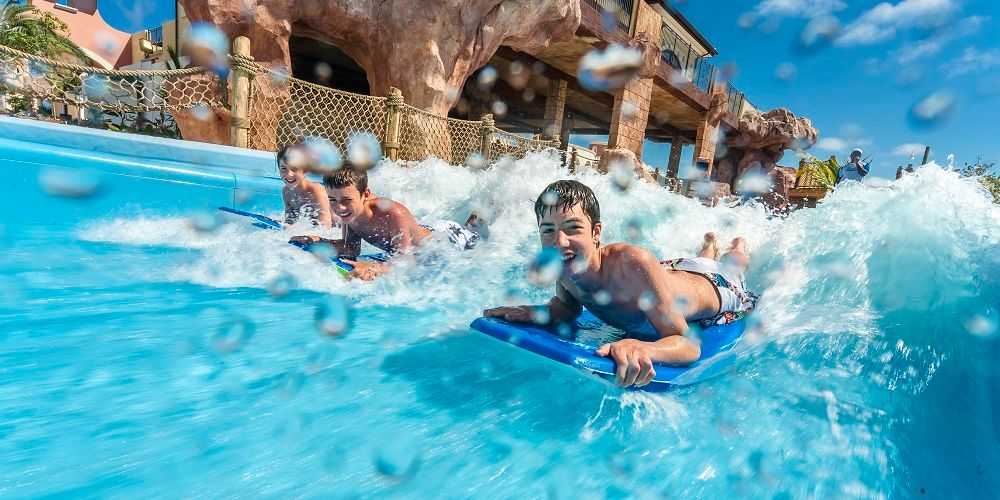 Beaches Turks and Caicos is the kid-friendly Caribbean adventure
The resort is big and when full could have as many as 3,000 guests. But it is set across large and beautiful grounds. There are huge swimming pools at the Italian and French Villages with many smaller and more intimate pools dotted around the premises.
Right in the centre of the resort is the Pirates Island Waterpark, which has no fewer than eight water slides and the Caribbean's first surf simulator. Kids will happily spend hours here during the day. Let them. It is fabulous. There are lifeguards on duty and plenty of food and drink options right there, including an ice cream van and a mac and cheese truck. It should also be noted that you will see many parents waiting for their turn to go down the larger and faster flumes. Yes, guilty as charged.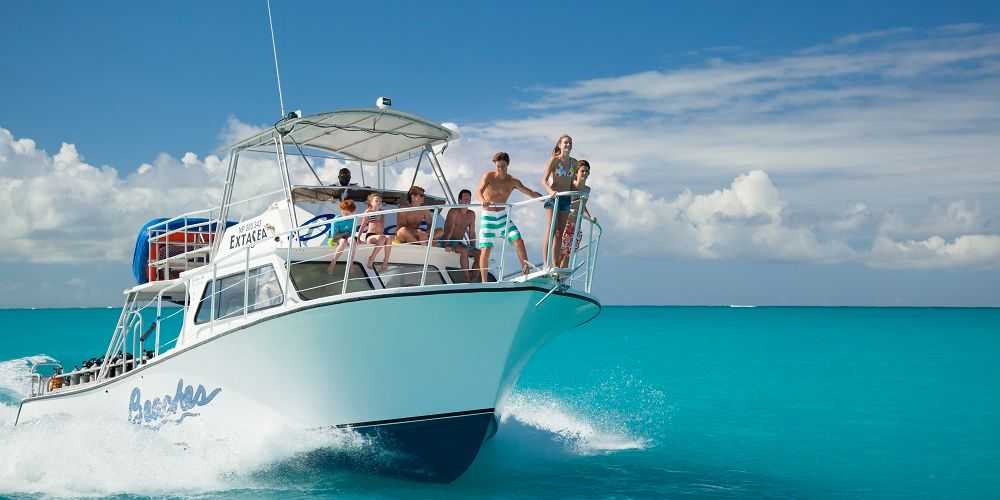 Beaches Turks and Caicos leads the Caribbean for water sports
Let's talk about water sports now. The Turks and Caicos are famous for scuba diving and Beaches doesn't disappoint here. In fact they have completed over 100,000 PADI certifications at this resort alone. It is the perfect place to take a resort based introduction course. Even with no prior experience you can take a 3-hour program and be diving that same day. The equipment and the instructors are top of the line, as are the 40 or more dive sites located a short trip from the resort. The introductory course fee is only £86, so this is possibly the best place to get the whole family enjoying scuba. Of course, if someone wants to sit out they have everything else to keep themselves busy.
If you are not up for scuba, you can still get under the sea via daily snorkelling trips. Remember to sign up the day before as social distancing measures mean places are more limited than usual and these trips get booked up quickly, for obvious reasons. A mere 10 minute boat ride from the hotel is a reef that offers an excellent array of fish and coral. The trip is about an hour in total with a plentiful 30 minutes under the water. It is a perfect excursion for kids and easy entry to snorkelling for younger ones. It is also a short walk down the beach to the famous Coral Gardens snorkelling spot. It is worth checking out, but the resort snorkelling trip is better.
Another family favourite are the small sail boats which you can just stroll up and take out for as long as you want. The Hobie Cats are very stable and the water and wind off the hotel provides a safe set up for introducing kids to sailing. If you prefer not to sail yourself, a member of the water sports team at Beaches Turks and Caicos will happily take you on a cruise round the bay. And for another tranquil experience, there are kayaks and paddleboards available too.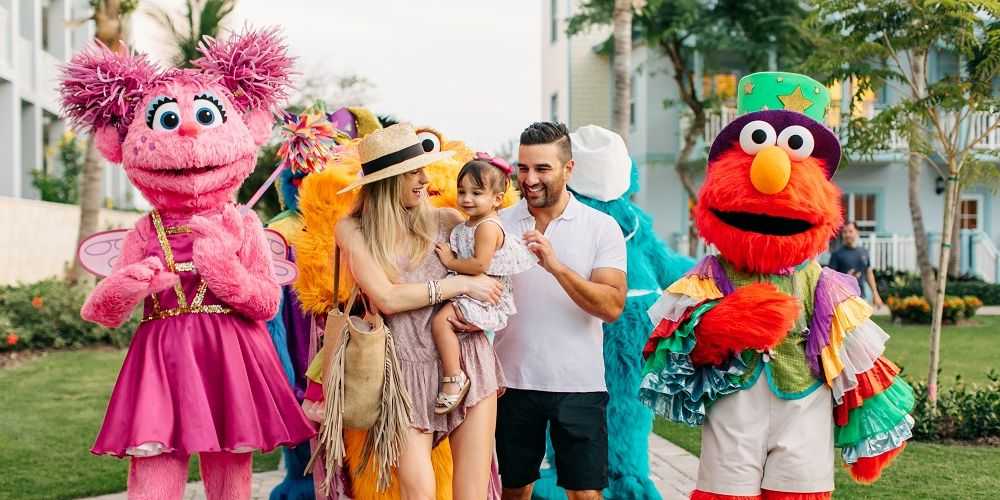 Beaches Turks and Caicos really take care of everyone
There is plenty of opportunity to leave the kids with the wonderful staff if you and your partner want some alone time. During the day there are various kids programs that cater for all ages from infant through toddler all the way to teenagers.  There is a healthy mix of sporty stuff, educational stuff, arts and crafts, music, nightclubs and even an Xbox Lounge. It is quite possible you may never see your kids from morning to dusk. Even after dusk it is possible to hire private childcare at a very reasonable £14 per hour. Which several people we spoke to at the resort noted was cheaper than it is at home.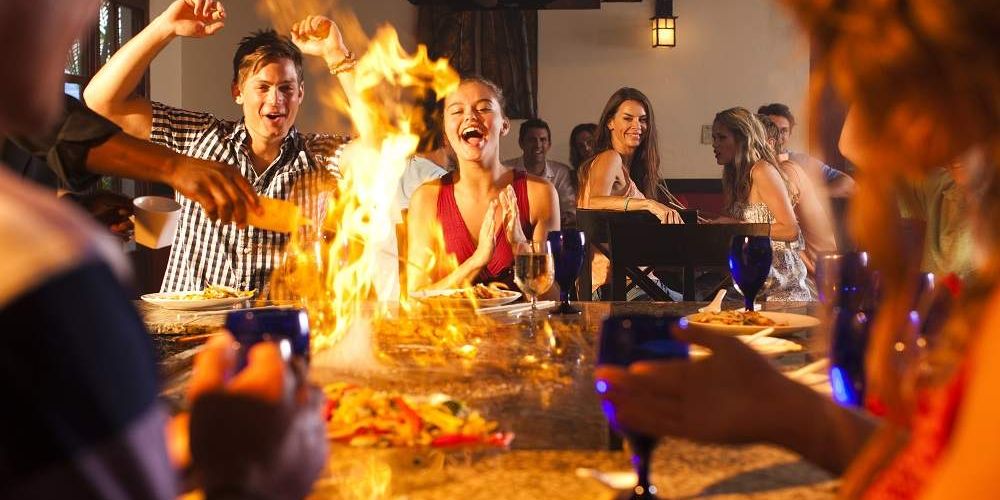 Choose from 21 restaurants and snack bars at Beaches Turks and Caicos
Planning your dining schedule is possibly the most taxing thing you will be charged with during your stay. There are no fewer than 21 restaurants and snack bars at Beaches Turks and Caicos. Everything from casual pizza to fancy French and Asian fusion. Our favourite for lunch was the beach side Jerk Shack.  Here you are served up authentic Caribbean jerk chicken and fish wrapped in banana leaves.  In the evening you have so much choice, but Kimonos with its Teppanyaki style cooking in front of you is a lot of fun for the family. Also be sure to try the English Pub (one of the best sticky toffee puddings in or out of the UK) and Schooners for fresh seafood.  Of course with the all-inclusive nature of the resort the pressure is off in terms of thinking of the bill. So go ahead and have another glass of wine, or even go to a different restaurant for dessert.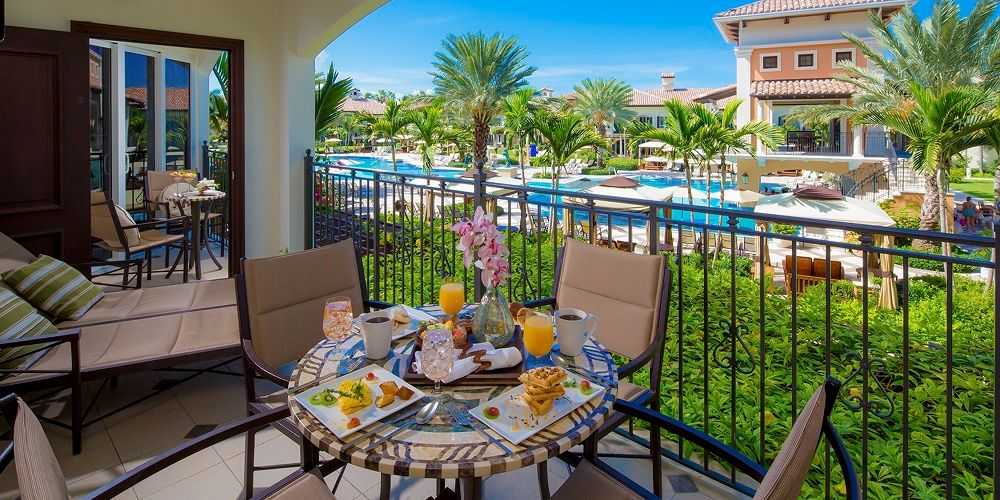 Accommodation designed with families of every size in mind
With respect to the accommodation, the resort is built around four distinct villages: the original Italian and Caribbean villages and the newer French and Key West Villages. There are dizzying arrays of lodging options, which include: suites; Butler Service; seaside rooms; walk-out-into garden rooms; two bedrooms and three bedrooms, right up to private residences with your own pool. It is probably best to speak to one of the call centre team ahead of a visit to discuss what is best for your group. Whatever you do decide on you will be impressed. If possible try the Butler Service option. It helps to have a friendly guy in your corner to navigate the resort and get you the excursion and restaurant bookings you want when the resort becomes busy.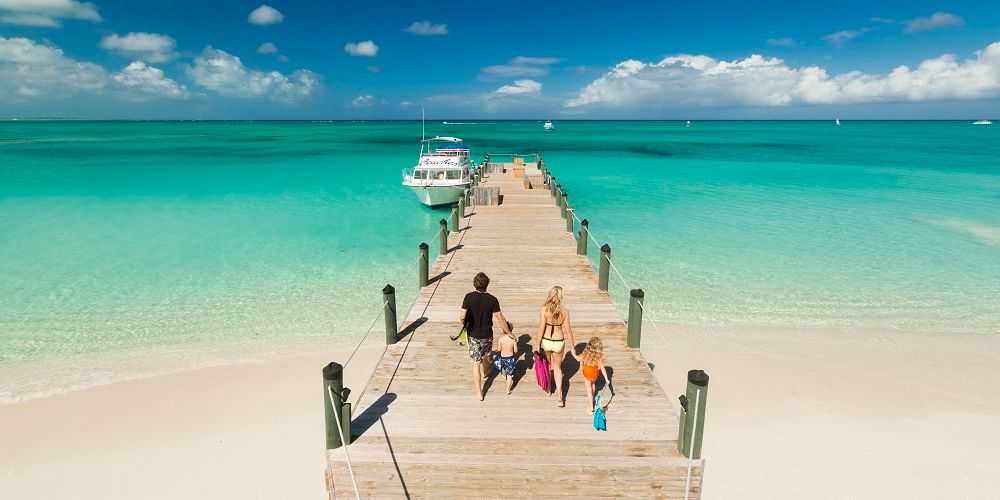 Beaches Turks and Caicos take Covid-safe holidays seriously
We visited shortly after the resort reopened from its Covid shut down. It was clear at all times how much emphasis the staff were putting on safety and social distancing. They were firm but friendly to ensure that masks were being worn in communal areas and hands were sanitised at every opportunity. We felt safe at every turn. They have now set up free on site Covid tests for guests who require them for re-entry to their home country.
This place is as close as you can get to the perfect family friendly holiday experience. Sure, it is a big resort, but with so much space and so many swimming pools and restaurants you can dip in and out as you wish. The all-inclusive style means relaxation for all concerned. Oh, and there is that beach.
Go, you won't regret it.
Fact Box
A seven-night stay for two adults and up to two children at Beaches Turks & Caicos Resort Villages & Spa in a French Village Luxury Room Double costs from £2,919 per adult and £714 per child in October half term 2021. Price includes Luxury Included® (all-inclusive) accommodation including complimentary meals, snacks, drinks, land and water sports and more, return economy flights with British Airways from London Gatwick Airport and resort transfers. Price is valid for travel on 24th October 2021. Pricing is subject to availability and change. For more information on Beaches Resorts or to book visit www.beaches.co.uk or call 0800 597 0002.
Don't forget to follow Family Traveller on Instagram and Facebook and share your family holiday ideas and travel inspiration – or just say 'hi'.