Sponsored Content
Beaches Resorts are the world's most awarded family all-inclusive Caribbean resorts. They're also the most generous, including just about everything right up to all water sports, which is particularly indulgent, considering they have the largest water sport operation in the Caribbean. And if you dive, scuba diving is included in their all-inclusive holidays too, and PADI recently placed Beaches dive operation in the Western Hemisphere's Top Five.
But if that doesn't make a family holiday in Jamaica or Turks & Caicos – with nothing to think about except having fun – sound tempting enough, there's more. Book a 2019 holiday at any Beaches Resort and you can save up to 45% on family rooms and suites. Plus, if you book before 8 January 2019 you can enjoy up to £200 extra off your booking, so here are eight of the top ways Beaches' all-inclusive offers more of everything for everyone to help you decide.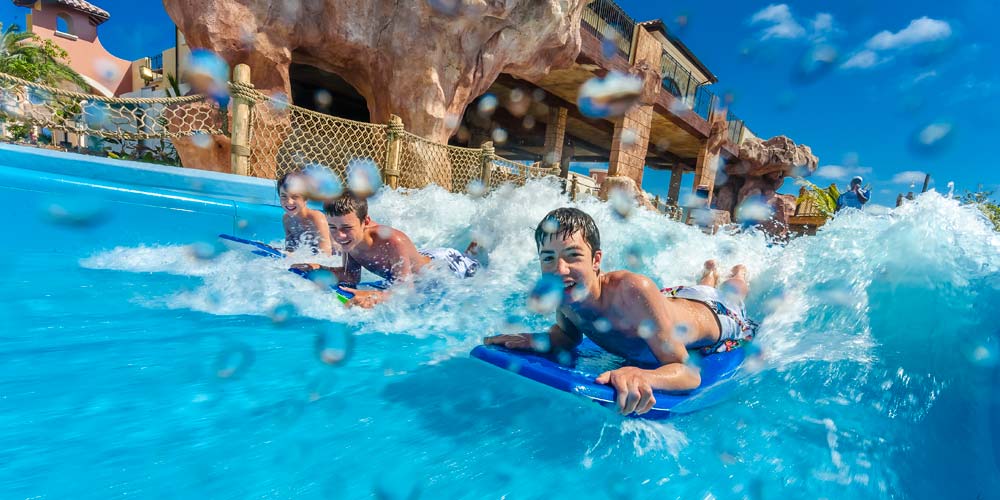 8.

More thrills for families at Pirate Island Waterparks

Beaches Resorts have the best waterparks in the entire Caribbean. Forget half-hearted chutes and a few inflatables, Pirate Island Waterparks are the real deal. For a start, they're huge: think 45,000ft² and counting. Lazy Rivers meander for up to 650 feet; slides are satisfyingly tall and twisty, and new thrills are being added all the time. Plus, the Pirate Island Waterpark in Turks & Caicos is the only resort with a Surf Simulator, so kids can hang-ten any time without hanging about for waves.

Kids Only Swim-Up Bars, 50s style diners and ice cream machines are just some of the cool re-fuelling options in between the slides, rides and rivers. And parents are welcome on Pirate Island too. In fact, more than welcome, since Beaches know exactly how many great holiday memories revolve round their fabulous waterparks.
7.

More fun for kids on Sesame Street®

When kids aren't spending time with you at Beaches Resorts in the Caribbean, they'll be more than happy to hang out with the cast of Sesame Street®, who just happen to be in permanent residence and up for fun all-day-every-day.

This is another first for Beaches, and if you want some iconic holiday snaps, have your phone ready to capture star-struck wonder on kids' faces at the sight of Big Bird, Cookie Monster, Oscar the Grouch, Elmo and the rest of the crew.

In true Sesame Street® tradition, there's plenty of learning tucked in with the playing, and heaps of entertainment too: think character parades and cute-to-bits stage shows and you're on the right track.
Sesame Street® VIP Packages
Kids can now have their favourite Sesame Street® character read a bedtime story and tuck them in for the night or come have breakfast in the morning. You've a range of VIP Packages to choose from, awesome comes as standard, and they're an amazing way to celebrate a birthday – but really, any excuse will do.
Find out more about Sesame Street® at Beaches Resorts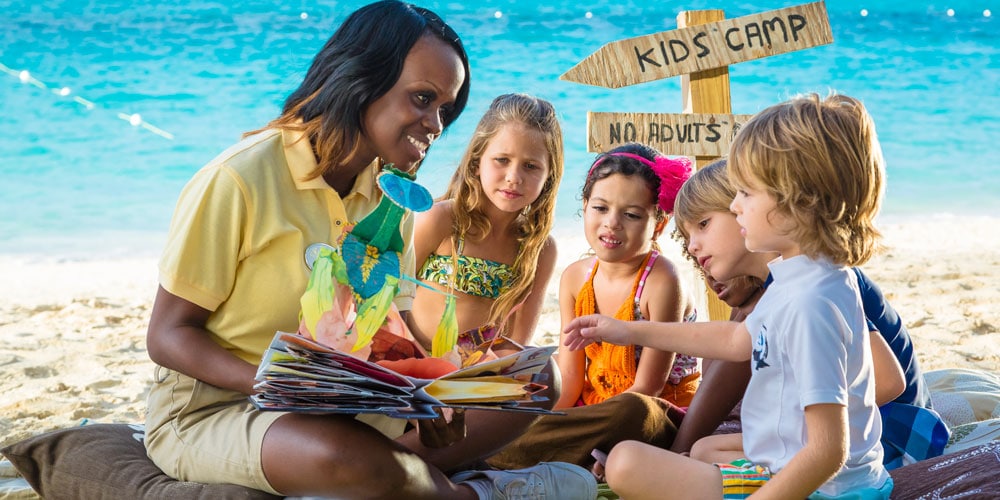 6.

More thoughtful Kids Camps for all ages, stages and needs

Baby, toddler, pre-teen or full-blown teenager? It doesn't matter what ages or stages your kids are at, Beaches Resorts will have exactly the right Kids Camp to keep them happy on holiday. They're also the first Autism-Friendly resorts in the Caribbean and exceed even the strict certification requirements with an extraordinary standard of care at every level.

Apart from endless activities, imaginative creative play, cool hang-out time and awesome adventures – all carefully honed to different age groups – Kids Camp's are run by qualified professionals, hand-picked by Beaches Resorts and fully trained in everything from first aid to water sport instruction. Plus, all resort nannies are certified by the International Nanny Association and have at least 2000 hours of active childcare experience before they take charge of your precious babies.
One-on-one Beaches Buddy Programme
Whether you need a break for a few hours or want a familiar presence all holiday long, The One-on-One Beaches Buddy Programme is ideal for kids with different needs. It's thoughtfully designed to provide individual attention for children in the safe, sensory-friendly environment you prefer, and again, all carers are fully qualified and highly experienced.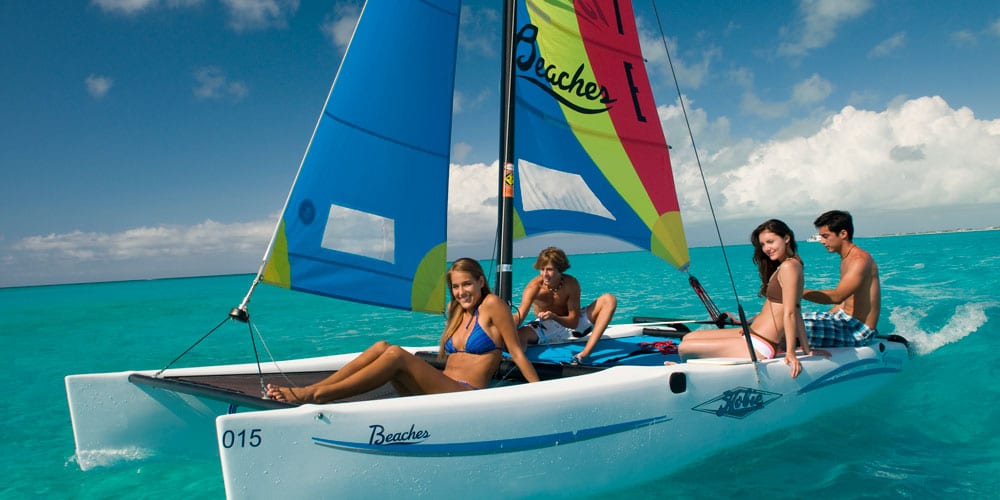 5.

More land and water sports than any other Caribbean resorts

Including all land and water sports in their all-inclusive family holidays is just one of many reasons why Beaches Resorts are known as the most generous in the Caribbean.

Just to add a bit more largesse, they also have the largest water sports' operation in the region, along with Green PADI certification and private fleets of speciality boats at every resort. Plus dedicated resort Aqua Centres make getting out on the water totally effortless.

On land you can try anything from floodlit tennis on flawless courts to beach volleyball, basketball or golf. And if you need instruction – on sea or land – just ask, Beaches have resident experts for just about every activity.
PADI certified scuba diving included in all-inclusive
Beaches Resorts' dive operations have been voted among the Top 5 in the Western Hemisphere by PADI. Which is extra good news for families, as they include scuba diving in their all-inclusive holidays and twice-a-day dives for certified divers.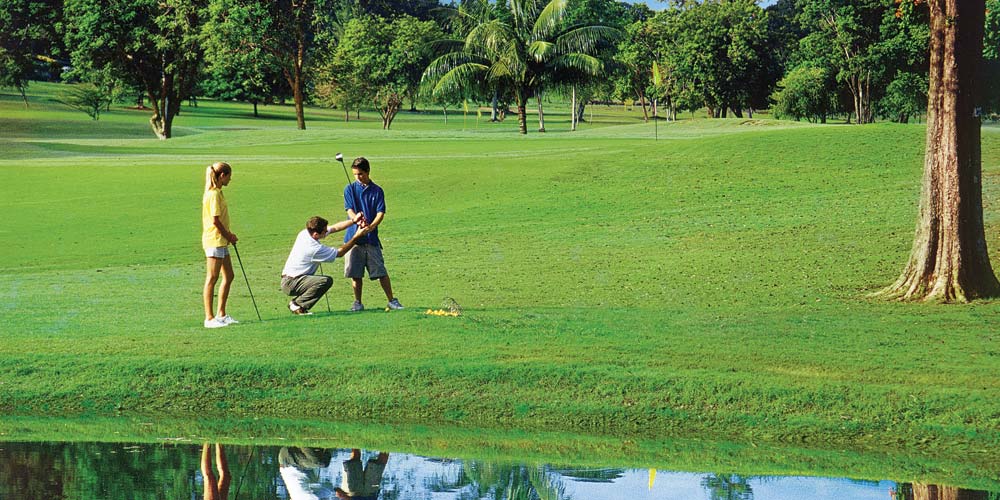 4.

More family entertainment all holiday long

Beaches brought Voila to the Caribbean two years ago and the mix of theatre, animation, dance, music, circus and comedy in every performance is as magical as ever. The storylines of Alice in Wonderland, Treasure Island and the Jungle Book may be familiar, but you will never have seen them interpreted with this type of verve, colour and utter showmanship. Definitely not just for kids, you can expect to be enthralled throughout too, and it's fortunate that there are several shows a week, because once is seldom enough.

Caribbean beach parties complete with limbo dancers and fire eaters are another regular feature at Beaches Resorts. There are Sesame Street® character parades for kids, teens have an early-evening club vibe at Liquid, and everyone loves Beaches brilliant bonfire parties.
Trench Town is the games room of kids' dreams
Other resorts say they have 'games rooms', but Beaches Resorts have the ultimate 'room' for kids. Trench Town is packed with stuff like electronic basketball and black-light laser hockey, vast flat-screen TVs and serious sound systems. And it looks great too: think laid-back Jamaican chill, the clue's in the name.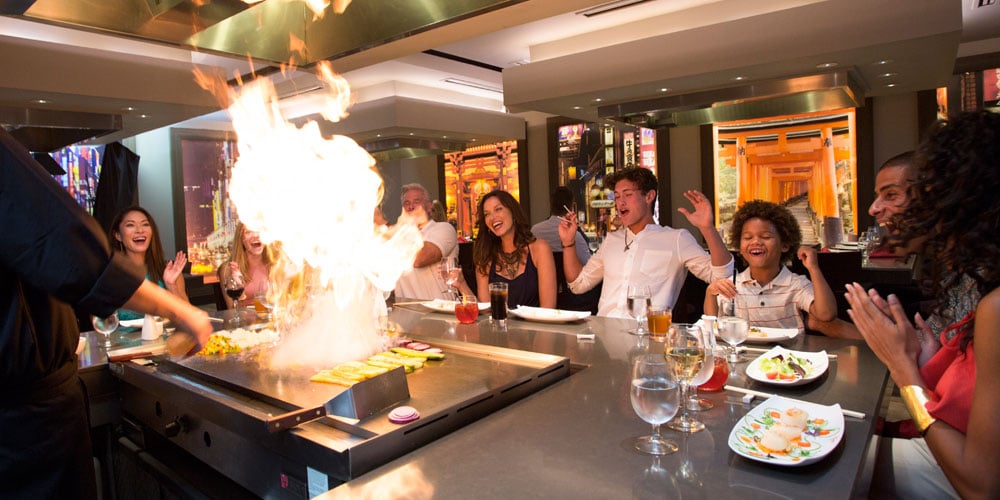 3.

More than 20 world cuisines at up to 21 different restaurants

Plan to expand your culinary horizons at Beaches Resorts, it's kind of unavoidable as each has up to 21 restaurants serving up to 22 different world cuisines. Naturally the Caribbean is well represented, but if you want to tour the globe gourmand style, you'll find everything from cute Parisian cafés to sleek sushi bars to tempt you.

Kids menus are masterful at persuading fussy young guests to eat up: it's amazing how well Beaches disguise fresh and healthy as plain old delicious. And if you've any special dietary requirements, just ask.
New Waterpark Food Trucks
Street food with a side order of waterpark is how Beaches Resorts do food trucks, so look out for their sweet vintage vans at Pirate Island. Then pull up and order anything from lavish ice creams to Mac Daddy artisan mac 'n' cheese all-ways.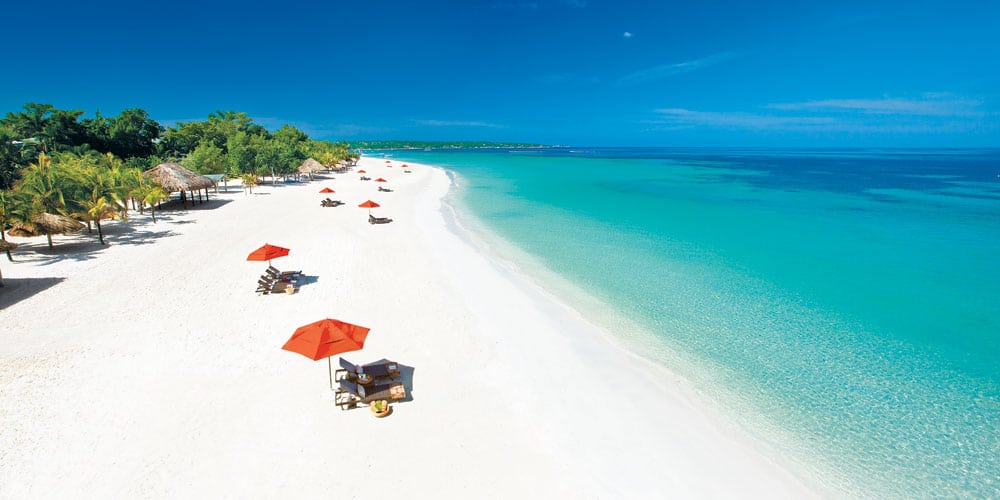 2.

More of the world's (officially) best beaches

If the name isn't enough of a hint, Beaches Resorts are big on beaches. So big in fact that all their resorts are actually beach-front to the point of being a few easy footsteps from some of the loveliest, whitest and longest sands in the Caribbean. Plus every beach comes with a coral reef off shore which makes for heavenly diving, and safe, calm swimming waters.

Beaches Negril in Jamaica sits on legendary Seven Mile Beach, one of the most beautifully secluded and longest beaches on the island – it's a whisper short of a full seven miles, but who's counting? Over on the north coast Beaches Ocho Rios pairs swathes of silvery sand with a backdrop of the lush greenery that makes Jamaica's northern coastline so spectacular. And Beaches Turks & Caicos in Providenciales simply lords it over Grace Bay, officially the loveliest beach in the world.
Even more for 2019: Beaches are now the most awarded all-inclusive resorts ever
Beaches picked up a raft of gongs again in 2018, making them officially the most awarded family all-inclusive resorts in the world, ever. And just as a little added bonus, Grace Bay was yet again voted #1 Best Beach in the World by Trip Advisor Traveller's Choice.
Find out more about family beaches at Beaches Resorts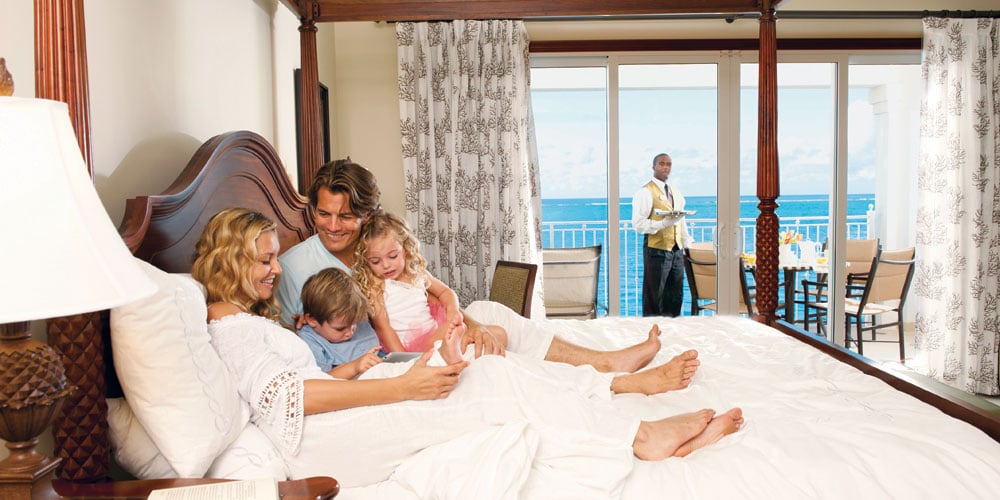 1.

More unique suites and rooms made just for families

Beaches' fantastically generous all-inclusive holidays include incredibly spacious and beautifully designed rooms and suites at every resort, created with families of all shapes and sizes in mind. Delightfully unique interiors and glorious views add even more individuality. And there are even enormous 'nests' which couldn't be more perfect if you're thinking about having a multi-gen Caribbean adventure – or you simply want loads more room to yourself.
Together Nest suites and villas sleep up to 14 in no-holds-barred opulence right down to personal Butler and Concierge services.
Key West Village Villas at Turks & Caicos come complete with private pools and dining terraces.
Enormous marble bathrooms give everyone a taste of lux in Family Suites at all resorts.
Penthouse Suites at Turks & Caicos have sensational sea views as a theme, and personal Butler service too.
Turks & Caicos' Seaside Villas are the right choice if you want laid-back island life woven through with unmistakable lux details.
Even more for 2019: Up to 45% off selected family rooms and suites
Book an all-inclusive family holiday at any of Beaches Caribbean Resorts and you can save up to 45% plus up to £200 per booking. And if you opt for Butler and Concierge level accommodation, you can save a further £125. Don't forget, to take advantage of these offers, you have to book before 8 January 2019.
Now you know Beaches are the world's most generous, and award-laden, all-inclusive Caribbean resorts, you just have to choose which one to try first. Have a closer look at Beaches in Jamaica or Turks & Caicos – and remember, if you book your family holiday before 8 January 2019, you can save up to 45%.
For additional £150 off per booking quote 12DAYS1 for stays of 7-9 nights. For additional £200 off per booking quote 12DAYS2 for stays of 10 nights or more. Promocode saving is applied on top of current savings and valid for new bookings made before midnight on 8 January '19. Savings of up to 45% apply when staying 3 nights or more. The discount is a reduction against the nightly rack rate. Savings of £125 are based on a minimum stay of 10 nights in a Concierge Level or Butler Elite Room/Suite. Valid for new bookings made before midnight on 5 Feb '19. Prices are subject to availability and can change or be withdrawn without notice. Full terms & conditions apply. Advertised savings apply to the accommodation portion of the holiday cost and are based on selected resorts, room categories and dates of travel, for travel up to 31 Oct '20. Prices are per person based on 2 people sharing a room on an all-inclusive basis (all meals, drinks, selected land and water sports) and include return economy flights with British Airways or Virgin Atlantic from London (unless otherwise stated). Offers are subject to availability and can be withdrawn without notice. Further terms and conditions – visit  www.beaches.co.uk