From swimming nose-to-nose with wild dolphins to soaring in a seaplane like 007, there are endless ways to enjoy the crystal-clear waters of the Bahamas (which, by the way, are at least 27°c all year round). Here are eight of our favourites: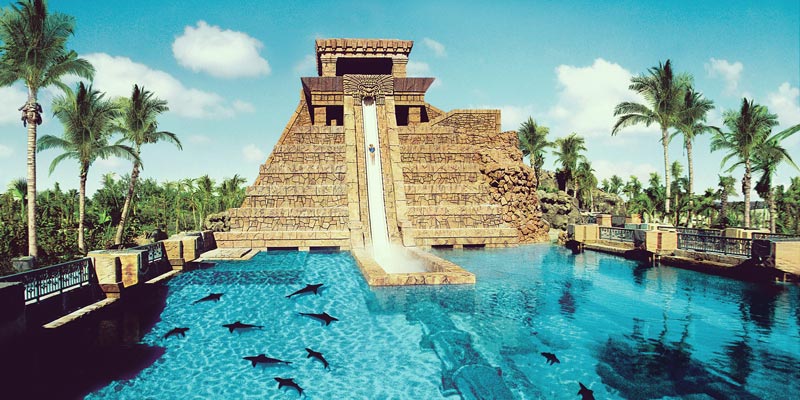 1/8

Slide through a shark tank

Whatever water-based activity you're dreaming of, chances are you'll find it at Atlantis on Paradise Island, the biggest resort in the Caribbean. Want to swim with dolphins? Sure. Fancy strolling along the bottom of a shark tank wearing a see-through astronaut's helmet? No problem. Atlantis invites you to get close to any manner of exotic and scary sealife and snorkel, swim, scuba and snuba (snorkel-come-scuba) to your heart's content.

Away from the aquariums, get your kicks on Atantis's brilliant rides. Buddy-up and drift down the lazy river in an inflatable double ring. Or, dare to ride the near vertical Mayan Temple slide (above) and come nose-to-nose with hammerhead sharks as you shoot through their tank in a see-through tube.

Reassuringly, all this is underpinned by a genuine commitment to looking after our oceans. A team of Atlantis Aquarists is always standing by to teach families about marine conservation, coral reefs and the colourful life that inhabits them.

2/8

 Discover curious islands

In the nineties and noughties anyone who's anyone in Hollywood bought an island in the Bahamas – and who can blame them? The likes of Johnny Depp, Julia Roberts and Shakira now all own their own piece of paradise, but the only celeb worth getting excited about is Nicolas Cage, who's proven himself to be a real good egg.

In 2006 the actor bought Leaf Cay island for nearly £5 million to build his dream development, only to discover that his island was already inhabited, by a colony of protected iguanas. Nic ceased development but, instead of selling his island, he kept the land and now gives free access to anyone who wants to visit the wrinkly reptiles.

If you take a trip out to Leaf Cay, be sure to take a few slices of fruit with you (pinch them from the hotel breakfast buffet that morning). The iguana are used to humans and are only too happy to waddle up to tourists for bites of juicy pineapple.

How to discover curious islands

A half-day tour with Exuma Water Sports includes a stop at Leaf Cay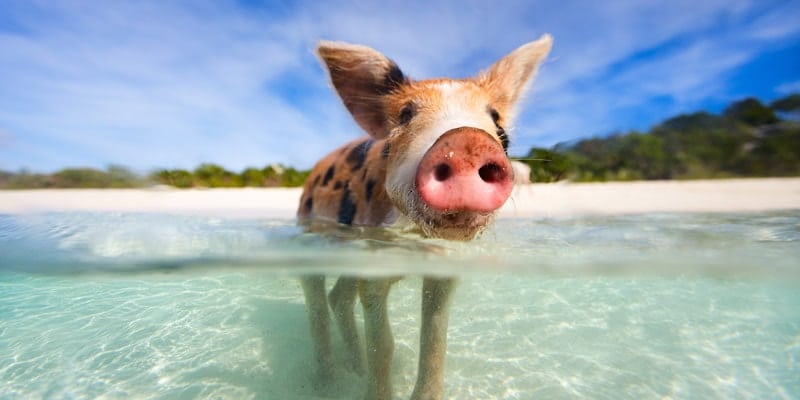 3/8

 Swim with pigs

Unsurprisingly, the Bahamas' clear seas are ideal for snorkelling, scuba and any number of kid-friendly water sports. But for a truly unique experience that you won't find anywhere else, seek out the shores of Big Major Cay.

Big Major Cay is in fact, tiny. This little island off Great Exuma is uninhabited by humans, but home to a family of wild pigs. No one knows how these hogs ended up on the island – local legends suggests they were left there by a sailor who planned to return and cook them, but never did, or that they are survivors of a pirate shipwreck.

However they got there, the colony of 20 or so pigs and piglets now live freely on the island, where they spend their days rooting on the beach, enjoying water from the island's fresh water springs and swimming in the sea. In the last ten years word has spread about the mysterious swimming beasts and savvy locals are cashing in. There are numerous tour operators only too happy to sail visitors out to Big Major Cay to splash about with the porky celebs.

How to swim with pigs:

Exuma Water Sports offers a brilliant half-day powerboat excursion. As well as feeding and swimming with the famous pigs, you'll walk on water at a sandbar in the middle of the ocean, see reef shark and stingrays, meet iguana on Nicolas Cage's island and snorkel at a colourful living reef. The half-day tour costs approximately £122 per person and snorkel gear (and pig food!) is provided.

Where to stay:

Grand Isle Resort, a luxury, but relaxed and family-friendly resort on Emerald Bay, Great Exuma
4/8

 Feed wild stingray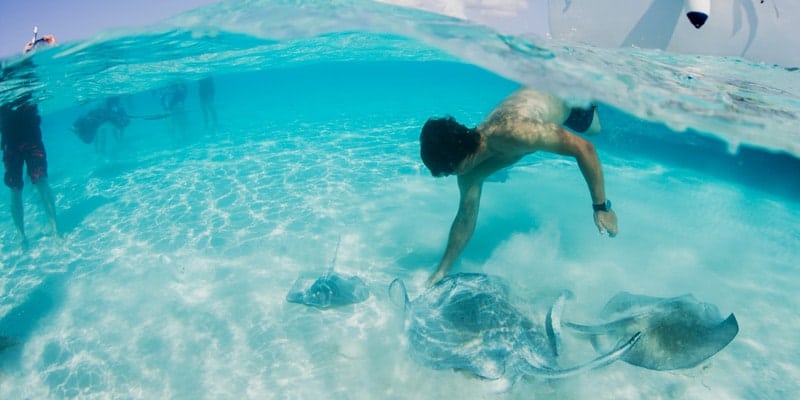 Chat n Chill conch shack on Stocking Island, in the Exumas, is one of the best spots in the Bahamas to tuck into delicious fresh conch (a spiral-shelled mollusc). But tourists aren't the only ones taking advantage of the tasty seafood. A fever of stingray (to give them their gorgeous collective noun) regularly swim close to the beach in hope of feasting on discarded conch meat. Paddle in the water and before long you'll spot shadows undulating towards you, long tails trailing behind them. It can be an unnerving sight (Steve Irwin will suddenly spring to mind), but you'll soon discover these prehistoric beasts are as gentle as lambs.
The hungry rays circle your legs, lifting their sides like wings to lap your shins, feeling weirdly both muscular and soft. Offer some conch by holding your hand flat under the water – the rays will soar over your hand and a you'll feel a gentle scrape as their mouths make contact with your palm.

5/8

 Snorkel over a shipwreck

Snorkelers are spoilt for choice in the Bahamas. One of the best underwater spots in the whole Caribbean lies just off the small island of North Bimini, which is the closest island to the US and favourite getaway of Ernest Hemingway. Bimini Undersea offers world-class scuba and boat tours departing from a jetty close to the Hilton on the island. After a pleasant cruise (and a cold Bahamian Kalik beer) with the charismatic and uber-tanned Captain Jean Luc, you'll jump overboard to snorkel among stripy fish over the sun-bleached shipwreck of the SS Sapona, which emerges from the water like the rib cage of an ancient whale.

Between snorkel stops, it's not uncommon to see dolphins leaping playfully out of the water alongside the boat and, if you're lucky, you might even spot flashes of white bellies as stingray leap out of the sea, flicking water from their spear-like tails. Captain Jean Luc isn't sure why they jump out of the water like that. It could be to avoid ending up as lunch for a hammerhead shark, but it's nice to imagine that they're jumping for joy.

How to snorkel over a shipwreck:

Bimini Undersea runs regular snorkelling trips to the SS Sapona; snorkels and fins are provided

Where to stay:

Hilton at Resorts World Bimini on North Bimini

How to get there:

North Bimini is an excellent first stop in a Bahamian island hopping itinerary. To mix things up a little, fly to Miami USA, then catch the FRS-Caribbean ferry to Bimini. The ferry departs daily at 8am and the scenic voyage takes two hours (top tip: if the sea looks choppy, take anti-sea sickness tablets before setting sail). During high season, a one-way ticket costs £113 for adults and £81 for children.

6/8

 Lunch fresh from the sea

Cracked conch, battered conch, conch salad, conch chowder, conch fritters… this pink, spiral-shelled marine mollusc (think Lord of the Flies) is hands down the hero of Bahamian cuisine. Conch is cheap, versatile and delicious, and you'll find it in abundance on every island.

When conch is plucked from the sea, prepared and served to you, all in the space of ten minutes, it brings a new meaning to 'fresh seafood'. At the legendary Chat n Chill beach bar on Stocking Island in the Exumas, there's a small wooden conch bar at the water's edge, where a skilled 'conch man' (as locals call him) works his way through a pile of freshly fished shells.

Watch as he knocks a hole in the top of the shell, sticks in his fingers and coaxes out a slimy wiggling conch, before dicing it with a machete and tossing the pieces into a bowl with some chopped veg, chillies and a squeeze of lemon. Voila – the freshest conch salad you will ever eat. (Warning: sensitive souls might not enjoy seeing a conch wrenched from its shell, not least because its eyes are on stalks and peer up at you like a cartoon snail). Those with stronger stomachs are given the chance to eat the conch's reproductive gland, a thin see-tube called the mojo that can be slurped up like a noodle. Bon appetite.

How to eat conch fresh from the sea:

Conch salad and scorched conch (pronounced 'scotch') are available from the conch shack at Chat n Chill every day

Where to stay:

Grand Isle Resort, Great Exuma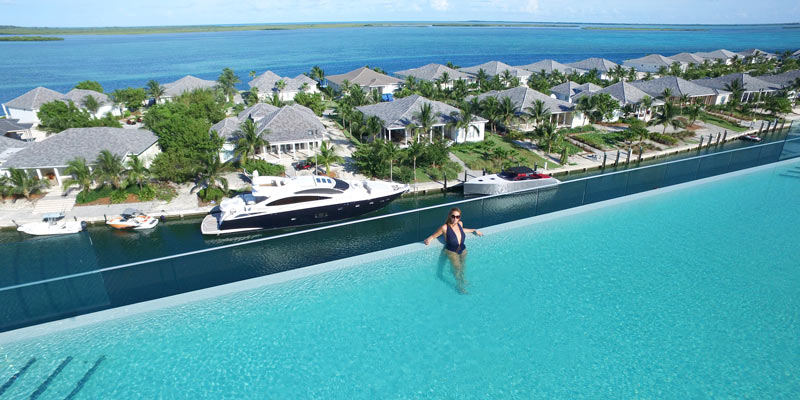 7/8

 Dip in a pool with serious bragging rights

Grand Isle Resort & Spa on Emerald Bay, Exuma is the kind of place that, no sooner have you stepped foot inside your suite, you have a strong desire to FaceTime everyone back home and take them on a virtual tour of your incredible new digs. Spacious and exquisitely decorated villas boast giant Jacuzzi baths (heavenly to sink into after a day's sailing), multiple glistening bathrooms laden with L'Occitane goodies, large kitchens and picture-perfect views over the pristine golf course and ocean. The resort's Palapa Grill overlooks the elegantly curved swimming pool and serves Caribbean jerk-style seafood and plenty of kid-friendly American favourites. As the sun sets, Palapa is the perfect  spot to enjoy meals under the stars and watch long-legged egrets stooping drink from the pool.

Another of the Bahama's heavenly resorts is Hilton at Resorts World Bimini on the small North Bimini island. It's a big, buzzing hotel with kids clubs, six restaurants and a casino. The rooftop pool (shown above), is the perfect place to watch seaplanes landing gracefully on the ocean. On ground-level, an infinity pool flows like a ribbon around the building (and take six minutes to swim from one end to the other by my family's calculation). Those swimming lengths are rewarded by the in-pool bar at the far end, where guests sit on a stone mushrooms in the water and sip Mojitos while gazing out over the harbour.

8/8

 Island hop in style

There's something gloriously carefree about island hopping (even if you've planned your itinerary months beforehand) and the joy of a Bahamas holiday is the chance to hop between bustling main islands and tiny outer cays. Part of the fun of island hopping is the hop itself, as you travel over the Bahamian seas by water taxi, speedboat, small propeller plane or even seaplane.

The fun of getting from A to B doesn't stop once you're on terra firma either. On the outer islands, the best (and sometimes only) way to get about is by golf cart, bike or scooter. On the main Abaco island stay at Bluff House, where manger Molly and dog Eliot will welcome you like family. From there, rent a golf cart and set out along the island's wide winding roads to explore the quaint colonial town of Green Turtle Cay.

How to island-hop in style:

There are several daily flights between the islands on Bahamas Air, although it's a good idea to check departure times before heading to the airport, as it doesn't take much for a flight to be delayed.

From the main island of Nassau, a flight with Safari Sea Plane costs £263 per hour (four passengers); a half-day excursion costs £360; and a day on an isolated private island costs £480.

Where to stay:

Bluff House Beach Resort & Marina on Green Turtle Cay, where every hotel suite has a sweeping view over the Sea of Abaco