There's much more to the Bahamas than the super-resorts on Nassau and Bimini says Alexa Schummer, who's been holidaying in the Bahamas since she was a child. Discover 11 blissfully secluded off-the-radar islands, for true Bahamian culture and crowd-free beaches
How to get there: To reach the Bahamas, fly from London to Nassau for £560 with Delta or to Miami for £345 with British Airways during autumn half-term.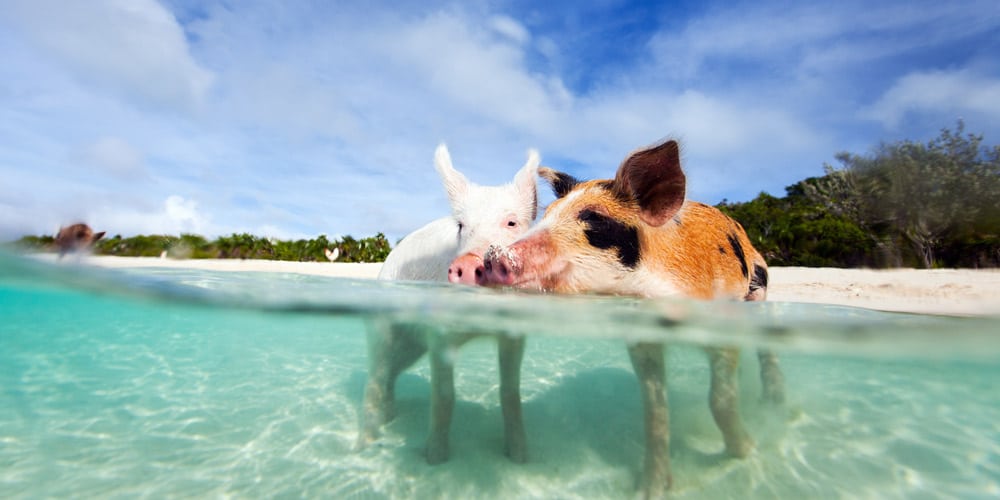 1/11

Staniel Cay 
This jam-packed area features amazing attractions ranging from swimming pigs to a sunken plane. At Big Major Cay look on in wonder as pigs and piglets make an appearance on the beach and disappear back into the wild. The Thunderball Grotto, the site of the James Bond film Thunderball, seems unimpressive from the outside, but once inside you'll find a bright world of sea life waiting to be discovered. Snorkel off the coast to find Pablo Escobar's sunken plane and encounter the corals and fish that have made it home since the wreck in the 1980s. 
How to get there:
Staniel Cay is accessible by boat, regularly scheduled flights, charter aeroplanes and private planes. For scheduled flights and charter services from Fort Lauderdale, you can take Makers Air. The island offers slips at the yacht club's marina in addition to the many anchorages for boaters.
Where to stay:
Staniel Cay Yacht Club offers cosy bungalows with ocean views for £333.11 with an adjacent restaurant. The bungalows give you direct access to the dock, the restaurant, and the heart of the island. You can even go down the steps at the dock during low tide to feed stingrays and nurse sharks.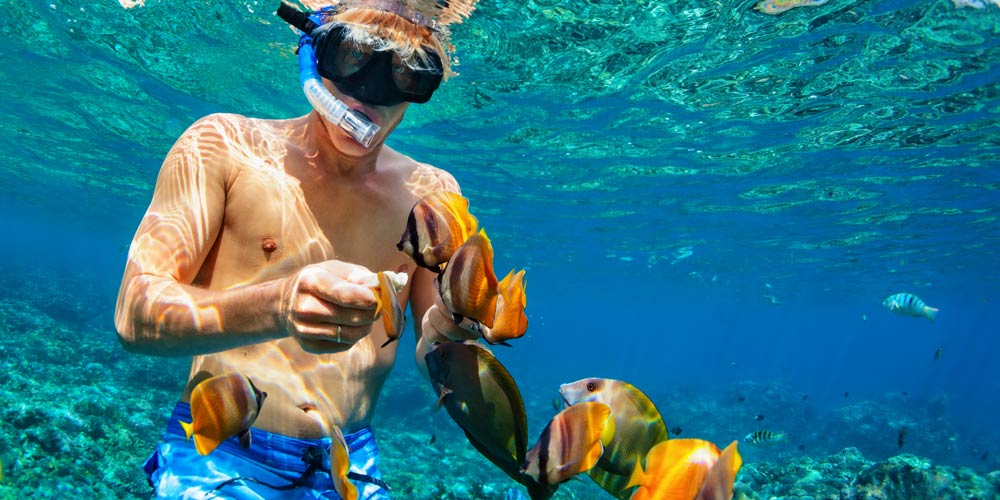 2/11

 Waderick Wells Cay
Be engulfed by a rainbow of fish (and rainbow parrotfish) at this nature reserve. Here you'll find one of the most amazing snorkelling spots in the world and catch sight of sharks, turtles, starfish and more. The Exumas Land and Sea Reserve has been crucial to the preservation of fish native to the Bahamas. For the best snorkelling spots, dock your boat at the visitor centre and take your dinghy out to Emerald Rock to snorkel by the buoys. On land, climb up Boo Boo Hill to see the blowholes and feel air shoot up from the rocks. On the beach outside the visitor centre, you can find the skeleton of a 65-foot sperm whale that died from swallowing plastic bags – an important reminder as to why reserves like this must exist. 
How to get there:
Waderick Wells Cay is the centre of the Exumas Land and Sea Park, so to enter you must go to the mooring area near the visitor's office and pay a mooring fee. You can only arrive by boat, so most people make this a stop during their stay at Staniel Cay since it is nearby.
Where to stay: 
There are no hotels on the island since it is a nature reserve, but you can easily find a hotel at neighbouring Staniel Cay.

3/11

 Compass Cay
Sharks have a reputation for being the most dangerous predator of the sea, but watch that myth get busted by the nurse sharks at Compass Cay. Take a snorkel and goggles and come face-to-face with a shark. Nurse sharks, typically bottom feeders, swarm the marina for food and attention. The marina owners have a name for each shark as they make daily visits. They surprisingly love to be petted and if you're lucky, they'll take you for a swim.  After you take a dip with the sharks, walk ten minutes to the Atlantic side of the island to find Crescent Beach with powder-soft sand and clear water.
How to get there:
Compass Cay is only accessible via boat. It can be reached through a charter or you can take a dinghy from Staniel Cay. Boat tours are available from the Exumas with Coastline Adventures.
Where to stay:
The island does not have any hotels, so stay in Staniel Cay and make your way over.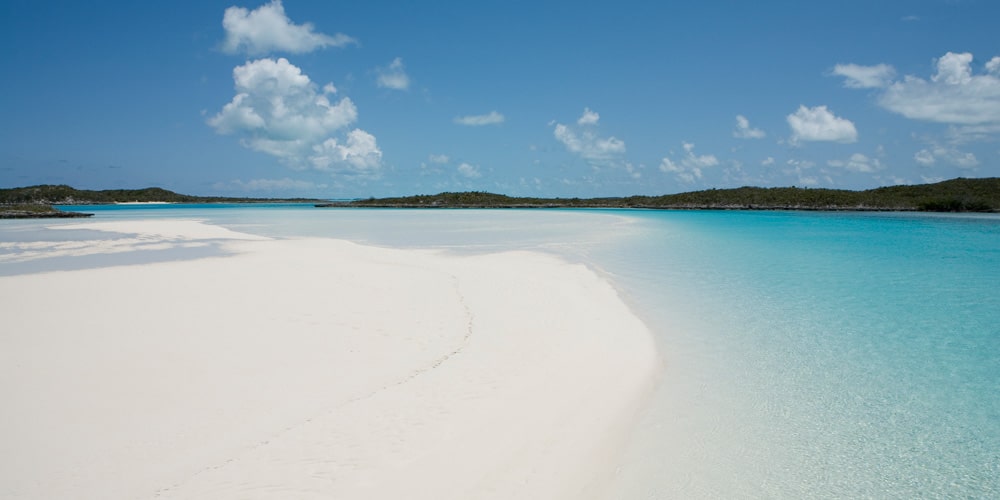 4/11

 Hawksbill Cay 
Hawksbill is an uninhabited island on the north end of Exuma Land and Sea Park that provides magnificent sights. At low tide, a sand bar appears and creates a bridge between the northern and eastern part of the island, allowing you to wade all the way through. Though the banks of the island are beautiful, walk across to the ocean side to enjoy a gorgeous view on an empty beach; it is common to be the only person on the beach. Explore the northern and southern coves at high tide to prevent being stranded at sea with your dinghy.
How to get there:
Since the island is uninhabited and at the northern tip of the Exumas Land and Sea Park, you can only access it via sea. The best way to reach it is by chartering a boat for an excursion from Staniel Cay or taking a dinghy from Staniel Cay.
Where to stay
This uninhabited island has no homes, not to mention hotels, so use Staniel Cay as a base while you island hop.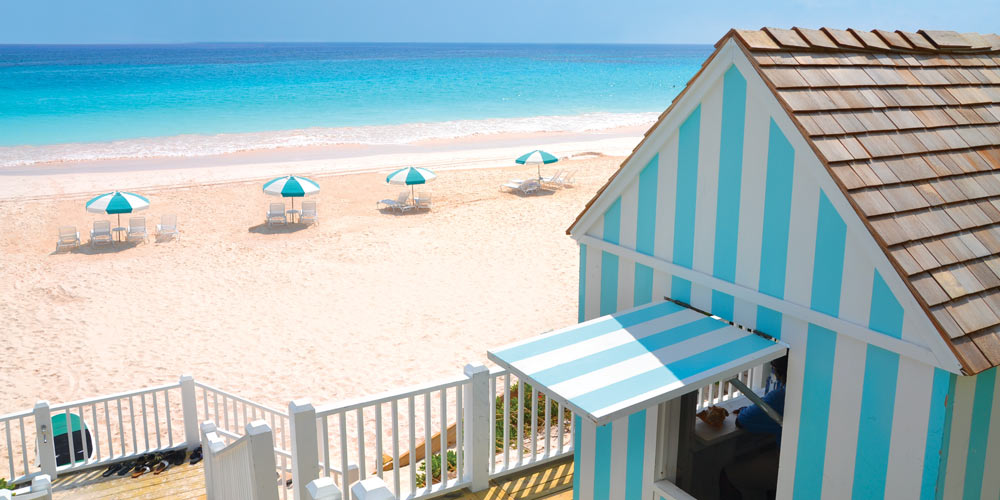 5/11 

Harbour Island 
Famous for its pink sand beaches, Harbour Island promises to make your stay feel heavenly. Plenty of private boats are available to charter so you can go snorkelling, fishing, or just boating for the day. Harbour Island is also a great main location for island hopping. Take off on a boat for the day to explore surrounding smaller islands that are nothing but soft sand and warm waters. The island has several excellent restaurants that live up to luxurious experience the rest of the island offers. Pastel coloured cottages line the beach and complement the pink sand.  With warm temperatures year-round, you can visit this luxury destination whenever suits your family.
How to get there:
Harbour Island is accessible by plane, boat, and ferries. Fly for just over an hour from Fort Lauderdale to North Eleuthra for £258 pp with Silver Airways at autumn half term, and then take a five-minute water taxi to Harbour Island. Also, a daily ferry departs from Nassau and heads to Harbour Island; check bahamasferries.com for availability.
Where to stay:
The Dunmore, in the midst of an intimate garden, lies next to a pink sand beach and a four-minute walk from Dunmore Town. The hotel offers a chic setting and fine dining that meets the elevated expectations that come with Harbour Island.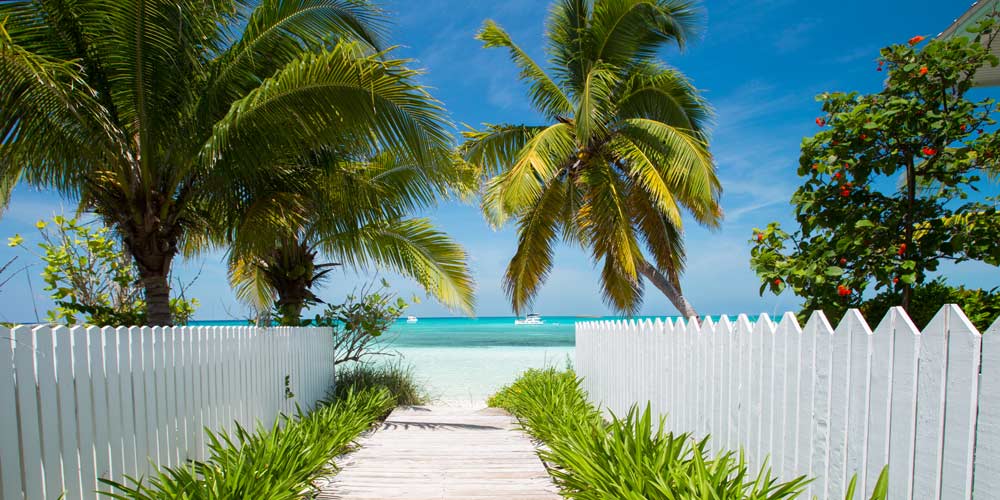 6/11

 Chub Cay
Calling all fishermen and women: Chub Cay is the place for you. The cay is known internationally for sport fishing, but Chub Cay Resort & Marina has much more to offer. Navigate the island on a resort-issued golf cart and roam until you find a great spot to unplug and unwind at one of the beautiful untouched beaches. The shores are protected, so the water is calm enough for the little ones to play in. Enjoy the views from the infinity pool while taking advantage of the swim-up bar. End your day at the resort's spa and enjoy a massage at one of the converted casitas. 
How to get there:
Chub Cay is accessible by plane and boat. Fly for just over an hour from Fort Lauderdale Executive Airport to Chub Cay Airport with Makers Air during autumn half break. If you are chartering a boat, you can rent a slip from the Chub Cay Resort & Marina and stay there.
Where to stay:
Chub Cay Resort & Marina offers a beach house feel but resort luxury since it is equipped with a fitness centre, volleyball and basketball courts, beautiful pools and a spa. The hotel is part of the island's allure; stay here to enjoy the resort's amenities while the fishermen and women of the family are away.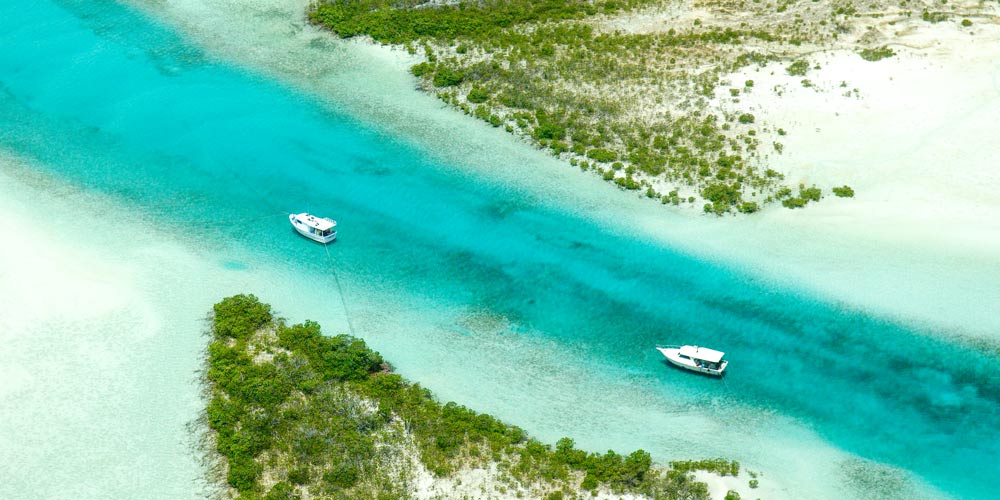 7/11

 Long Island
Long Island is known as one of the most scenic islands in the Bahamas, which is definitely saying something. Take your family to Hamilton's Cave and learn about the Lucayan peoples who used to occupy them. Make sure to visit them with an experienced guide because you may get lost in the vast system of passages. After your visit to the caves, find Dean's Blue Hole, the world's deepest blue hole at over 200 metres deep. If you have older children, climb up to the top of the island and dive 10 metres into the deep end to make a splash. Moreover, you can snorkel at the edge of the blue hole and see the vibrant marine life for yourself. 
How to get there:
Two airports service the island, Deadman's Cay Airport (LGI) and Stella Maris Airport (SML), with daily flights from Nassau. A charter service can be arranged through any of the many certified carriers in the region. By sea, you can take Bahamas Ferry Services from the Nassau to Long Island.
Where to stay:
Take in the ocean views at Cape Santa Maria Beach Resort & Villas on the northern end of Long Island. The hotel is perfect for a quiet and relaxed trip with several water sports activities available for the kids and many excursions.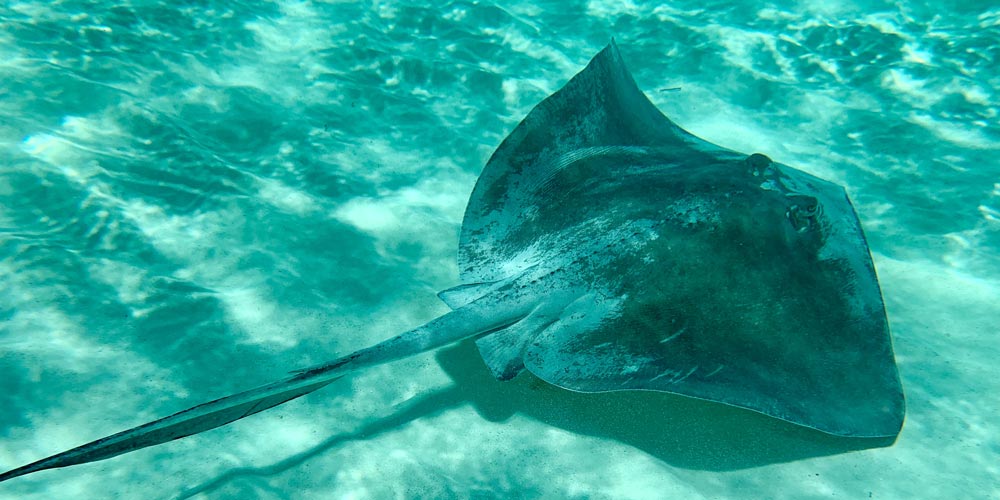 8/11

 Honeymoon Harbour Beach

Only accessible via boat or jet ski, you will encounter the sea's most haunting creature. Get up close and personal with stingrays without the intrusiveness of a tour guide. Here, you will find hundreds of stingrays huddled around the beach enjoying the sun in the crystal clear water. Go to your nearest tackle store to find treats for them, paddle off the shore, and get ready to watch a feast. Stingrays are actually gentle creatures that do not attack unless they are hurt, so make sure you are following the standard procedure on how to interact with them.

How to get there:

The beach is located 16 km south of Bimini and you can only access the cay via boat or jet ski or Bimini Undersea will transport you for a small fee. Bimini is only two hours from Miami by ferry or you can take a seaplane.

Where to stay:

Resorts World Bimini Resorts and Marina is a luxurious resort that spans across the northern side of North Bimini. It offers fantastic family restaurants and an infinity pool, and was built with families in mind.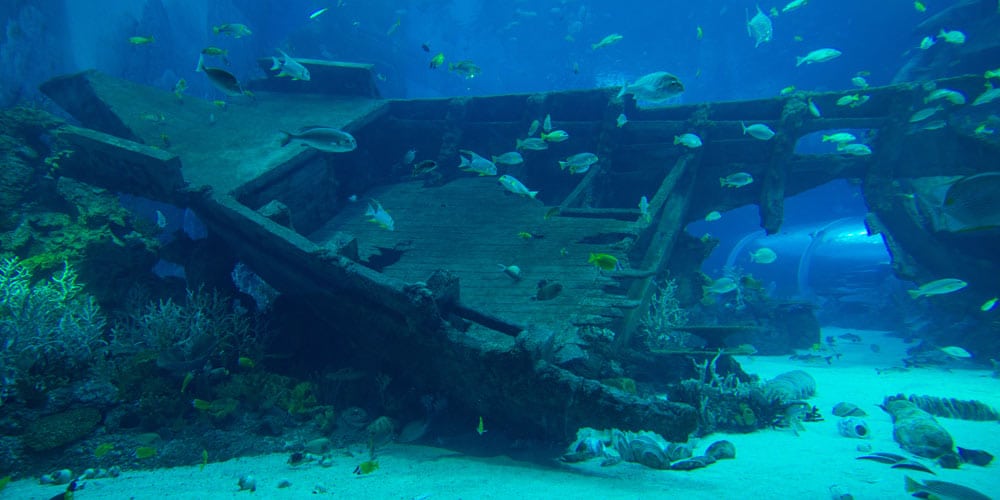 9/11

 Brown's Cay 
Just 30 minutes away from Bimini by boat, Brown's Cay offers a feeling of elite luxury. If you're visiting during the off-peak season, there is a high chance your family will be the only people on the beach. The blissful quiet and white, powdery sand are the perfect backdrop to truly chill out. Across the island, your family can free dive and explore a shipwreck. This low-key island is perfect for getting away from the crowds and enjoying a relaxed day of sunbathing and snorkelling with the family. 
How to get there:
The beach is thirty minutes away from Bimini by boat, so charter a boat to get out to the island for some peace of mind. Bimini is only two hours from Miami by ferry or you can take a seaplane.
Where to stay:
Resorts World Bimini Resorts and Marina is a luxurious resort that spans across the northern side of North Bimini and provides amazing restaurants, an infinity pool, and was built with families in mind.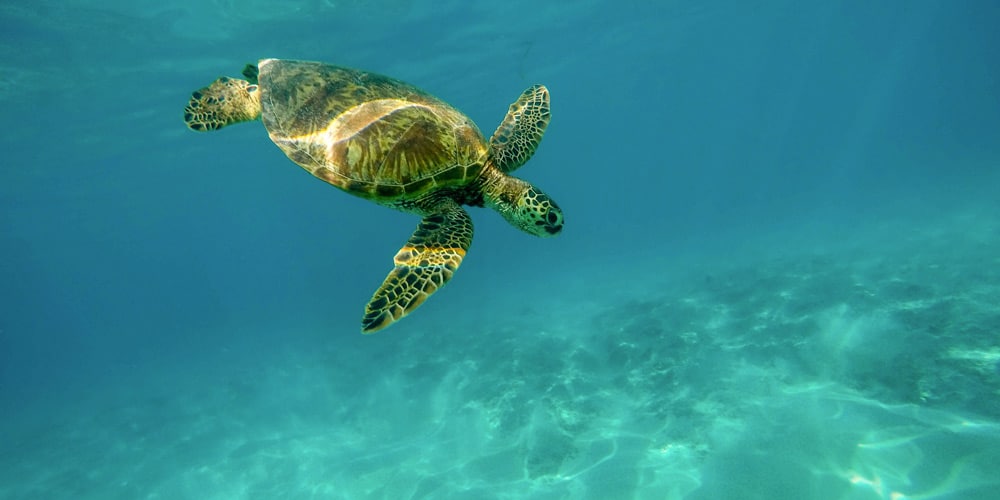 10/11

 Green Turtle Cay

Explore New Plymouth's colonial homes and delicious food if you decide to make the trek to this barrier island (lionfish, anyone?). Head to Brendal's Dive Center to be led to the best dive spots by the cay; interact with sharks, turtles, and even dolphins. As long as your children are comfortable with swimming, tagging along with the dive centre is a great idea. Younger children can try out the equipment in the pool to gain confidence before they head out to the open ocean. There are no airports or cruise docks, so you must arrive by boat, and the island is conveniently close to the Abacos for a short boat ride. 

How to get there:

Green Turtle Cay is a barrier island to Great Abaco, to which is most easily reached by flying into Marsh Harbour International (MHH) from Miami. Palm Beach, Orlando, Daytona, Fort Lauderdale, or Nassau; however, the island does have two smaller airports. From Great Abaco, you can reach it via ferry or private boat.

Where to stay:

For an all-encompassing Bahamas stay, book a room at the Green Turtle Club. With endless activities, excursions, and beach days your family is sure to have a great holiday at Green Turtle Cay.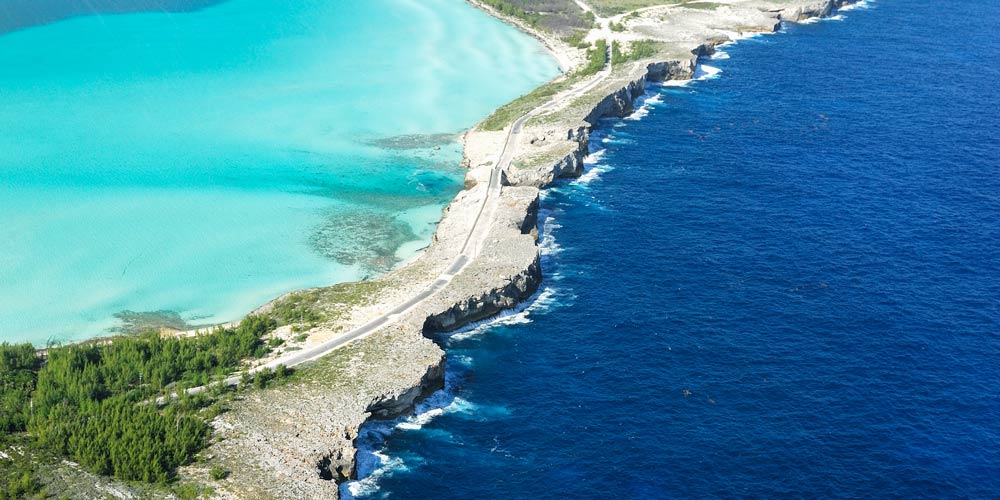 11/11

Glass Window Bridge, Eleuthra
At the narrowest part of the island of Eleuthra, you will find a view that you wouldn't expect from this sleepy island. On your left, you'll see the violent, navy waters of the Atlantic Ocean crashing into the side of the bridge. On your right, look out onto the calm, turquoise water of the Bight of Eleuthera. This bridge is unlike any other place on the planet because it allows you to stand at the edge of the ocean and the start of the sea. From a different vantage point, you can watch the two massive bodies of water blend together under the bridge. 
How to get there:
Eleuthra is one of the largest islands so arriving should be simple. There are daily flights from Fort Lauderdale, Miami, and Nassau to North Eleuthra (ELH) and Governor's Harbour (GHB) and twice-weekly flight from Atlanta to ELH. The island is very long so a car is necessary to get around; there are several taxi operator companies you can call for a lift.
Where to stay:
The Cove is a seven-minute car ride from the Glass Window Bridge and offers peak relaxation to its guests. The property creates an enclave with its own beach, fostering a different vibe from the mostly barren island.