Sponsored Content
Looking for the best family holiday destination for a multi-generational adventure? Thinking about a break with your pre-schooler? Scott Dunn have some amazingly inspired holiday ideas for 2023. So If you want some inspiration, it starts here. And as far as organising everything goes, Scott Dunn take care of that down to the last detail. Good news, particularly if you're making plans for the most memorable multi-gen holiday ever.
Start your multi-gen plans with your best family holiday destination
If you're planning a multi-gen trip, finding the best family holiday destination to suit everyone is top priority. Pre-school age kids might be happy to tag along with most grown up plans, but older kids and teenagers will probably want much more of a say in the plans. And it's fair to say that even the youngest kids have to be taken into consideration, especially when it comes to long flights, airport transfers and childcare.
Bring Scott Dunn on board and everyone enjoys a multi-gen holiday
Planning a multi-gen family holiday usually falls to one person. That is a lot of pressure to please everyone, all the time, and doesn't exactly say relaxing holiday for the organiser. We like the fact that Scott Dunn not only specialise in tailor made holidays, they're also experts at organising the type of multi-generational trips which go down in family history for all the best reasons.
That level of skill clearly owes a lot to the first hand experience of the Scott Dunn team. Of course as parents themselves they understand what it's like travelling with kids and with grandparents, so it's in their nature to pay attention to the smallest details. Then of course, their passion for travel itself means you also benefit from insider knowledge on the best family holiday destination for any multi-gen experience you have in mind. And last, but certainly not least, Scott Dunn offer you so many different destinations and experiences to choose from.
Which is the best family holiday destination for your family?
In fact, we don't think it's going to far to suggest that you could simply bring your dreams along and ask for them to be realised. After all, nothing seems to be outside the realms of possibility for Scott Dunn.
You might be thinking a lavish country house holiday in England or a phenomenal Galapagos expedition. Maybe your plans veer more towards luxury safaris or equally luxurious dude ranches. Or perhaps beach breaks in the Caribbean or impeccably planned European villa holidays, are what you have in mind. These are just a few of the possibilities that work well with multi-gen plans and please everyone from grandparents to toddlers.
Now take a look at some of the destinations Scott Dunn recommend for 2023. Use itineraries as inspiration, then speak to the travel team and start creating your own, personal multi-gen adventure.
Ecuador & the Galapagos: best family holiday destination for unique experiences
This beautifully balanced multi-gen holiday works for kids of all ages and takes you from Ecuador's Amazon to the remarkable Galapagos Islands. Naturally wildlife plays a big part in this adventure. So if swimming with seals or penguins is on your wish list, this is the best family holiday destination to tick those boxes. However, just observing is an equally enthralling experience, which makes this a good choice for grandparents too.
Fairmont Royal Palm Marrakech, Morocco: easy travel to an extraordinary culture
If long haul isn't part of your multi-gen plan, but you still want an unforgettable holiday, Marrakech is perfect. Fairmont Royal Palm sits against a backdrop of the High Atlas Mountains and although the city is only a short drive away, it feels like an oasis of calm. So you can dip into the Medina, visit souks and sites like the Koutoubia Mosque, then return to play golf, explore the hotel's vast estate or simply relax in the opulent spa. A big plus for families here is an incredible kids club, as well as a wide choice of villas and suites to accommodate larger groups.
Borgo Egnazia, Italy: best family holiday destination for escapists of all ages
If you associate southern Italy with hordes of summer tourists, then Puglia will enchant you. It's the country's south east, less travelled, delightfully wild in places, deeply historic and blessed with beautiful beaches. Borgo Egnazia adds even more exclusivity to this very exclusive part of Italy. A luxurious retreat on the Adriatic coast, it's designed like an Italian village, so you can look forward to spreading out in your very own villa – or two. Another Scott Dunn resort with a great kids club, this one also has a teen activity programme and its spa redefines serenity.
Lengishu, Kenya: a family safari destination made for multi-gen holidays
An exclusive use private home on the Borana Conservancy in Mount Kenya's foothills, Lengishu couldn't be better for a large, multi-gen family holiday of a lifetime. Four individual cottages sleeping up to 12 guests in total, allow everyone the freedom of their own space. However, the beautifully designed dining room and elegant veranda invite families to spend time together too. Add the experience of a classic Kenyan safari into the mix and this is possibly the most harmonious yet wildly exciting multi-gen holiday imaginable.
Brush Creek Ranch, Wyoming: the best family holiday destination for multi-gen adventurers
If the spirit of adventure runs strong in your family, this is the multi-gen holiday to match all dreams. Bush Creek is a 15,000 acre ranch in the heart of Wyoming's Platte River Valley. Here you can balance days out on horseback with the indulgence of evenings at luxurious Trailhead Lodge. A year-round experience, in winter horses are simply swapped for cross-country skis.
Scott Dunn reveals the secret joy of holidays with pre-school kids!
We all know the day-to-day joy of life with young kids. And the occasional not so joyful moments, of course. But when it comes to booking travel, the family experts at Scott Dunn predict nothing but holiday happiness with babies and toddlers for 2023.
Unrestricted by school holiday dates, be a free thinker. Basically you have time on your side so pick your best family holiday destination and there's a very good chance it will not only be available, it will cost less too.
At this point if you're starting to feel a little smug, that's perfectly understandable. Who wouldn't be just a bit pleased with themselves at the thought of catching some early spring sun in Greece, without the crowds. It's fine to feel a little bit thrilled at the idea of treating your little family to a longer than average long-haul holiday in Mauritius, because off-season prices mean you can afford to. And nobody will blame you for adding extras like Scott Dunn Explorers Kids Clubs into the mix, since they care for kids as young as four months, and it's your holiday as well.
However, some ideas are too good to stay secret for long. So start making plans to benefit from your pre-schooler advantage with a look at some destinations Scott Dunn are recommending for crowd-free holidays with babies and toddlers in 2023.
Eagles Palace, Halkidiki Peninsula, Greece: best family holiday destination for early spring sun
The gentle Halkidiki Peninsula in the north is an ideal introduction to Greece for babies and toddlers. Eagles Palace is beachfront on soft, white sands. The sea is paddle-perfect for little first timers. Plus you have a range of family suites to choose from as well as an option to upgrade to all-inclusive.
Almyra, Paphos: pack lightly for easy sun breaks with babies in Cyprus
Cyprus is a wonderfully warm and friendly country for a holiday with younger kids. This fabulous luxury hotel is right on the beach and a short stroll from the legendary town of Paphos. Everything from interconnecting rooms to babysitting services and Scott Dunn Explorers Kids Club is made for families. And Baby Go Lightly means you can order just about any baby equipment you need online when you book. Everything will be ready and waiting when you arrive, and you can pack like you did in your pre-parent days.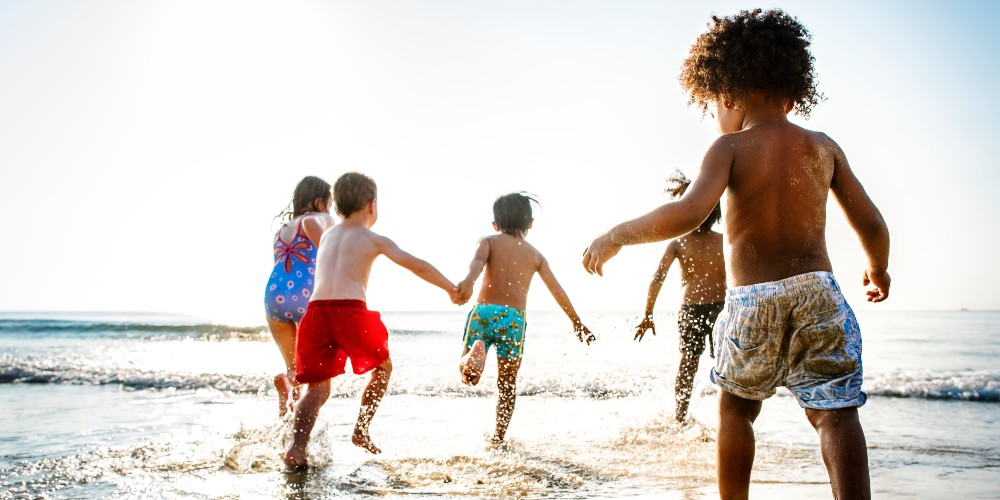 Shanti Maurice, Mauritius: treat yourself to low-season Indian Ocean indulgence
Shanti Maurice could have been designed just with children in mind. Its beaches are spectacular, soft and safe enough for the tiniest water baby. Scott Dunn Explorers Kids Club here has a dedicated 2000m² space which includes a kitchen garden. The family suites are flawlessly designed to make every moment of your stay blissfully easy and more than a little luxurious. The food is wonderful, and healthy, delicious menus for kids are a Shanti Maurice signature. Plus Mauritius without crowds of visitors is one of the loveliest Indian Ocean islands to explore with your little one.
Niyama Private Islands, Maldives: the best family holiday destination for complete escapism
Scott Dunn Explorers Kids Club at Niyama Private Islands is the only one in the Maldives for under-threes. If that isn't enough of a temptation, this gorgeous resort is trimmed with stunning beaches and offers a choice of spacious family villas with ocean views and private pools.
Saadiyat Rotana, Abu Dhabi: one of the best resorts for kids in the UAE
If it's time to introduce younger kids to the delights of splashing around in warm pools, Saadiyat Rotana is the place. Apart from a toddler-friendly and huge zero-entry beach pool, the children's mini-complex has a splash park, waterslides and a lazy river. Beach house is the design theme in all rooms or suites. And a choice of family villas with private pools gives you scope to stretch out if that's the dream.
Ready to find the best family holiday destination for your next multi-gen adventure? Keen to make more of your pre-schooler travel advantage? Visit Scott Dunn and find out where you should be going in 2023 and how easy it is to get there.