Beauty writer Sophie Qureshi travels to Singapore to experience the tranquility of Six Senses Duxton, sampling exquisite cuisine and outdoor yoga classes along the way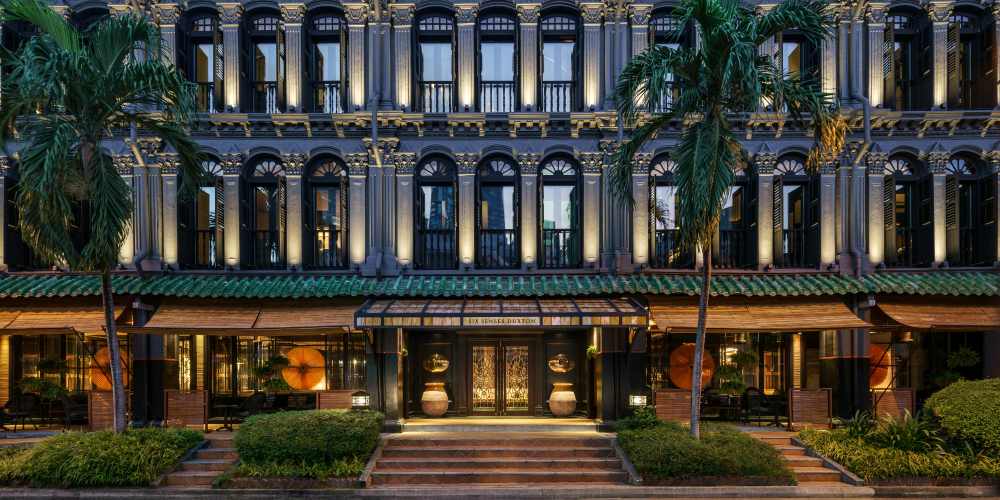 Singapore's well-deserved reputation as a family-friendly holiday destination (or for many people, a stopover to a nearby Southeast Asian beach) is built on its remarkable cleanliness, see-it-all scale, and standout, access-all-ages attractions. The newest of the Universal Studios (and arguably the best one), a world-renowned safari park, orchid garden, water-park, and luge track ensure that every age can find their own definition of fun.
If Singapore has had any kind of Achilles' heel over the years, it has been the hotels – a selection of backpacker hostels, slightly characterless corporate chains, or celebrated institutions with plenty of post-colonial polish but with eye-watering prices to match.
The Six Senses group has changed all that, with its first two city hotels opening moments from each other in the heart of Singapore's eclectic Chinatown, aka. Tanjong Pagar. The Six Senses Duxton and Maxwell are sister hotels but are really more like one property, since no matter which you stay in, you can make full use of all the facilities in both.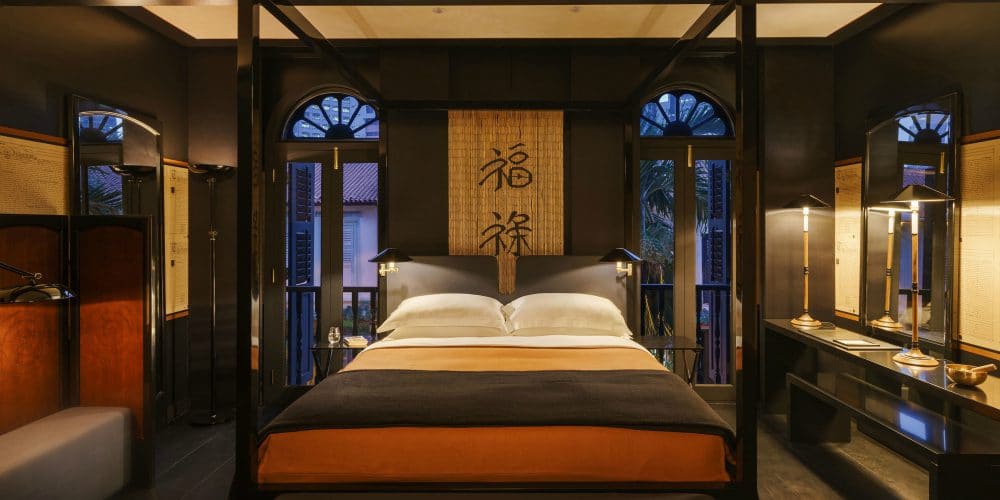 Each property is a quite distinct restoration project – the Maxwell the more expansive (a large colonial building on the site of a former nutmeg plantation), the Duxton the more bijou (retaining stylistic nods to the opium and gambling dens that once occupied the strip when it was still full of rickshaws).
At the Duxton, you could probably introduce your kids to the entire cultural history of Singapore, just by walking the corridors and exploring all the fascinating and sumptuous little details crammed in by famed interior designer Anouska Hempel. Chinoiserie abounds, with black lacquer screens, wall-hangings adorned with calligraphy, and yellow silk upholstery creating a decadent and opulent mood.
None of the 49 rooms are the same and everything has been exquisitely considered, from the wallpaper (a reproduction of an 18th-century European legal agreement) to the selection of goodies awaiting you after turndown – which included a colouring kit, a brainteaser toy, local restorative balms and oils and even some Traditional Chinese Medicine pills to help with digestion if you've overindulged in Singaporean street food.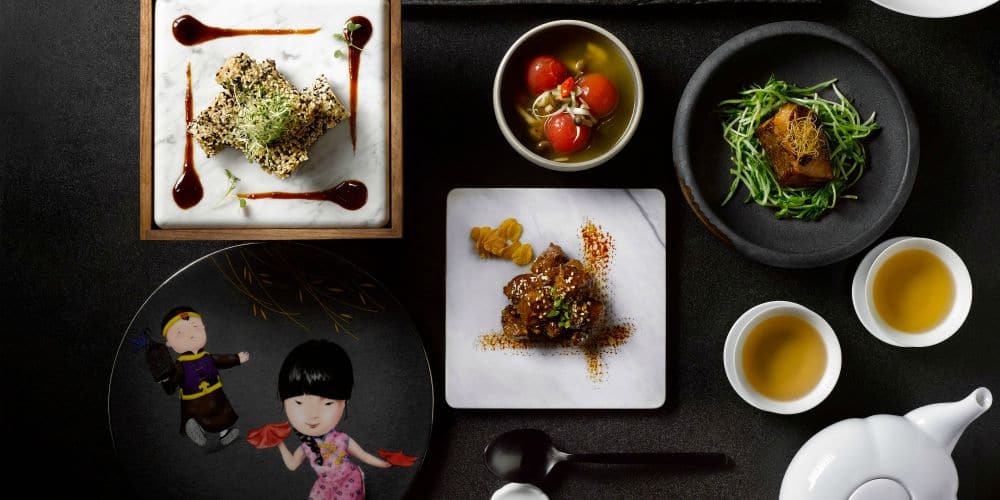 Dining in the Duxton itself means a visit to Yellow Pot, which transforms from a Western-fusion brasserie at breakfast time, to a sophisticated Szechuan eatery at lunch and dinner. It's all absolutely delicious (especially the wok-fried tiger prawns and the sesame-coated duck spring rolls), and thankfully for younger diners, spiciness isn't obligatory. This being Six Senses, the cuisine is also pretty healthy, and often organic as well as sustainably-sourced.
Lactose, sugar and gluten are largely off the menu, in favour of fresh natural ingredients that boost your immune system and encourage the absorption of nutrients. It's not overly virtuous though – for dessert, the lemongrass and calamansi jelly will appeal to adult palettes, while the range of homemade ice creams will keep the kids happy (and the chocolate chilli and bee-pollen flavours will stretch their horizons).
Dinner needn't end with dessert, as another really nice touch at the Duxton is the way they partner with the long-established family-run Yixiang Xuan teahouse, situated just round the corner. You can try out a huge variety of their artisan teas (Silver Needle and High Mountain Oolong are well worth a brew) and you can also experience a traditional Chinese tea ceremony, where you'll learn about the role of tea in Chinese culture and how to prepare it the traditional way.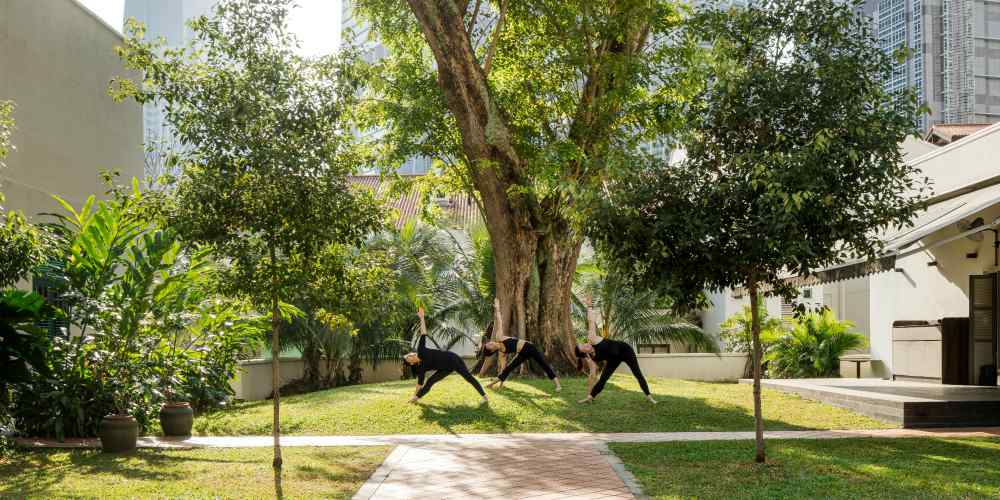 Another way to immerse yourself in the local customs is with a consultation with a traditional Chinese medicine physician, who offers health readings and dispenses medicinal herbs, as well as introducing you to acupuncture, qi gong and other alternatives to Western medicine.
For a more mainstream way to boost your wellbeing, the hotel offers complimentary yoga classes outside on the nearby lawn at 8am. The 45-minute sessions combine yoga tuition with singing bowl meditation. If you've dabbled in meditation before but never quite 'got it', singing bowls can really help as the sounds they produce sounds invoke a deep state of relaxation. You'll get a taster at check-in, as every guest is invited to step into a singing bowl on arrival – a restorative ritual that's particularly welcome after the bustle of Changi airport. 
The lowdown
Rooms at Six Senses Duxton start from approx. £254 per night based on two people sharing a Shophouse Room.
The hotel is a 20-minute taxi ride from Singapore Changi Airport. Alternatively, you can take the train on the East-West Line from Changi Airport, transfer at Tanah Merah and continue to Tanjong Pagar MRT Station. Take Exit A and it is a 10-minute walk from Tanjong Pagar MRT Station to the hotel.
In-room facilities include complimentary Wi-Fi, a Nespresso machine, electric kettle and ceramic tea kettle. The in-room tea is sourced from the family-run Yixing Xuan Teahouse, just round the corner, and includes flavours such as pu-erh and jasmine green tea. There are also complimentary tonics to boost energy or promote good sleep, with ingredients like snow chrysanthemum, amaranth and lavender.
Six Senses Duxton's restaurant, Yellow Pot, serves modern Chinese cuisine and is open from 6:30 am to midnight daily, for breakfast, lunch, dinner and drinks.
Complimentary outdoor yoga sessions and singing bowl meditations are available every Thursday and Sunday morning in the park behind the hotel.