Sponsored Content
You have to give it to the Philippines: there isn't a single extraordinary experience you won't find here, and countless you definitely won't find anywhere else. It's also an amazingly easy country to visit with kids, if you happen to know the right people.
Families Worldwide are experts in South East Asia and especially wise about the ways of the Philippines. They've been tailoring family holidays in this remarkable part of the world for decades so you can depend on them to know where to go and what to see, but also to understand what it's like to travel with kids and take care of all the practicalities – right down to tiny details you'd only be aware of if you were actually a local.
So if the Philippines is on your wish list, have a look at how the adventure shapes up according to the experts at Families Worldwide. Remember, it's just a guide, and let your imagination run wild.
Chocolate Hills & Tarsiers: 15 days in the Philippines
Families Worldwide have created the perfect balance between high adventure and beachy downtime on this holiday. They've also managed to fit in several astounding wildlife experiences, plenty of local culture that's big on kid-appeal and just about as many natural phenomena as it's possible to assimilate in 15 days.
It's a cleverly designed itinerary right down to details like swimming pools at every hotel, leisure days to recharge parent and child batteries, and thoughtfully arranged journeys that aren't too demanding on younger travellers. Families Worldwide specialise in offering private family holidays throughout the Philippines. So look at this adventure as inspiration for your own personal spec – though there's a chance you'll like it exactly as it is:
Day one & two:

fly overnight from UK to Manila

Making long-haul as easy as possible is a Families Worldwide priority. Overnight flights from the UK to Manila are a great idea with kids. You'll be met at the airport and transferred smoothly to your hotel in the Bay of Manila. Leaving you to simply check-in, catch your breath and enjoy some free time to explore, or just relax by the hotel pool.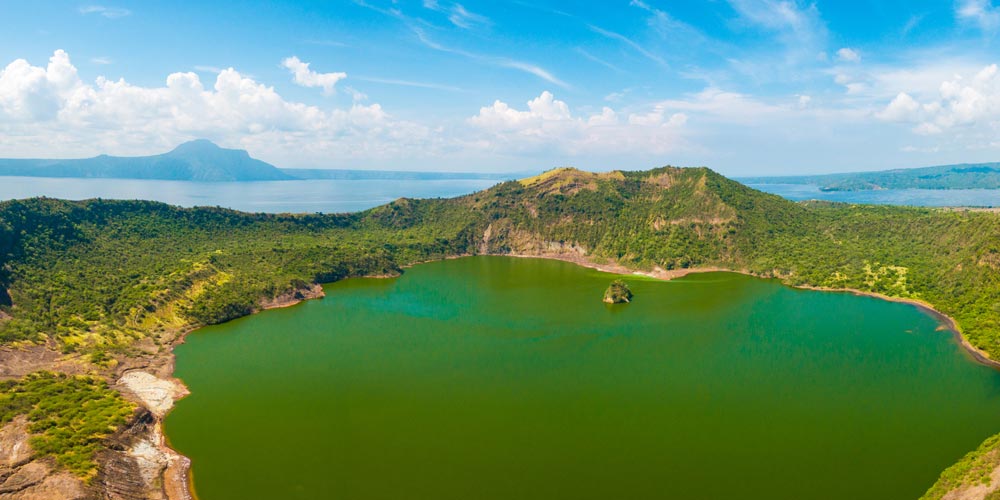 Day three:

trekking the Taal Volcano on Luzon Island

The complex Taal Volcano is part of the Pacific Ring of Fire and one of the most active volcanoes in the Philippines. It sits on Luzon Island, so today's adventure begins with a morning drive and a short sail across Lake Taal.
Highlights
Trekking black lava trails to the volcano rim – exciting, but easy going.
Crossing sulphurous volcanic steam vents.
The big reveal of the crater lake at the summit.
The view of Lake Taal and the surrounding mountains and islands from the top of Taal Volcano is rated one of the best views in the Philippines.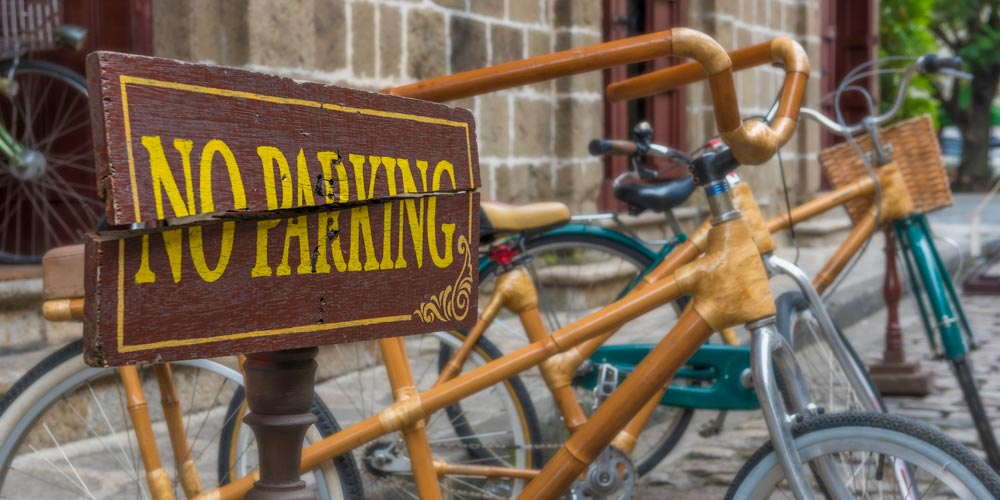 Day four:

bamboo bike tour of Manila's Intramuros

The hectic capital of the Philippines is an incredibly historic city at heart and today you get to explore its atmospheric old town on bamboo bikes. Sounds like flimsy transport? Bear in mind they use bamboo as scaffolding in South East Asia, so it's a lot sturdier than it looks. And transforming the grow-like-a-weed wood into bikes is a typically Filipino combination of creativity and inventiveness.
Highlights
The thrill of riding bamboo bikes around the historic walled city where sections of the extraordinary fortified walls are 22 feet high in some places.
Impressive 16th century Manila Cathedral.
Admiring opulent, restored Spanish-Colonial mansions in the Plaza San Luis Complex.
Checking out the Philippines oldest church, San Agustin, now a UNESCO World Heritage site.
Laid-back lunch in a friendly, local restaurant.
The short flight south from Manila to Tagbilaran on Bohol Island.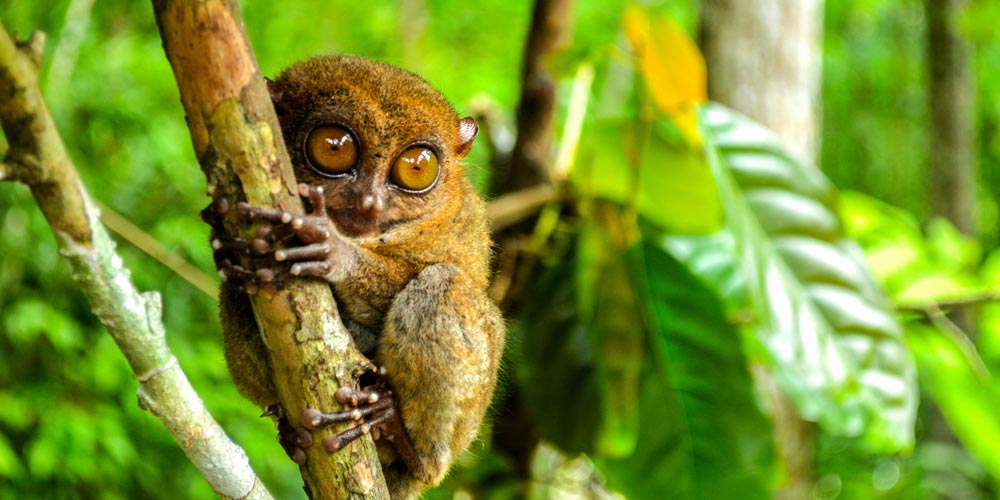 Day five:

do-as-you-please on idyllic Bohol Island

Between the peaceful prettiness of south west Bohol Island and the fun of the Loboc River Resort's pool, kids might be quite happy to stay put. But if you're up for more exploring, Families Worldwide can organise anything from adventure park visits to nature tours.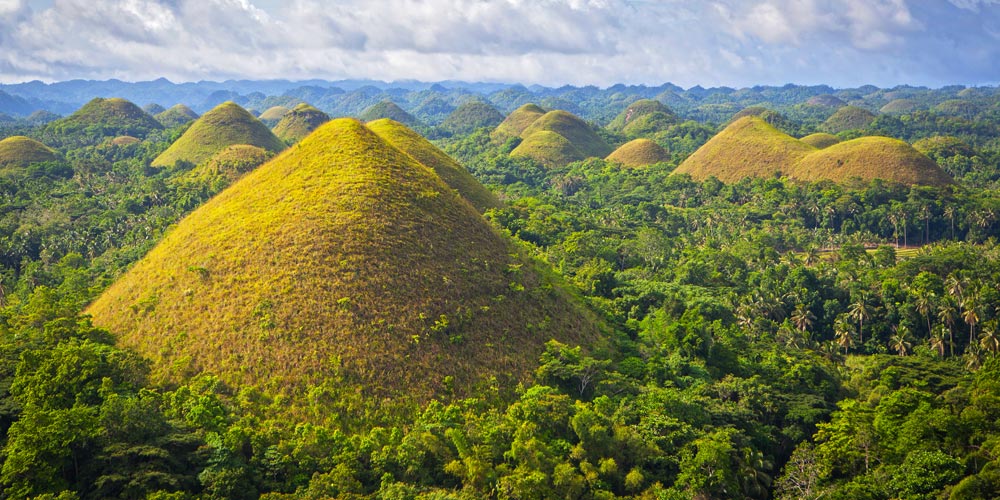 Day six:

explore Bohol for chocolate hills and tiny primates

Bohol is home to several of the Philippines' must-see icons and there are at least two included in today's thrill-packed itinerary, which starts with a drive through an imposing man-made mahogany forest.
Highlights
Travelling through Bohol's extraordinary countryside.
Seeing the legendary Chocolate Hills: conical, grass-covered, limestone peaks which stretch for miles and turn to the colour of chocolate during the dry season, from late-November to May.
A cruise down the Loboc River with buffet lunch on board.
A guided forest walk round the marvellous Tarsier Sanctuary to see one of the world's smallest primates, the teeny Tarsier. They're not easy to spot in the wild, but even the search is off-the-scale thrilling for kids and excellent local guides know all the best places to look.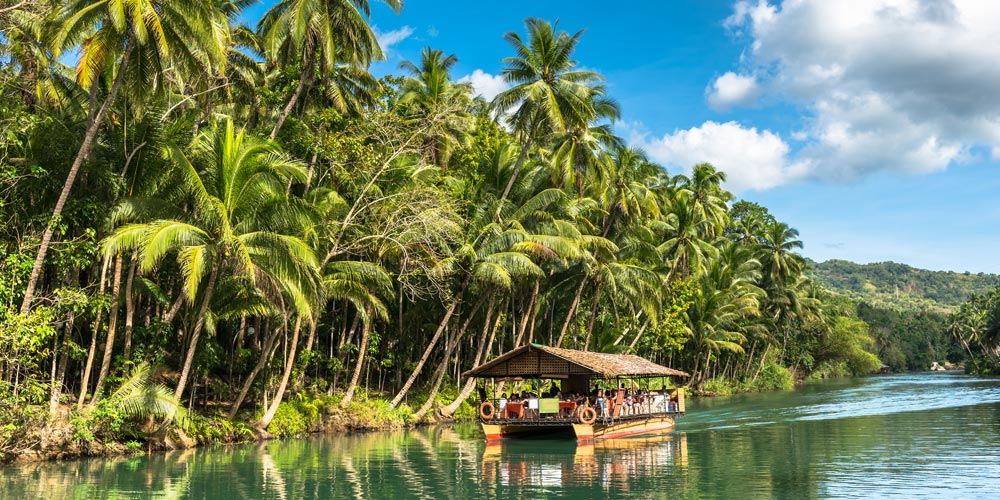 Day seven:

stand up paddleboard fun on Loboc River

Stand-up paddleboards are low impact, great fun and perfect for exploring the incredible Loboc River at your own pace. They're also surprisingly easy to get the hang of, even for total novices. After a morning steering your own craft, it's time to hop aboard a local ferry for an effortless two hours sail west to Dumaguete on Negros Island.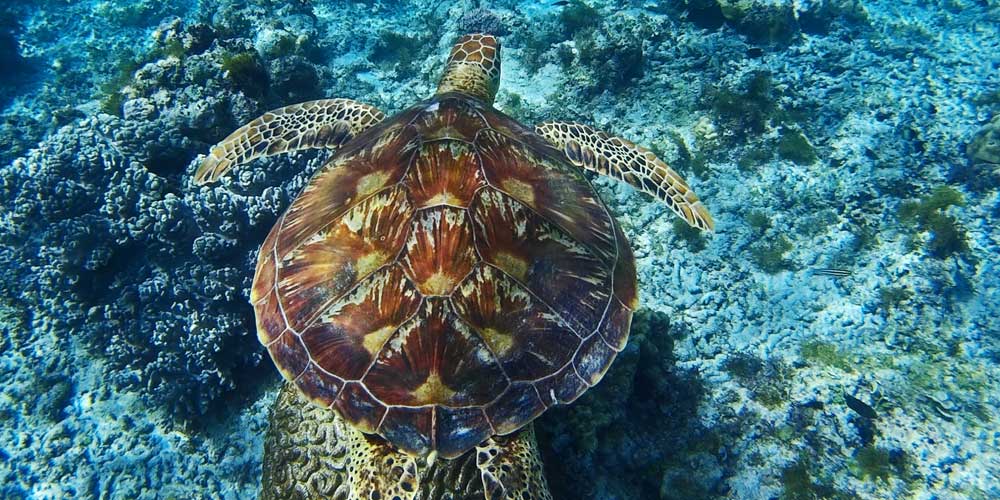 Day eight:

meet the turtles on Apo Island

Little Apo Island is one of the Philippines greatest conservation success stories. Its once over-fished waters are now a protected marine reserve cared for by former local fishermen and their families. The backstory is fascinating, but nowhere near as interesting to kids as swimming with turtles.
Highlights
A short, scenic sail from Dumaguete to Apo Island
Swimming with the turtles at aptly named Turtle Point.
Snorkelling the island's clean, clear waters.
Lunch at the characterful Apo Island Beach Resort.
Trekking Habagat Trail for awesome sea views.
A lazy afternoon playing, exploring and swimming on one the island's pretty, white pebble beaches.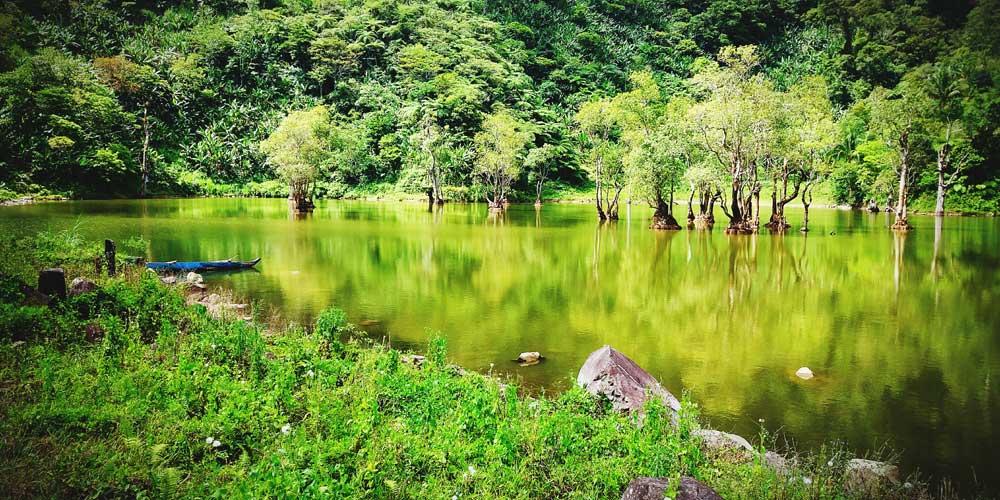 Day nine:

swim and kayak in Balinsasayao Twin Lakes Natural Park

Balinsasayao Twin Lakes Natural Park on Negros Island combines conservation with a talent for adventure so kids can expect a plenty active time today: swimming, kayaking, trekking, paddle-boarding and exploring.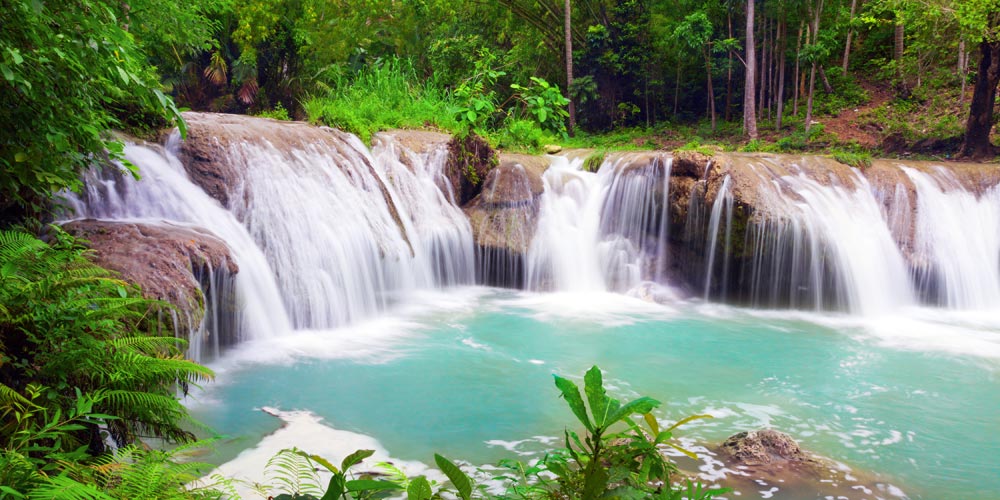 Day ten:

discover the secrets of magical Siquijor Island

If you imagined a mythical island it would probably be a lot like Siquijor, though after spending a day here, you may have to concede that even your wildest imaginings couldn't have come up with anywhere quite as breathtakingly beautiful and atmospheric.
Highlights
A tale filled visit to the 400 year old banyan tree haunted by spirits, according to local lore.
Lunch at Cambugahay Waterfalls.
Swimming in the enchantingly pretty waterfall pools.
Wandering about the island's dazzling butterfly farm.
Exploring the Cantibon Cave on Mount Bandilaan: it's famous for spectacular stalactites and eerie underground streams.
Visiting historic Saint Francis of Assisi Church and Saint Isidore Church and Convent: one of the largest and oldest convents in South East Asia.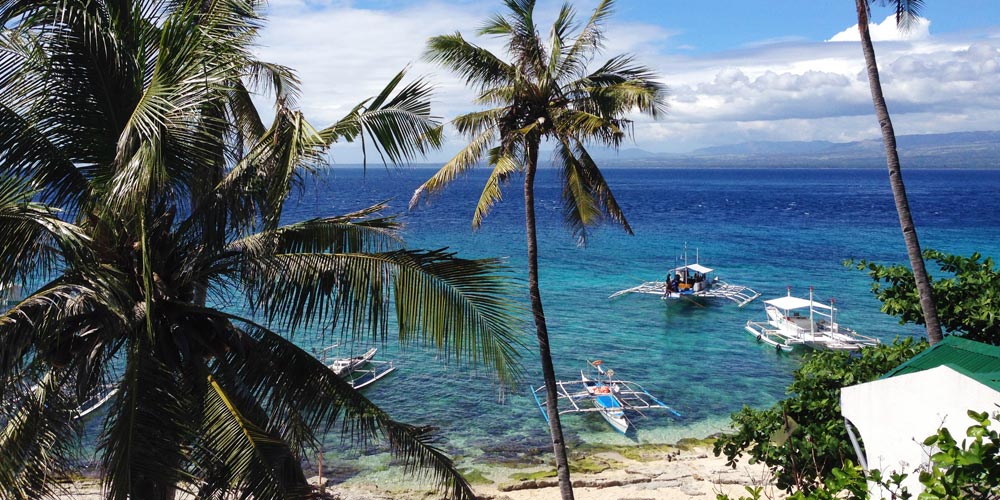 Day eleven:

downtime day on Negros Island

It's up to you what you do today and there's plenty to choose from on intriguing Negros Island from trips round traditional local markets to guided hikes or a bit of beach hopping mixed in with snorkelling and swimming. Or you might want to just hang-out at your resort and play in the pool.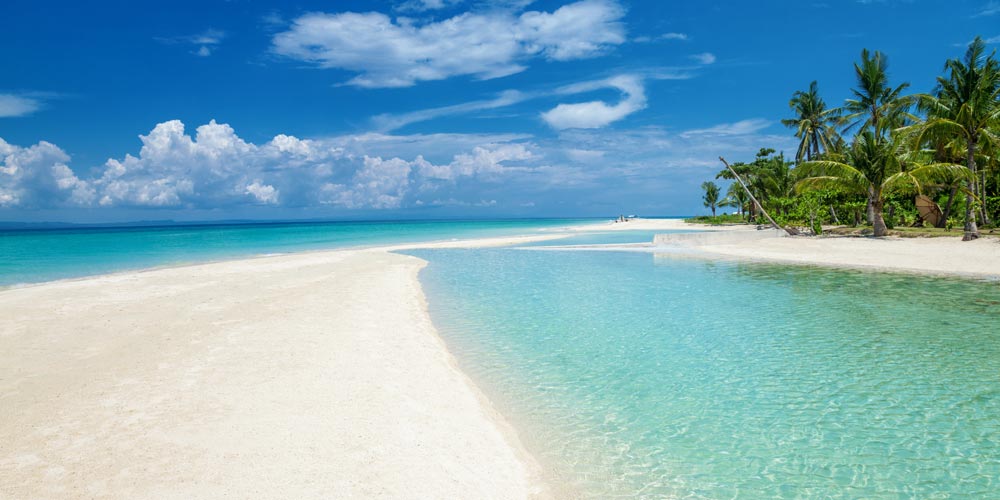 Day twelve:

set sail from Negros for Cebu Island

The most densely populated island in the Philippines, Cebu should feel crowded. Instead, it's as well known for white-sand paradise beaches as non-stop Cebu City. And if no island holiday is complete without at least one diving expedition, Cebu's reputation for outstanding sites stretches well beyond South East Asia.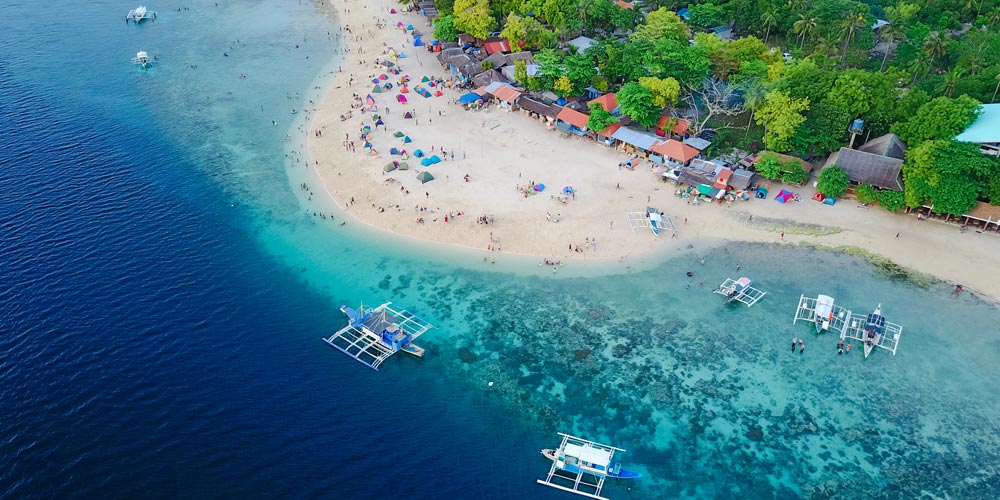 Day thirteen:

free day of play on Cebu Island

Whether you're up for diving or snorkelling, swimming, hiking or just hanging out, you're free to see where today takes you. Of course, Families Worldwide also have a wide choice of local tours and activities if you want a more organised approach to the day.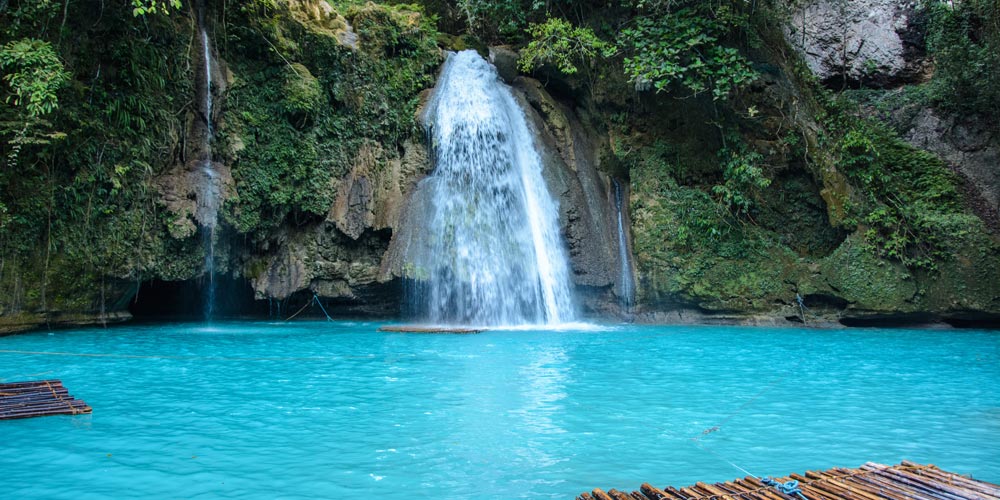 Day fourteen:

canyoning on the Kanloab River

It's hard to know what kids will remember most about this incredible 15 day adventure, but there's a good chance canyoning on the Kanloab River will features somewhere in top ten list of unforgettables.
Highlights
A guided trek along the course of this phenomena strewn river.
Climbing and clambering over mighty rocks, leaping into rock pools.
Swimming through deep and mysterious caves, wild river-swimming in the Kanloab.
Forest hiking and lunch at the Kawasan Falls.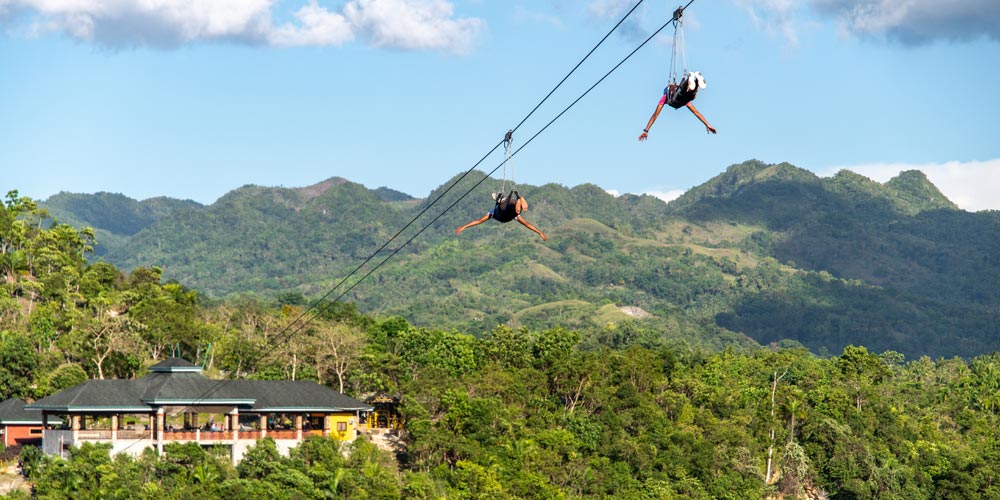 Day fifteen:

fly home to the UK

Even reluctantly returning home is easy on this holiday as Families Worldwide arrange your flights back from Cebu Airport rather than Manila.
15 days in the Philippines at a glance
15 day family holiday staying in Manila; Bohol; Negros Island; Cebu Island.
Including direct UK flights to the Philippines: flying time just under 13 hours.
Including all internal flights; airport transfers; road and ferry transport.
13 x nights in handpicked resort hotels, all with swimming pools.
13 x breakfasts; seven lunches; two dinners.
All activities, tours and experiences in the itinerary are included in costs.
A wide range of optional activities let you tailor the adventure.
Best for over fives, older kids and teenagers.
The holiday can be taken throughout 2019 (with the best time to visit being Christmas, February, Easter and May!)
Child prices from £3065 and adult prices from £3639
Tempted to discover more of South East Asia, Africa, the Middle East, Europe or the Americas? Families Worldwide tailor-make family adventure holidays on just about every continent, so pick your idea of perfection and get in touch.