A phenomena-filled family adventure in the Philippines
Sponsored
You have to give it to the Philippines: there isn't a single extraordinary experience you won't find here, and countless you definitely won't find anywhere else. It's also an amazingly easy country to visit with kids, if you happen to know the right people.
Families Worldwide are experts in South East Asia and especially wise about the ways of the Philippines. They've been tailoring family holidays in this remarkable part of the world for decades so you can depend on them to know where to go and what to see, but also to understand what it's like to travel with kids and take care of all the practicalities – right down to tiny details you'd only be aware of if you were actually a local.
So if the Philippines is on your wish list, have a look at how the adventure shapes up according to the experts at Families Worldwide. Remember, it's just a guide, and let your imagination run wild.
Chocolate Hills & Tarsiers: 15 days in the Philippines
Families Worldwide have created the perfect balance between high adventure and beachy downtime on this holiday. They've also managed to fit in several astounding wildlife experiences, plenty of local culture that's big on kid-appeal and just about as many natural phenomena as it's possible to assimilate in 15 days.
It's a cleverly designed itinerary right down to details like swimming pools at every hotel, leisure days to recharge parent and child batteries, and thoughtfully arranged journeys that aren't too demanding on younger travellers. Families Worldwide specialise in offering private family holidays throughout the Philippines. So look at this adventure as inspiration for your own personal spec – though there's a chance you'll like it exactly as it is:
Day one & two:

fly overnight from UK to Manila

Making long-haul as easy as possible is a Families Worldwide priority. Overnight flights from the UK to Manila are a great idea with kids. You'll be met at the airport and transferred smoothly to your hotel in the Bay of Manila. Leaving you to simply check-in, catch your breath and enjoy some free time to explore, or just relax by the hotel pool.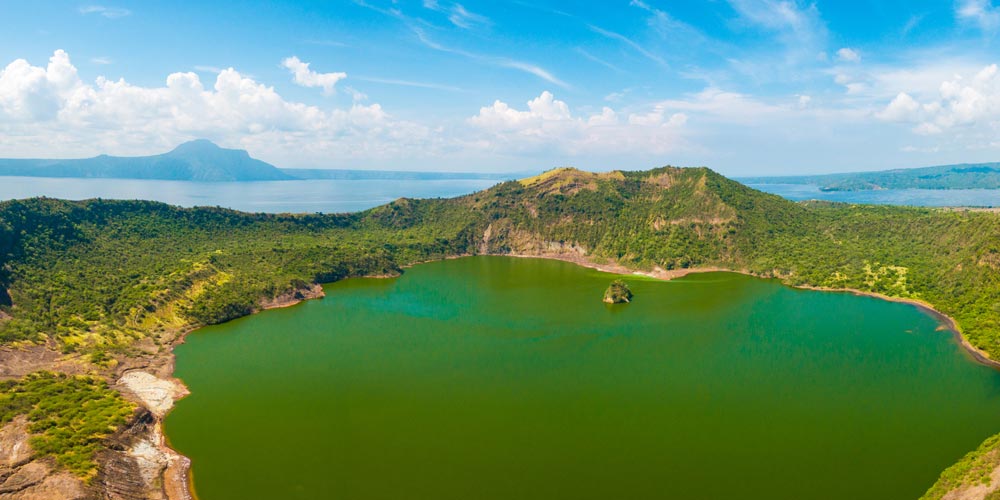 Day three:

trekking the Taal Volcano on Luzon Island

The complex Taal Volcano is part of the Pacific Ring of Fire and one of the most active volcanoes in the Philippines. It sits on Luzon Island, so today's adventure begins with a morning drive and a short sail across Lake Taal.
Highlights
Trekking black lava trails to the volcano rim – exciting, but easy going.
Crossing sulphurous volcanic steam vents.
The big reveal of the crater lake at the summit.
The view of Lake Taal and the surrounding mountains and islands from the top of Taal Volcano is rated one of the best views in the Philippines.