Tigers, elephants, jackals… with the live-action remake of Disney's much-loved The Jungle Book out in April, Dea Birkett heads to the heart of India in search of its legendary characters.
Welcome to the jungle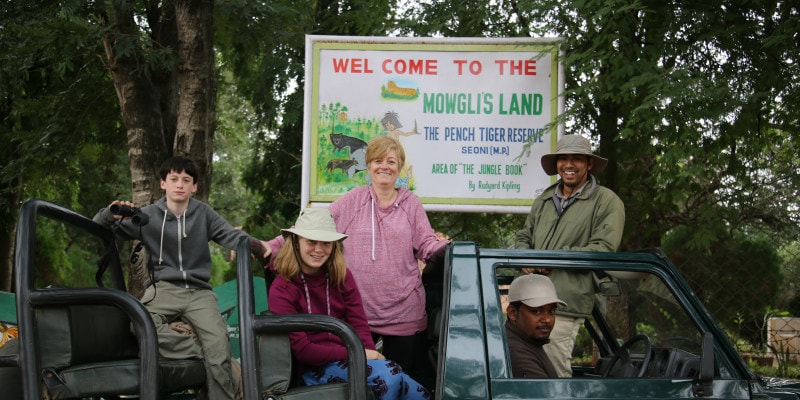 Our eyes were peeled, our ears pricked, our noses twitching. We were in the heart of the jungle, looking for tracks. 'Stop! Look!' shouted our guide, Avijit. There's a small pile of tiger poo. Avijit picks it up, sniffs and rolls it around in his fingers. Then he hands it to the 14-year-old twins to sniff, too. 'A bit hard,' he says, disappointed. 'Not fresh. Probably about six hours old.'
We'd set off from Jamtara Wilderness Camp in Madhya Pradesh – the very heart of India – at 5.30am, before dawn. It was only a 15-minute drive from the camp to the entrance of Pench National Park, but it was bitterly cold in the open jeep. Twins River and Savanna cuddled up against each other in the back, smothered in blankets.  We'd risen this early because we had a clear mission – to track down Kaa the rock python, Hathi the elephant, Tabaqui the jackal, Ko the
We'd risen this early because we had a clear mission – to track down Kaa the rock python, Hathi the elephant, Tabaqui the jackal, Ko the crow, Mao the peacock, Bandar-log the anarchic langur monkeys and Shere Khan the tiger. Ours wasn't a list of sightings a naturalist would share. We were on the hunt for the characters from The Jungle Book, one of the twins' favourite childhood stories. Rudyard Kipling, who grew up in India, had set his classic tale in this jungle.
If you want to track a tiger, there's no better place than Kipling's jungle. Amit Sankhala, the grandson of Kailash Sankhala – a pioneer of the Project Tiger conservation movement back in the '70s – founded Jamtara. Only 10 years ago, there were fewer than 1,500 tigers left in India. Now, there's double that number. And one of the biggest concentrations is in Pench.
Out on our early morning safari, we watched the jungle wake up. Lolling Indian bison – the biggest cattle in the world – dwarfed our small jeep, as if they could lean against us and roll it over. A pair of leaping jackals pranced by on their morning patrol. The squabbling macaque monkeys, with bright red faces and bottoms, began to drop down from the trees like ripe fruit. 'Monkeys are the laziest animals in the jungle. They're just waking up,' said Avijit. 'So am I,' said River, yawning.
A crazy adventure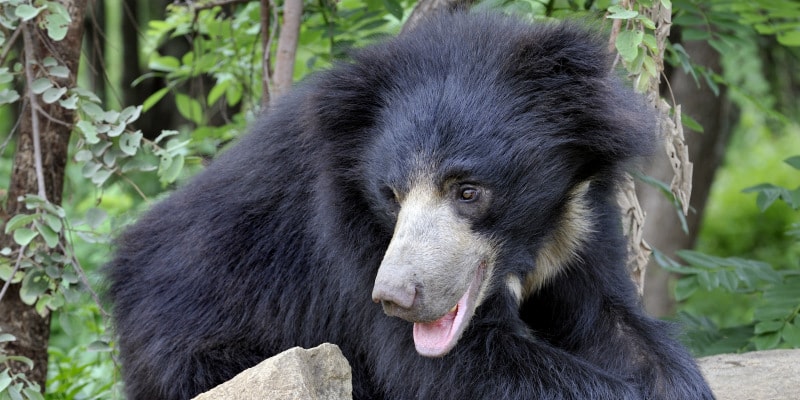 I peered through my binoculars, searching for flash or orange and black stripes between the teak trees. But we were doing it wrong. The place to peer, explained Avijit, was not through your binoculars into the trees, but down at the path below the jeep's wheels. That's where we'd spot a tiger's paw prints, the distinctive five toed soft front pads.
We could then follow their tracks. 'It's very rare to just spot a tiger in the jungle,' said Avijit. 'Very rare indeed. You hear the alarm call, then stop, find some paw prints, then watch for them to emerge. It's not an accident when you find a tiger. You have to carefully track them.'
As soon as we heard an animal alarm, we started up the jeep and rushed towards it. Perhaps a tiger or pack of wild dogs were close by? Even a leopard? One had been spotted lying on the rocks only a few days ago. We'd stop and listen again, and again, and again. We started and stopped our engine, chasing around the cries of terror. But we didn't find a tiger. Shere Khan eluded us.
We returned to the quiet of the camp at Jamtara. The Hollywood stars who voice the new Jungle Book film would like it here – Idris Elba as Shere Khan, Ben Kingsley as panther Bagheera, and Bill Murray as the bear Baloo.
The camp is 10 colonial-style khaki tents, each with huge four-poster beds draped in mosquito nets. We stored our kit in battered tea chests. At night, we gathered at the Banyan Bar – a circle of mighty banyan trees around a campfire to ward off the insects. Avijit told stirring tales of earlier sightings.
There was the story of a man from a nearby village who had been walking along a path and spotted a tiger. He was carrying an umbrella, and the umbrella saved his life; he fought off the hungry tiger with it. 'He still has the white marks of his teeth in the flesh of his arms,' said Avijit. 'I have seen them.'
He'd also seen the one-eyed man whose eyeball had been torn out by a sloth bear he'd chanced across with her cub while scything hay. Who needed Kipling when we had Avijit's tales to entertain us?
A sad end to the magic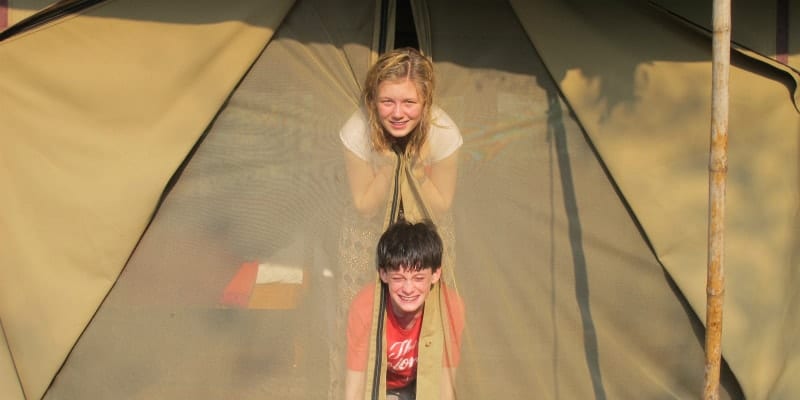 For three days, we lifted our tent flap at 5.30am, piled into the open jeep, wrapped ourselves in blankets and headed into the jungle. Each day, we spotted paw marks and poo, but no tiger. At night, we'd venture into the surrounding countryside. Their cornfields were dotted with makeshift wooden huts on long bamboo stilts standing high among the maize.
The villagers took it in turns to spend the night there, ready to scare off any predators that dared to threaten their crops. As the sun went down, they took their cattle in from the fields and tethered them securely inside the shell of their tiny, tidy villages of lime- and cow-dung-smothered homes, in case a tiger was on the prowl.
Bright orange corn kernels, peculiar to this region, were spread out on blankets to dry, like sun-coloured pearls. Wobbling wooden- wheeled carts were pulled by a pair of bullocks with brightly painted horns. This scene must have changed little since Kipling's time.
We had discovered the author's India. But we didn't track down a tiger – though we'd trespassed into the pages of The Jungle Book, and spotted some of the characters that inhabit it. And we got to sniff a lot of tiger poo.
The lowdown
Getting there
Daily flights to Nagpur via Doha (around 12 hours including two-hour stopover) with Qatar Airways
How to book
Western Oriental offers a package for two adults and two children (under 12) from £6,249, including flights between UK and Nagpur, transfers, three nights' accommodation full board at Jamtara Wilderness Camp and six jeep safaris in Pench National Park. Guides accompany you throughout the trip. westernoriental.com
Tips
Jamtara is open October-May. Trip suits ages nine-plus. Guides essential.
You can extend your trip by spending a few days in Mumbai. You can also travel by train from Mumbai via the world heritage sites of Ellora and Ajanta.
 Adventures come in all shapes and sizes, from camping in Borneo to husky sledding in Slovakia. Don't miss our ten best adventure holidays for families.