Why go?
'I bless the rains down in Africa…' Listening to Toto, I couldn't help but think what strange subject matter for a band of American session musicians. Only Toto could get away with rhyming 'company' with 'Serengeti'. We had set off on our South African adventure: me, my wife Victoria, and our children, Beatrix, six, and Max, four.
As a family, we wanted to see the beautiful scenery around Cape Town, not to mention all the activities in the city itself. The safari was always going to be a huge draw, my children having reached an age where they could tell the difference between a couple of blasé giraffes at London Zoo and the deadly lions that would stalk past just metres from our jeep in the wild. 
Activities
Cape Town
The Victoria & Albert Waterfront is a short walk from the Cape Grace Hotel and a real treat for children. Ours spent hours on the outdoor playground, and there's an aquarium, harbour cruises, a ferris wheel and a host of other attractions to keep them entertained.
We took the cable car up Table Mountain. It was a cloudless day and we could see for miles. You can hike to the top of Table Mountain (it takes a few hours), but the cable car will speed you to the summit in five minutes.
Attraction prices:
Aquarium – Adults £7, Children £5
Pirate Boat Cruise – Adults £8, Children £4
Ferris Wheel – Adults £5.50, Children £3
Cable Car – Adults £12, Children (4-17) £6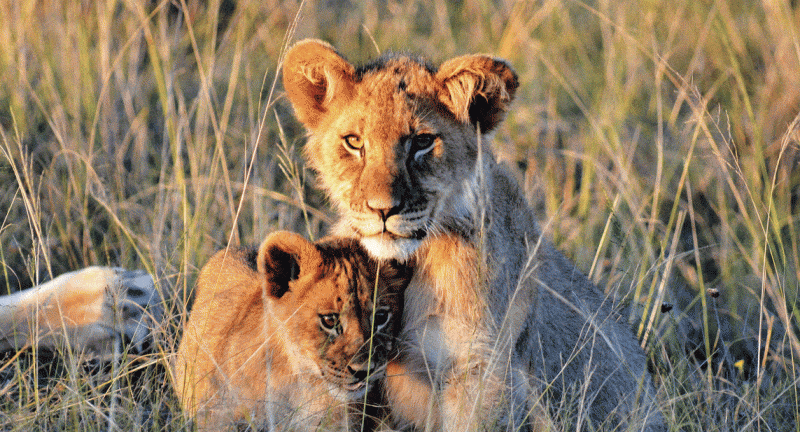 Gondwana Game Reserve
Upon arrival at Gondwana Gane Reserve were introduced to our ranger, who introduced himself as 'Forget'. It was exhilarating, and within 15 minutes, Forget had spotted two cheetahs in the tall grass.
This private game reserve has the Big Five – the African Elephant, Black rhinoceros, Cape buffalo, African Lion and African Leopard – roaming freely around, as well as many endangered species. These are all set to delight children of all ages and fascinate them as they take strolls as you're eating breakfast in your lodge. The reserve will also take your breath away for its outstanding beauty of endless mountain views and rolling shrubland. A big plus point: it's malaria-free, making it safe for the kids all year round.
Our ranger's enthusiasm for what he does was matched by the speed at which he drove.We skidded down valleys, bounced out of our seatbelts and streaked through mud in pursuit of a dot on the horizon. The land was thick with pine bushes, like huge oversized brittle dandelions on scorched red soil.
Forget took us on a private excursion, which meant we could shorten the time a little and head to Bea's favourite animals: the snorting hippos on the lake.
Apart from the wonderful safari adventures here, there's also golf courses, great swimming and surfing beaches, as well as coastal towns of Knysna and Plettenberg Bay.
Accommodation
The Cape Grace is in a great location, right by the historic harbour, and with views of Table Mountain. Our suite was vast. Sitting room, big balcony and two huge bedrooms. The hotel isn't what I would call a family hotel (no kids' clubs or playgrounds), but it is very child-friendly: staff would call out, 'Hi Bea, hi Max!' as our kids chased each other through the reception. 
The Lodge's accommodation is dotted around and I loved the layout. The huts felt part of the beautiful scenery, just a few minutes from the main reception but with a marvellously secluded ambiance. All the rooms, whether the large central sitting room, open-plan kitchen, or wraparound balcony, had incredible views across miles of wilderness. 
The lowdown
How to get there: Premier Holidays offers a South African adventure from £1,949 per adult and £1,695 per child. Includes return flights to Cape Town, four nights at the Cape Grace Hotel, Cape Town, bed and breakfast, and three nights at Kwena Lodge, half-board, plus all transfers.
Offer is based on a family of four (two adults and two children up to 11 years old), and is valid for travel from May-July 2015. For more information visit Premier Holidays.
When to go: From November to March, the Cape is hot and dry. The autumn months of April and May have crisp, clear days (ideal for hiking on Table Mountain). Temperatures peak between December and February.
Flight time: 11 hours and 15 minutes.
For more information: Visit southafrica.net
Fancy seeing more wildlife holidays? Here are the best places in the world for wildlife holidays.