Why go?
And so we were on our way; our four-year-old son safely packed off with the mother-in-law. Not an overnight in a B&B with postmodern wallpaper somewhere within earshot of London, but Marrakech. Heat and donkeys and the wail of the muezzin; mysticism and mint tea. We'll trade William S Burroughs anecdotes with drawling French expats, and sit cross-legged with holy men in the Atlas Mountains. I'll learn calligraphy and recite the poems of Omar Khayyam. 'More importantly,' my partner Jo says, 'I can finish reading Gone Girl.'
There's no time difference between the UK and Marrakech, but four in the afternoon here is a different hour to the grey-skied one at home. 'How hot?' we ask our driver. 'About 35?C!' And we cruise past crumbling ochre ramparts, watermelon stalls and women in sky-coloured jellabas who glide out into the road.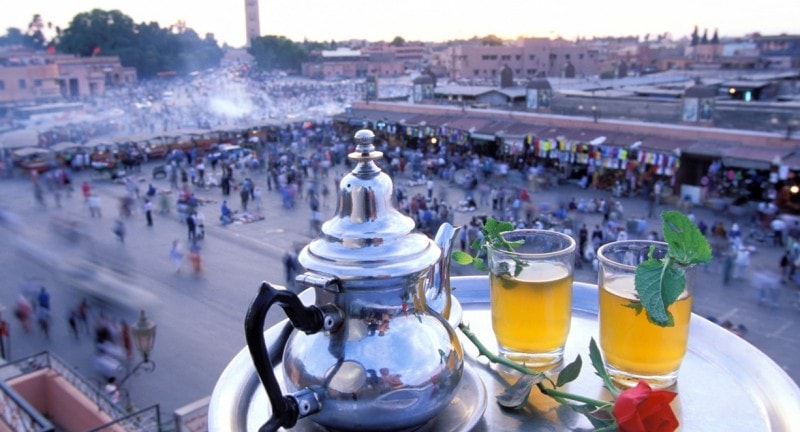 Activities
Jardin Majorelle: Jo suggests we visit Jardin Majorelle, a place she's missed on previous trips. It was planted by Jacques Majorelle in the 1930s, then restored by Yves St Laurent in the 1980s, and it's like being inside the hot house at Kew – except you're outside. There are jasmines and yuccas and sudden, startling stalagmites of cacti, interspersed with flashes of bird-of-paradise blue paint from Jacques's palette.
In the café we slurp smoothies of almond, avocado and dates. Inspired by Yves, several funky design shops have opened in the street outside. The souks sell many wonderful things, but if you already own a carpet or two, slippers and a teapot, walk into 33 Rue Majorelle, a split-level boutique where Jo picks up a quirky tote bag and a colourful apron made by local designers.
The medina: The secret to navigating the souks is to walk in a determined fashion without looking left or right as if you know exactly where you're heading – and, yes, yes, we do this journey every day and thanks but no thanks, I don't want to smell your sandalwood. But then one of you gets distracted by an eyeless sheep's head or some authentic Moroccan Beats by Dre headphones and it's all to naught.
To my amusement, Jo is ensnared on Jemmaa El Fna, the city's epic, medieval square. At dusk it sparks into life, smoke coiling up from barbecue coals like djinns; in the afternoon it snoozes, apart from the clamour of snake charmers. Stepping in to take a closer look, she's lassooed by a serpent, its owner whispering 'Good luck, good luck, just 300 dirhams'. I rescue her for a fraction of that and a little less luck, and her slithery cravat is removed.
Wherever you are in Marrakech, head to a rooftop half an hour before the sun sets. In the medina, there are two good ones at Un Dejeuner a Marrakech, a stylish café in the souks, and Kosybar, a chill-out bar in the old Jewish quarter.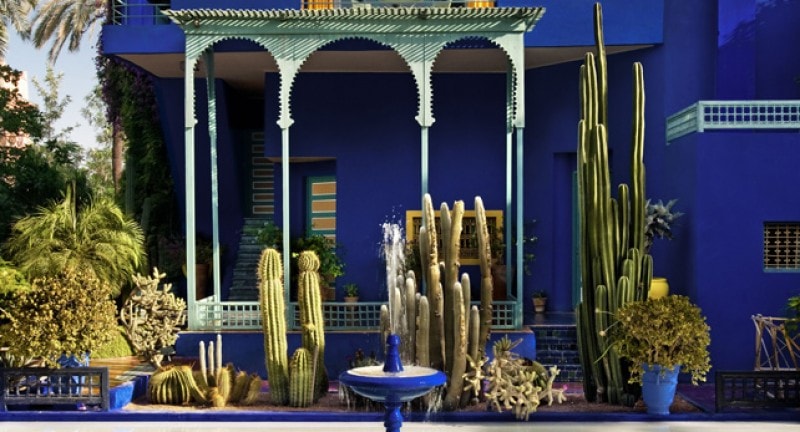 Accommodation
Our home for the trip is Palais Namaskar, surrounded by the spiky, otherworldly landscape of La Palmeraie.
In the lobby there's an edition of The Thousand and One Nights, its pages rich with illustrations of almond-eyed beauties sprawling by limpid pools. The artists might have had the Namaskar in mind. Rows of crinkle-cut arches are reflected in aquamarine shallows – and there's water everywhere, cascades and ponds of it.
Down a bougainvillea-thick passage is our LA-style pool bungalow and a siege-proof door that sinwgs shut and leaves us alone in our own walled garden. Instant calm. There are floor-to-ceiling windows; comfy chairs to ploof down on. The heated swimming pool is set within a larger, cool-water pond… and, 'What are you doing?' Jo cries, as I strip off and plunge in. You don't need to pack swimwear.
Easy to stay within our walls, to dip in and out of the pool and dry off on the loungers. We sway in hammocks, and feast on fresh fruits, blue lobster, velvety tagines and flaky chicken pastille in the restaurant.
The Palais Namaskar has a wonderful terrace of its own. Perched on cushions, we sip cool beers as music bubbles up from the DJ and frogs from the lake join in. In the distance, the Atlas Mountains are cloaked in haze. Below, tea lights flicker like fireflies. This is what being away without kids is about, isn't it? Not just rushing around at breakneck speed and staying out till late, but enjoying the space and the sounds and the warm breeze on our skin. It would be too hot for him, we say; none of the restaurants do sausages and baked beans. But we promise we'll all go in the winter.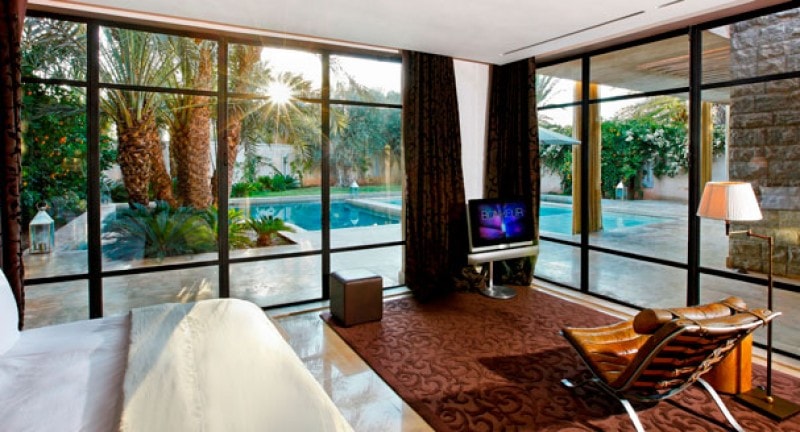 The lowdown
Getting there: easyJet flies to Marrakech from Gatwick, Stansted and Manchester, from around £100 return. Gatwick Express runs between London Victoria and Gatwick every 15 minutes, from £30 return. Buy tickets on thetrainline.com
Where to stay: Palais Namaskar (+212 5 24 299800). Doubles from €590, including breakfast.
What to visit: Jardin Majorelle (+212 5 24 313047).
Where to eat and drink: Grand Café de la Poste, corner of Boulevard el-Mansour Eddahbi and Ave Imam Malik (+212 5 24 433038).