They're not called the British Isles for nothing. And where water separates the locals from the mainland, you're sure to find a route that gives you the chance to get there in style with family ferry holidays
  ○   ○   Route 1   ○   ○
Calmac Line – Ardrossan to Brodick, Arran, Scotland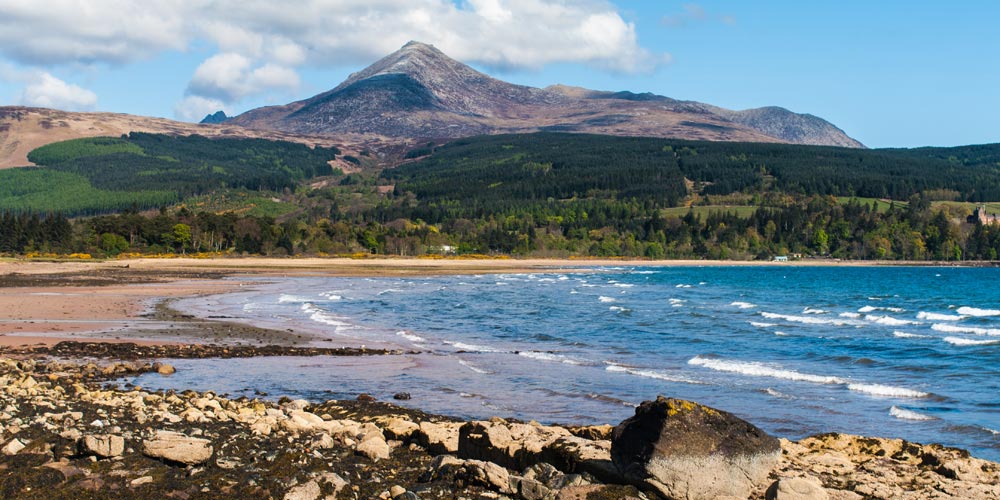 Arran is the largest island in the Firth of Clyde and manages to cram in all the castles, distilleries and mountains required for you to head home with the kids feeling as bonnie as can be.
Eco points: The port of Ardrossan is just 45 minutes from Glasgow Central by train making this a very easy rail and sail option.
Cost: From £12 per person with Rail & Sail tickets from Glasgow. Time: Approximately 1.5 hours (on the ferry).
Family perks: There's outdoor and indoor seating with two cafes, baby-changing facilities and plenty of views.
Journey highlights: Admire Arran's highest mountain, Goat Fell, rise into view as the boat approaches into Brodick.
  ○   ○   Route 2   ○   ○
Stena Line – North Sea – Harwich to Hook of Holland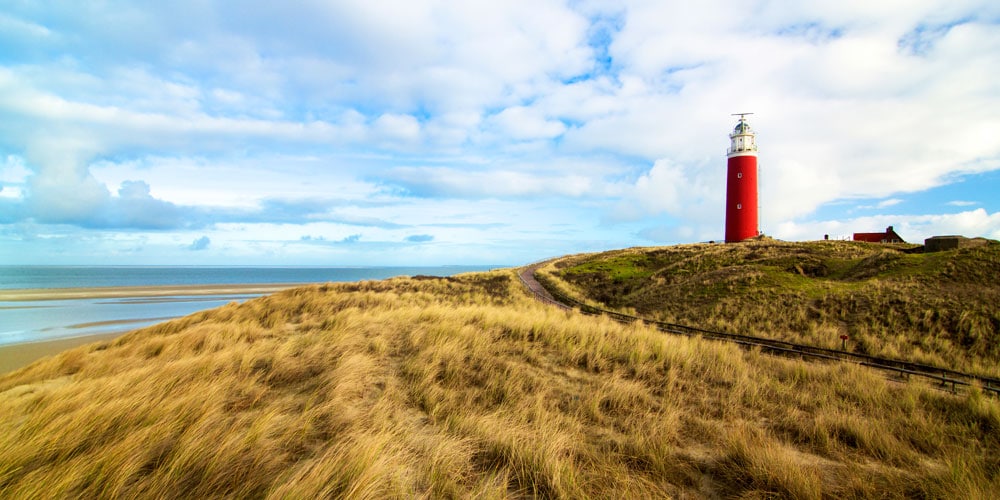 From the Hook of Holland take a train to Rotterdam or Amsterdam or head up the coast by car to the remote island of Texel.
Eco points: On its North Sea routes Stena Line pumps polluted water ashore and cleans wastewater by bacteriological processes to limit sea pollution.
Cost: From £91 for a vehicle and up to four passengers, without a cabin one way.
Time: Approximately 6.5 hours by day, 9.5 hours overnight.
Family perks: A basketball court on the top deck, cinema room, Fun Zone, Teen Zone with video games, kids menus and family cabins on the North Sea Superferries.
Journey highlights: Spending the night at sea is an adventure in itself, especially in the Superferries' luxurious new cabins.
  ○   ○   Route 3   ○   ○
Condor – Poole to Guernsey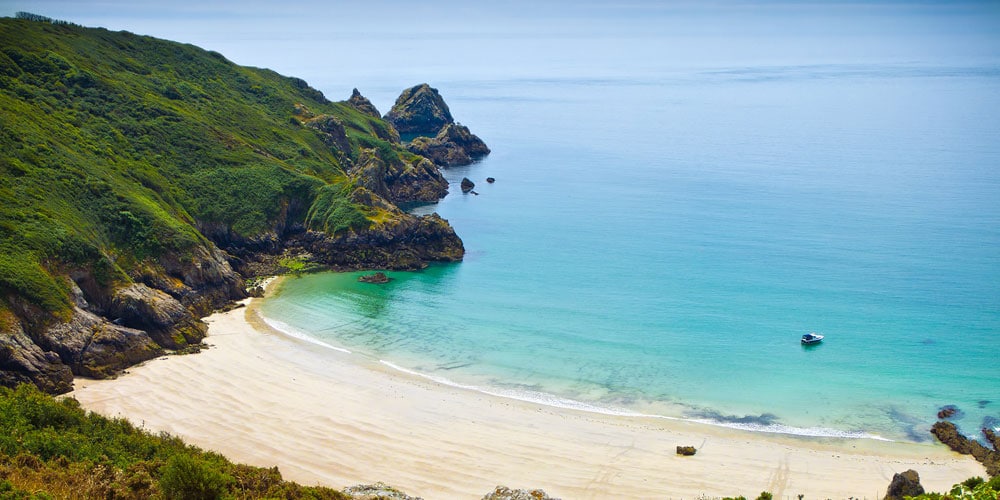 Smaller than Jersey but still with an idyllic coastline and glorious weather, Guernsey is all about surfing, coasteering, kayaking and salty air.
Eco points: There's no additional cost for bikes, although they need to be booked in advance, and Condor Ferries has pledged to reduce onboard plastic by 75 per cent by 2021.
Cost: From £39 per person for a car and four passengers return.
Time: Approximately 3 hours.
Family perks: A kids area and meal boxes makes life on board easier for parents, and there's a viewing deck to make the most of the sea air.
Journey highlights: Sailing by Old Harry Rocks when leaving Dorset and keeping eyes peeled for wildlife like Manx shearwaters and harbour porpoise on the way.
  ○   ○   Route 4   ○   ○
Irish Ferries – Pembroke to Rosslare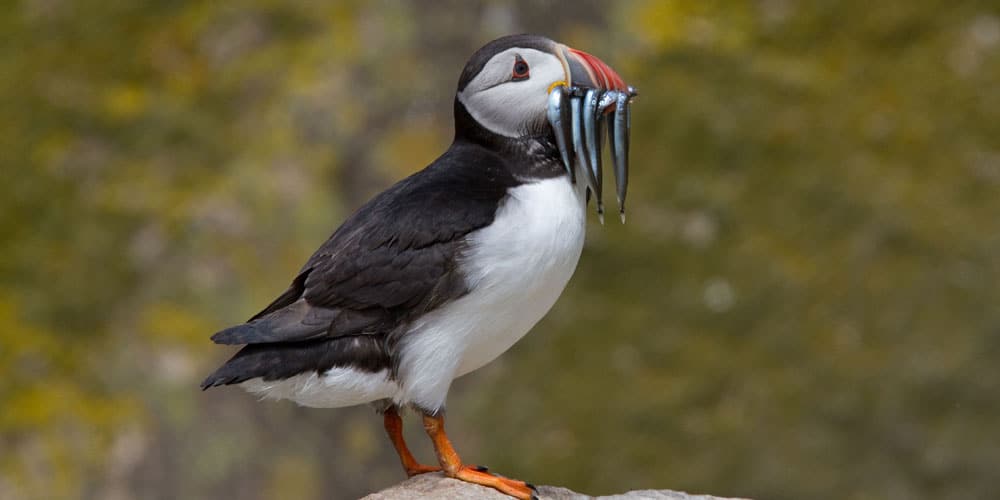 Rosslare is the perfect place to start a whirlwind tour of Ireland taking in deserted coastal views, Gaelic music, country pubs and local seafood.
Eco points: Irish Ferries are working towards cleaner fuel and cutting carbon emissions by moving to LED lighting and more efficient air conditioning systems.
Cost: From £293 for a family of four by car return. Under fours go free.
Time: Approximately 4 hours.
Family perks: Plenty of outdoor seating, Club Class upgrades to premium lounges and kids' menus on board. Each month Irish Whale and Dolphin Group spotters are on board.
Journey highlights: Looking out for dolphins and puffins when leaving Pembroke or just admiring the beautiful coast.
  ○   ○   Route 5   ○   ○
Brittany Ferries – Plymouth to Santander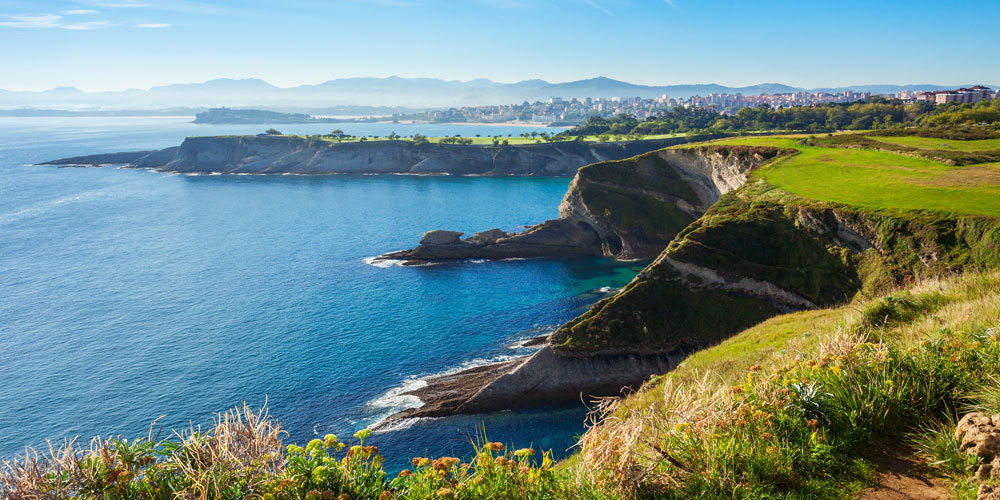 Santander is the capital of Cantabria and the gateway to northern Spain's epic dunes, deserts, feasts and mountains.
Eco points: Between 2006 and 2015 sulphur content in emissions (the really nasty stuff) were reduced from 3.5 per cent to 0.1 per cent.
Cost: From £340 for a car and two passengers one way with a cabin.
Time: Approximately 20 hours.
Family perks: Spacious cabins, a wide range of tasty eating options, games, magicians, entertainers, kids areas, cinema, games room and a swimming pool.
Journey highlights: Dolphin spotting.
  ○   ○   Route 6   ○   ○
Calmac line – Mallaig to the Small Isles, Scotland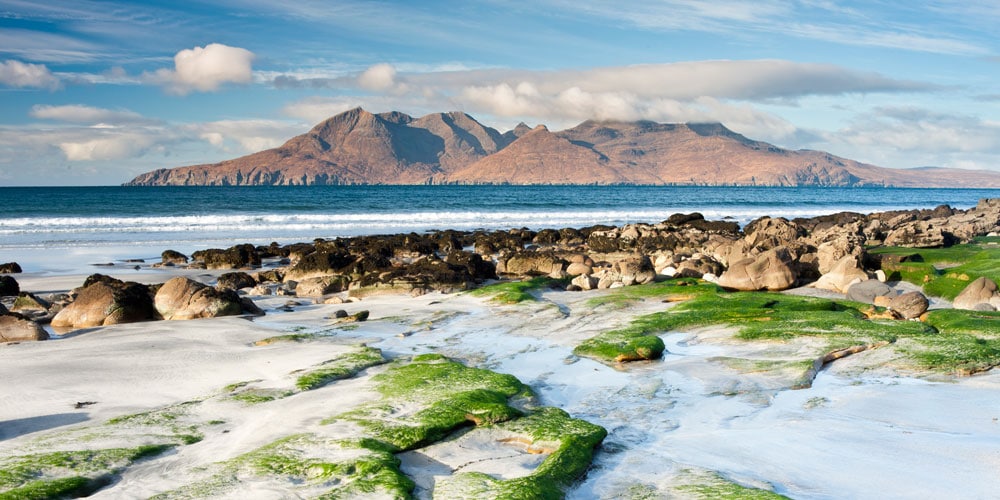 The sleepy fishing port of Mallaig feels like the end of the line until you cross over to the remote Small Isles — Rum, Eigg and Muck.
Eco points: Eigg is the UK's most sustainable island, generating its electricity from wind turbines and solar power. It's also car-free.
Cost: From £11 one way.
Time: Approximately 1.5 hours.
Family perks: An ORCA Wildlife Officer moves between Calmac vessels from March to October spotting wildlife and talking about conservation along the way.
Journey highlights: Watching the seals lazing on the rocks or poking around the port in Mallaig.
  ○   ○   Route 7   ○   ○
Red Funnel – Portsmouth to the Isle of Wight
The Isle of Wight has long charmed British holiday-makers with its sunny climate and sandy beaches. From dinosaurs to monkeys, activities for kids are endless.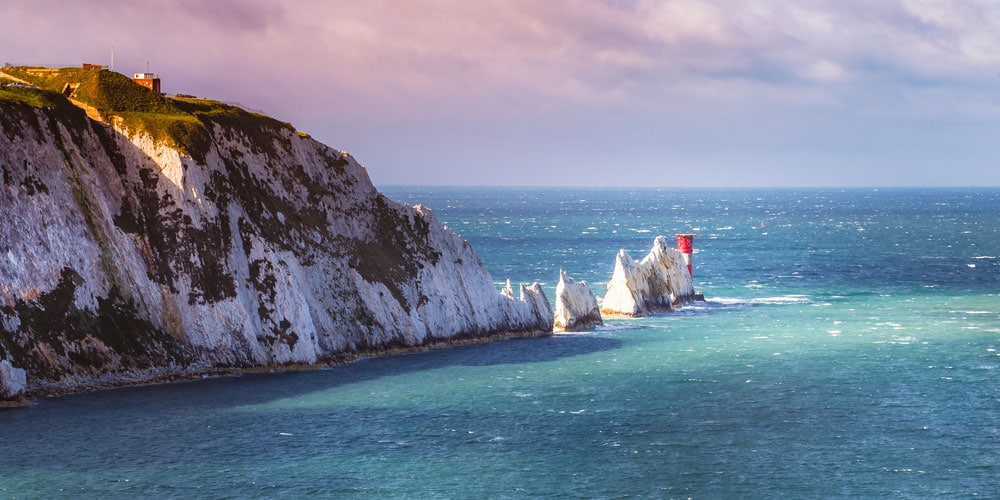 Eco points: Electric vehicles travel for free, Red Falcon operates exclusively on green bio-fuel and last year, Red Funnel donated £15,000 to an Isle of Wight beach clean weekend.
Cost: From £47.50 for a vehicle and up to seven passengers return.
Time: Approximately 45 minutes.
Family perks: The Red Falcon and Red Osprey have new sun decks and walkways with pushchair access. There's a new play area and lounge, too.
Journey highlights: Portsmouth harbour is a historical feast for the eyes; kids will love spotting canons.
  ○   ○   Route 8   ○   ○
Steam Packet Line – Liverpool to the Isle of Man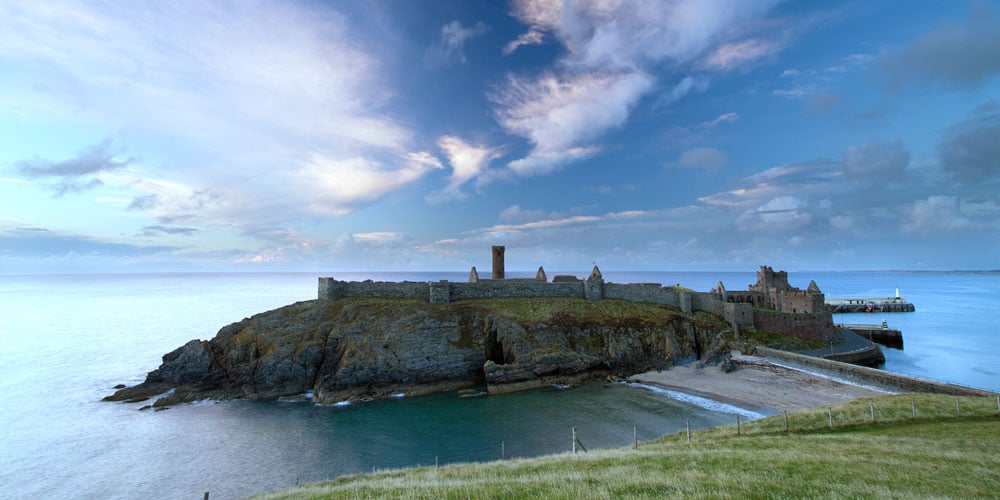 This microcosm of England is packed with intriguing castles, adventure activities and captivating museums, linked together by a steam railway and electric tram.
Eco points: The Steam Packet Company provides travel to the local wildlife park and supports the work of Beach Buddies — a local beach clean charity.
Cost: From £146.50 for a car and four passengers each way.
Time: Approximately 2.5 hours.
Family perks: All vessels have child-friendly areas, outside viewing decks and Manannan has two cinema lounges.
Journey highlights: Berthing in Douglas feels a world away from Liverpool, with its sweeping promenade, occasional seals and slow pace of life.
  ○   ○   Route 9   ○   ○
DFDS Seaways – Newhaven to Dieppe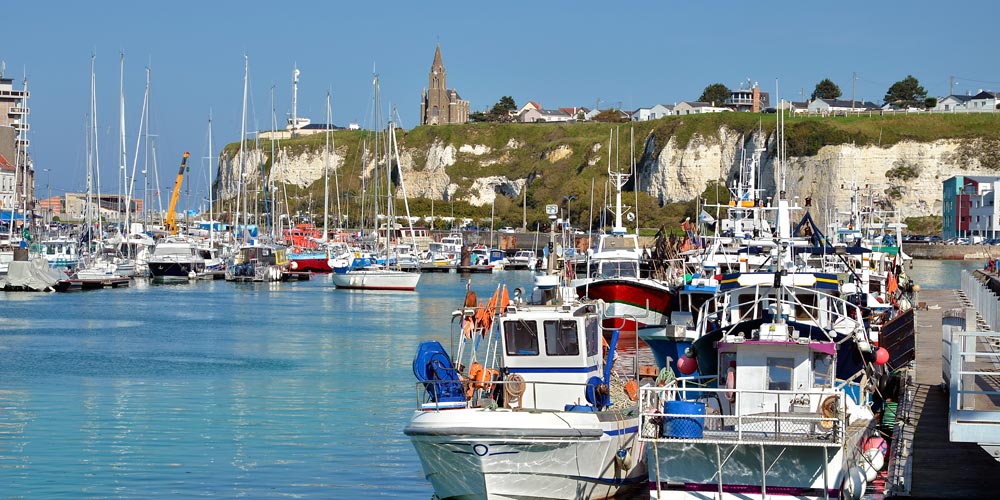 Dieppe is a laid-back port on the Avenue Verte (Greenway) — a mostly car-free cycle route spanning 150 miles all the way to Paris.
Eco points: The marine wildlife charity, ORCA, is on board to spot wildlife and provide wildlife and conservation-related games and takeaway fact sheets.
Cost: From £57 for a car and four passengers one way.
Time: Approximately 4 hours.
Family perks: Kid's area, known as Pirate Island, is regularly visited by entertainer Jack the Pirate and ORCA helps kids spot wildlife.
Journey highlights: Looking back over the iconic English view of Hope Gap and the South Downs when leaving Newhaven.