UK family boating holidays were the sleeper hit of summer 2021. Family Traveller CEO Andrew Dent explains why more families should think about getting on board in 2022.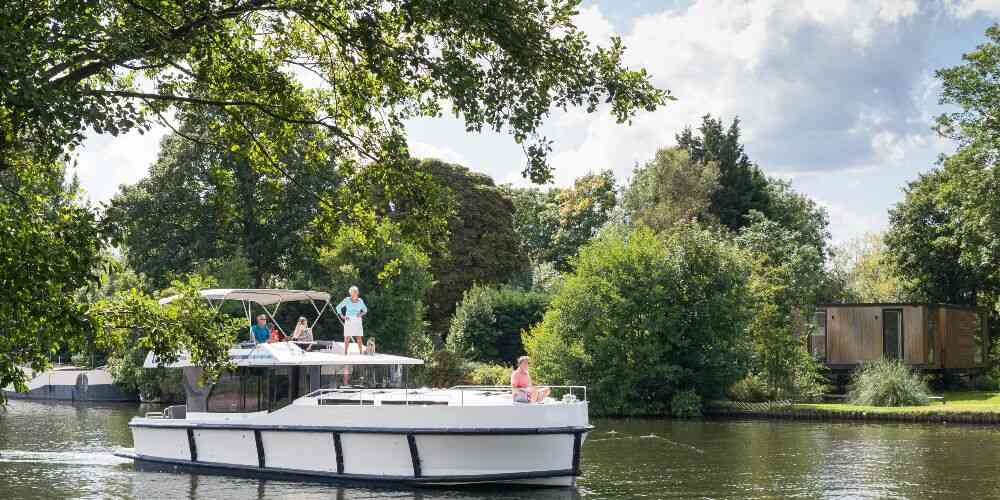 During the summer of 2021 the great UK Staycation was in full force. That meant stratospheric hotel prices, crowded beaches and traffic backing up for miles in Cornwall. So we took a river cruising holiday with Le Boat instead. Avoided crowds, got the kids out on the water, enjoyed spacious and good value accommodation, and had incredible fun.
UK family boating holidays give plenty of freedom and choice
Le Boat has lots of different itineraries to choose from. Most are in Europe, but those weren't an option with last summer's travel restrictions. So we opted for a classic Thames cruise instead.
Potentially, our entire cruise route stretched from Kingston upon Thames to Oxford. Of course you can choose to sail parts of it or do it in the opposite direction; starting in Oxford. There's also the option of one-way or a round trip.
We opted for one-way, Benson to Chertsey. This ticked off some of the prettiest and most interesting stops. And also gave us highlights like, Pangbourne, Sonning, Henley-on-Thames, Marlow, Eton and Windsor.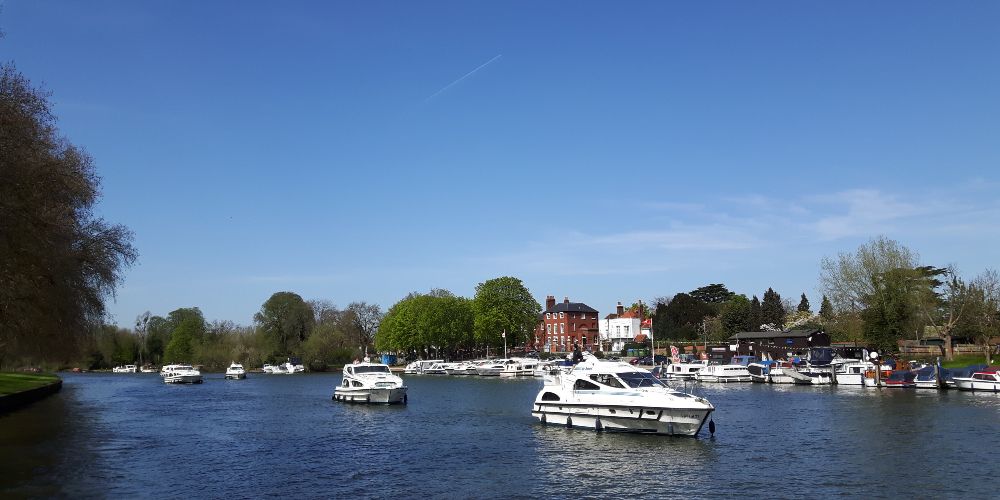 Picking the perfect boat for your family and your budget
The next step was choosing a boat. Le Boat offers a range, so almost any group size and budget is covered. We chose the Magnifique. Le Boat says it sleeps 10, but I'd recommend eight.
It had two decent sized double cabins up front – or should I say at the Bow. Both cabins shared a shower room and separate bathroom. There were a further two generously sized cabins with twin beds, towards the back of the boat – aft. Each had its own bathroom. The boat was stocked with plenty of bedlinen. But I'd suggest taking an extra blanket as it can get chilly at night on the river, even in summer.
The living space sat in the middle of the boat. Again, it was surprisingly generous with a well equipped kitchen and dining/ living area.
Overall, there's more than enough space for up to eight people to live together comfortably for a few days. We were lucky with the weather and didn't spend much time below deck anyway. And fortunately, the Magnifique's sundeck is huge, and fitted with a fixed table and chairs.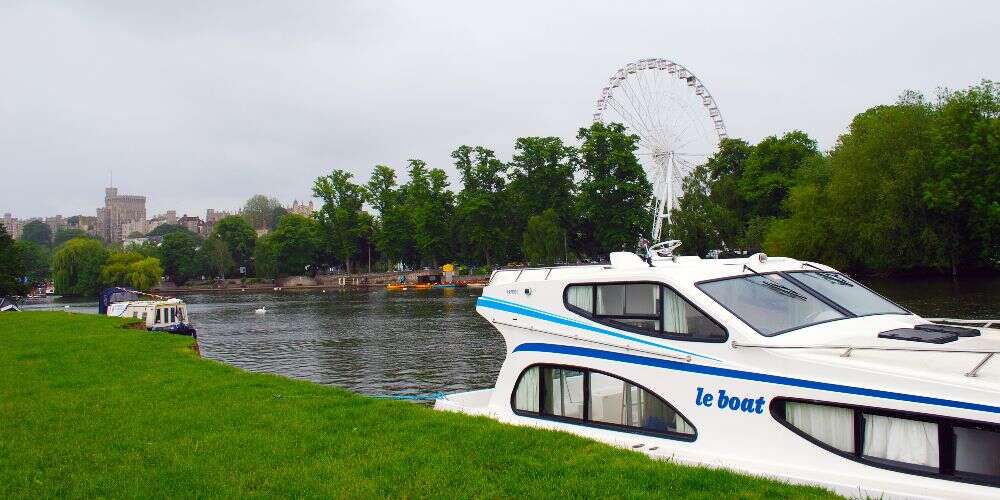 Sailing your own boat is easier than you think, even for beginners
So what about actually sailing the boat. Your intrepid author was somewhat of a novice and a little unsure about taking such a large 'bit of kit' out alone, with only a handful of kids as 'crew'.
Rest assured the chaps at Le Boat base brief you thoroughly. And it's really easy once you've had some practice. Just remember to take it slowly at first. Navigating locks is the most complex aspect and they appear with astonishing regularity on the Thames.
Dating back to the industrial revolution, locks are designed to move boats up and down canal systems. They turned out to be a fun, social part of the holiday. And often a lock keeper was there to lend a hand, but not always. Just be aware, locks can sometimes be slightly tense and you need crew who can handle ropes – something I didn't always have!
This might be a good time to mention a strict rule I suggest you adopt: no electronics above deck! We learned the hard way: one iPhone and one speaker bit the dust/ water.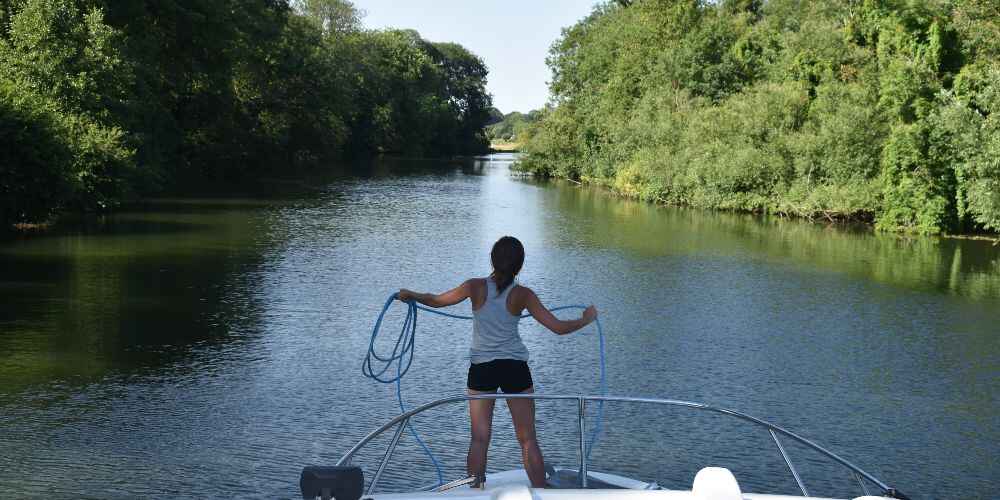 How UK boating holidays with Le Boat work
So how do UK boating holidays with Le Boat work? In short, you're given a set number of days and told where you need to be at the end of that period. How you break your cruise up after that, is down to you.
Normally you'll cruise for three to five hours a day. This is a leisurely pace and fun for kids as they can take turns at the wheel. Then you can spend the rest of the day relaxing on board or trying out a range of on/off water activities. Bring paddle boards if you have them. The back deck of the boat is a perfect launching site. It's also worth packing bikes, a football and cricket or rounders' sets. You'll often find lovely meadows alongside your moorings, especially in Marlow, Henley and Windsor.
There's always something interesting to see along the river in these parts – mainly mega mansions. In terms of attractions on our part of the river we visited Windsor Castle (15-minute walk from mooring) and Cliveden House (10 minute from mooring). Both are good to explore for at least a few hours. Chertsey was our final base. Conveniently, right next door to Thorpe Park, but that's another story.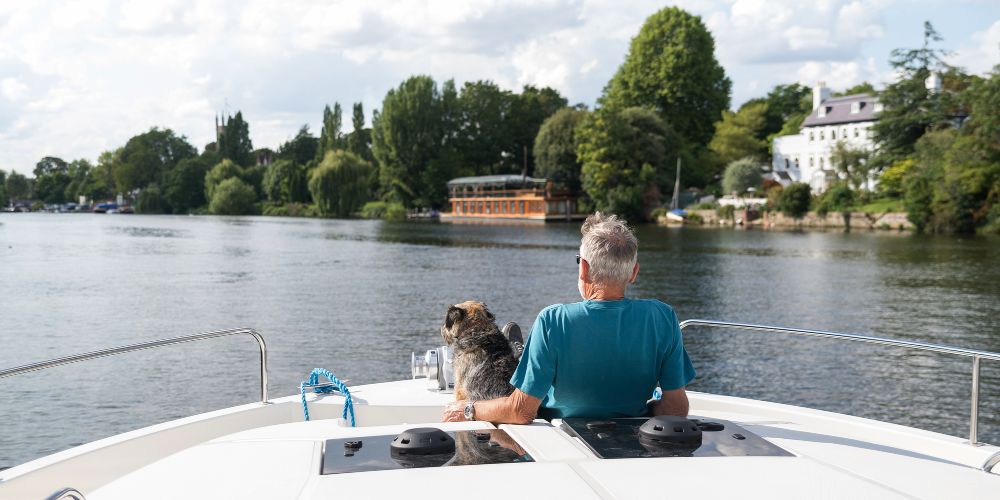 Boating holiday bonus? Sleeping at the bottom of George Clooney's garden
Finally, what about food? As I mentioned, the boat was well equipped for cooking. However, we tended to do breakfast on board, have a picnic lunch on the sun deck, and find a local pub in the evenings. Indeed, the choice of pub may determine where you moor of an evening. It's also possible to have your own BBQ at some moorings.
Mooring's generally straightforward and there are plenty of options. Some are official and some are simply the side of the riverbank, stake in the ground and a rope tied to the boat.
One night we literally slept at the end of George Clooney's garden in Sonning. He didn't drop off any sugar, but the kids got a thrill from all the security cameras.
All in all, this was a great holiday. We had grandparents and friends join us for day cruising. Extra kids arrived to do 'river sleepovers'. And it was a bunch of fun, minimum hassle, educational, active and good value. We would definitely do it again.
Inspired to try UK boating holidays for yourself next summer – or sooner? Visit Le Boat and see their range of offers on 2022 sailing holidays booked before the end of 2021.