Are families in the UK only slim, attractive couples and impossibly beautiful children, gambolling their way through every holiday in a cocoon of utter bliss?
No they aren't. It turns out families come in all shapes and in the UK alone 25% of them are single parent. That's two million people. They're the ones more likely to be wading into the sea after a six year old while trying to calm the hysterical toddler on the shore as their other kid wanders off over the horizon in pursuit of a stray Portuguese dog.
Then just to add a little more, 'are we having fun yet?' pressure into the equation, the number of working single parents has risen from 55% to 65% in the past 10 years. So, far from being a luxury, holidays are often the only space parents get to relax the pace and enjoy spending time with their kids.
Cast your eye over the legion of smug parenting blogs and you'd be forgiven for thinking the world's an easy place to travel solo with children. In reality, most affordable family holidays are still designed round a standard two by two unit. A cookie cutter format that hasn't really changed since the mayor of Benidorm asked Franco to lift a bikini ban in the 1960s and ushered in fifty years of British neo-colonialism benignly known as the package holiday.
But all that really means is organising a holiday for a non-conformist family takes a bit more creativity, ingenuity and effort, which pretty much describes the basic single parent skill set anyway. Plus, you and the kids get to choose what suits you without worrying about another adult's wants and wishes. So with that free spirited thought in mind, where should you be headed with your young travelling companions in 2017.
Summer city holidays with beaches in the mix
Cities take a lot of pressure off lone parents and give you far greater choice of activities, allowing you to nearly custom-design your holidays. Pick wisely and you can squeeze in some fantastic urban beaches this summer too. Plus, nearby beaches keep kids busy while single parents can relax.
Amsterdam
Amsterdam is one of the smallest European capitals, packs a lot in and won't think twice if it's just you and the kids.
The city's end to end children's festivals in July and August and Zandvoort aan Zee's big beaches are only 30 minutes away from the centre. Lakes, forests and safe cycling in Amsterdam Bos are nearby too. And if you're up for some of the world's greatest museums and galleries, zoos and gardens, just go walking: the historic districts are all clustered together and dotted with fantastic, kid-friendly places to eat and drink.
Have a look at Lloyd Hotel & Cultural Embassy in Zeeburg. It's a one to five star hotel in a single incredible building with a wide range of flexible family room options from basic budget to luxe. Zeeburg's the beautifully restored waterfront district about 10 minutes walk the city centre.
Discover the coolest activities for families in Amsterdam
Find cheap flights to Amsterdam
Copenhagen
Copenhagen is another amazingly exciting small city for kids with spectacular beaches at Vestegnen, just 30 minutes from the centre. If beaches aren't for you, single parents can take kids to the largest aquarium in Northern Europe or the famed Tivoli Gardens in the city's centre.
Find cheap flights to Copenhagen
Berlin
Or think about Berlin. It's the biggest city in Europe and you can get up to all sorts from exploring Museum Island to skateboarding at Tempelhof, playing on Strandbad Wannsee's beaches, visiting legendary Berlin Zoo and checking out Checkpoint Charlie and the East Side Gallery.
Sun, sand, sea and single-parent only holidays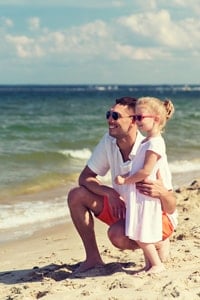 If you want a more conventional beachy summer break, Single with Kids is an alternative to doing all the heavy lifting yourself. Set up in 2007 by a group of divorcees, it's now one of the UK's leading travel companies specialising in holidays for single parent families. Everything's organised for you from flights to hotels and group activities are there too. But you're free to go off and do what you want with the kids too, if that's more your thing.
The style's very relaxed, there are no set itineraries and you've the company of other parents if you want, or not. If you're planning a holiday alone with very young kids, some like-minded adults around can be very welcome at times. And when older children heartlessly leave you for new holiday friends (they will) you can enjoy a bit of guilt-free time to yourself.
In July and August 2017, Single with Kids have a range of seven and ten day European beach breaks in Portugal, Croatia, Greece and Spain. Flights from regional airports can be arranged in some cases and longer holidays are also available.
Find out more about summer holidays in the UK and Europe from Single with Kids
Mango Holidays has you covered
Mango Holidays have been taking single parent families on adventures worldwide for the past 15 years. Several destinations are once-in-a-lifetime experiences and for 2017 include Peru, Ecuador and the Galapagos, India and North Africa. The company also has a choice of holidays in the UK and Europe.
More useful resources for resourceful single parents
• Some cities are best avoided with kids in summer. Give Venice and Rome a miss: too hot, too crowded and too expensive. Forget Barcelona until Autumn half-term. And leave Paris for December – 30 million plus visitors descend on the city every year, most of them in July and August.
• If you're flying off on holiday, pre-book transfers from the airport to your hotel or resort. Trying to get a taxi or negotiate public transport with tired kids, luggage and a limited grasp of the local language is just as bad as it sounds.
• UK single parent charity, Gingerbread, has downloadable fact sheets with information and practical advice on travel and holidays. Gingerbread
• Volunteering's always rewarding and a great way to spend holiday time with older kids in some extraordinary destinations. Responsible Travel
• UK online travel agency, Love Holidays, has a range of single parent holiday packages and offers year round. Love Holidays
• Green World Holidays have a choice of UK and European adventure breaks for single parent families. Green World Holidays
• As soon as you arrive anywhere, get to know the public transport system. Most European cities have 24-72 hour family tickets and several City Cards offer free travel for kids under 12.
• When you're travelling outside the UK with kids, take copies of birth certificates and any other legal documents relating to custody. In most circumstances, parents can take their children out of the country for up to 28 days. For more information visit gov.uk