1/11.

Embrace The Great Outdoors
Wintery weather needn't mean spending half term hauled up in the house, glued to the telly. The British countryside looks spectacular in October, when leaves are golden brown and the apple harvest is in full swing. Nothing beats picking your own, so for a fun day out, discover what produce is in season and find details of your local Pick-Your-Own farm.
Camping in October might sound crazy, but plenty of families do – and they love it! Here are some of our favourite places for pitching a tent in Autumn:
Crockford Bridge Farm Shop and Pick-Your-Own, Weybridge
Pick out the biggest, juiciest-looking pumpkins on the patch, between 10.00am and 5.00pm, 17-31 October. Entrance to the pumpkin patch is free, although there is a charge for some items. From 25-31 October, the Farm is hosting Spooky Fun Days, where little monsters can enjoy apple bobbing, face painting and pumpkin carving. For mums and dads, a pop-up cafe will serve tasty homemade grub.
Find out more: crockfordbridgefarm.co.uk
Wapsbourne Manor Farm, Sussex
Families can choose between regular or luxury pitches, and the farm offers a jampacked schedule of half term fun:
24 Oct-28 Oct: Wild Nature – Big Wood
28 Oct – 31 Oct: ReallyWild Bushcraft – Big Wood
1 Nov: Astronomy with Olly Greenwood
This charming campsite is a stone's throw from fabulous family activities. Bluebell Railway, with its old-fashioned steam trains, is only a five minute walk away, and the delightful Winnie the Pooh Bridge is only seven miles from the site in Ashdown Forest.
Price: £60 for a family of four for a basic site (two nights) – with added costs for additional amenities.
Find out more: wowo.co.uk
There are hundreds of family-friendly camping and caravan clubs all over the UK, with prices around £40 a night – go on, be brave!
More of what you love…
Don't set off on your camping adventure without reading Family Traveller's top camping tips and Simon Reeve's expert advice about camping with a toddler.
Tempted by camping but nervous of pitching a tent in October? Why not try vintage-style camping in an Airstream caravan?
2/11.

Go green at the Eden project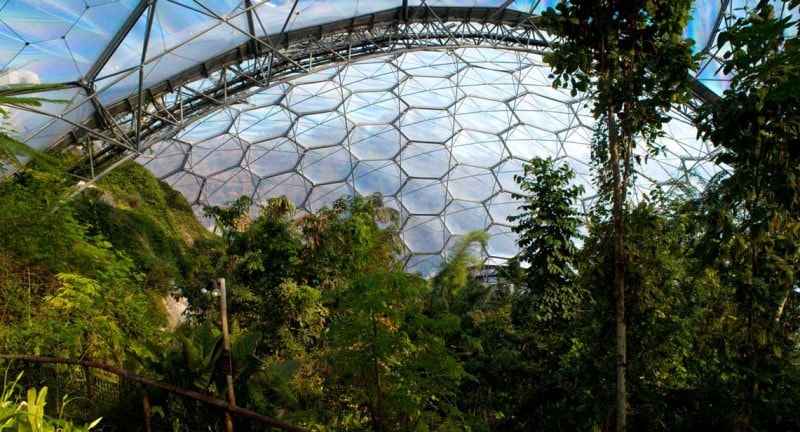 For those yearning for some contact with a foreign climate this October without the price of flights and faff of airports, head to the Eden Project in Cornwall, whose rainforest and Mediterranean biomes will transport you temporarily away from autumnal Britain towards the warmer climates of Malaysia, South America and Southern Europe. Both kids and parents are guaranteed to love exploring the educational and interactive maze of tropical plants and kids in particular will find joy in the new Rainforest canopy walkway, where they can survey the wildlife from on high. Another essential feature of the gardens for families is the Sense of Play garden, an adventurous but safe area specifically designed for children. Here, kids have access to tunnels, sandpits and willow tee-pees and musical instruments to challenge their imaginations and encourage creativity and outdoor play. According to the Eden Project's website, children today spend, on average, just 9% of their time outside; a serious decrease in percentage from previous generations. The Eden Project is consequently keen to improve this statistic by providing facilities that encourage youngsters to remain outdoors, which will ultimately improve a variety of other skills in young people including creativity and confidence.
The garden also has climbing frames, and nature trails to entertain youngsters. The Eden Project is yet to release its  extensive list of half term activities, but so far it has revealed a Little Monsters' Ball Halloween disco from 6pm-9pm on Halloween. Much more excitement is sure to be announced soon, as last years 'Halloweden' itinerary included Cornish wood carving, guests from an owl sanctuary,  'wishcraft' (Halloween activities for older children included positive potion making for loved ones and wandmaking) and a variety of activities surrounding Room on the Broom.
Price: Adults; £25, Children, aged 5-16; £14, aged 0-4; free.
Where: Eden Project, Cornwall
More info: https://www.edenproject.com/visit/whats-on/halloweden-october-half-term-cornwall
3/11.

Explore The World on your Doorstep
Just because you haven't planned a fancy holiday overseas this half term, it doesn't mean you can't escape home for a few days. Nothing blows away the cobwebs like a change of scenery so, before the cold winter weather really takes hold, why not sneak away and spend a few days getting to know a new part of the UK?
London might be old news, but you'll find just as much culture and family fun in cities like Manchester, Cardiff or Glasgow. The UK also has lots of fabulous cities that are small enough to explore in a weekend, but big enough to keep the whole family entertained for days.
Why not hop in the car and head to Bath, Oxford or Stratford-Upon-Avon? And if you want to escape city life altogether, pick a pretty coastal spot and spend some time snuggled up in a seaside B&B or flying kites on the beach, which you'll most likely have all to yourselves.
More of what you love…
Find half-term inspiration in our roundup of the ten best UK city breaks.
To ensure a stress-free holiday, check out Simon Reeve's expert advice on surviving a city break with a toddler.
4/11.

Pumpkin Rolling at Easton Walled Gardens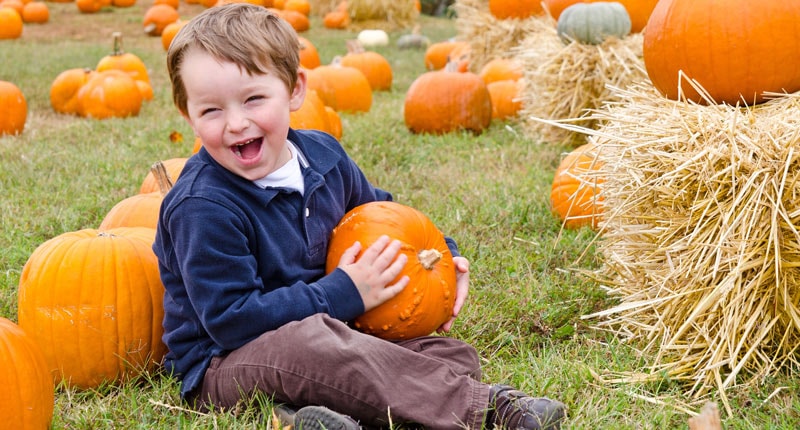 Kids are also being encouraged back to nature by Easton Walled Gardens in Grantham, Lincolnshire, where the strict 'keep on the grass' policy aims to get children reconnecting with the outside world. This October half term, the gardens will be running a variety of activities to entertain children outdoors. A pumpkin rolling competition takes pride of place on the itinerary, with the team with the last unbroken pumpkin reigning as champions. However, children will also be able to get their fingers green by planting conkers and hyacinths which can be taken home, and can take part in nature scavenger hunts. Complete your trip with a visit to the tea rooms and even some early Christmas shopping in the gift shop!
Price: £6.95 for adults and £2.95 for children
Find out more: eastonwalledgardens.co.uk
5/11.

Have a Treetop Adventure in The Lake District
Perched high in the leafy canopy of Brockhole, Windermere, Treetop Nets is an exciting network of walkways, trampolines, slides and tunnels – all made entirely of nets. The beauty is that the whole adventure park is also surrounded by safety netting, so there's no need to wear harnesses. Kids (and young-at-heart grown-ups) can run and leap and bounce to their hearts' content. The attraction is suitable for kids aged three and up and is a great way to explore the treetops in a fun – and completely safe – environment.
While at Brockhole, be sure to check out the high ropes course, Treetop Trek. Try the 35 exciting treetop challenges, designed to make you swing, climb, balance and fly through the ancient woodland canopy, and to top it all off, race your friends and family down the 250-metre zip wire.
Price: Full Trek pricing includes unlimited play for up to two hours. Children seven and over, £22.00. Adults, £30.00. Adults accompanying children under seven, £12.50. Children aged five and over can an hour long mini trek for £18.
A family ticket, for a minimum of four people, include a 5% discount.
More of what you love…
The soaring mountains and lush green valleys of the Lake District are well worth a journey to the northwest. Discover Family Traveller's top ten buggy walks in the area.
6/11.

Take in a Show with The Kids

You don't have to wait for panto season to plan a family trip to the theatre. Theatres up and down the country are staging child-friendly productions during half term, and there are also dozens that are dedicated especially to children, including the Egg in Bath, Leeds Children's Theatre and the Polka Theatre in London. Here are some of our top half-term picks:
By hand
This moving production follows the adventures of a special hero with a huge desire to escape the confines of the little pottery shop window. The characters are hand-crafted by clay to retell this story about love. For ages six and up.
Price: £8.50 for adults and £7.50 for children. Lap seats are available at £2 for infants up to two years at the door.
The Journey Home
Join a polar bear on his search for a new home when the ice starts melting. This story about conservation is brought to life by puppetry and lyrical music. Suitable for ages four to eleven.
Price: £11/£9 for children and concessions (£1.80 booking fee applies to all card transactions, no fee for members). The theatre's Friday Fives deal means all tickets cost £5 for shows at 5pm on Friday.
Top tip: At 2pm on Saturday 10 October there will be a special relaxed performance for those who are uncomfortable with sudden lighting changes or loud noises, including those with an Autistic Spectrum condition, sensory or communication needs or a learning disability.Tickets £5. Minimum age still applies.
7/11.

Face your Fears at Warwick Castle
If you and the kids want a real scare this Halloween, then the Haunted Castle is for you. During daylight hours, you'll enjoy spine-tingling storytelling and a pumpkin trail (watch out for the headless horseman who'll be roaming the corridors!). Especially for Halloween, Princess Tower will fall into the hands of a coven of wicked witches, who will be offering younger children the chance to join them – dressing up and even writing their own spells.
Older kids (aged 10 and up) will love exploring the dungeon, where they can discover some of the most disturbing times in the castle's bloody history, as actors and special effects bring to life grim tales from when the town was ravaged by plague.
It's when the sun sets that the fear factor really ramps up. After dark, spirits become more restless, the atmosphere shifts and the castle transforms into a horrifying playground for adults. This year a new attraction – Blackout! – leads thrill-seekers on a tour of the castle, in search of the spirits of Mary and Henry Black, who have escaped confinement in the castle dungeons. Not for the faint hearted, this is the scariest of all the castle's Halloween offerings. The castle stays open until 9pm, with a fireball finale at 8.30pm.
Price: Warwick Castle Scares and 'Mares takes place between 25 October and 2 November 2014.Tickets to the castle from 5pm cost £12, or £18 including entrance to The Castle Dungeon.
More of what you love…
Discover the less spooky side of Warwick Castle and remind yourself why family days out are experiences to treasure.
8/11.

Enjoy a Taste of Northumberland
Why go?
Northumberland is a land of lush forests, beautiful coastline and delicious local cuisine – and Autumn is the perfect time to visit.
Few counties boast such variety of outdoor and family activities. From stargazing at Kielder Water and Forest Park and hill walking in the Cheviots, to exploring the dramatic ruins of Dunstanburgh Castle, there's no shortage of ways to tire the kids out this half term.
If you want to get into the Halloween spirit, head to Ford and Etal Estates, a few miles inland from the Northumberland coast, for a spooktacular show which features bat hunts, fancy dress steam train rides, pumpkin competitions and a hog roast with ceilidh.
Where to Eat
Fresh seafood caught off Northumberland's expansive coast is available in abundance, as are fluffy scones baked with the flour from the Heatherslaw Corn Mill. The county's meat is recognised as some of the best in the country and several markets offer not only fresh meat, but homemade chutneys, preserves, and cheeses.
Look forward to enjoying a hearty hog roast (Halloween fancy dress optional) at Hay Farm, tucking into a delicious meal at the forest at Kielder Castle Café or eating tasty, locally produced food at award-winning family-friendly restaurants overlooking the beach.
Where to Stay
Kielder Water and Forest Park offers inexpensive accommodation that's a stone's throw from plenty of family amenities. You'll find a great selection of family accommodation options, including a luxury lodge and touring caravan site at Leaplish Waterside Park, a riverside camping site, and fully equipped Scandinavian style lodges.
For something a little more indulgent, treat the family to a stay at Matfen Hall Hotel. You'll enjoy endless on-site activities and tasty food to suit palates of all ages. With award-winning fine dining, a relaxed bistro and a juice bar to choose from, you'll be spoilt for choice. The hotel is set in 300 acres of parkland, which features a 27-hole golf course and spa. Popular treetop adventure course, Go Ape, is situated in the hotel grounds, and is the perfect place for kids aged 10 and up to let off steam.
More of what you love…
If you're taking a trip to Northumberland, on the England-Scotland border, you may as well venture a little further north, and find out why Scotland is a fabulous place for a family holiday.
9/11.

Hit the Stage in Shakespeare's Stratford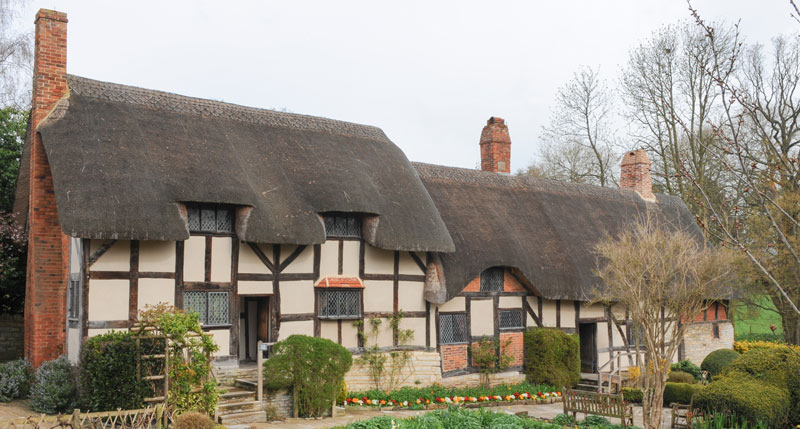 Based in Stratford upon Avon, The Royal Shakespeare Company, has planned a week of exciting activities to captivate budding young actors this half term. Families with children aged eight+ can get involved in workshops of some of Shakespeare's greatest works, including Henry V and A Midsummer Nights Dream. If your child is a beginner on the stage there's no need to worry; all acting abilities are welcome and no prior knowledge of the plays is necessary as the stories are introduced on the day.
Young acting enthusiasts can improve their skills through attending workshops with RSC experts, who can assist youngsters with skills such as Speaking Shakespeare's English and Stage Sword fighting. Teens aged 14–18 are being offered the exclusive chance to attend a day of Voice coaching sessions where they will learn the important methods of vocal chord preparation used by professionals. Budding playwrights are also catered for in an exclusive writing session with RSC writer, Ella Hickson. Kids will work on adapting traditional stories for the contemporary audience as well as the essential skills of structuring and dialogue.
There will also be a series of free activities available to all ages. These include seasonal Halloween activities such as craft sessions and the exclusive  'Spooky Stories from the Store', a chance for kids to explore a collection of seldom seen props, costumes and accessories to uncover the secrets of Shakespeare's more malicious and supernatural characters.
Price: Workshops cost from £2.50 per child and £3.50 per adult. Some are available to unaccompanied children only.
Find out more: http://www.rsc.org.uk
10/11.

Go back to the Blitz with the imperial war museum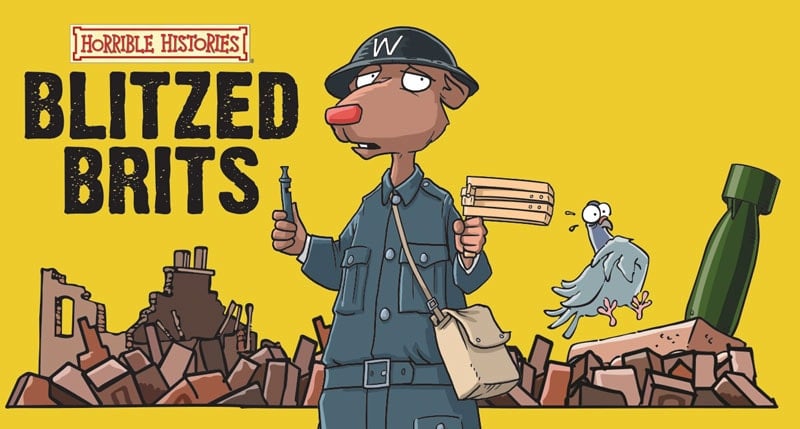 For little ones with a passion for the past, the Imperial War Museum, Manchester, is the place to be this half term. The museum recently unveiled its Horrible Histories: Blitzed Brits exhibition and this half term offers the exclusive opportunity to see it in a family friendly tour. The exhibition itself is interactive; kids will be thrown into British history with an authentic 1940s house to explore, and a bomb shelter to hide in. Get set into the life of a rural evacuee with exciting cow milking and authentic farmyard smells and food.
Kids will be educated about the Blitz through the insightful eyes of contemporary 1940s teenagers. They will hear about the 14-year-old Charity Bick who was given a medal for her bravery as an ARP warden and engage in interactive storytelling with Dotty, the daughter of an Air Raid Warden who goes on a foreboding rescue adventure. Kids can also gain a special insight into 1940s life through the Open Studio where they can view exclusive artefacts and shrapnel collected by children not on display in the main museum.
Price: free
Find out more: iwm.org.uk
11. UNLOCK EDINBURGH'S DEEPEST SECRETS
This half term visitors to the popular Edinburgh attraction Real Mary King's Close will see the story of the people who once lived, worked and died in the city's underground closes from the 16th century come to life. A historical character leads visitors on a journey into Edinburgh's fascinating past – with plenty of surprises along the way.
The somewhat spooky experience never fails to appeal to kids, but due to the nature of the site, this tour is not suitable for children under five.
Price: The family ticket admits two adults and two children (aged five to 15) and is available daily from 1 October until 2 November. The family tickets cost £35.75 and advance bookings can be made by calling 0131 225 0672 or in person at The Real Mary King's Close.
More of what you love…
Find out what else the charming city of Edinburgh has to offer families and get some great advice about where to stay.