Halloween 2022 is stacked with spooks and packed with pumpkins. There are after-dark zoo nights and lantern walks. We've found frighteningly good funfairs for you too. And if your nerves can take it, England's most haunted castle is open at night for ghostly guided tours. Happy Halloween!
Edinburgh Zoo: after dark drama returns for Halloween 2022
Edinburgh Zoo Spooktacular is back for Halloween 2022! Visit the zoo after dark from now until 31 October and follow its haunted trails. But beware, lions and tigers are far from the only fearsome creatures haunting the zoo after sunset. Look out for themed snack shacks to fuel your fear and prep for seriously good fun!
When: from now until 31 October 2022.
Where: Edinburgh Zoo, Corstorphine Road, Edinburgh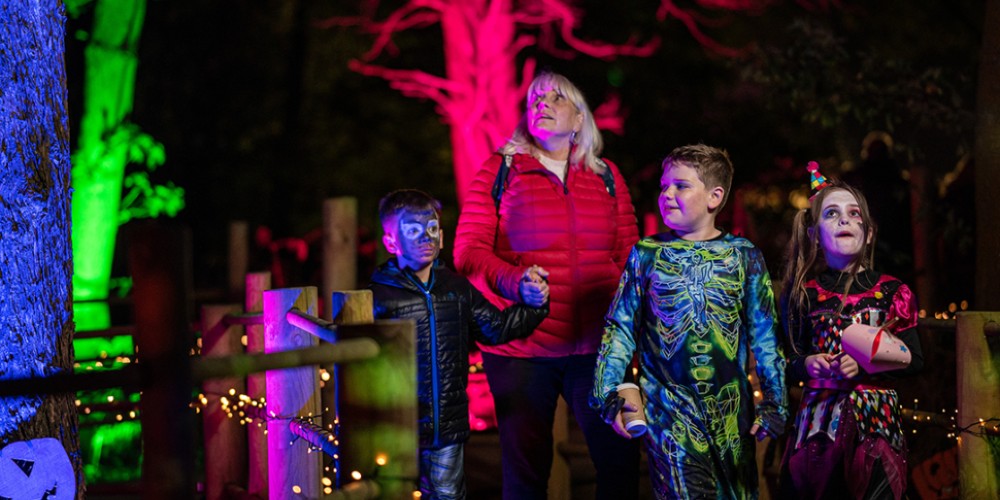 BeWILDerwood Cheshire: The Glorious Glowing Lantern Parade
Oh no! Someone's stolen sparkle from the woods at BeWILDerwood Cheshire. Now it's up to kids to bring it back with their magical Biggle Bindle Lanterns. Take the enchanting journey through the woodlands at dusk, add to the dazzle with your own excitement and watch the story unfold. Marsh Boggles and tree Twiggles are on hand to guide you and it's not too frightening, so younger kids can join the quest for light too.
When: from now until 31 October 2022.
Where: BeWILDerwood, Whitchurch, Cheshire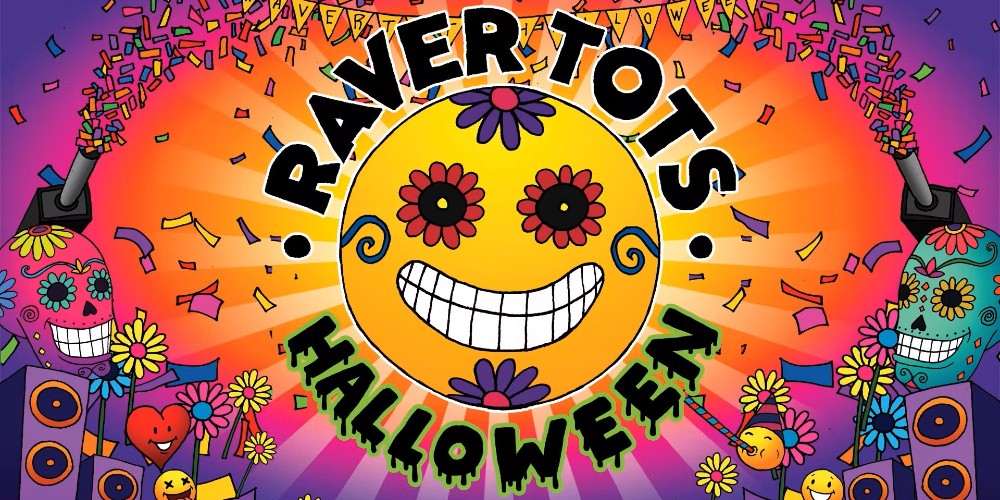 Raver Tots Halloween 2022: London and Birmingham
Time to dig out your festival gear for Raver Tots Halloween 2022 in London or Birmingham. Expect glow sticks, bubbles, streamers, arts and crafts stalls and even a meet n greet with Paw Patrol! Sound is kept to safe levels, but ear defenders for under fives are recommended. Club lighting is kid-friendly too, and it's on during the afternoon so you can get your rave on and still be home in time for tea!
When: 30 October 2022, London and Birmingham.
Where: Ministry of Sound, Gaunt Street, London; Zumhof Biergarten, Birmingham.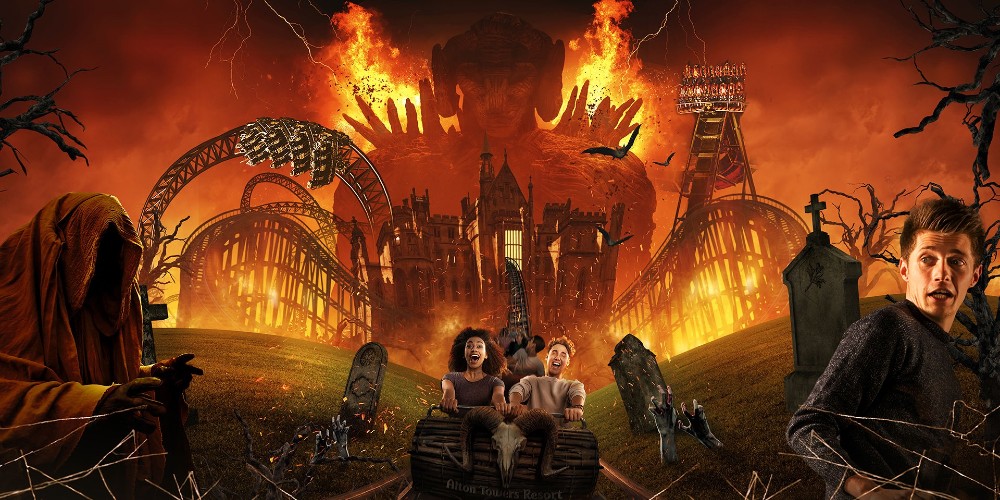 Alton Towers: Scarefest turns 15 for Halloween 2022
You can always count on Scarefest at Alton Towers to chill it up for Halloween. This year join five special Halloween characters in their multi-coloured playground for all kinds of live entertainment. See Alton Towers like never before on The Garden Lights Walk. Get dressed up for CBeebies Land Monster Ball. Step into Trick O'Treat town with Haribo. Be brave and knock on the doors of Spooky Avenue. Then walk all the way to Witchy Woods and get ready for a trick…or a treat! Plus, for fun as the night creeps in, the park's really scary rides are open later than usual.
When: from now until 31 October 2022.
Where: Alton Towers Resort, Alton, Staffordshire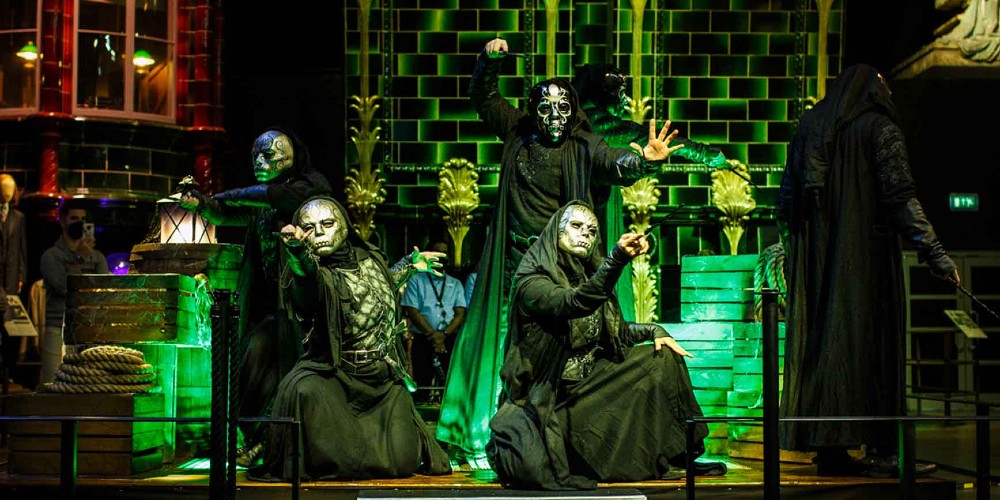 Halloween at Hogwarts: get into dark arts at The Harry Potter Studio
Halloween at Hogwarts is all about discovering the dark arts. The Making of Harry Potter is bringing back its famously spine-chilling event until 6 November this year. So step inside and experience Hogwarts like a trainee wizard. Roll up to the Great Hall and see over 100 floating pumpkins, each carved to perfection. Examine the props from Professor Lupin's class. Then join in  the magic with a Wand Choreographer who'll teach kids all they need to know about wand skills!
When: from now until 6 November 2022.
Where: The Making of Harry Potter, Warner Bros. Studio, Leavesden, London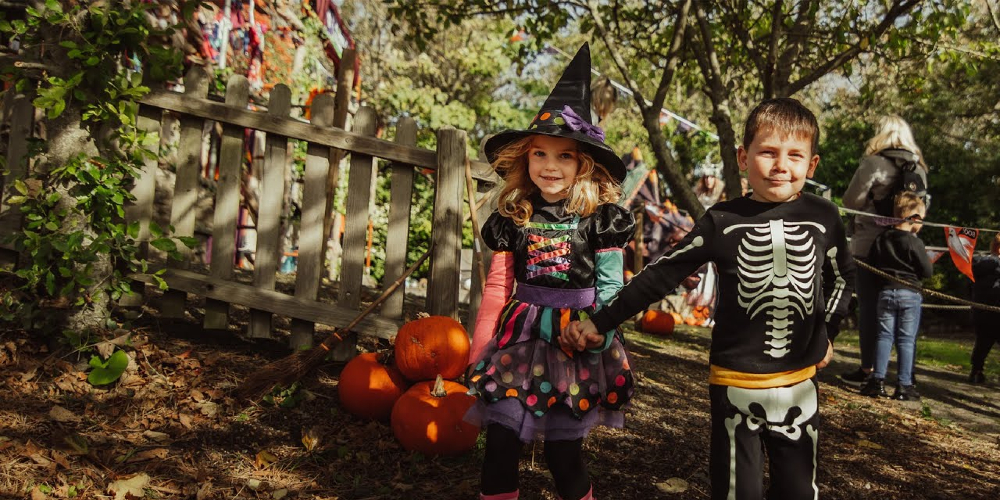 Blackgang Chine: meet Frights & Sprites on Isle of Wight
The UK's oldest theme park is pulling out all the stops for Halloween 2022 with Blackgang Chine Frights & Sprites. Come for the petrifying puppet shows, devilish discos, fancy dress competitions and interactive potion making. There's a brand new ghost story at the Rumpus Mansion Live. And you're expected to get all dressed up, so please don't disappoint. Remember kids sail free to Isle of Wight during school holidays!
When: now until 30 October 2022.
Where: Blackgang Chine, Isle of Wight
Audley End Miniature Railway: all aboard the special train for Halloween 2022
Looking for something on the sweet side of spooky? Audley End Miniature Railway has a scare-free Halloween Special younger kids will love. Hop on the the Halloween Express and journey to the Witch's House, to see Belinda the fortune telling witch. Explore the adventure play area and help William the Wizard King of the Woods cast enchanting spells to keep the forest safe. Don't forget to dress up, so the witches and wizards aren't doing all the work!
When: from now until 31 October 2022.
Where: Audley End Miniature Railway, Saffron Walden, Essex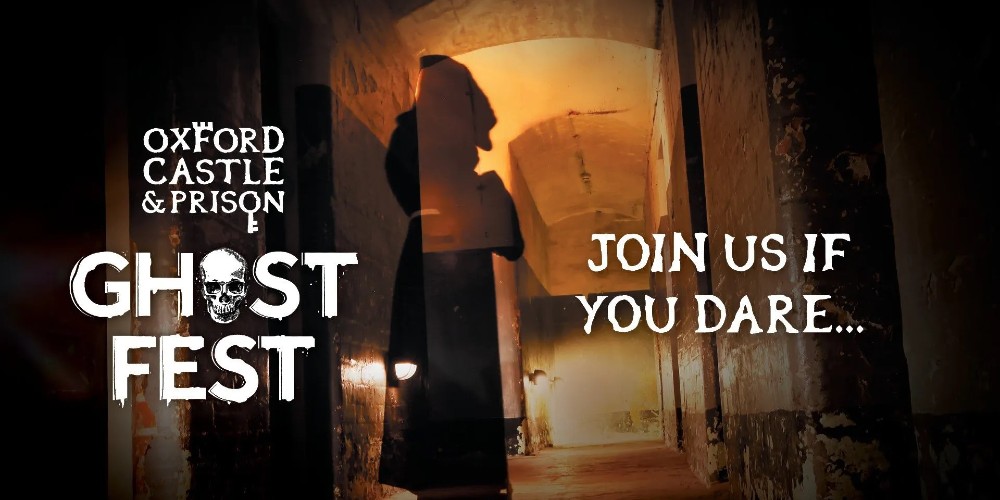 Oxford Castle: dare the Ghost Fest at one of the UK's most haunted places
If you're feeling brave this half-term join the chilling evening tours of Oxford Castle & Prison. It's reputed to be one of the most haunted places in the UK and your guide will fill you in on 1000 years of ghost stories. This one isn't for the fainthearted, so it's recommended for bold kids aged 12 and over
Younger kids who want to get creative can join Potion Making Workshops in the castle's underground crypt. A wonderful warlock will be sharing the age old secrets, workshops last for one hour and they're ideal for young magic-makers aged from five to 10 years.
When: from now until 31 October 2022.
Where: Oxford Castle & Prison, Oxford.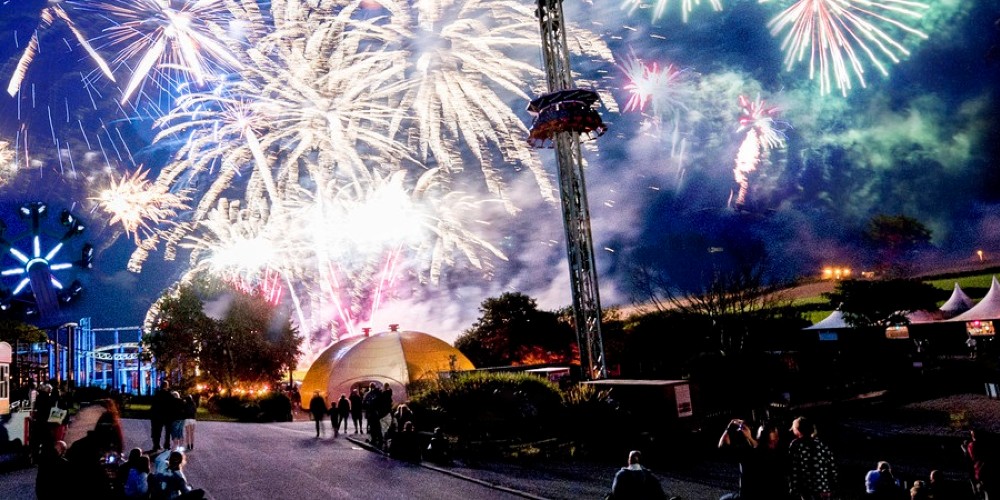 Flambards, Cornwall: Trick or Treat Week with fireworks and fancy dress
Flambards are pulling out all the stops for Halloween 2022. Trick or Treat Week is packed with rides and attractions, pumpkin hunts, quizzes and mystery trails. Kids will love meeting park mascot, Ferdi, and the quaint Halloween characters in the Victorian Village. And because the days are getting shorter, rides are open until 6pm all week. If you book for Wednesday 26 October, you can catch Flambard's award-winning firework display at 7.30pm, as well as the fabulous Fancy Dress Parade and live music.
When: from now until 30 October 2022.
Where: Flambards, Helston, Cornwall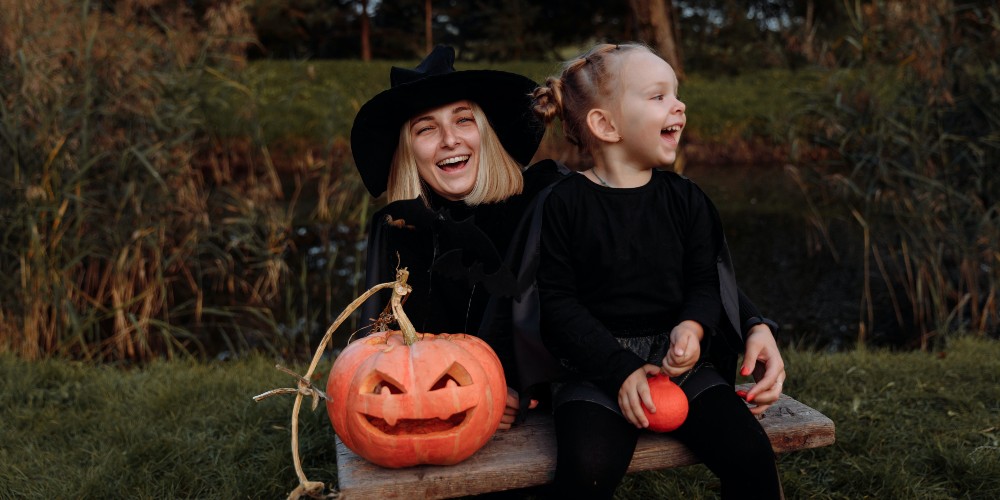 Mr Pumpkin, Derby: pick your perfect pumpkin for Halloween 2022
Mr. Pumpkin has planted over 90,000 different pumpkins this year so he's bound to have one that's just right for you. Take your pick of perfect pumpkins or go for the warty ones to add some weirdness to your Halloween lanterns. Remember to book online for a time slot and pumpkins are priced according to size from just £2 each.
There's also a lovely Pumpkin Trail with letters to gather as you wander through the fields. At the end you'll come to the pumpkin graveyard where you put together your letters to make the spookiest possible word! You can do the trail before or after your pumpkin picking and all donations go to the local Air Ambulance: last year Mr Pumpkin raised £8,500 – no pressure!
When: from now until 31 October 2022.
Where: Mr Pumpkin, Lime Farm, Morley
This article contains affiliate links. We may earn commission when you click on them. This does not influence our editorial standards. We only recommend products and services we believe will enhance your family travel experience.