Looking for an extra Christmassy day out with kids this year? Try Christmas at Windsor Castle in December. It's all about grand and glittering fir trees, fairy lights and garlands, delicious seasonal treats, fun family activities and more than a hint of festive royal traditions.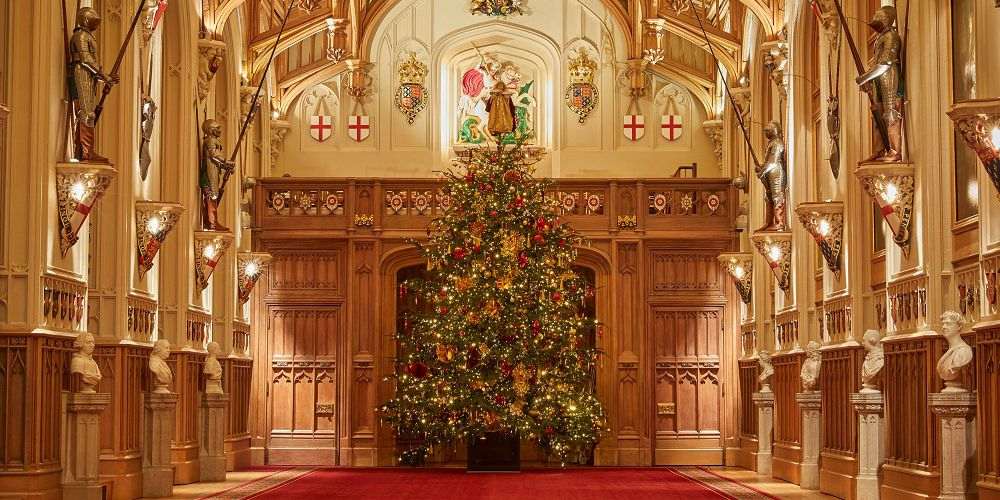 A 20-foot Norway Spruce welcomes you to Christmas at Windsor Castle
One look at the enormous Norway Spruce in St. George's Hall and you know instantly how seriously Windsor Castle takes Christmas. Standing at 20-feet tall, the tree was hand-chosen from Windsor Great Park, hauled to the castle and took no less than 13 hours to decorate. Worth it? Come visit and see for yourself.
And since you're here, drop in on the State Dining Room to gaze at the shimmering table laid to celebrate the bicentenary of George IV's accession to the throne in 1820. Don't miss the Pantomime Pictures exhibition in the Waterloo Chamber. And leave time for indulging in extravagant Christmas eats at the Undercroft Café. Think turkey and all the trimmings in sandwich form, outrageously opulent cakes and a Millionaire Christmas Log that's almost too pretty to eat (almost).
Windsor Castle makes Christmas magical for kids
Every Saturday from now until 19 December, families are invited to get creative for Christmas. Decoration making or designing a miniature theatre are just a hint of the arts and crafts activities kids can look forward too. The family activity trail takes you all over the castle in search of a missing pantomime horse. Then you can all settle in to hear tales of Victorian sleigh rides, royal festive feasts and what young Queen Elizabeth II and her sister got up to at Christmas during WWII. .
Book tickets online to celebrate Christmas at Windsor Castle
Windsor Castle is the oldest and largest occupied castle in the world so, even if it wasn't bringing sheer enchantment for Christmas, it makes a great day out with kids. Christmas at Windsor Castle runs from 5 December 2020 to 4 January 2021, tickets must be pre-booked this year and they're available online now.
Book tickets for Christmas at Windsor Castle online between now and 4 January 2021. The castle's open from Thursday to Monday and closed Tuesday and Wednesday.