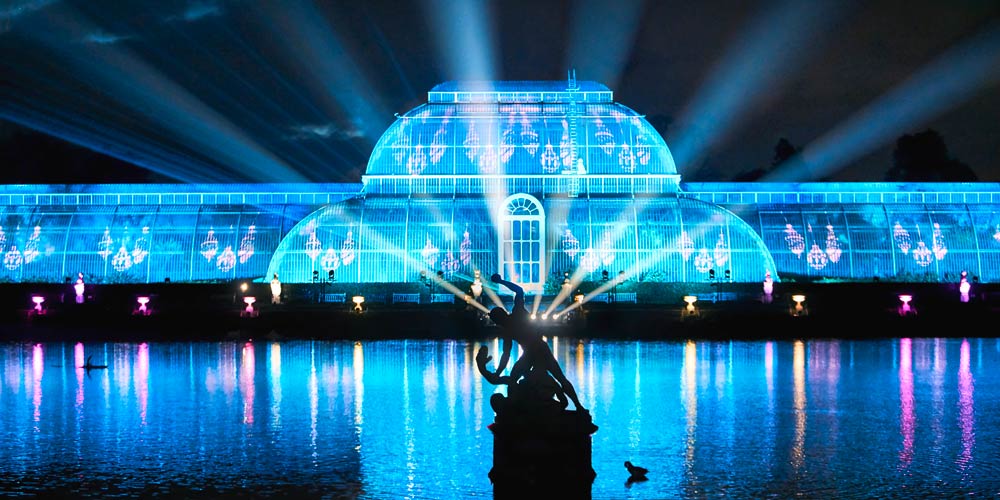 1/15 

Christmas at Kew

You won't fail to be wowed by the one million twinkling lights illuminating a winding trail through the Gardens at Kew making them brighter and more beautiful than ever before. As you walk the trail you'll be surrounded by a magical world of seasonal cheer – and you can even expect to see Santa and his Elves popping up to greet you too.

The festive adventure begins with a path lit by hundreds of illuminated globes winding through glittering trees festooned with silvery shards of light, snowflakes and stars. You'll delight at the sight of an enormous glowing Sledge Tree made from over 360 wooden Santa's sledges. Listen out for the sound of a chorus of Singing Trees and the awesome glistening lake where you'll see an ethereal spectacle of light and sound with the lake's two islands slowly coming to life as angelic voices call to each other across the water.

Other unique installations by a range of artists include an ultraviolet walkway of thousands of continuously moving bubbles, clusters of trees wrapped in ever-changing ribbons of light, and a majestic weeping beech tree, dripping with sparkling lights. Warm up in the Fire Garden filled with a striking corridor of pulsing fire sculptures and rotating lantern-lit Christmas trees.  Indulge in roasted chestnuts, mulled cider and other tasty offerings, or why not toast your own marshmallows? Then enjoy the show-stopping Palm House finale where the pond and magnificent glasshouse will spring to life with an explosion of colourful criss-crossing laser beams, jumping jets of light, and kaleidoscopic projections playing across a giant water screen.
When/where: Royal Botanical Gardens, Kew
Price: Advance Prices: Adult £18.50 peak / £16 off peak; Family  £55 peak /£48 off peak; Child 4 – 16  £12 peak/ £10 off peak. Under 4s free
About the author
Kim Jones is an experienced journalist who has worked at various women's weekly magazines, and now freelances for them and the national papers writing about travel, health and lifestyle. She lives in Cardiff with her partner and their two sons, aged 15 and 11 and loves persuading them all to come away on holidays with her in the family VW camper van.
Find Kim on Twitter @kimsfeatures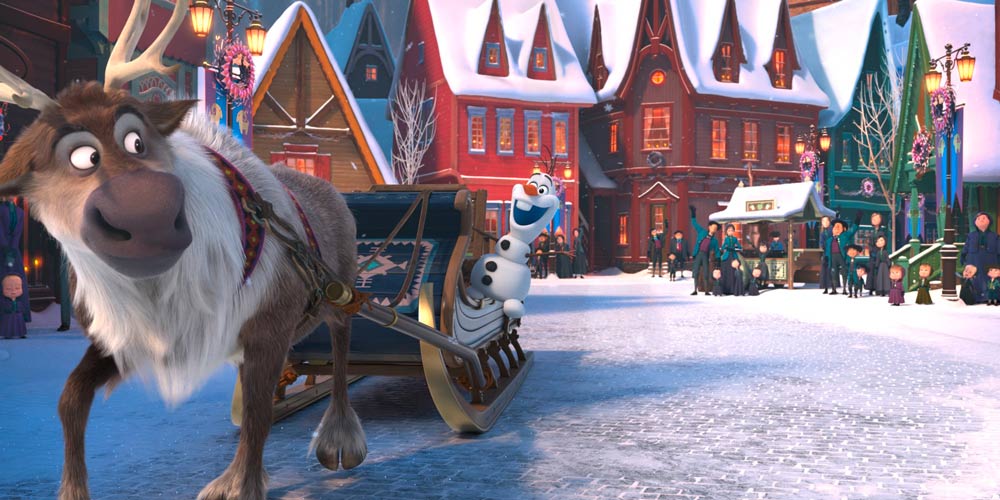 2/15 

Olaf's frozen adventure

Fan of Frozen? Of course you are! Well, prepare to get over-excited because there's a fabulous festive treat in store for you with the release of mini movie "Olaf's Frozen Adventure". The brand new instalment in the "Frozen" franchise will be screened in cinemas across the UK before the original movie on Saturday 25th and Sunday 26th of November 2017.

Featuring four new original songs, the 21-minute mini movie welcomes the original cast and characters back to the big screen, including Olaf and Sven who are on a mission to save Christmas for Anna and Elsa when the townspeople unexpectedly leave Arendelle's Christmas celebrations early to enjoy their individual festive customs. Olaf sets out to comb the kingdom to bring home the best traditions for the sisters and save this first Christmas for his friends.
When/where: 25-26 Nov,  participating cinemas include Cineworld, Odeon, Vue, Showcase, Everyman, Picturehouse, Curzon, and Empire
Price: ticket prices vary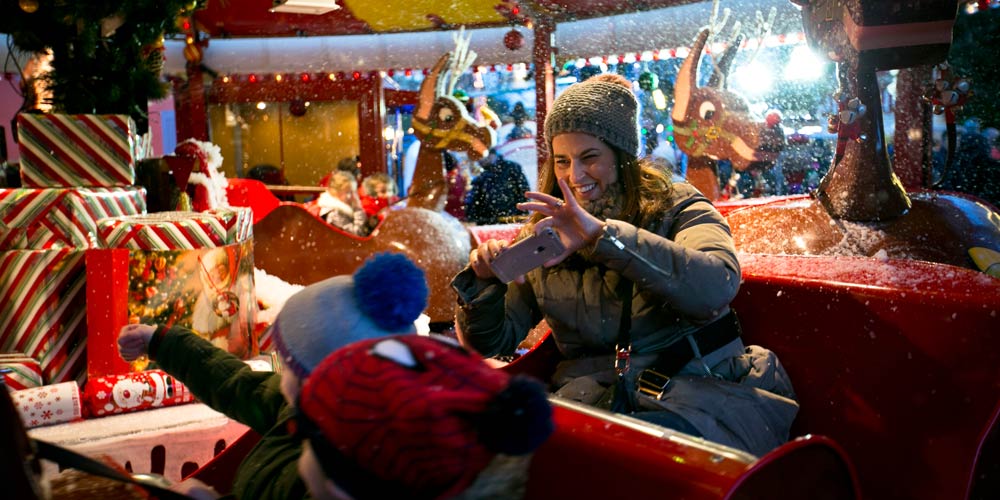 3/15

 Edinburgh's Christmas

The city's festive season packs in six weeks full of wonder and magic, with plenty of highlights including legendary Light Night when choirs from across Scotland wlll enthrall audiences as the lights are switched on around the city followed by fireworks.

Wrap up warm for a fantastic Ice Adventure, a brand-new walk-through 'ice museum' filled with ice sculptures of Scottish icons such as Robert the Bruce, Dolly the Sheep, Kelpies and more. Edinburgh's Giant Advent Calendar projected on General Register House will reveal a stunning new image every day of an Edinburgh winter from years gone-by. And don't miss plenty to eat, drink and be merry with at Princes Street Gardens filled with market stalls teeming with Festive fayre  – from sizzling bratwursts to sumptuous waffles and crepes and steaming mugs of Glühwein.

Hop on traditional fair rides like the carousel and helter-skelter or satisfy your thrill-seeking on the Yeti, Big Wheel or the 60m high Star Flyer offering 360 degrees view of Edinburgh. St Andrew Square will host an elliptical outdoor ice rink and there's an Ice Wall to climb in Santa Land.
When/where: 17 Nov – 6 Jan, Edinburgh
Price: some events are free, others are ticketed and can be booked in advance at www.edinburghschristmas.com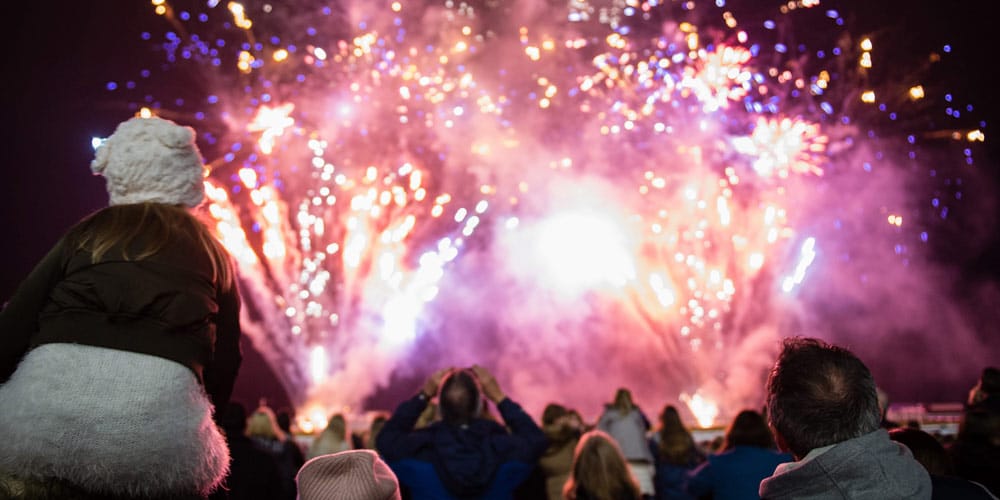 4/15 

Ascot Fireworks Spectacular family raceday

The 'Jump Season' starts with a real bang at Ascot with the first meeting featuring not only the exciting £100,000 Sodexo Gold Cup Chase over three miles but also one of the region's largest Fireworks Spectaculars. The day is specially designed for families. Enjoy an afternoon of exciting races where you can all pick out your favourite horses to win.

Take the little ones to the Plaza Lawns which will come alive through the afternoon with free fairground rides until 4pm – then £1 per ride afterwards, with all proceeds going to charity. For younger racegoers and the budding jockey, pony rides are also available. Enjoy a range of food on the go, bring a picnic or indulge in fine dining. Finish off a day full of thrills with a super firework display that will light up the sky with splashes of colour and sound.
When/where: 4 Nov, Ascot Racecourse, Berkshire
Price: ticket prices vary, children under 18 go free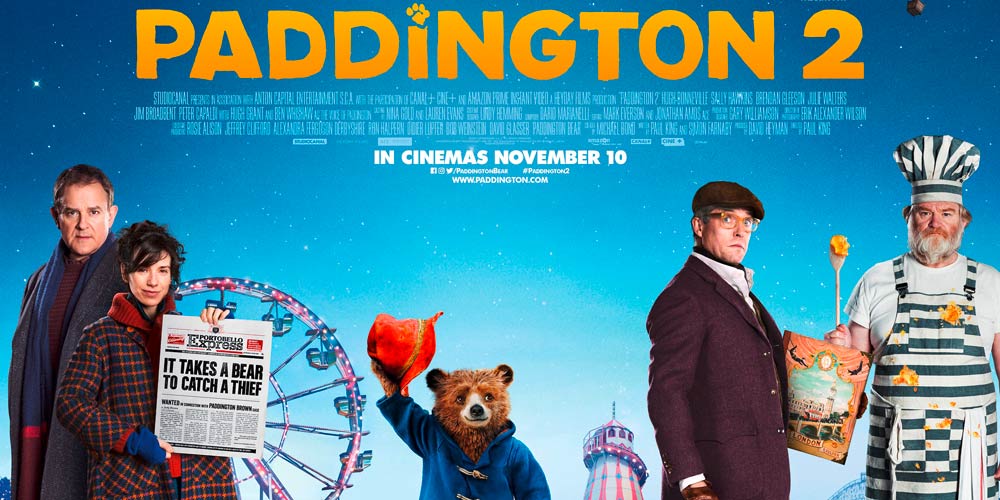 5/15 

Paddington's pop-up London

As we all eagerly await the arrival of PADDINGTON 2 in UK cinemas on 10 November, you can get up close to Michael Bond's much-loved bear at Paddington's Pop-Up London –  five spectacular pop-up book installations placed in iconic landmarks and attractions across London. Taking inspiration from the new film, when Paddington discovers a pop-up book in Mr Gruber's antique store, these five stunning free attractions will be open for everyone to enjoy with installations appearing across the Capital's popular tourist spots – Peter's Hill (St Paul's), Tower Bridge, Paddington Station, Peninsula Square (The O2) and Bankside (Tate Modern).

The pop-ups will feature some of London's most famous landmarks: Westminster, Trafalgar Square, Tower Bridge, Buckingham Palace and Piccadilly Circus.  Visit all the pop-ups on a treasure hunt across the city, collecting letters to discover a secret word. Then enter the competition on www.visitlondon.com/paddington2 to win a Paddington Afternoon tea journey for all the family, aboard the iconic Belmond British Pullman train. Paddington's Pop-Up London supports the Mayor of London's #LondonIsOpen campaign, celebrating Paddington's love for London as a city where a warm welcome awaits all visitors – even a small bear.
When/where: until 3 Dec, various landmarks across London
Price: free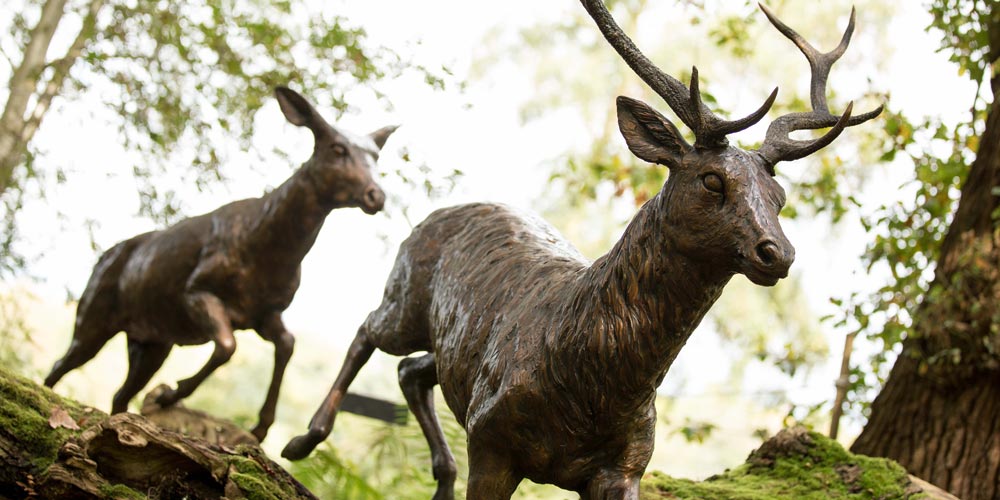 6/15 

New bronze statues at Trentham Gardens

The Trentham Estate is already well-known for its smart award-winning gardens and family-friendly Fairy Trail – but now you can expect to see pheasants rising from prairie planting and a giant tree frog emerging from the undergrowth… and lots more wildlife in bronze! Helping to expand Trentham's reputation as an open-air art gallery, a new installation of bronze wildlife sculptures by artist David Meredith offers a new attraction among the gardens.

Along with the pheasants and tree frog, the new wildlife sculpture installation also includes a leaping salmon, snails, tawny owls, barn owls, little mice, a large hare, horses and a deer buck and hind. Dotted around the gardens, you'll need to pick up a leaflet to ensure you track down all of the works of art.

There's also the chance to win a sculpture by the artist worth £350 by coming up with a name for the running deer installation, with details included in the leaflet. You can also pick up smaller items of Meredith's work in one of the shops in The Trentham Estate's recently expanded Shopping Village – Glazed Art.
When/where: until 8 March, 2018, Trentham Gardens, Stoke on Trent
Price: see website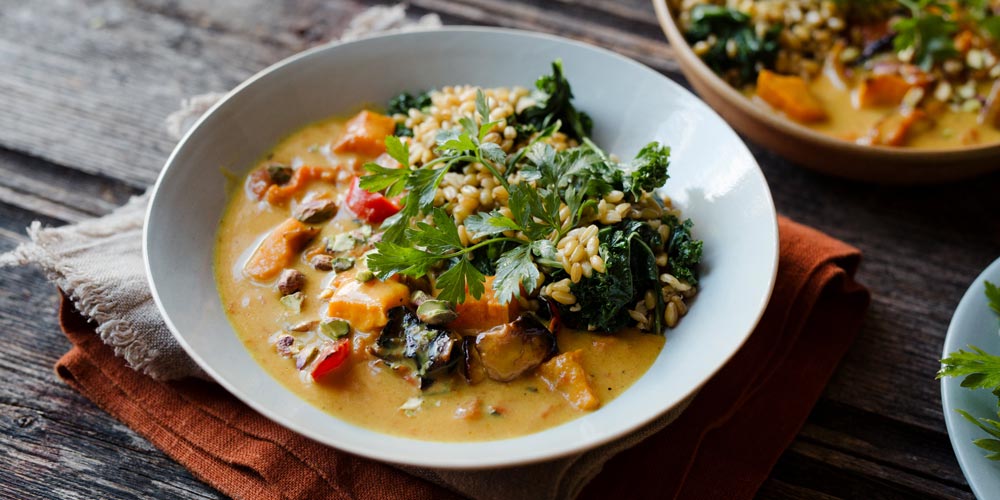 7/15 

It's brilliant at Bills

We're big fans of Bill's new warming autumn menu which really reflects founder Bill Collison's roots as a greengrocer – with lots of fresh and seasonal ingredients in the menu mix. There's a choice of good old classics and 'best of British' foods given a contemporary twist – plus a relaxed vibe means families are welcome and the atmosphere buzzes with happy eaters.

As well as everyone's favourite burgers, Bill's famous Fish Pie and tender steaks, the new autumn bill of fare includes warming rustic butternut squash stew, oven roasted ginger and sesame cauliflower steak served with a rich vegetable gravy, lamb shank and smoky barbecue ribs.

Kids menus include crispy corn tortilla chips with carrot, cucumber sticks and hummus to start, main courses of burgers, steaks, sausage and mash and ham and cheese toasties with desserts including ice-cream sundaes, brownies and strawberry and banana served with a chocolate dipping sauce. All lip-lickingly lovely. Why not treat yourself to some of Bill's Pimm's Spiced Autumn Punch while you're at it. We would.
When/Where: through autumn, Bill's Restaurants nationwide
Price: Costs vary. Bill's Children's Menu is £6.95 for three courses plus an orange or apple juice drink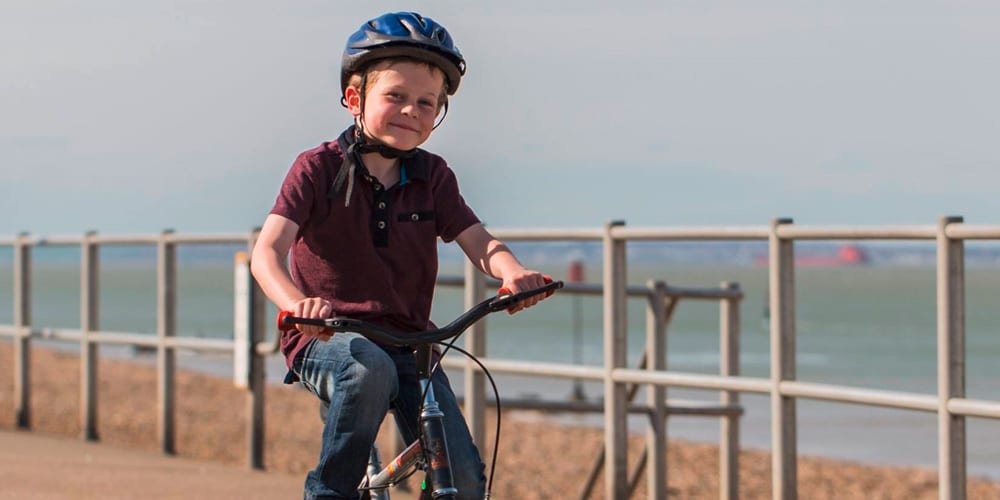 8/15 

Cycling down Dementia

Want to get on your bike for a good cause? Then join in the Cycling Down Dementia challenge for Alzheimer's Research UK. First choose your challenge – Pioneer (300 miles) or Epic (1,000 miles) and raise £150. Don't worry, you won't have to amass the miles all on your own – or all in one go! It's the perfect opportunity to get together as a family and join forces with your pedal power!

Take part whenever and wherever you like and clock up the miles as a team between November 1 and January 31. It's a great way to make the whole family get in the saddle at weekends and get fit and have fun in the process. Dementia is a huge medical challenge with one million people in the UK set to be affected by 2025. Funds raised will help power pioneering research towards a cure. Register your team here: http://www.cyclingdowndementia.org/
When/where: Nov 1, 2017- 31 Jan, 2018
Price: free, but raise £150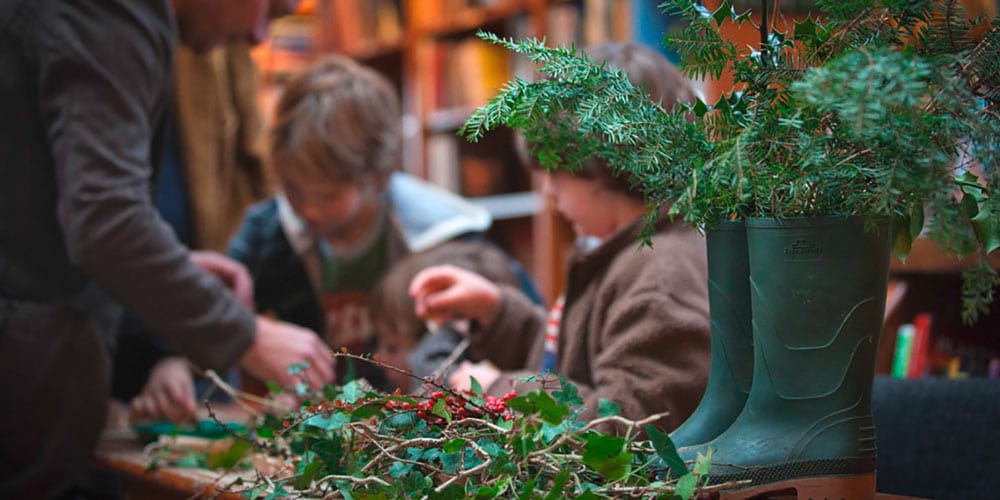 9/15 

Hay Festival Winter Weekend

If you can't wait until the world famous Hay Literature Festival which takes place every Spring/Early Summer then get a winter fix in this jam-packed Hay weekend full of literary talks and events throughout the book town as well as a food and vintage festival. There's plenty for little ones in the festival's HAYDAYS events as leading writers for children present their latest books: Ed Vere talks Banana! and Bedtime for Monsters, Adam Frost showcases The Awesome Book of Animals, Catherine Barr presents Discover 10 Reasons to Love a Turtl, while James Campbell delivers his stand-up show for children.

Free drop-in workshops for young people take inspiration from the festival's #HAYTREES project, with tree-to-type printmaking and outdoor cookery for children with Forest Schools. There'll also be interactive sessions from festive crafts to hula hooping with Elle Edwards from No Fit State Circus. Meanwhile, outside of the festival venues, the town's atmospheric market square will be a focus of festivities: On Friday 24 November, the Hay Christmas lights will be turned on, transforming the town into a winter wonderland brimming with festive cheer and on Saturday 25 November, the Hay Food Festival celebrates all that's good about winter cooking, with over 50 stalls showcasing the very best of local produce.

Then on Sunday 26 November, Hay Does Vintage transforms the square into a festive outdoor fleamarket with over 50 vintage and retro traders offering a diverse collection of items from clothes, textiles and jewellery, to furniture and collectables.
When/where: 23-26 Nov, Hay-on-Wye
Price: ticket prices for events vary; see website
10/15 

Christmas at Blenheim

Beautiful Blenheim and its Capability Brown landscaped garden's will be transformed into a sparkling winter wonderland with installations, music and illuminations over the festive season. Follow a magical hour-long trail winding through the landscape – discover Christmas trees that sing, a swaying lawn of fibre optic colour and sparkling hedgerows.

Along the Great Lake there'll be four scenes of floating brilliance including 300 brightly-lit boats and dancing fountain jets. The iconic lake will also feature a giant lit Ducal crown – based on the Duke of Marlborough's own formal crown – towering above the audience with a 20m fountain erupting from its centre. The rushing Cascades will be transformed into a festive wonder and the giant waterfall will be covered in flames.

The Palace's lakeside Boathouse will be transformed into Santa's toy workshop – listen out for the sound of elves busy at work and give them a wave as you pass by. Explore the scented Fire Garden –  a circular carpet of dancing flames, adorned with lanterns, all set against the backdrop of glittering ancient woodland in Christmas colour that stretches high into the night sky. Finish your winter stroll with spiced cider, mulled wine or a hot chocolate
When/where: 24 Nov – 1 Jan 2018
Price: Adults £16 (on the day £18) | Children £10 (on the day £12) | Family tickets £48 (2 adults and 2 children 5 – 16) (on the day £55) | Under 5s go free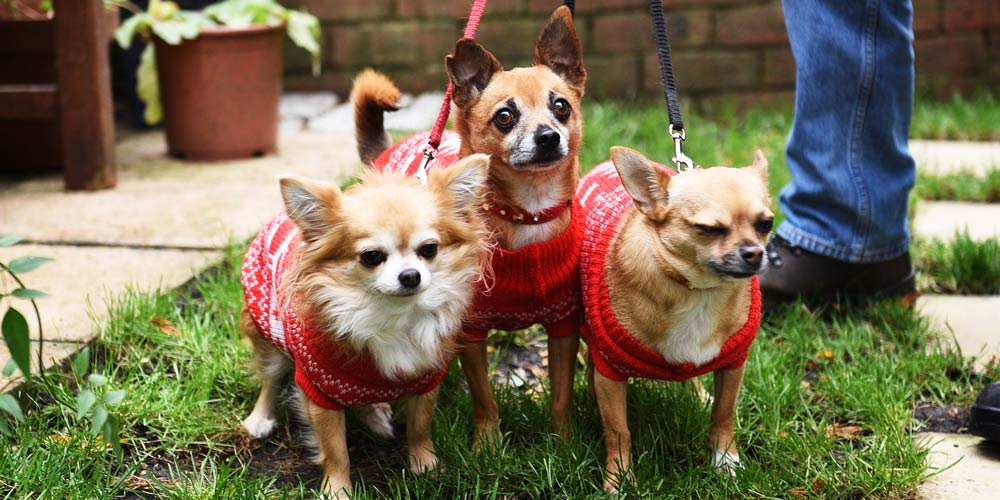 11/15 

Have a furry festive day out

Lots of animal charities open their doors during the festive season to invite you to spread festive cheer amongst their furry friends. Mayhew Animal Home near Kensal Green in North West London invites you to shake a paw and share some merriment with plenty of festive musical entertainment, tours of the cattery, a chance to meet Santa Paws with gifts for children and to shop at stalls with festive gifts for both humans and pets.

There'll also be plenty of tasty festive treats to indulge in including mulled wine and mince pies and the opportunity to meet and cuddle some of the home's TheraPaws dogs – who are part of a visiting animal therapy programme. These adorable dogs visit people in palliative care or with dementia, helping to unlock memories and enrich patients' lives with emotional and physical wellbeing through stress reduction and affection.
When/where: 26 Nov, Mayhew Animal Home, Kensal Green, London
Price: Entry on the door: £3 adults, £2 Children – all funds raised will go towards our work with dogs, cats and communities.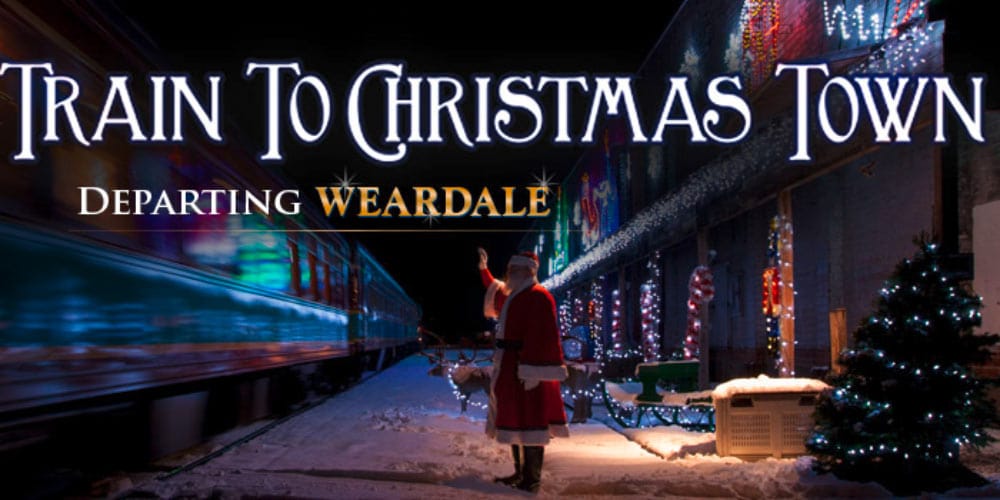 12/15 

The train to Christmas Town

All aboard for a ride through Christmas. The team behind the original THE POLAR EXPRESS™ Train Ride are returning to the UK this Christmas with a brand new Christmas train ride experience – The Train to Christmas Town. Centring around a beloved children's book The Train to Christmas Town, the family friendly train ride recreates the story of Janice and her brother on their annual ride to Christmas Town and is guaranteed to keep the whole family entertained.

On arrival at the beautifully decorated Stanhope Station, you will collect your tickets and be transported into a seasonal delight. There's a gift shop and Olde Worlde sweet cabni to browse, or maybe you would like to relax with a hot drink, warming Christmas stew, pulled pork or hot dog until the Weardale Railway Conductor makes his "All Aboard" call as carolling elves help you board the Train to Christmas Town. Onboard, you'll get to meet a host of interactive characters including the ticket punching train conductor, Bumblebee the polar bear and Wabash the squirrel, as well as a troupe of cheeky dancing elves who entertain as they serve up delicious cookies and hot cups of cocoa to all on board.

Along with storytelling and Christmas carolling; families will also get to meet a very special guest when the train stops at the North Pole at Christmas Town where Santa Claus is waiting to climb on board to meet the children and hand them a special gift. The 70-minute Christmas spectacle, expertly designed to bring the spirit of Christmas to the whole family, will operate from Weardale Railway in Co. Durham -you can book tickets here: www.traintochristmastown.com. And don't forget to come dressed for the occasion – festive fancy dress, pyjamas or onesies are all encouraged!
When/where: Departs from Stanhope Station, Weardale, Co.Durham 18 Nov-30 Dec
Price: tickets start at £19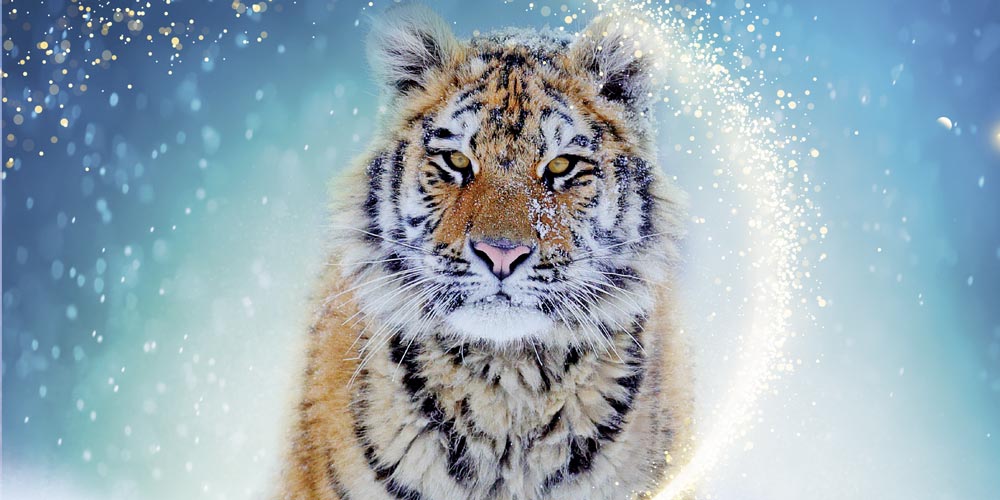 13/15 

Christmas at Marwell Zoo

Make your visit to the zoo extra festive and book onto 'Christmas at Marwell' – an enchanting experience for children. Start your journey in the magical winter forest and enjoy some festive refreshments, then be charmed by Mother Christmas as she reads The Nutcracker in the fairy glen.

Create your own Christmas Eve plate in the elves' workshop before meeting Father Christmas to receive a wonderful gift before posing to capture the perfect family photo as a lasting memory of the day. The experience lasts around 60- 80 minutes and if you book onto a daytime Christmas session you'll be able to explore the zoo as part of your ticket on the day. For guests who book onto evening Christmas sessions, from 4.00pm, entry to the zoo is not included but you will receive a return ticket, from the elves, on arrival at the Hall to return to visit the again by the 17 March 2018.

You can say Happy Christmas to all sorts of animals at Marwell – from ring-tailed coatis to dyeing poison frogs, Roti Island snake-necked turtles to Amur leopards, cotton-top tamarins to flamingos and giraffes plus there are 140 acres of beautiful parkland to explore with play parks, trains, and animal talks
When/where: 18 November – 24 December
Price: For more information go to the Marwell Zoo website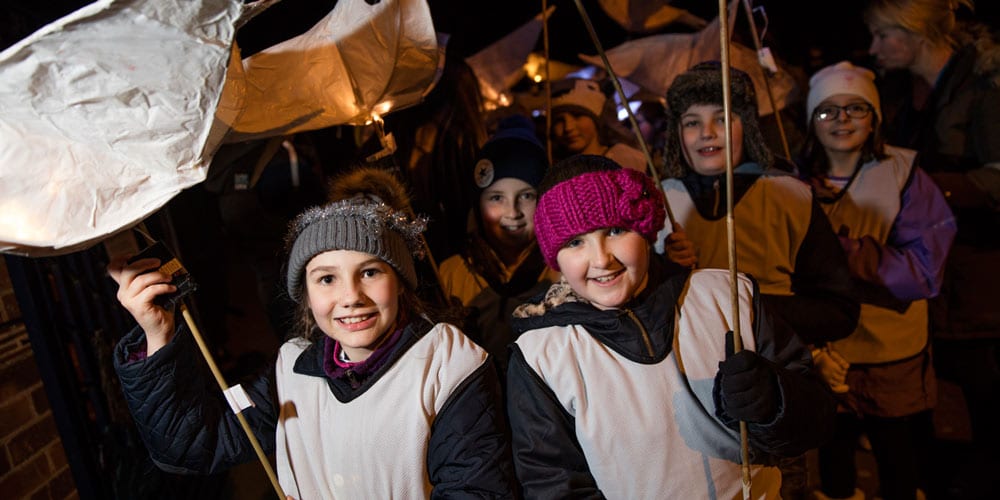 14/15 

Illuminate events series

2020 marks the 400th anniversary of the historic voyage of the Mayflower ship from the UK to the 'New World' of America. And the countdown begins with a series of 'Illuminate' events being held across eight destinations in the UK with links to the Mayflower Pilgrims. Each Illuminate event will include a range of family-friendly events and activities including innovative light-based artworks, local choir performersand parades which reflect themes of freedom and liberty.

Illuminate Retford, for example, will feature a parade with lanterns made in a series of workshops with local children and professional artists whilst Illuminate Boston, Lincolnshire, will host light-based aerial dancers and a Christmas market. Plymouth  will host its fourth Illuminate this year and it's bigger and better than ever – with four days of fun events and workshops – including Coding with Light and the chance to print your own reflective t-shirt.
When/where: various locations around the UK, including Plymouth, Boston, Harwich, Gainsbrough (see http://www.mayflower400uk.org/ for the full list of participating towns), various dates between 19-24 Nov
Price: free, but workshops will incur charges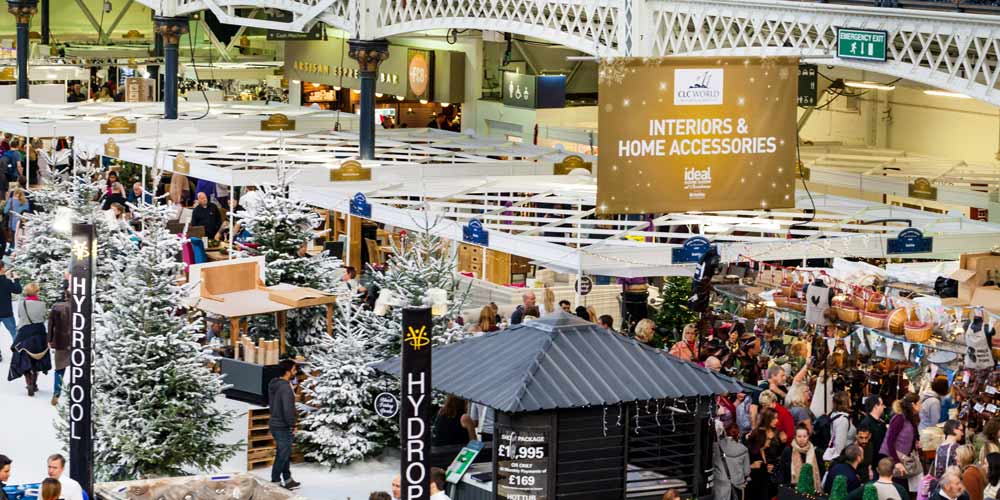 15/15 

Show-stopping Christmas!

Love everything about Christmas? The food? The festive decorations? Then get ready to get fired up for a festive frenzy! The Ideal Home Show at Christmas includes free entry to the Eat & Drink Festival running alongside it at London's Olympia making this London's largest Christmas exhibition. There'll be artisan food producers, street food vendors and mixologists as well as highly-respected celebrity chefs to celebrate the best in Christmas fare ahead of the festive season.

Italian cook Gino D'Acampo will be taking to the Foodie Stage to share his tips on creating the perfect Italian Christmas whilst TV and MasterChef presenter Gregg Wallace will be sharing his recipes for chestnut soup with bacon along with his Christmas-inspired bread 'n' butter pudding. Bake-Off winner Candice Brown demonstrates how to make Christmas sweet treats such as passionfruit, pomegranate and pistachio roulade and pina colada macaroons and Katy Beskow reveals how to have a vegan Christmas with all the trimmings.

In the Christmas Theatre, Vanessa Feltz and Laurence Llewelyn-Bowen give their take on this year's interior trends and decorating for Christmas, whilst larger-than-life TV cook Rosemary Shrager suggests alternative Christmas puddings and for those doubtful over which knife to lunge for, gives a masterclass in table etiquette. There'll be Christmas decoration workshops for all the family, swing bands, carol singers and Britain's Got Talent semi-finalist Ella Shaw plus plenty more to make this day out everything you need to plan for the ideal Christmas.
When/where: 22-26 November, London Olympia
Price: ticket prices vary, under 16s go free