1/15.

Can You Spot A Stormtrooper?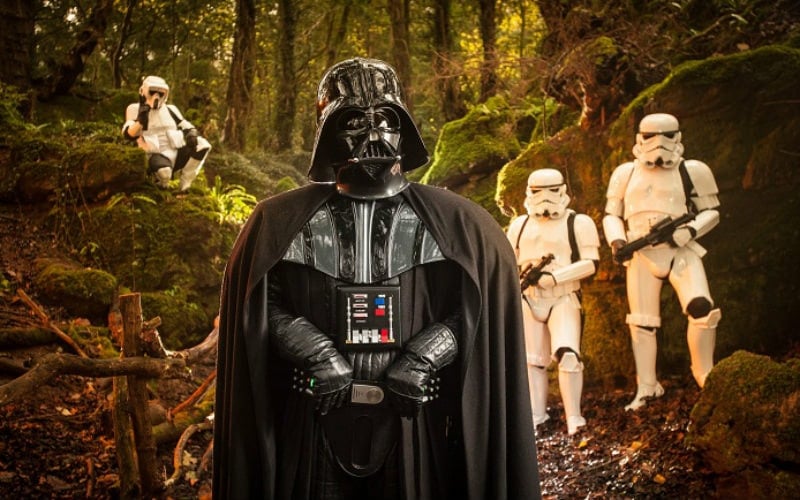 Wye Valley and Forest of Dean Tourism has launched an online Film and TV Trail to help visitors explore the area's impressive cinematic connections, showcasing a series of locations where lots of our favourite movies were filmed. In one of the coolest January days out, you'll use maps plotted by location and production to discover the woodlands, historic sites, caves and glades featured in some of the biggest screen blockbusters including Puzzlewood, where part of the latest installment of Star Wars was shot, Coppett Hill captured in Harry Potter and the Deathly Hallows plus Clearwell Caves, an underground set for Doctor Who.
When/Where: Daily, Wye Valley and Forest of Dean
Price: Free
Find out more: visitdeanwyefilm.co.uk
About the author
Kim Jones is an experienced journalist who has worked at various women's weekly magazines, and now freelances for them and the national papers writing about travel, health and lifestyle. She lives in Cardiff with her partner and their two sons, aged 15 and 11 and loves persuading them all to come away on holidays with her in the family VW camper van.
Find Kim on Twitter @kimsfeatures
2/15.

Get More For Your Money In London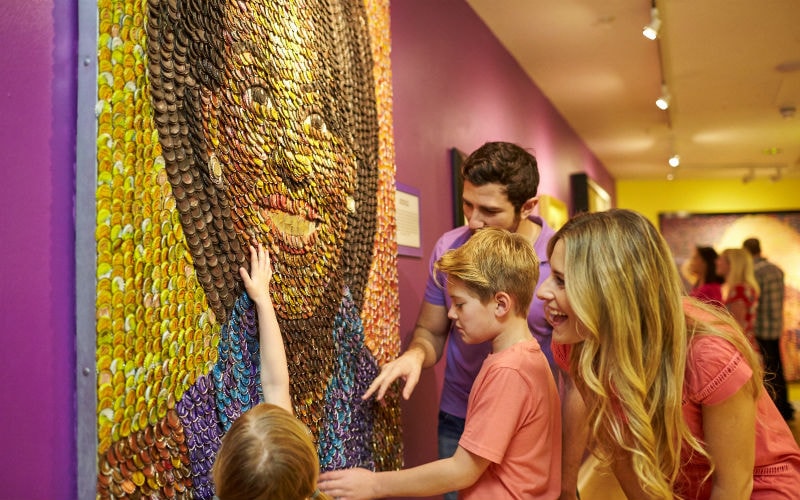 London's a great place to take a fun and educational break with the kids, but visits to must-see attractions and eating out can end up costing a small fortune for a family. This new app – ENTERTAINER London 2016 – could save you stacks of cash. It features over 900 Buy One Get One Free offers for restaurants, cafes and and family-friendly attractions across the capital including The Tower of London, Ripley's Believe it or Not, London Bus Tours and Brit Movie Tours. The app is valid for one calendar year with no weekend exclusions and can save customers up to £60,000 over the 12-months. What's more, over 50 of the available buy-one-get-one-free offers on the new app have an estimated savings value that's than the cost of the app itself, so you could make your money back by redeeming just one offer.
When/Where: Through 2016, London
Price: £40
Find out more: theentertainerme.com/home/London
3/15.

RSPB Big Garden Birdwatch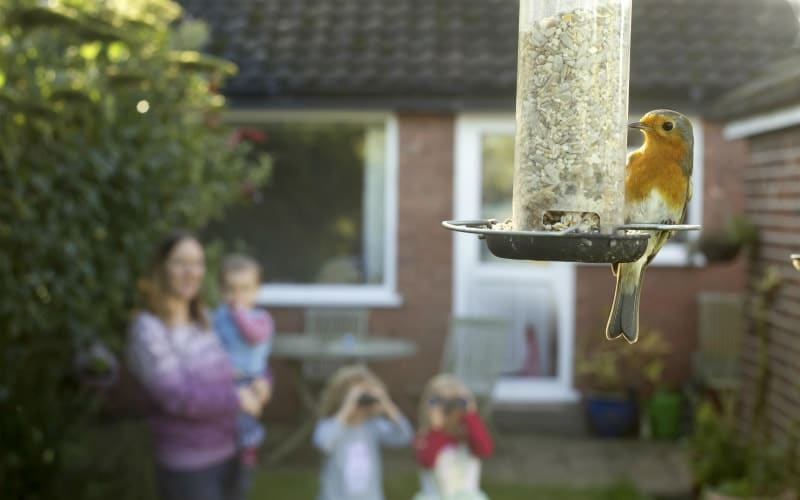 Get out into the garden to watch and count the garden birds for this year's RSPB Big Garden Birdwatch. The world's largest garden wildlife survey is now in its 37th year and as well as counting our feathered friends, the RSPB is also asking you to log some of the other wildlife you see in your gardens and green spaces such as hedgehogs, foxes, stoats and squirrels and to provide a place for wildlife too – whether it's putting up a nest box for birds, creating a pond to support a number of different species or building a home for a hedgehog. Go online to request a free pack to help you make the most of your nature spotting time.
When/Where: 31-31 January, nationwide
Price: Free
Find out more: rspb.org.uk/birdwatch
4/15.

Butterflies in The Glasshouse
Get all of a flutter amidst hundreds of exotic butterflies that be released into the Glasshouse at the Royal Horticultural Society's (RHS) Garden Wisley, bringing a vibrant swathe of colour and life to warm a cold start to the year. Wander through the Glasshouse and see the jungle come alive with 40 different types of butterflies including the striking blue morpho, giant owl, king swallowtail and colourful Malay lacewing.
Watch them flashing their wings, feeding from fruit and flitting among the tropical plants. You may even be lucky enough to have a butterfly alight on your nose (or anywhere else!) if you keep very still. The tree ferns, tall palms, lush-leaved creepers and dazzling flower displays that make up the tropical paradise of The Glasshouse provide an exciting and dramatic backdrop to the event. Bred at the Stratford Butterfly Farm, the butterflies are brought in to the Glasshouse at the pupae stage, and are carefully attached to canes with safe glue to emulate their natural habitat, where they hang from small branches attached by silk. Entry to Butterflies in the Glasshouse is free with normal garden entry.
When/Where: 16 January-6 March RHS Garden Wisley, Woking, Surrey
Price: Adults £13.20, Children 5 – 16 years £6.60, Family 2+2 (2 adults + 2 children) £32.75.
Find out more: rhs.org.uk/butterflies-in-the-glasshouse
Picture credit: RHS and Roger Allen
5/15.

Go Ape in The City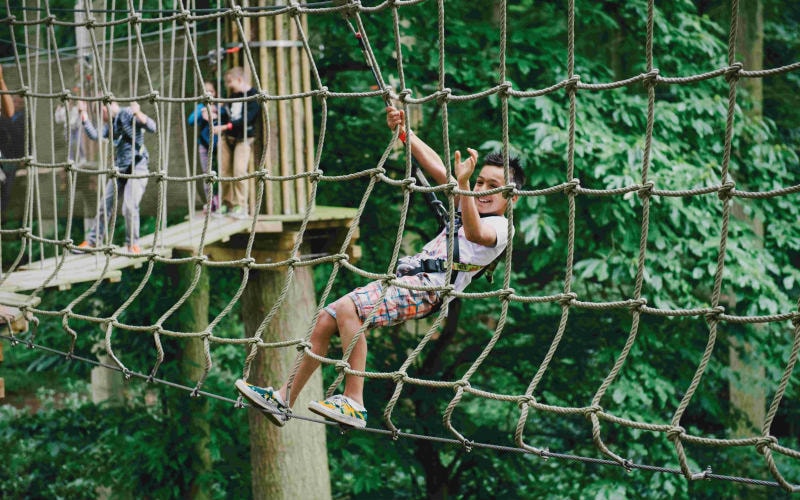 Now you can swing from the treetops in the city! Forest Adventure company Go Ape has opened their 29th venue at Battersea Park in London – the first adventure to be built outside of a forest environment. Using some of the park's tallest trees, it combines a tree Top Adventure and Tree Top Junior course for mini Tarzans. The experiences are physically challenging with the highest obstacle crossings double the height and many twice as long as the usual Go Ape courses making them even more wobbly and challenging. The course features over 40 crossings in total including a thrilling 50 metre zip wire.
When/Where: Open daily, Battersea Park, London
Price: See website
Find out more: goape.co.uk/battersea-park
6/15.

Ice Skate at The Eden Project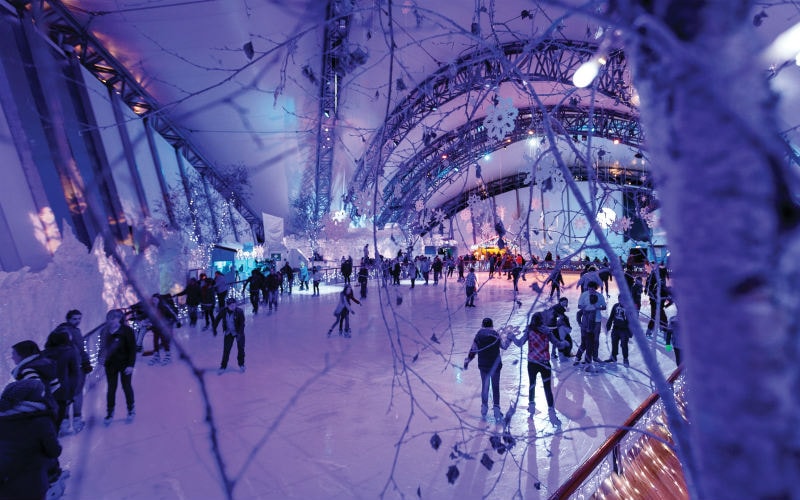 As well as immersing yourself in tropical plants from all over the world, you can also get chilly on the ice at The Eden Project in Cornwall this winter. The Ice Rink at Eden offers standard skating sessions daily and on selected dates parent and toddler play sessions are also available – special non-skating ice-play sessions for kids aged between 18 months and 5 years, with plenty of toys to play with.   Chilly Juniors sessions take place on selected Sundays with fun skating sessions incorporating races and games for 6-12 yr old skaters. After your nice iced time, enjoy a warming drink by the rink, a sweet treat, or a chargrilled burger with French fries and all the trimmings (vegetarian options also available).
When/Where: Until 28 Feb, The Eden Project, Cornwall
Price (excluding standard admission to Eden): Standard Skate, £6 for 40-minute session; Parent & Toddler Play Sessions, £4; Chilly Junior Sessions, £6
Find out more: edenproject.com/ice-skating
7/15.

Take Your Seat at The Stable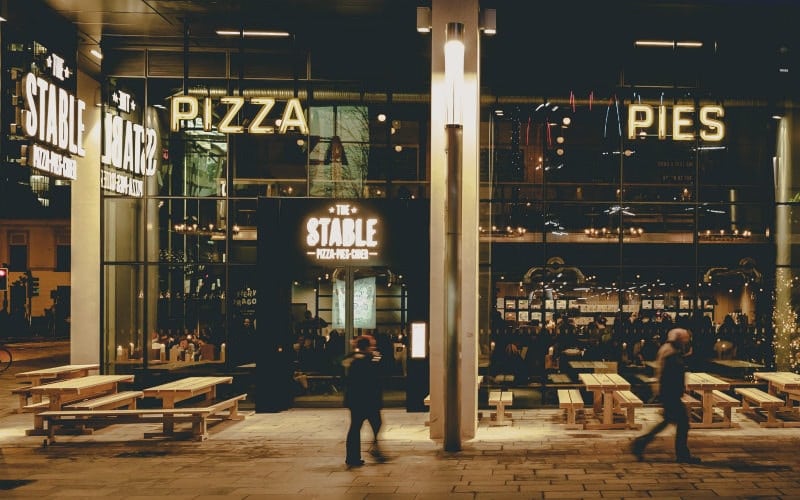 Pizzas, pies and ciders. What's not to love? The menus at The Stable are simple, wholesome, hearty and crowd-pleasing. This expanding chain of restaurants began its journey in Dorset in 2009 and its winning formula means they're expanding over the UK. Every Stable restaurant has a different menu, depending on the local availability of fresh ingredients – including Marinated Longhorn ground beef, Teifi Nettle gouda and Dorset smoked Red Cheese.
All food comes freshly handmade from scratch, including the crispy, light organic sourdough pizza bases (which can also come gluten-free if you book in advance) and mum and dad will be pleased to know they're also famous for their huge selection of scrumptious local ciders (try their 'tasting menu' of five ciders chosen to compliment your meal and tastebuds). Kids menus include Margherita, Hawaiian and West Country Piglet pizzas (topped with Bath Pig Co. chorizo, tomato and mozzarella) whilst desserts on offer are moist chocolate brownies, Baked caramelized apple and ginger cheesecake with pecan praline or Nutella Pizza Pudding.
When/Where: Open daily, 12 locations nationwide including Cardiff, Bridport, Plymouth, Bath & Birmingham
Price: Kids pizzas start at £5; A kids meal deal including pizza, salad bites and a drink is £7.50, with dessert £10
Find out more: stablepizza.com
8/15.

Lumiere London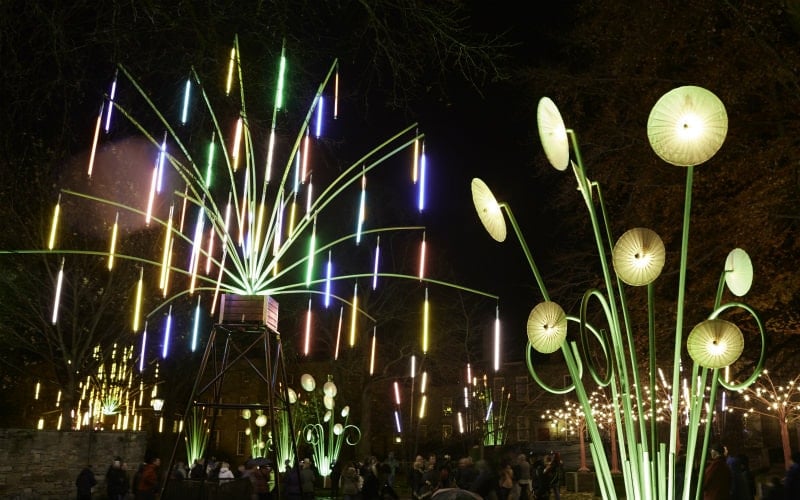 See the city in a new light. Lumiere London is the biggest ever light festival to hit the capital where, for four evenings,  a host of international artists will illuminate the city. Iconic architecture across the West End and King's Cross will be transformed with 3D projections, interactive installations and other extraordinary light works.  Highlights will include a Garden Of Light in Leicester Square where giant illuminated plants will bring a taste of the tropics to wintry January, a telephone box in Mayfair turned into an aquarium full of exotic fish and a circus show with acrobats, jugglers, dancers and performers projected on the side of the Granary Building at King's Cross.
READ MORE: Family days out articles
When/Where: 14-17 January, sites across London
Price: Free
Find out more: visitlondon.com/lumiere
Picture credit: ©MatthewAndrews
9/15.

Action Stations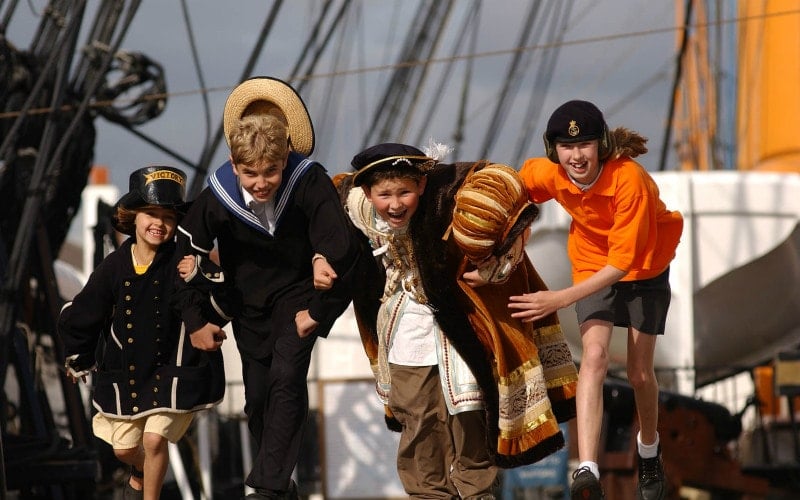 Action Stations is a high-tech, interactive indoor attraction featuring a series of physical challenges, simulators and technological experiments, which put you at the heart of the modern naval experience.  Reach dizzy heights as you scale the UK's tallest indoor climbing wall (8.4 metres – that's over 27 feet!). There's a built-in LCD timer, which allows you to assess your own speed and agility as well as compete against friends and family.
Enjoy a game of laser tag set over 2 floors to represent the bridge of a hijacked container ship and a pirate stronghold – there's lighting effects and billowing smoke to set your heart pounding. Watch the Royal Navy at its best in Command Approved – a 25 minutes heart-pumping action film featuring the fictional HMS Monarch combatting gold bullion pirates in the South Seas. Then take a white-knuckle trip in a rigid raider boat simulator with the Royal Marines, defy gravity in a Sea Harrier, or let Helen, the Lynx helicopter pilot take you on a hair-raising escape from those rebel pirates.
When/Where: Open daily, Action Stations, Portsmouth Historic Dockyard
Price: Adults £18, Children £13
Find out more: actionstations.org
10/15.

Deer Feeding at Attingham Park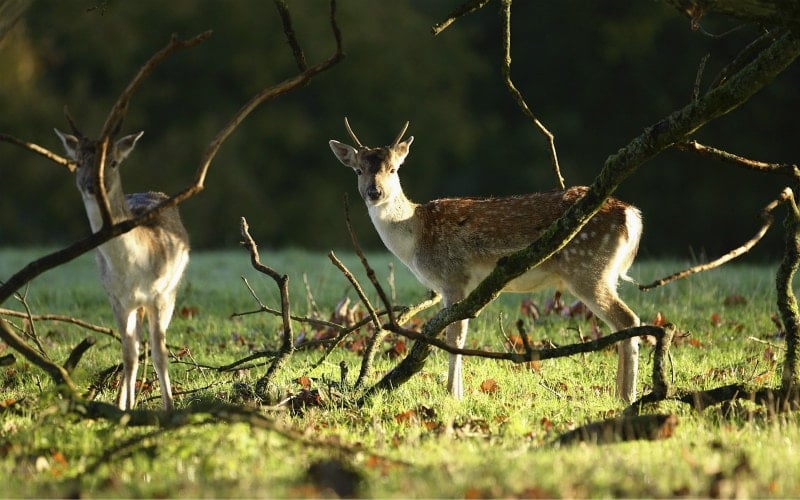 Fallow deer have roamed the park for over 200 years but winter can be a tough time for them which is why the eighth Lord Berwick (who loved the herd so much) would often feed them himself in the winter months to help them through. It's a tradition the wardens have kept up and you can come along to get close to the beautiful Bambi-lookalikes as you watch the charming wintry scene. The wardens will be feeding the deer every winter weekend at 2pm in the deer park, and daily in the Shropshire Christmas school holidays (excluding Christmas Day).
When/Where: Weekends in January, Attingham Park, Shropshire
Price: Free event, but normal admission fees apply
Find out more: nationaltrust.org.uk/attingham-park
Picture credit: Peter Muhly
11/15.

Bread Baking Down at The Mill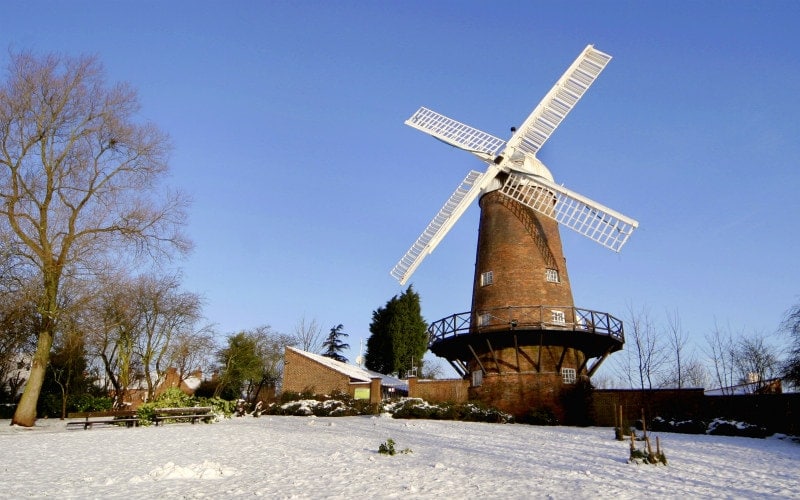 Fancy some floury fun down at the mill? If your little ones have been inspired to get creative in the kitchen thanks to The Great British Bake Off, they can go back to real basics with a visit to Nottingham's beautiful historic working windmill and get stuck in to a hands-on bread baking workshop, using flour milled onsite at the mill. The activity is suitable for children aged 4 – 16. Also onsite, children can explore free exhibitions about how the windmill works, and the science history of the site, where mathematician George Green once lived and worked.
When/Where: 30 January, Green's Windmill, Nottingham
Price: £3 per child
Find out more: nottinghamcity.gov.uk/greenswindmill
12/15.

Meet The Meerkats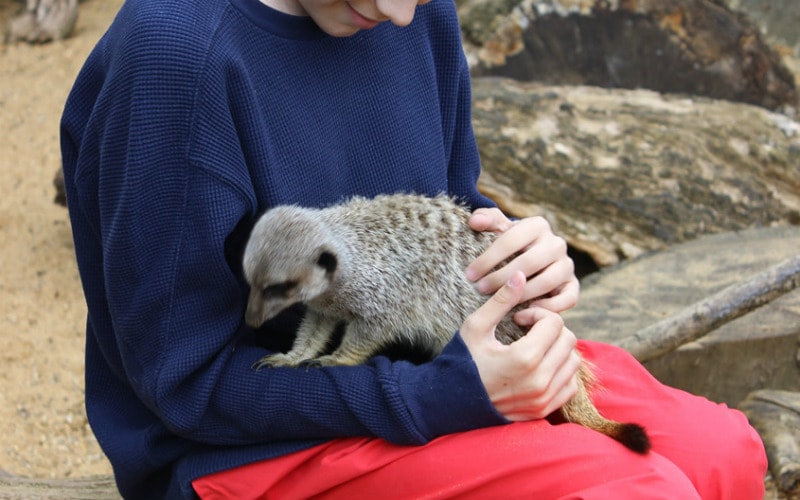 Who wouldn't love to meet a meerkat? And how about having them eat out of the palm of your hand? This experience for two people (minimum age 10) from lastminute.com will see you spend time in their secluded enclosure and get closer than you ever imagined to these adorably cute creatures. As they're naturally sociable and family-oriented animals they can't wait to meet and climb all over you – especially as you'll be bringing them their dinner.
An experienced meerkat keeper will accompany you at all times to answer any questions you might have about the animals, so you'll be able to learn lots on your magical experience. You'll get a free t-shirt for each of you at the end of the experience as a memento of your day, and don't forget your camera – there'll be plenty of photo opportunities. Your voucher also grants the pair of you access to the rest of the park, so for the rest of the day you can do more exploring and view the rest of the intriguing animals that Paradise Wildlife Park has to offer.
When/Where: Selected dates in January, Paradise Wildlife Park, Hertfordshire
Price: £99.99
Find out more: lastminute.com/meet-the-meerkats-for-two
13/15.

January Snowdrop Weekend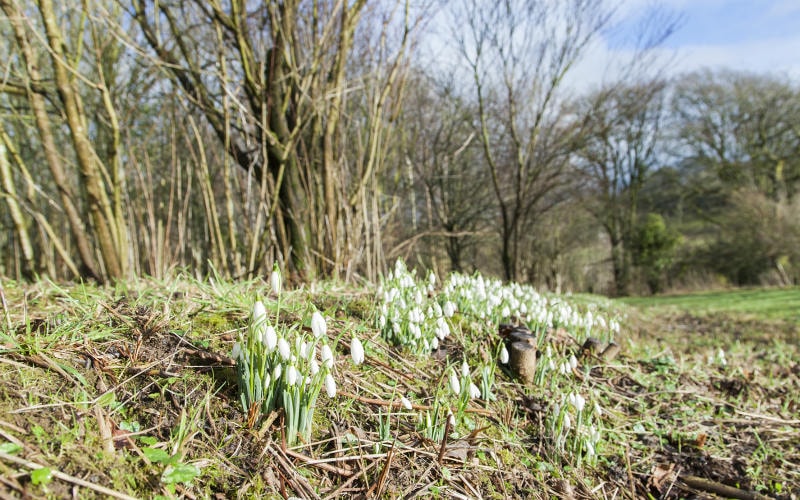 Towards the end of January it's snowdrop season and a sign that Spring will soon be on its way. There's a mile of snowdrops to discover at the National Botanic Garden of Wales and this fun-filled weekend dedicated to the delicate winter flower includes a Snowdrop Trail, plus the chance to get creative with origami, cake decorating and painting activities for all the family. Kids can also grab a microscope to get a closer look at the fragile flower, and the Garden's team of floral experts will talk them through the plant's structure as well as how to plant a snowdrop.
When/Where: January 30-31, The National Botanic Garden of Wales, Llanarthne, Carmarthenshire
Price: £9.75 for adults, £4.95 for children (ages 5-16). Under 5s go free.
Find out more: gardenofwales.org.uk
Picture credit: Tim Jones
14/15.

Bounce at Jump Nation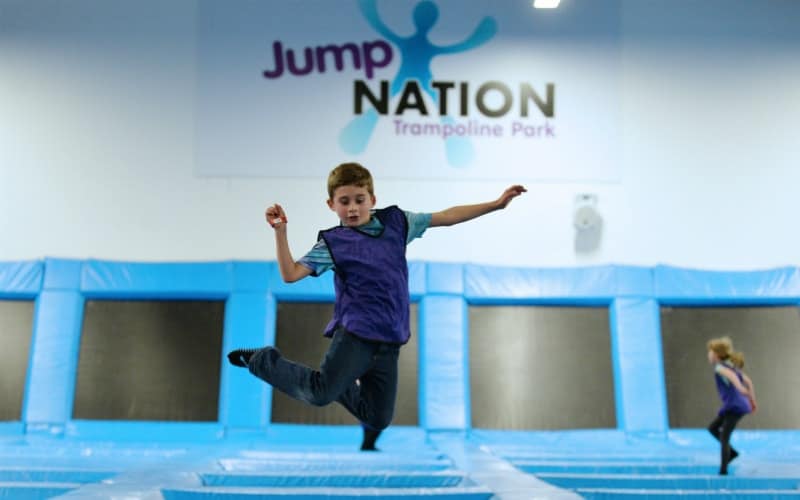 Bounce off all those boxes of chocs you've devoured over Christmas at Jump Nation Trampoline Park. The park has 139 trampolines connected together so there's plenty of space for having fun and keeping in shape. There are dedicated areas for the under sixes and they also run Toddler Time classes every Wednesday from 10:00 – 11:00 where the entire arena is opened just for the little ones to enjoy with no fear of bigger kids or adults falling into them or getting in their way. Toddler Time sessions are finished off with cordial and biscuits for the little ones in the on-site Café
When/Where: Open daily, Manchester
Price: Per hour, under 6, £6.95, age 6-15, £8.95; adult, £8.95. Toddler Time, £5
Find out more: jumpnation.com
15/15.

Get Up Close to your Local Canal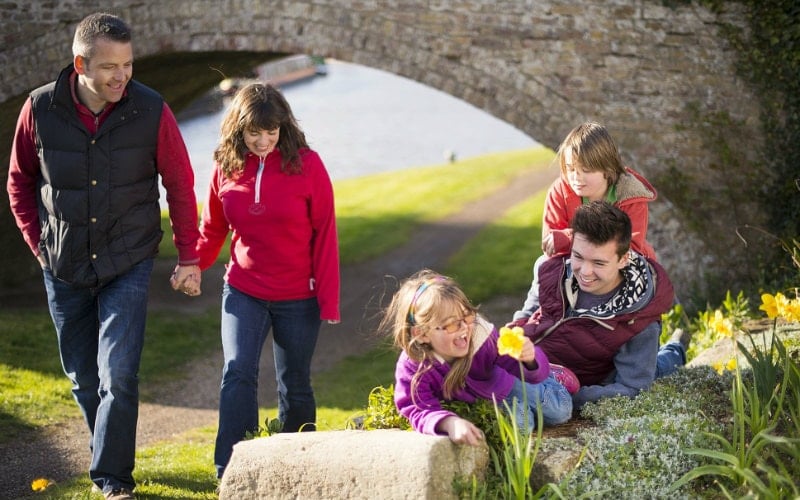 The Canal and River Trust closes sections of the nation's canals at certain times of the year to do maintenance work and as part of this programme, some sections are opened up to the public, giving you the opportunity to walk down into the bottom of locks, along the canal floor and to talk to experts about their repair work, the variety of rubbish they find down there (from the ubiquitous shopping trolleys, traffic cones, tyres, bikes, bottles and plastic bags to the more unusual unexploded bombs, cars and war medals) plus how they make and fit lock gates from sustainably-sourced British oak.
If there's not an open day near you, the charity has put together a collection of free local maps and activity sheets, focusing on over 100 top canal spots around the country to have a fun family day out. The 'Readymade Waterway Day' guides are easily downloadable from the website. They also include useful information such as where to park, what facilities there are and how long to allow for your visit.  Suggestions range from enjoying the interactive displays at the free Anderton Boat Lift Visitor Centre in Cheshire to enjoying a horse-drawn boat trip along the Kennet & Avon Canal in Kintbury, with plenty of tips for picnics, wildlife spotting and canal dipping in between.
When/Where: Open days are happening on selected dates in January in London, Leicester and Lancashire.
Price: Free
Find out more: canalrivertrust.org.uk/restoration-and-repair-open-days & canalrivertrust.org.uk/places-to-visit